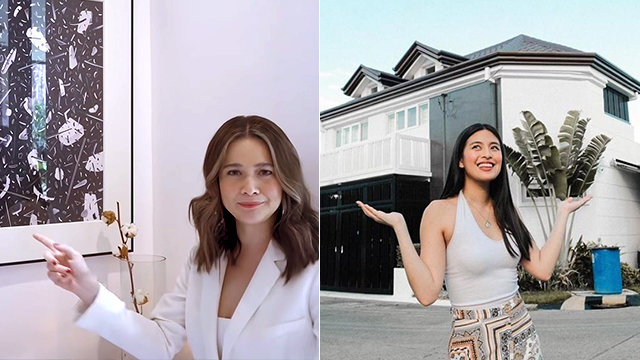 (SPOT.ph) Admit it: You have been binge-watching all the celebrity house tours dropping on YouTube recently—no judgment here! The rare peek into their houses has revealed a lot of cool little details about popular local stars—some a little more unexpected than the rest—and so we're totally hooked. For this list, we round up a couple of the most fun items we spotted in Pinoy celebrity house tours, whether a nifty little feature or out-of-this-world furniture!
ADVERTISEMENT - CONTINUE READING BELOW
Also read:
See What These 10 Celebrities Are Doing to Help Fellow Pinoys
From LEGO to Literature: How Celebs Are Getting Creative While in Quarantine
10 Celebrity Homes We Want to Live In
These Vintage Photos of Beautiful Old Houses Will Take You to Another Time
Here are 10 surprising things Filipino stars have in their homes:
Bea Alonzo has a "picture" of Anne Curtis in her home...
Here's a funny little "Easter Egg" that even Alonzo initially didn't know she had in her house! While giving a tour of her art-filled home, Alonzo showed off a collage by her friend and conceptual artist Gary-Ross Pastrana. The black-and-white piece appeared to be composed of cut-up pieces of a face, and it turns out the said "face" belongs to Anne Curtis. Alonzo shared that she did not know about the origins of the piece and was only told by Pastrana when he came over to visit and saw it on her wall.
...and a TV in the bathroom.
In part two of her vlog, Alonzo took us to the upper floors of her house, including the awesome master bathroom. "Nothing fancy" she joked while suddenly remembering the chandelier above her bathtub. And that's not all! She talked about her perfume collection on the shelf in front of the tub—and also did a cheeky smile as she slid away a partition to show a flat-screen TV. Alonzo shared that she used to spend a lot of time relaxing in the tub, so we imagine the TV was a great plus for the experience. Treat yourself!
Gabbi Garcia's dad has the perfect hidden man cave...
The young star gave everyone a tour of her family's home with boyfriend Kahlil Ramos tagging along as her all-around production crew! While all the cool pieces of shell-inspired furniture—including a little shell couch for their dog—in their living room were eye-catching, it was her dad's awesome hideaway that had us drooling. A little room tucked above the garage and only accessible via a ladder and trap door serves as Vince Pena Lopez's man cave. With air-conditioning, TV, old van seats as a comfy couch, and his airsoft gun collection, we wish we had a private space as cool as his in our houses, too. Garcia shares the rest of her family barely goes up there as the ladder is way too much of a hassle—and we're pretty sure her dad wouldn't have it any other way.
ADVERTISEMENT - CONTINUE READING BELOW
Vhong Navarro's two-storey shoe closet
We're putting this in here for the sneakerheads! You're sure to be green with envy thanks to Navarro's massive shoe collection—which is housed in a two-storey walk-in closet. The first floor is lined with sneaks from floor to ceiling, including coveted Kobe Bryant signatures from Nike, Yeezys, and even three fun pairs from Nike's Kyrie Irving x SpongeBob SquarePants collection. What's even cooler is that the staircase leading to the second floor is hidden behind a sliding mirror—and yup, each step doubles as storage space for more shoes!
Dominic Ochoa's impressive collection of vintage cars
Based on the house and its little details—a record player, antique furniture, and even his grandfather's old tumba-tumba—it is clear Ochoa loves old-school cool. But his vintage car collection is on another level! Ochoa showed off his 1968 convertible Volkswagen Beetle, a 1978 Ford Escort, and a 1995 all-original Range Rover. Plus, he even shared that he still has (and uses) his old college car from 1993, gifted to him by his dad. Aww.
ADVERTISEMENT - CONTINUE READING BELOW
Maris Racal's plants all have names—and so does her couch
Talk about being a plantita! Racal's tour through her modern and quirky home has a lot of fun details, including the fact that she names all of her (alive) plants. She also has two unnamed fake eucalyptus mini-trees in the living room—ironically flanking her beloved green couch, which Racal has christened "Melanie." According to Racal, she only has a few plants because they tend to die on her, so we can understand why she loves the ones that stay enough to name them!
Derek Ramsay's home has an elevator...
There are a lot of things to gape at in Ramsay's huge contemporary home. Apart from all the incredible art pieces from local artists such as Dominic Jenon and Jinggoy Buensuceso, he also has geometric Zaha Hadid couches we'd think twice about sitting on. Ramsay also has an elevator—which isn't unheard of in a residence, but still hard to fathom for the average person. Ramsay shared that he had it installed to make the house's upper floors accessible for his parents, whom he is trying to convince to move in with him.
ADVERTISEMENT - CONTINUE READING BELOW
...and he had a seven-ton rock carried over to his lawn via a crane
"Why?" you might be asking, and honestly, same. While touring the junior master he built for his parents, Ramsay pointed out that the room had the best view of the garden, including a "malaking mahiwagang bato" weighing seven tons. It was so heavy they needed a crane to deposit it on his front lawn, he added. Unfortunately, that's all he said about the huge rock, leaving us all with so many questions.
Michael V. has an "NBA Corner" in his studio office
Strictly speaking, this isn't a house tour. But Bitoy's studio office is where we all see him in his vlog, so it was nice to get a look around when he posted a tour early in 2020. Also, we couldn't leave out his collection of NBA memorabilia—that includes a signed Kobe Bryant jersey, ball, and even sneakers! The massive toy collection he has on display is pretty impressive, too. See if you can name all the pop-culture characters in Bitoy's second home. 
ADVERTISEMENT - CONTINUE READING BELOW
Alice Dixson has access to a "secret hideaway beach" from her Boracay home
Dixson even referred to it as just one of many, so it looks like she has access to more than one sunny hideaway! The normally private "It" girl of the '80s gave us a peek into her clean, modern home on Boracay island—complete with an epic view of the bay. What takes the cake? When she decides to head out to the beach for a quick walk. Our beach-loving hearts are green with envy. 
Share this story with your friends!
---
Help us make Spot.ph better!
Take the short survey
More Videos You Can Watch
Load More Stories