(SPOT.ph) We waited 17 long years for the Friends cast to get together again—and it was so, so worth it. For 105 glorious minutes, the gang recounted all the best stories and moments of their lives as Friends characters (and beyond!) in a reunion special that dropped on HBO Max and HBO Go. Major spoilers ahead!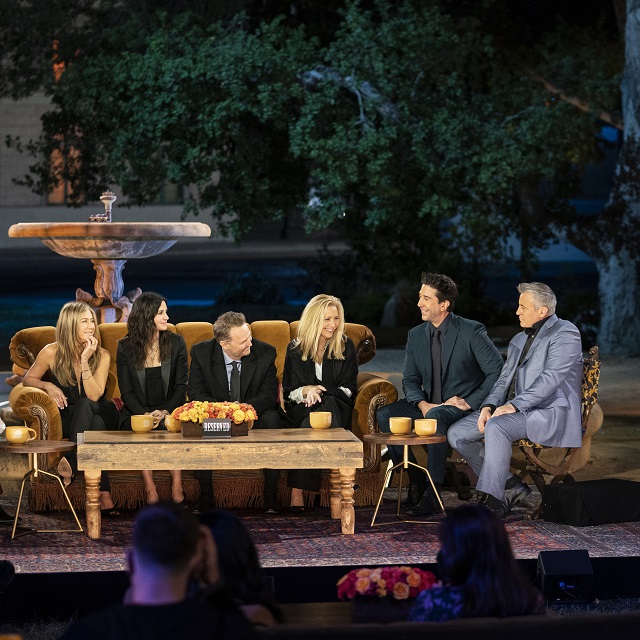 ADVERTISEMENT - CONTINUE READING BELOW
Jennifer Aniston, Courteney Cox, Lisa Kudrow, Matt LeBlanc, Matthew Perry, and David Schwimmer all came back to their old home on the sitcom's original soundstage, Stage 24, on the Warner Bros. Studio lot in Burbank for this unscripted, variety show-esque special—in what is only the second time since the show ended that they were filmed together. If you're currently an emotional mess, we feel you. Need help processing this amazing gift we've just been given? We list down all the best tidbits from the special! Yup, this is brand new information, as Phoebe would say.
Check out all the best revelations from the Friends reunion special:
Courteney Cox used to write her lines on the table.
We don't think Monica would approve! LeBlanc let drop in the reunion's intro that he caught on Cox's little secret after spotting some of her lines on Monica's kitchen table. When he asked her about it back then, Cox reportedly told LeBlanc that it was none of his business (according to him)—which had the actor gleefully erase all the lines before their take. Cox was understandably furious, but not enough to have a grudge!
By the time they stood on the kitchen set again nearly two decades later, LeBlanc even had to recount the tale to Cox, all while he was sweetly wiping away her tears of joy at being reunited. She does remember her little trick though, as she jokingly pointed to the fruits on the table saying, "I had so much of my dialogue in these apples."
ADVERTISEMENT - CONTINUE READING BELOW
The Central Perk gang took home some set pieces
After they settled down in the set—which was recreated for the reunion special—Cox pointed out Monica's cooky cookie jar on top of the ref. And turns out the original is in Lisa Kudrow's house, said Cox. The rest of the cast piped in, with Aniston saying that she has "a neon coffee mug," and LeBlanc adding that he has one of the balls from the boys' foosball table.
Perry, true to character, piped in with a "You should have taken the whole table" to which LeBlanc retorted, "We smashed it, remember?"
The one-sentence pitch that made Friends possible.
The showrunners and creators of the Friends story, David Crane and Marta Kauffman, talked about what they always wanted the show to be about. At the time, the two were young adults themselves trying to find a place in the world. They really wanted a show where it wasn't just about one character but a whole group. As Crane explained in the reunion, the main pitch that sold it to the execs was that the show was "about that time in your life when your friends are your family." It couldn't be more apt than that. 
ADVERTISEMENT - CONTINUE READING BELOW
The cast almost always had their meals together.
They revealed this sweet detail as they revisited their dressing rooms, which also had a mini-kitchen. The girls—Aniston, Cox, and Kudrow—would always eat together, said LeBlanc, with Schwimmer then interjecting, "first couple of years we ate every meal together," jokingly adding, "even on the weekends."
ADVERTISEMENT - CONTINUE READING BELOW
Aniston remembers what the Kudrow and Cox wore to their first table-read.
Of course Rachel remembers what her friends were wearing! Aniston shared her memories of one of the first times the gang got together as their Friends characters: Kudrow was dressed in a "white, lacy, hippie-ish blouse,"—"I was being Phoebe," Kudrow jumped in—while Cox was in a pink baby-doll tee with white trim. 
Meanwhile, Schwimmer shared that his first impressions during their table-readings was that "everyone was so perfectly cast." We couldn't agree more.
"Fake" Joey could have been cast instead of LeBlanc.
Speaking of casting, remember the guy who played Joey's twin in "The One With Unagi" (or at least, tried to)? Well, one of the creators said that actor Louis Mandylor also auditioned for Joey! Imagine how different the show would have been. 
Aniston's producer had a very, very wrong prediction
So we all know Aniston was already starring in a different series called Muddling Through when she went on for Friends—but it looks like there was a very specific exchange of words. Aniston shared that when she realized that she absolutely loved everything about Friends, saying "This is the greatest group of people, the greatest script—I have to do this," she went straight to the other show's producer and asked to be let go from that title. Said producer told her that Friends "is not going to make you a star." Well, now.
ADVERTISEMENT - CONTINUE READING BELOW
Chandler's job is still a mystery.
Tom Selleck, who played Monica's one-time boyfriend Richard, came on to join the gang's pop quiz. His question? "What is Chandler's job"—resulting in Aniston and Cox once again hilariously bickering about "Transponster." And finally, Selleck revealed that Chandler's job is "Nobody knows." Yup, not even Perry could say anything. We doubt he knows either.
ADVERTISEMENT - CONTINUE READING BELOW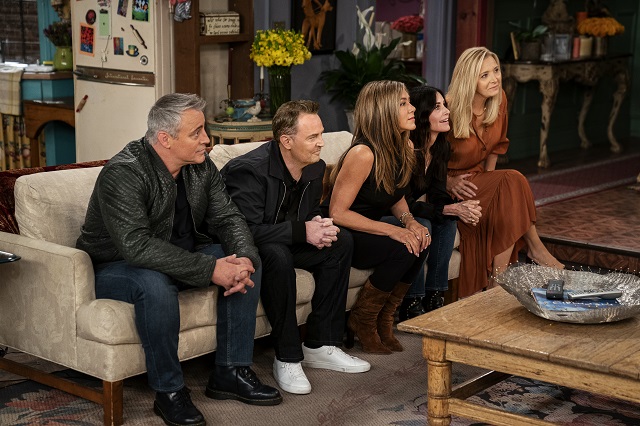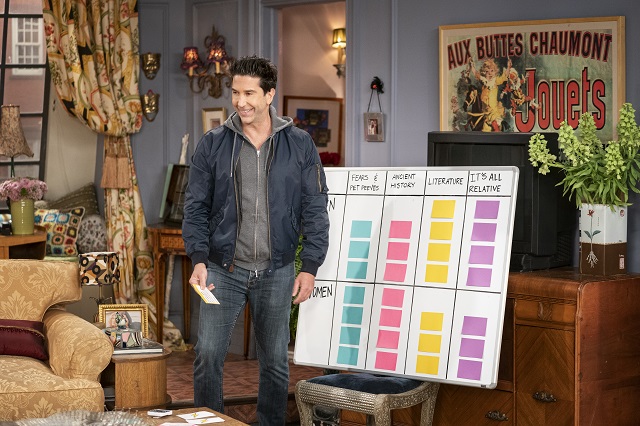 ADVERTISEMENT - CONTINUE READING BELOW
Schwimmer was not a fan of the monkey.
We know, we know. It's a heartbreaker, especially when you think about the bond Ross and Marcel had. Well, unfortunately, Schwimmer is the cast's unofficial leader, so of course, when faced with an unruly castmate—it's a monkey, after all!—he was not all that happy. "I have nothing against animals, however," said Schwimmer, sharing that the monkey was the main reason they had to shoot and reshoot a scene.
Worse off, the monkey had a habit of eating live grub in between takes while resting on Schwimmer's shoulders—and then putting his grubby hands all over the actor's face. "It was time for Marcel to...f*ck off!" Schwimmer shared with host James Corden. 
Things went awry the one time they didn't do a pre-shoot huddle.
ADVERTISEMENT - CONTINUE READING BELOW
The gang is known for having done a huddle before every shoot. Well, they once weren't able to do so early on in the show, specifically "The One Where No One's Ready"—in which LeBlanc ended up injuring his shoulder. They had just done three perfect shoots of Joey running across the living room to get to the chair before Chandler does, and "Lord knows why we shot it the fourth time," shared Kauffman, but they did and this time, LeBlanc landed on the floor really badly. 
The reunion even let us in on the actual shoot of it happening—nothing gruesome! LeBlanc was a good sport about it and the writers even put his resulting sling into the story (By having his character jump and fall of the bed, hilariously). After that, the gang made sure to have a huddle before each shoot, explained Kudrow and LeBlanc.
That tension between Ross and Rachel was very real.
Corden finally talked about the elephant in the room—asking whether any of the cast ever had romantic feelings for each other. The camera then zoomed in on Aniston, who simply said, "David." And we know where this is going!
ADVERTISEMENT - CONTINUE READING BELOW
The two finally confirmed on screen that in the "first season, I had a major crush on Jen," said Schwimmer. "At some point we were both crushing on each other," he added. He compared themselves to ships passing by each other as, "one of us was always in a relationship." To which LeBlanc cheekily blurted out a big BS.
It was then revealed that the two were constantly cuddling—complete with throwback clips of the two having fun on set—with Aniston wondering how nobody knew. Turns out "everyone knew," the rest of the couch confirmed. Aniston did add that they would just never work; instead she was happy they got to channel all that admiration "into Ross and Rachel." Oh, and big point here: even Aniston agrees that they were on a break. 
The cast revealed what they think their characters are up to now.
Towards the end, the gang was asked whether they would be up for a reunion, to which Kudrow replied that she would not want to unravel their happy endings just for the show to continue. We couldn't agree more!
ADVERTISEMENT - CONTINUE READING BELOW
Instead, they imagined what the Central Perk gang could be up to now. Aniston even turned to Schwimmer to ask "Did we get married?" and we can't be the only ones to freak out about that glimmer in his eyes when he said, "Sure."
Aniston added that Rachel and Ross probably had some kids but Ross is definitely "still playing with bones," resulting in LeBlanc giddily laughing.
Cox said that Monica and Chandler's kids have probably graduated by now, but she's "still really competitve." And yup, Chandler is still "making me laugh every day," too. Thank goodness.
Pheobe, meanwhile, has her own family with Mike (Paul Rudd) in Connecticut, and is an "advocate for all her kids" and all those who are a "different," said Kudrow.
And as for Joey? Well, he's got his own "sandwich shop in Venice Beach," said LeBlanc.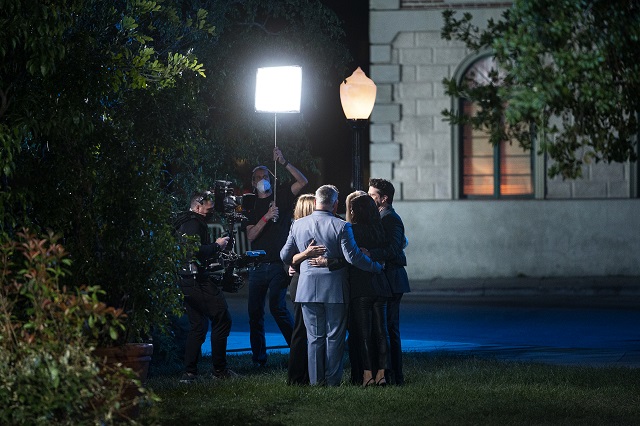 ADVERTISEMENT - CONTINUE READING BELOW
Hey, Spotters! Check us out on Viber to join our Community and subscribe to our Chatbot.
Your guide to thriving in
this
strange new world.
Share this story with your friends!
---
Help us make Spot.ph better!
Take the short survey
More Videos You Can Watch
Load More Stories