10 Clichéd Rom-Coms, Ranked by How Much We Secretly Love Them
Well, not so much a secret now!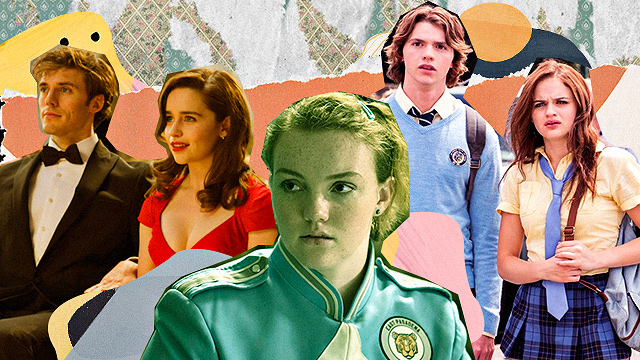 (SPOT.ph) There's a certain safety in predictability. Just ask these low-cost, serotonin-inducing rom-coms. We know, we know, you're probably too cool for this type of stuff—but we all deserve a break once in a while. And by break, we mean an opportunity to just laze around the couch and watch something that might just make us happy, even for a little while. We round up some of the best formulaic rom-coms—you know the type, with absolutely ridiculous dreamlike premises—then arranged them from the least to most worth it to watch, despite ourselves.
These romantic comedy movies didn't get any critical acclaim but dang, do we love them:
Sierra Burgess Is a Loser (2018)
Where to watch: Netflix
Okay, so this movie probably tried it's darndest to come off as funny—but the cringe and problematic content is hard to ignore. Sierra Burgess (Shannon Purser) is your typical, unpopular high school geek who finds herself chatting with hottie Noah Centineo—in this movie his name is Jamey (but we all know who it really is)—but only because he actually thinks his talking to popular girl Veronica (Kristine Froseth). Sierra then somehow manages to loop Veronica into this totally questionable yet strangely entertaining catfishing tale.
ADVERTISEMENT - CONTINUE READING BELOW
Best cliché: Come for Centineo and his curls, stay for Sierra and Veronica's wholesome friendship.
A California Christmas (2020)
Where to watch: Netflix
A rich and arrogant city boy named Joseph Van Aston (Josh Swickard) is sent to a dairy farm to convince the owners to sell off their land. Only the farm is owned by a small family—a headstrong Callie Bernet (Lauren Swickard), a sick mother and younger sister—who will not sell it for all the money in the world. Cue Joseph conning his way into their trust as a clumsy farm hand who eventually learns what really, truly, matters. Fun fact: The lead stars are married to each other IRL so yes, it's mostly that undeniable chemistry that keeps us coming back to this cookie-cutter Christmas romance.
CONTINUE READING BELOW
Recommended Videos
Best cliché: A deus ex machina in the form of a trove of old hidden wines that turn out to be expensive enough to cover some needed expenses.
Love Wedding Repeat (2020)
Where to watch: Netflix
How about a non-linear rom-com for once? A multi-linear one, in fact. Love Wedding Repeat goes through multiple possible events of one day: a picturesque villa wedding. Jack (Sam Claflin) is doing his best to make sure his sister's wedding goes off without a hitch except that means having to deal with an angry ex-girlfriend, a gatecrasher, a sleeping pill, and yup, the girl that could be The One, Dina (Olivia Munn). It's a messy comedy, but one our brain cells wouldn't mind sitting through.
ADVERTISEMENT - CONTINUE READING BELOW
Best cliché: Getting caught in a hilariously compromising situation with the crushie.
Letters to Juliet (2010)
Where to watch: HBO Go
There's the Romeo and Juliet factor, the picturesque Verona, a long lost-love letter, and two very blonde, very attractive leads. Letters to Juliet has everything it needs to be a pretty pleasant watch when all you want is to imagine yourself in some Italian romance. And really, that's what we wish we were in right now.
Best cliché: They recreate a scene from Romeo and Juliet. We won't say which but you already probably know it. (Hint: This is a totally sweet rom-com so they pretty much ignore the tragic ending).
Love, Guaranteed (2020)
Where to watch: Netflix
Remember Rachael Leigh Cook? As in of She's All That '90s fame? Yup, she's back in another rom-com, this time to take a dig at the world of online dating. Susan is an attorney, the morally upright kind, who is hired by the charismatic Nick (Damon Wayans Jr.) to help him sue a dating app named yup, Love, Guaranteed for not being able to yup, again, find him the love that was guaranteed. There's a healthy amount of vague laughs and amusing set-ups in this movie, more than enough to keep us smiling along.
Best cliché: The hilarious montage of Susan trying out the dating app for herself, and the failed match-ups that ensue. It's almost as good as the staple makeover scene.
ADVERTISEMENT - CONTINUE READING BELOW
Falling Inn Love (2019)
Where to watch: Netflix
Out of all the Hallmark-type romance movies on this list, this is arguably the best-executed one. In a series of implausible events, a burned-out San Francisco corporate slave named Gabriela (Christina Milian) ends up the owner of an inn in a small, picturesque New Zealand town. Only the inn is completely run-down—which means she'll need the help of local all-around man Jake (Adam Demos), and of course, they don't like each other at all.  
Best cliché: They somehow find old love letters in the inn that are very loosely used to connect to their own relationship.
New In Town (2009)
Where to watch: Prime Video
Corporate honcho goes to a small town, gets stranded, meets a guy with a possibly similar past, and finds out what life is really about. It's an incredibly old trope but when set in a fun Minnesotan town with Renée Zellweger and Harry Connick Jr. as the two incredibly charming leads, it still can't be beat. Add in the nostalgia of the aughts and we've got a sure no-brainer winner.
Best cliché: Guy saves damsel in distress—only the damsel in question is a hilariously drunk Zellweger.
The Kissing Booth Trilogy
Where to watch: Netflix
You'd think by now people would understand most teen rom-coms are made to be about as far away from reality as possible—but this series just takes the cake. There is a massive number of problematic plot points in these movies. The first part literally starts off with sexual harassment, but somehow that's meant to be taken as cute? We are both offended and can't stop watching. We can't peel our eyes off this sometimes overly dramatic, sometimes in-your-face comedic, tale of a girl whose decisions, for some reason, rely mainly on either her best friend or her boyfriend. Think of it as a wild Wattpad story that somehow got made into a big-budget trilogy.
ADVERTISEMENT - CONTINUE READING BELOW
Best cliché: Fist fights? Stealing kisses? A girl's life choices completely dependent on two boys? They're all in this trilogy and we love-hate it.
Holidate (2020)
Where to watch: Netflix
You know it's a holiday when a new romance movie about said holiday drops on Netflix. And it looks like they went the multi-purpose route with Holidate! Sloane (Emma Roberts) and Jackson (Luke Bracey) aren't dating, they're holi-dating, which means they're each other's no-commitment plus-one's to special events. It's a pretty new-ish premise that allows for hilarious festive scenes; there's no denying Roberts and Bracey have a fun chemistry that'll keep you hooked. While the story may not surprise you, how much you enjoy it actually might.
Best cliché: A loud public profession of love! Who doesn't love one of those?
Me Before You (2016)
Where to watch: Prime Video, HBO Go
Emilia Clarke and Sam Claflin star in this romance, comedy, heavy-drama movie based on a book by JoJo Moyes. Clarke stars as Lou the happy-go-lucky girl from a small English village who lands a job taking care of Will (Claflin), a once-active sportsman who is now paralyzed from the neck down—but is still part of an insanely rich family. It is a pretty genuine movie for the most part, it is just the highly unlikely premise that gets to us. And also the amount of tears we cried. 
Best cliché: The power of a red dress, and TBH—no sappy syrupy sentiment here—Clarke's smile combined is undeniable.
ADVERTISEMENT - CONTINUE READING BELOW
Hey, Spotters! Check us out on Viber to join our Community and subscribe to our Chatbot.
We are now on Quento! Download the app and enjoy more articles and videos from SPOT.ph and other Summit Media websites.
Your guide to thriving in
this
strange new world.
Share this story with your friends!
---
Help us make Spot.ph better!
Take the short survey
Load More Stories