10 Toxic Couples From Pop Culture to Remind You How Great Being Single Is
Rachel should not have gotten off the plane.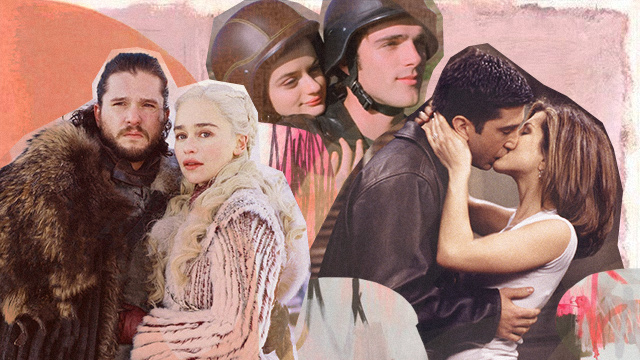 (SPOT.ph) Have you ever yelled at a TV screen when two people who clearly weren't good for each other just kept forcing a relationship? Yeah, we feel you. There are a lot of couples from shows and movies of recent years that are the definition of toxic—and yet, for some reason we couldn't get enough of that tension. From the time of Romeo and Juliet, possibly even earlier, people have fallen head over heels for fictional people in turn falling head over heels for the wrong person, and just like in real life, we never seem to learn from our mistakes. We round up some of the most misguided lovers in pop culture that really shouldn't have been romanticized at all, whether in retrospect or as part of the story's point.
ADVERTISEMENT - CONTINUE READING BELOW
Also read:
10 Perfect Places for Breaking Up in Manila
10 Fictional Exes That Will Make You Think "What If"
Top 10 Most Jaw-Dropping Breakup Scenes of All Time
Presenting our problematic faves! Here are the 10 most toxic couples we've seen on screen.
Ross and Rachel (Friends)
She should not have gotten off that dang plane. We don't care if they were each other's lobsters or that Ross (David Schwimmer) has been waiting on her since they were kids. Rachel (Jennifer Aniston) gave up something huge (read: A career in Paris that she had been working really hard towards) for Ross—and we doubt he was worth it. Yup, we said it. Plus, Ross and Rachel's on-and-off again relationship throughout Friends just had us stressed out the entire time. Individually they're great people, but together? Yeah, it's a no from us. Also, "We were on a break!"? Come on, Ross.
CONTINUE READING BELOW
Recommended Videos
ADVERTISEMENT - CONTINUE READING BELOW
Daenerys Stormborn and Jon Snow, King in the North (Game of Thrones)
Game of Thrones had no shortage of toxic relationships, whether romantic or not, but (most) of those severely unhealthy ones were never as romanticized as these two. It was obvious we weren't meant to root for the incestuous Lannister twins, Sansa and Ramsay (or any of her husbands, really), and others, yet when it came to Jon (Kit Harrington) and Dany (Emilia Clarke), well, it was hard not to hope for a happy ending where the two ride off into the sunset on a dragon's back. Yes, we know they're related! It is one of the main reasons they're on this list. The two meeting and creating a political alliance made sense; the romantic alliance, not so much sense. Also, he literally kills her in the end. Not exactly what one would call a healthy relationship, now is it?
ADVERTISEMENT - CONTINUE READING BELOW
Tom and Summer (500 Days of Summer)
No rom-com pairing has had people as divided as the duo in 500 Days of Summer. Whose fault was it that the relationship didn't work out? Spoiler alert: It is Tom's. Yup, we said it. We follow Tom (Joseph Gordon-Levitt) through the ups and downs of his undefined besties-or-lovers-or-both relationship with his Manic Pixie Dream Girl (Zooey Deschanel), all the while seeing her completely through his eyes. It is clear that they were never clear about each other—a huge red flag which is also a huge point of the movie. And at the end when Tom finally realizes that Summer is her own person, you can feel how crushed as he was, but at least he finally got the necessary wake-up call.
Noah and Dean (Blue Valentine)
Before there was Marriage Story, there was Blue Valentine. This is kind of a black sheep on the list as instead of romanticizing a toxic relationship, it shows what happens when said toxic relationship finally reaches the breaking point—and just how much more toxic the splitting-up process can be. Blue Valentine follows the once-in-love-and-now-married Dean (Ryan Gosling) and Cindy (Michelle Williams) from the good old days to the really bad last days. And with Gosling playing the leading man—and crooning "You always hurt the ones you love"—you know it's going to be one heck of a tearjerker.
ADVERTISEMENT - CONTINUE READING BELOW
Kylo Ren and Rey (The Rise of the Skywalker)
When J.J. Abrams himself can't outright say Kylo Ren (Adam Driver) and Rey (Daisy Ridley) were a thing-thing, then you know it's complicated. "There is as much of a brother-sister thing between Rey and Kylo Ren as there is a romantic thing," said Abrams, who directed and co-write The Rise of Skywalker. "So it's not like literally a sexual, romantic thing, but it's more like they're bound together in this movie in a crazy, spiritual way that, again, felt romantic to me."
Confused? Yeah, we are too. You can't have both a sibling and romantic relationship; we're pretty sure that is wrong on so many levels. So while the two ultimately defeated great evil together—with one of them dying as the ultimate sacrifice—it's debatable whether a romantic relationship would have done these two any good. 
ADVERTISEMENT - CONTINUE READING BELOW
Ji Sun Woo and Lee Tae Oh (The World of the Married)
Look, when you literally use your son as bait to get back at your cheating husband, well, what can we say? Ji Sun Woo (Kim Hee Ae) and Lee Tae Oh (Park Hae Joon) of The World of the Married have major issues to say the least.  When their idyllic marriage turns to shambles because of Tae Oh's infidelity, the scary-smart doctor Sun Woo goes on an incredibly toxic rampage to exact revenge on her husband. Look, we know all this ridiculously hardcore toxic stuff is exactly what you're here for so no judgment, enjoy all this drama—but keep it vicarious.
Popoy and Basha (A Second Chance)
Every relationship has its ups and downs—the us-against-the-world type thing—but dang, there has to be a limit to the amount of second chances you put yourself through. Popoy's (John Lloyd Cruz) treatment of Basha (Bea Alonzo) in A Second Chance was eyebrow-raising. Not only did he go out with the ex—not just any ex either—until the wee hours of the morning, he completely lied to her about the company they started together, showed a complete lack of faith in her abilities as an equal career-wise, as well as some scary tendencies. Yes, this pairing is practically sacred in Pinoy pop culture—but we just need to point out those blaring flaws. We'll have to wait and see if their 2021 reunion movie with Cathy Grace-Molina continues this storyline!
ADVERTISEMENT - CONTINUE READING BELOW
Elle and Noah (The Kissing Booth)
If there was any movie that was specifically marketed towards teenage girls that you really should not show to any teenage girls that you know, it's The Kissing Booth. Everything about Elle and Noah's relationship was problematic. From the premise—him suddenly noticing her because she got boobs; him swooping in when she's sexually assaulted and then effectively victim-blaming—to the super-duper volatile tension their relationship created with Lee (his brother and her bestie), this movie is a goldmine of relationship Don'ts. Plus, the fact that Lee immediately assumed his brother had hurt Elle is hugely telling of Noah's nature. Remember when he yelled at Elle to get into his car when all she clearly wanted was to get away from him? It was bad enough he did that, even worse that she followed. Yeah, we don't know who needs to hear this but no, this fanfic wet dream isn't at all romantic—much less healthy.
ADVERTISEMENT - CONTINUE READING BELOW
Joker and Harley Quinn (Suicide Squad)
No surprises here: It is 100% obvious that Harley Quinn and her obsession with Puddin'—who literally left her for dead in the Suicide Squad universe—isn't to be emulated. So the fact that they wrapped up this (literally) toxic relationship in such an attractive pairing with added epic badassery and a bit of a kooky touch is a bit disturbing. Sure, we're all adults capable of filtering the information media gives us but goodness, Margot Robbie and Jared Leto are too charismatic to play a couple we really shouldn't love.
Jack and Ally (A Star Is Born)
Look, any relationship that ends with one of them (pointlessly) dying for the sake of the other isn't a healthy one in our book. The many iterations of this classic tale always has the guy committing suicide to "allow" their partner to continue on with their career—sans the heavy "burden." Notice the quotes signaling that this was their misguided perception. At the very least, this film is a reminder to take mental health seriously.
ADVERTISEMENT - CONTINUE READING BELOW
Your guide to thriving in
this
strange new world.
Share this story with your friends!
---
Help us make Spot.ph better!
Take the short survey
Load More Stories