10 Fictional Exes That Will Make You Think "What If"
To all the (fictional) exes you still think about.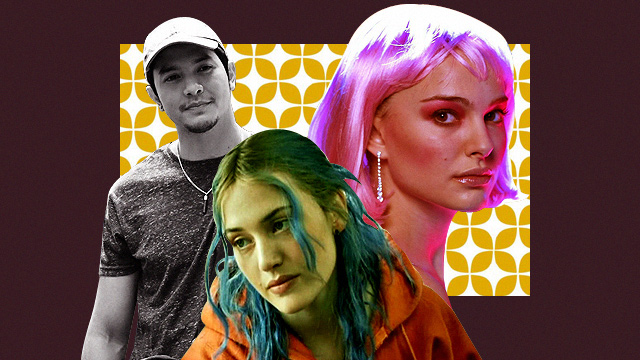 (SPOT.ph) Before you get war flashbacks of your ex again, allow us to say that sometimes, it could have worked out. And that in hindsight, some parts of it were okay and genuinely made you happy. Unfortunately, hindsight is 20/20, and while you can't exactly get back with an ex that keeps making you think "what if," you can at least rest easy knowing that countless people go through this brand of wistful thinking, and you can look to the movies for proof. Breakups suck, but not all exes do. Below, we list down 10 ex-lovers from movies and series that will have you wishing they could work out again. And heads up, we will be talking about failed relationships, so yes, there will be spoilers. You've been warned.
Here are 10 fictional exes that deserve a second chance:
Summer Finn from 500 Days of Summer (2009)
ADVERTISEMENT - CONTINUE READING BELOW
If you're still #TeamTom (Joseph Gordon-Levitt) after all these years, you may want to revisit the movie to realize that Summer Finn (Zooey Deschanel) was not horrible for breaking up with Tom Hansen. Is it sad that they had to go their separate ways and Summer ended up finding love outside of her thing with Tom? Yes. Are you going to think about the possibilities of the two working things out and clearly communicating their expectations and wants? You bet. It stung to watch Tom spiral and see him fill greeting cards with sadness, and we get you if you're still thinking about happy days strolling through IKEA had it just worked out for the two.
Alice Ayres or Jane Jones from Closer (2004)
Lying is the most fun a girl can have without taking her clothes off, and we'd be lying if we told you we didn't think of Alice (Natalie Portman) getting back with writer Dan Woolf (Jude Law). It's a complicated mess when you add photographer Anna (Julia Roberts) and dermatologist Larry (Clive Owen), but could you blame Alice for wanting to be loved? Her life takes a bizarre turn, and it does make us wonder how things could have been had she just been loved right and honestly. 
Annie Hall from Annie Hall (1977)
Annie Hall (Diane Keaton) is the type of woman that made you think about her long after she's gone, and such is the case for Alvy Singer (Woody Allen). Everything in comedian Alvy's life has been difficult to understand and explain, but when he's with Annie, everything just makes sense. While it does work out (at least in the beginning), love is not enough to make people stay, and miscommunication can lead to heartbreak. That, and not being on the same page is reason enough to break things off no matter how much two people like each other. And hey, you're not exactly in the business of them getting back together, but that doesn't mean you can't think about them.
CONTINUE READING BELOW
Recommended Videos
Nate Davis from Someone Great (2019)
Nine years is a long time, and having things fall apart right before a major development in your career can cause you to just...stay at home and eat ice cream for days on end. Such is the case for music journalist Jenny Young (Gina Rodriguez) in Someone Great, who was dumped by musician Nate Davis (Lakeith Stanfield), whom she met at a college party. The duration of the film has her friends Blair Helms (Brittany Snow) and Erin Kennedy (DeWanda Wise) helping her get over him, but it's only through her own acceptance and realization that she eventually lets him go for good. We're all about gals finding their own way after a heart-crushing breakup, but a job at Rolling Stone while in the arms of the supposed love of your life will have you up at night. 
Popoy Gonzales from One More Chance (2007)
"Sana ako pa rin. Ako na lang, ako na lang ulit." may be a line you recite in jest in the company of your friends, but you can't deny you felt bad for One More Chance's Basha Eugenio (Bea Alonzo) when she bared her heart to ex-boyfriend Popoy (John Lloyd Cruz), in the hopes that they'd get back together. But as Popoy said, she chose to break his heart, and it's a decision she'll have to live with, no matter how painful it might be. You got a sequel and another chance, but replaying this scene still throws you back to a time when Popoy and Basha weren't together, but you badly wished they still were. 
ADVERTISEMENT - CONTINUE READING BELOW
Ethan del Rosario from Hello, Love, Goodbye (2019)
Hello, Love, Goodbye's Joy Fabregas (Kathryn Bernardo) was on borrowed time in Hong Kong. Not only was she hustling for her family back home, she also set up a clear deadline on her stay so she can finally move her family to Canada. A relationship was never part of the plan, and yet here she is, falling for a guy—Ethan del Rosario (played by Alden Richards)—who is willing to take whatever she can give. Some people are worth a pause, but at the end of the day, the world still keeps spinning, leaving no time for anyone to fully stop. We respect Joy's decision to pursue her original goals and dreams, but we're still thinking about the life she could have lived with Ethan in Hong Kong.
Jesse Abrams from Celeste and Jesse Forever (2012)
Some will claim they can be friends with their exes, but with all the feelings, bitterness, and unfinished business, it can become this weird and complicated setup that doesn't fully sever ties between two people. Celeste Martin (Rashida Jones) and Jesse Abrams (Andy Samberg) are high-school sweethearts who married young, only to realize they were better off as friends in the long run. Despite their sobering realization and their status as actually amicable exes, a part of us still wonders what would have happened had Celeste decided to stick by Jesse's side, instead of choosing to divorce him. Exes never truly leave your heart, but we suppose you begin to love them in a new way.
ADVERTISEMENT - CONTINUE READING BELOW
Clementine Kruczynski from Eternal Sunshine of the Spotless Mind (2004)
As of writing, technology that can erase painful memories from a relationship or breakup doesn't exist yet, but we can understand its appeal. Supposed strangers Joel Barish (Jim Carrey) and Clementine Kruczynski (Kate Winslet) meet on a train and connect immediately, and later find out they were in a relationship but had it erased from their memories. Clementine had hers wiped first, and we can only imagine the hurt she went through to remove him from her life. A second chance at a relationship presents itself, but Clementine's fears stop her from taking the jump, and we can't help but think of the good things that can still happen if they choose to get back together. 
Sarah Hayes from Definitely, Maybe (2008)
Thirty-eight-year-old father Will Hayes (Ryan Reynolds) had a couple of romantic escapades in his youth, with varying levels of success and depth. His 10-year-old daughter Maya (Abigail Breslin) asks him how he met her mother Sarah (Elizabeth Banks), and you can't help but wonder how things would have panned out had the two decided to stick together. While their relationship started in college and fell apart later in life due to differences in ambition and feelings, the two still got their happy ending in Maya, even if it means parenting her separately. Little Maya learns that sometimes, people aren't meant to be together, but at least we're still allowed to think about a reality where Will and Sarah are endgame.
ADVERTISEMENT - CONTINUE READING BELOW
Robin Scherbatsky from How I Met Your Mother (2005)
In Season 1 of How I Met Your Mother, Ted Mosby (Josh Radnor) and Robin Scherbatsky (Colbie Smulders) hit it off, only to realize that they weren't on the same page. Ted is looking to settle down with kids, while Robin doesn't really want a family in the future. They remain friends and Robin's absorbed into the friend group over the years, but feelings still linger, no matter how much time has passed. Ted starts a family of his own, but at the back of his mind lies a possible future with Robin, even after all these years (and seasons!). The series' end teases a possible second shot at a relationship, and while there's no conclusion, you're free to imagine Ted and Robin together.
Share this story with your friends!
---
Help us make Spot.ph better!
Take the short survey
Load More Stories