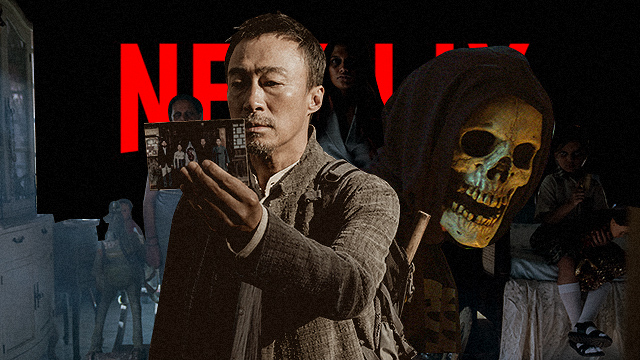 (SPOT.ph) Horror films aren't just arguably all about a screamfest—they offer glimpses of a country's history, culture, folktales, and even filmmaking style, too. Thanks to streaming sites, it has become easy for us to watch new drops while discovering hidden gems from various parts of the globe.
ADVERTISEMENT - CONTINUE READING BELOW
Also read:
10 Perfectly Unsettling Horror Novels for Your Reading List
These new horror movies on Netflix will keep you up at night:
The Fear Street Trilogy: 1994, 1978, and 1984 (2021)
Based on the popular young-adult horror book series by R.L. Stine and directed by Leigh Janiak, this teen-slasher trilogy follows Deena Johnson (Kiana Madeira) and her friends as they try to uncover the true story behind the long-running Shadyside curse, where random citizens seem to just snap and murder other Shadysiders at the behest of a 17th-century witch named Sarah Fier (Elizabeth Scopel).
Why you should watch: It follows the tradition of classic American slasher films while offering a glimpse of a few American cultural and historical references, albeit retold with a few creative liberties. 
Blood Red Sky (2021)
This German horror flick takes viewers on a nightmarish flight with terrorists on board… and a vampire, too. Nadja (Peri Baumeister) and her young son Elias (Carl Anton Koch) are on their way to New York to seek treatment for the former's mysterious disease. That disease turns out to be an ability to turn into a vampire—something that comes in useful later on, when the terrorists proceed with their evil plan.
ADVERTISEMENT - CONTINUE READING BELOW
Recommended Videos
Why you should watch: The movie has a few tender moments, but with enough action and suspense to keep you at the edge of your seat.
A Classic Horror Story (2021)
If you've seen enough horror movies, the first half of this Italian flick by directors Roberto de Feo and Paolo Strippoli will certainly make you think you know where it is going: a group of strangers centering on a woman named Elisa (Matilda Lutz) carpools with strangers, and their RV ends up crashing into a tree in the middle of nowhere. The next day, they find an empty house that turns out to be the lair of killers.
Why you should watch: The second half rolls in, and it turns out that, no, you didn't see this one coming. 
The Strange House (2020)
If you're up for something tamer, check out this Austrian horror film by Daniel Prochaska. Big-city teen Hendrik (Leon Orlandianyi) moves with his mom Sabine (Julia Koschitz) and younger brother Eddi (Benno Roskopf) to an old house in a remote town, and ends up getting entangled in strange events and an old mystery. The rest of the movie sees Hendrik, Eddi, and their new friends Ida (Marii Weischler) and Fritz (Lars Bitterlich) trying to solve the mystery. 
ADVERTISEMENT - CONTINUE READING BELOW
Why you should watch: It may even be enjoyed with the whole brood. Maybe.
Don't Listen (2020)
This Spanish movie begins with a family of property flippers moving into an old house in the Italian countryside. Soon after, bad things start to happen, with the young son Eric (Lucas Blas) complaining about voices he hears inside the fly-infested house while his parents Daniel (Rodolfo Sancho) and Sara (Belén Fabra), experience inexplicable events themselves.
Why you should watch: This film is quite heavy, what with the unsettling happenings inside the house leading to one tragedy after another. 
Ghost Stories (2020)
This Indian omnibus movie presents four horror shorts, each starring different characters in different scenarios: a caregiver spooked by her elderly ward; a pregnant woman who only wants nothing but to give birth, and her jealous nephew; a man who finds himself in a town of cannibals; and a newlywed woman whose husband is a granny's boy—but said granny has been dead for 20 years.
ADVERTISEMENT - CONTINUE READING BELOW
Why you should watch: It's a mixed bag of spooky stories.
The 8th Night (2021)
This Korean film has the myth of Buddha defeating a monster by ripping off its eyes—a black and a red one—and burying them individually in the Far East and Far West serving as its foundation. Fast-forward to the 21st century, a disgraced professor (Choi Jin Ho) finds and reawakens the red eye, which causes mayhem everywhere. It's then up to banished monk Park Jin Soo (Lee Sung Min) to go after the red eye and stop it from reuniting with the black eye.
Why you should watch: The amount and methods of killings will sufficiently creep you out.
The Bridge Curse (2020)
Taiwanese director Lester Hsi crafts an urban legend in this movie—specifically, one that's about a cursed bridge inside a university, which supposedly causes anyone who climbs up its steps at night and finds a 14th step (there are only 13 during the day) and looks behind them to die a gruesome death. Journalist Lien Shu-yu (Summer Meng) and her cameraman (JC Lin) investigate, while a group of students make light of the legend and use it as an initiation rite.
ADVERTISEMENT - CONTINUE READING BELOW
Why you should watch: It's an interesting take on urban legends.
Inhuman Kiss (2020)
In this Thai horror-romance movie set in the 1940s, a feared monster called the krasue terrorizes a small provincial town. At the center of happenings are three childhood friends who, aside from dealing with the krasue, also deals with budding romantic feelings for one another.
Why you should watch: That insane showdown towards the end will keep your eyes glued to the screen.
Roh (2019)
Best known as Malaysia's official entry for the Best International Feature Film category at the 93rd Academy Awards, Roh follows the story of a family of three who live in the middle of the forest, and the misfortunes they started to face after taking in a young mysterious girl.
Why you should watch: Evenly paced and maintains an unsettling air from start to end, Roh is quiet, but never boring, and the visuals certainly aren't for the squeamish.
ADVERTISEMENT - CONTINUE READING BELOW
Hey, Spotters! Check us out on Viber to join our Community and subscribe to our Chatbot.
Your guide to thriving in
this
strange new world.
Share this story with your friends!
---
Help us make Spot.ph better!
Take the short survey
Load More Stories