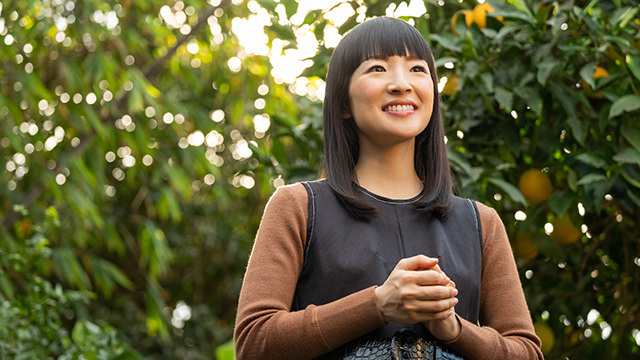 (SPOT.ph) In early 2019, organizing expert and consultant Marie Kondo skyrocketed into superstardom after her reality series Tidying Up With Marie Kondo premiered on Netflix. Not only did Kondo quickly become a household name and media phenomenon, but she also left a palpable cultural impact across the world. Folks took her now-famous KonMari method as a guiding force to organize and declutter their homes. The impact of the show even crept into 2020, arguably becoming more relevant as everyone across the globe was forced to stay home and confront the often less-than-ideal state of their personal spaces.
ADVERTISEMENT - CONTINUE READING BELOW
Early in the worldwide quarantine period, Netflix announced that Kondo would be returning in a new show called Sparking Joy with Marie Kondo, which is set to release in late August. We got a chance to sit down and chat with Kondo about the upcoming series—don't worry, no spoilers here. Kondo's thoughts and opinions here are directly quoted from her official English translator.
Also read:
10 Ways to Get Yourself to Declutter Even When You'd Rather Not
Sell, Donate, Give: What to Do With the Things You Don't Want Anymore
Marie Kondo on Her New Series Sparking Joy With Marie Kondo
In Tidying Up, Kondo visited various homes and families, helping them organize their spaces, sharing her life-changing tips, and teaching them how to get rid of items that no longer "spark joy." The aptly titled Sparking Joy follows a similar format, but this time around, Kondo takes her expertise to small businesses and tight-knit communities. While helping folks and groups tidy up and declutter, she develops her method, allowing it to evolve into a whole life philosophy. "With this current show, we go much deeper and more expansive and I hope that the viewers will be able to really apply the methods of tidying to all aspects of their lives," says Kondo.
ADVERTISEMENT - CONTINUE READING BELOW
Recommended Videos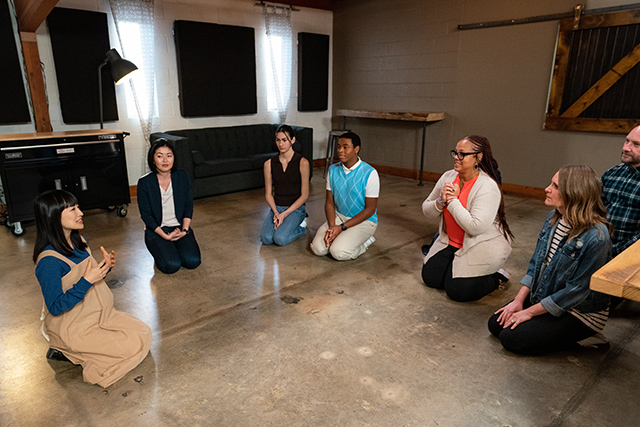 In the process of making a workplace or community less cluttered, she guides people towards learning how to identify what really matters in life and to appreciate the true essentials of communal or professional spaces. While there were traces of this philosophy in her 2019 series, the difference here is that Kondo actively makes the effort to elevate her method and turn it into a lifestyle that can function outside of the home—and even in our relationships and social connections.
ADVERTISEMENT - CONTINUE READING BELOW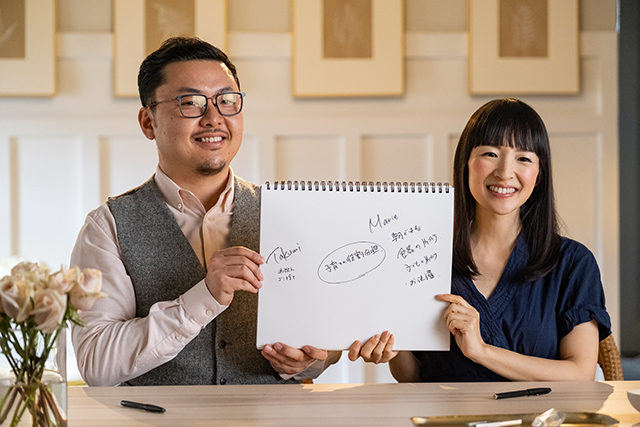 "I used to work as an organizing consultant directly with clients and the connection between tidying and human relationship is something that I learned from them," says Kondo in a roundtable interview with SPOT.ph. "Once we finished tidying, they would always tell me that tidying has had a very positive impact on all aspects of their life." In Sparking Joy, we see the impact that the KonMari method (and its accompanying mindset) can bring. "It's by choosing joy constantly throughout the tidying process that you're able to apply that sensor to other aspects of your life," says Kondo. 
ADVERTISEMENT - CONTINUE READING BELOW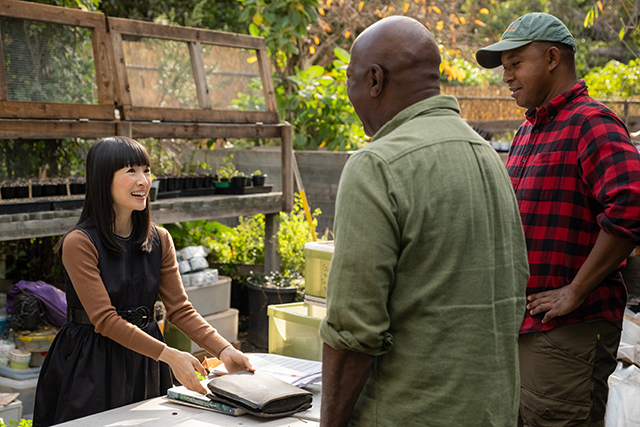 She admits, however, that the process of creating the new series and enhancing her method along the way was a challenging one. "For this current show, I went to places that I have no experience tidying—nurseries, churches, and coffee shops," she says, just to give you an idea of where you'll see Kondo applying her expertise in the upcoming reality program. "In the last show, I was much more confident starting in, but this time, I really had to learn with my clients as we tidied [up] and it was sort of a trial-and-error process." In following both Kondo's and her clients' journey, Sparking Joy presents not only a refined and expanded version of Marie Kondo's method, but also a more in-depth look at the organizing specialist herself.
ADVERTISEMENT - CONTINUE READING BELOW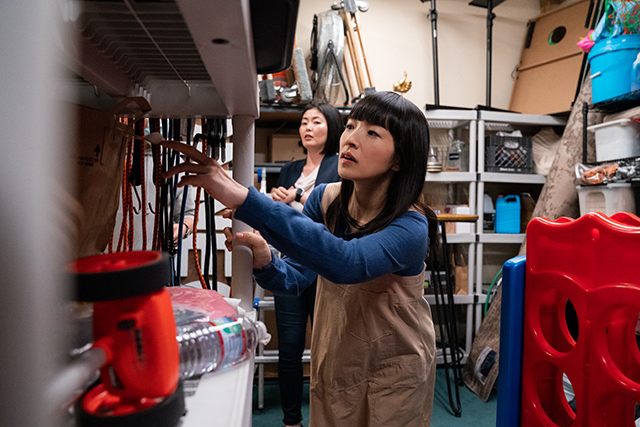 As Kondo guides clients of all ages and backgrounds, she shares tidbits of her own life—how she started her own tidying journey and how she incorporates the method in her family life and day-to-day routine. Kondo's daughter even makes an appearance in an episode of the series, and shares that "you can start teaching kids as [young] as two years old [how to tidy]." She notes that she even tries to make the organizing process into a game when passing down her knowledge to her children. Kondo herself actually started really learning how to properly tidy up when she was just five years old—a skill and life lesson she picked up from her grandmother.
ADVERTISEMENT - CONTINUE READING BELOW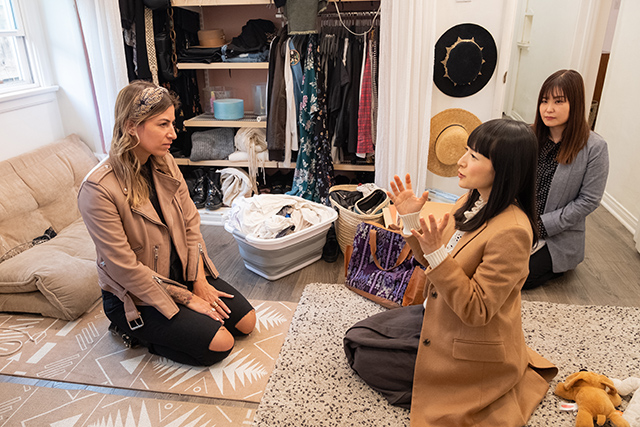 In expanding how we see the always-polished and put-together Marie Kondo, the series also broadens her organizing and decluttering method—famously centered around the idea of identifying what things in our life do or don't spark joy—giving viewers an idea of how it can be applied to all facets of life. When asked about how to incorporate the tidying-up philosophy to one's real life, Kondo says, "I think it's very important to have that very large overall perspective before you judge whether something sparks joy or not—to really consider it as a whole." And yes, this applies to more than just your closets and pantries.
ADVERTISEMENT - CONTINUE READING BELOW
She gives careers and relationships as examples, encouraging her followers to approach these parts of their lives with guiding questions like "Is there any part of those things that still you can feel grateful for? Is there any part of your career that you can still feel positive about?" In this way, Kondo inspires viewers to use the "sparking joy" metric in every part of life, emphasizing that like our homes, our habits, relationships, and communities require constant evaluating, nurturing, and restructuring.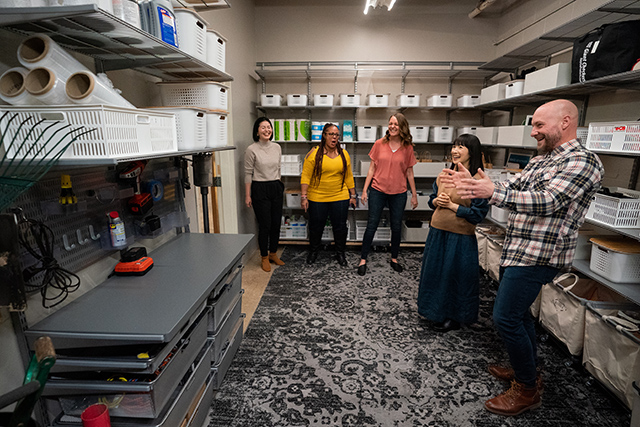 ADVERTISEMENT - CONTINUE READING BELOW
Kondo acknowledges that letting go of peers, moving on from jobs, and making other big changes in life is probably not as simple as parting with our material belongings. She believes that "there is a time in your life where you will feel ready to tidy," noting that the clients who tend to be the most difficult to work with are those who "are not enthusiastic about tidying...they themselves are not ready." To really enjoy the show, we suggest that you take Kondo's words and lessons as stepping stones for making changes in your own life, instead of hard and fast rules that require strict implementation. That way, says Kondo, "when you are ready to let go...you can do so with gratitude."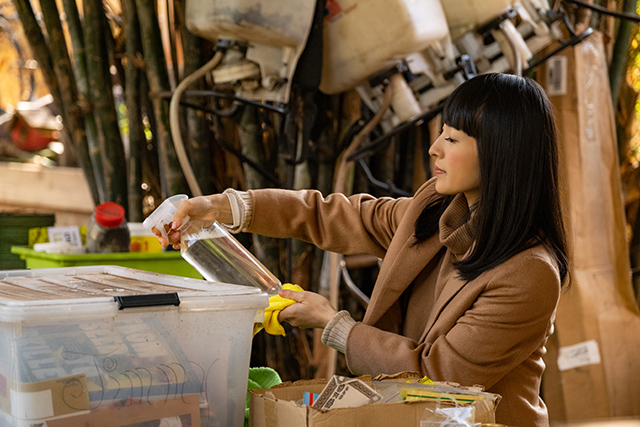 ADVERTISEMENT - CONTINUE READING BELOW
Much like in 2019's Tidying Up, Sparking Joy shows Kondo not as a genie who can magically make all your problems go away, nor as a robot who's ready to feed you all the data-proven solutions, but as a trustworthy mentor—one who shows you not the answer itself, but the ways in which you can find it. For this reason, Sparking Joy With Marie Kondo will be a must-watch for anyone who could use a little inspiration. The series definitely leans towards the self-help genre, but thankfully it imparts its message without any aggressive instructions or preachy declarations. The result is almost therapeutic. 
Sparking Joy with Marie Kondo premieres on Netflix on August 31.
Photos courtesy of Netflix.
Hey, Spotters! Check us out on Viber to join our Community and subscribe to our Chatbot.
Your guide to thriving in
this
strange new world.
Share this story with your friends!
---
Help us make Spot.ph better!
Take the short survey
Load More Stories