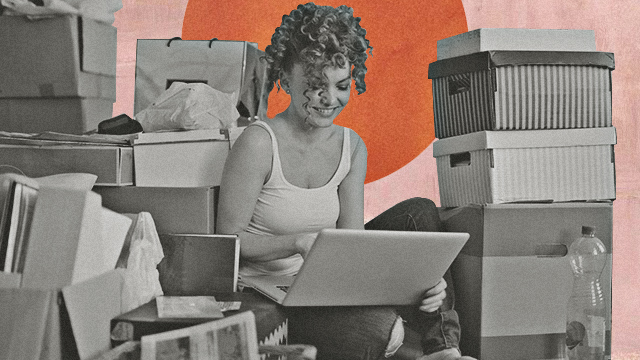 (SPOT.ph) If you went full Marie Kondo on your stuff recently—as most of us have thanks to the quarantine—you most likely have a pile of junk hidden somewhere in your home, far away from your now—#aesthetic spaces. Well, we don't know who needs to hear this but ignoring your problems won't make them go away. Time to get rid of that pile of junk!
ADVERTISEMENT - CONTINUE READING BELOW
There are a lot of reasons why it is hard to get rid of all you've decluttered at home. It could be that there are some really good pieces you just don't need anymore, stuff that no longer give you that spark but have way too much monetary value to just put in the trash, or vice versa (read: high sentimental value, low monetary value), and of course, maybe it's just too much of a hassle to actually do anything about the growing pile of junk you're currently ignoring. And no, buying more "organizers" to put the stuff you no longer need doesn't count. You can't buy more kalat to keep your other kalat in; trust us, it's a vicious cycle.
Bottom line: if you want to keep your workspace—or whatever other part of your house you have made over—as spotless as it is now, you need to totally get rid of the stuff you removed from it (and are probably keeping in a big box in a storage room or under your bed). This entails choosing to let go in a smart fashion. To help you along the process of totally letting go (of your things, okay), check out the many ways you can get rid of your junk below.
ADVERTISEMENT - CONTINUE READING BELOW
Recommended Videos
Also read:
10 Ways to Get Yourself to Declutter Even When You'd Rather Not
Decluttering for Dummies: The 10 Places to Start With at Home
Practical Tips and Places for Unloading Things You No Longer Need

Done decluttering? Time to cut the cord completely and get rid of the stuff that no longer spark joy.
The best thing to do right after decluttering is to take a moment to absorb how huge your reject pile got. And make sure you're not forgetting any items you don't need anymore. Have you double-checked your car's trunk? Nothing? Okay, let's begin.
There are two main ways we're suggesting you get rid of the things you don't need: one makes money and the other doesn't. Admittedly, the two main things you can do are pretty obvious but what we will do is get into the nitty gritty of the different platforms you can utilize. Totally up to you how much effort you want to put in! Fingers crossed these will help you finally tie off your decluttering adventure nice and tight.
ADVERTISEMENT - CONTINUE READING BELOW
Where to sell second-hand items online: 
Selling your items online will definitely take a bit more effort than simply giving them away. Aside from simply posting an "I'm selling this and that" to your personal social media pages, you can check out the following e-commerce sites:
Carousell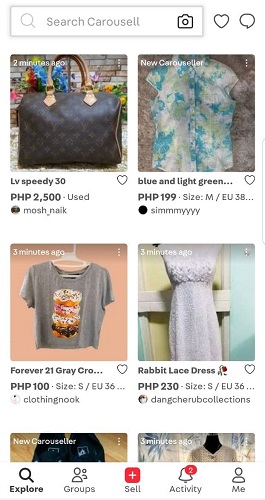 ADVERTISEMENT - CONTINUE READING BELOW
What is it? Arguably the most popular e-commerce platform for small-time sellers in the Philippines. You don't need an actual shop to get on the service, just some Internet savvy, stuff to sell, and a whole lot of bargaining expertise. The very open nature of this platform means that a lot of folks looking to buy will try to get the best possible deal out of you, so bring your grit.
Carousell is a pretty basic and easy to use e-commerce platform. You will have to hustle to get your item's worth on here, chatting with interested buyers and coordinating how to get the item to them is on you, though you can charge the buyer for courier service as well.
What kind of items are best sold here? Smaller items with less value. Say old books, clothes, accessories, and the like.
Carousell is available on iOS and Android.
ADVERTISEMENT - CONTINUE READING BELOW
Facebook Marketplace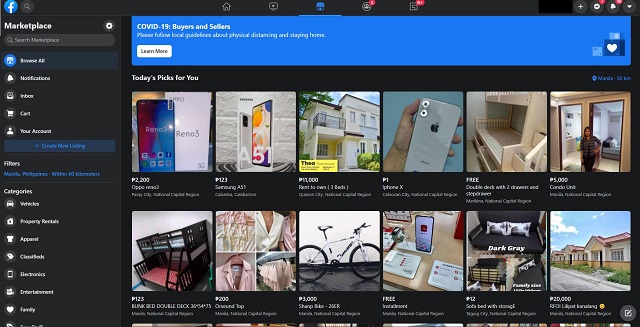 What is it? Yup, if you're sick of all the hard-to-navigate buy-and-sell groups, head on over to Facebook's specialized Marketplace platform. You can put up your own listings for items you want to sell—or fall into the blackhole of the endless scroll. If you do decide to use this platform to sell, please stay true to the price you put up! Don't be that guy.
ADVERTISEMENT - CONTINUE READING BELOW
What kind of items are best sold here? The Facebook Marketplace is so varied it's almost ridiculous. You can sell pretty much anything here but just note that you will have to negotiate prices and shipping with interested buyers!
Check out the Facebook Marketplace.
Where to donate things you no longer need:
If you're not in it to profit, or at least get your money's worth, there are also several channels where you can give your items away to someone else who might still need it. As the saying goes, one person's trash is another person's treasure.
Caritas Manila
ADVERTISEMENT - CONTINUE READING BELOW
What is it? The social services arm of Manila's Archdiocese has long been the go-to for in-kind donations. They accept all kinds of still usable items, from pre-loved clothes to working appliances and even furniture! Their offices are still accepting in-kind donations throughout the quarantine.
If the items you want to donate are small, such as pre-loved clothes, you can simply drop them off at the Radio Veritas office at the corner of West Avenue and EDSA. If your items are a little bigger than that, you can coordinate with their office for in-kind donations through 8562-0020, local 141 or on their Facebook page. They have several offices scattered around Metro Manila and you can coordinate with them to choose which is easiest for you to drop off your items.
What kind of items are best donated here? As mentioned, Caritas Manila accepts all kinds of items as long as they still have some sort of usable value. You can also keep updated through their Facebook page for any donation drives calling for specific items if you have more than enough.
ADVERTISEMENT - CONTINUE READING BELOW
Visit Caritas Manila's website for more information.
The Really Really Free Market Manila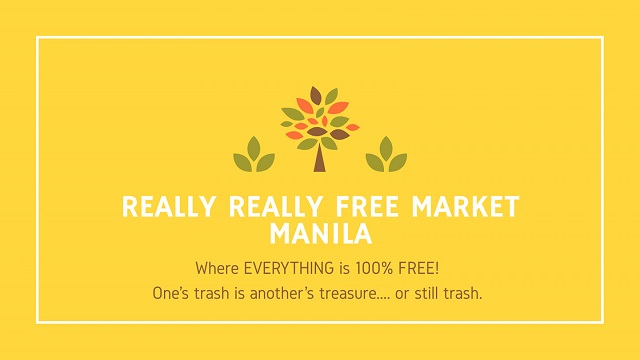 What is it? If you're tired of Facebook marketplace communities where posts that state "Free" turn out to not be free at all once you DM, then this is the place for you. This group's name is no lie. Folks from across Metro Manila have gathered here to give away their second-hand items for free and also look for stuff they may need free of charge.
ADVERTISEMENT - CONTINUE READING BELOW
What kind of items are best donated here? Common sense is the guide when you decide to give stuff away for free online. You will have to post a picture of the item you want to get rid of and coordinate shipping too, so best to keep things small and easy to transport—and clean, it goes without saying.
Visit the Really Really Free Market Manila Facebook group.
Hey, Spotters! Check us out on Viber to join our Community and subscribe to our Chatbot.
Your guide to thriving in
this
strange new world.
Share this story with your friends!
---
Help us make Spot.ph better!
Take the short survey
Load More Stories