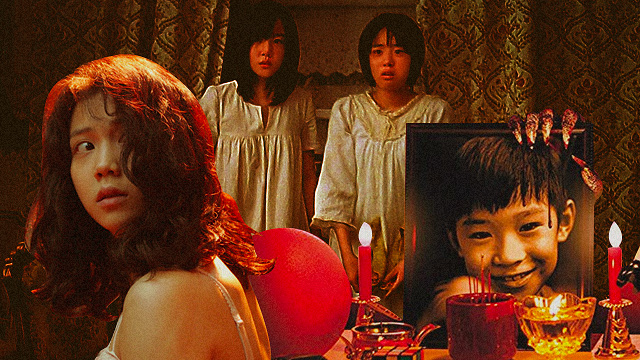 (SPOT.ph) It's not quite Halloween just yet, but there certainly isn't any shortage of horror films to be watched any time of the year. Asian cinema alone is rife with horror films often rooted on folklore and urban legends that are uniquely ours and, therefore, very familiar—which, TBH, ups the scare factor just a little more.
ADVERTISEMENT - CONTINUE READING BELOW
Here are more Asian horror films, ranging from the OGs to a few obscure ones you might have not seen yet and are all available for streaming online.
Also read: The Ultimate Subscription Guide: Which Streaming Service Should You Get?
Don't watch these Asian horror movies alone:
Bring Back The Dead (2015)
Where to stream: Netflix
Singaporean horror movie Bring Back The Dead is about a grieving mom (Jesseca Liu) who lost her young son due to a road accident. The mother resorts to supernatural means to bring her child back to life—leading to horrifying results. It's actually more emotional than scary, but it makes for a great watch nonetheless.
The Eye (2002)
Where to stream: Netflix
Horror fan or not, we're pretty sure you've already heard about (and seen) this classic Asian horror flick by the Pang brothers of Hong Kong. It's about a woman named Wong Kar-mun (Angelica Lee) who ends up seeing ghosts after a successful eye transplant. We dare say the OG is way scarier than that 2008 U.S. adaptation.
ADVERTISEMENT - CONTINUE READING BELOW
Recommended Videos
Hell Girl (2019)
Where to watch: Netflix
These days, you can do practically everything online—including sending people who wronged you to hell, at least according to Hell Girl, an anime series by Takahiro Omori adapted into film by Koji Shiraishi. The characters in this story make use of a website called the Hell Correspondence to enter the name of their enemies and have Hell Girl, aka Ai Enma (Tina Tamashiro), drag them to hell in exchange for their own soul later on. If you're a fan of the anime series, give this one a shot.
Still (2010)
Where to watch: Netflix
The most interesting thing about this Thai omnibus film is that each of the four stories featured here was pulled from some of Thailand's most gruesome headlines. The stories about a haunted hotel, a body in a water tank, a nightclub fire, and a prison death run the gamut from surreal to gross to just downright bizarre, but they're all disturbing, to say the least.
ADVERTISEMENT - CONTINUE READING BELOW
A Tale of Two Sisters (2003)
Where to watch: Netflix
You can't really talk about Asian horror films without mentioning this Korean classic by Kim Jee Woon. Based on a Joseon-era folktale, A Tale of Two Sisters centers on, well, the relationship between sisters Soo-mi and Su-yeon (Lim Soo Jung and Moon Geun Young) and their stepmom Eun-joo (Yum Jung Ah). As if that's not troubling enough, weird things start happening around the house—leading to a shocking twist that's better seen than read, so we recommend that you see this brilliant film ASAP, if you haven't.
Tales From The Dark (2013)
Where to watch: Netflix, iQiyi
Here's another horror anthology film, this time from Hong Kong and directed by three of the most renowned filmmakers from the island: Simon Yam, Lee Chi-ngai, and Fruit Chan. While not as scary as you might expect it to be, these three films about a thief that steals urns and sells them back to relatives of the dead, a ghost-seer, and a streetside "villain hitter" all have engaging storylines. Tales From The Dark is a pretty solid triptych, and in case it leaves you wanting more, you'll be happy to know that Tales From The Dark 2 exists and is also available for streaming.
ADVERTISEMENT - CONTINUE READING BELOW
Thirst (2009)
Where to watch: Viu 
A movie by critically acclaimed Korean filmmaker Park Chan Wook, Thirst is a Cannes-winning film about a Catholic priest (Song Kang Ho of Parasite) who turns into a vampire after a failed experiment. As if that's not complicated enough, he's also attracted to his friend's wife. Like a lot of Park's films (the Vengeance trilogy, Snowpiercer, and The Handmaiden, to name a few), there's blood, gore, sex, and other shocking scenes here, but they all strengthen the storyline rather than cheapen it. Fun fact: Filipino actress Mercedes Cabral is part of this movie!
Under The Shadow (2016)
Where to watch: Netflix
We don't really get to see a lot of movies about Iran, which is why discovering Under the Shadow by Babak Anvari was such a delight. Set in Tehran during the War of the Cities in the 1980s, this film follows the story of a mother (Narges Rashidi) and her daughter (Avin Manshadi) who are haunted by a malevolent presence in their home. Despite it being a horror film, Under the Shadow expertly and seamlessly weaves into one story the issues of that time period, the pains of people living through war, and the legend of the supernatural spirit called djinn.
ADVERTISEMENT - CONTINUE READING BELOW
The Uninvited (2003)
Where to watch: iQiyi
Also known as Table for Four, this film by Lee Soo Yeon centers on a man named Kang Jung Won (Park Shin Yang), who starts to see apparitions of two young girls sitting at a new metal table his fiancee Hee Eun (Yoo Sun) bought for their home. There are plenty of twists and turns in this story—let's just say childhood trauma and guilt are involved—and definitely no happy endings, either.
Wishing Stairs (2003)
Where to watch: Netflix
Rounding up this list is Wishing Stairs, directed by Yun Jae Yeon and is the third installment of the popular Whispering Corridors series. This film is about friendship, rivalry, betrayal, and ambition, with a so-called "wishing stairs" serving as the catalyst for all the horrible things that happen here. It stars young Song Ji Hyo and Park Han Byul, now both two of the most bankable Korean actresses, as best friends Yun Jin Sung and Kim So Hee, respectively.
ADVERTISEMENT - CONTINUE READING BELOW
Hey, Spotters! Check us out on Viber to join our Community and subscribe to our Chatbot.
Your guide to thriving in
this
strange new world.
Share this story with your friends!
---
Help us make Spot.ph better!
Take the short survey
Load More Stories