10 Horror-Comedy Movies That Will Have You Screaming Between LOLs
Mix gore and gaffs with these laugh-out-loud horror flicks.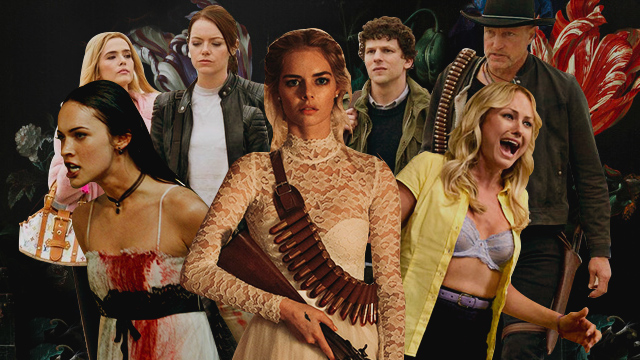 (SPOT.ph) With Trick-or-Treat season just around the corner, people are getting a little hungrier for spooky, scream-worthy streaming. One genre that's dominated both the big screen and TV over the years has been the madcap combo of blood, gore, and campy comedy. Classics like Young Frankenstein, Shaun of the Dead, and Ghostbusters have introduced us to the specific blend of macabre and humor that makes horror comedy movies so fun to watch. If you've enjoyed recent hits like Zombieland and What We Do in the Shadows, these delightfully gruesome movies should make it to your stream list this month.
Also read: Get Ready to Scream: 10 New Horror Movies You Can Stream on Netflix
These horror-comedy movies make for a fun, sometimes spooky watch:
The Fear Street Trilogy (2021)
Where to stream: Netflix
What to expect: 80% fear factor, 20% LOLs
Based on the popular Fear Street books from the '80s and '90s, this trilogy gives you horror across the ages—literally. Set in 1994, 1978, and 1666, a Fear Street marathon will give you over five hours of classic horror tropes, laughably nostalgic movie references, and a soundtrack worth bookmarking. Fear Street introduces a new generation to themes that have circled the horror genre for decades (witches, summer camps, zombies, et cetera), making it a substantial compendium for what makes scary movies so popular.
ADVERTISEMENT - CONTINUE READING BELOW
The Final Girls (2015) 
Where to stream: Netflix
What to expect: 50% fear factor, 50% LOLs
A fun and surprisingly touching homage to slasher flicks, The Final Girls joins Malin Akerman and Adam DeVine (both known for their comedic talents) with familiar TV teens Nina Dobrev and Chloe Bridges. Akerman plays a B-horror movie actress from the late '90s who died, leaving her orphaned daughter, Max (Taissa Farmiga), behind. Max finds herself in a parallel universe mirroring her mom's film and needs to use her horror movie knowhow to save her friends from their own grim slasher-movie deaths.
The Babysitter (2017) 
CONTINUE READING BELOW
Recommended Videos
Where to stream: Netflix
What to expect: 40% fear factor, 60% LOLs
If you want a horror/comedy primer, then The Babysitter will give you a pretty good introduction to this niche. A little kid (Judah Lewis) discovers that the babysitter he's grown to adore (Samara Weaving) is actually a killer belonging to a high school Satanic cult. He spends the rest of the night dodging attacks from his babysitters' evil comrades and looking for ways to stay alive. If you're into chase scenes that never seem to end, then you'll enjoy this comedic take on occult horrors.
Girls with Balls (2019)
Where to stream: Netflix
What to expect: 30% fear factor, 70% LOLs
People don't usually expect highbrow comedy from a trasher movie, and if you decide to press play on Girls with Balls, sophistication is probably low on your movie-watching criteria. An all-girls volleyball team has car trouble in the middle of nowhere and come across some degenerates that they need to defeat with whatever skills they possess. This gross-out comedy is one that'll serve you lots of blood and slapstick laughs—something you can keep on if you want a taste of horror minus the nightmares.
ADVERTISEMENT - CONTINUE READING BELOW
Ghostbusters (2016) 
Where to stream: Netflix
What to expect: 20% fear factor, 80% LOLs
This reboot of the classic 1984 Ghostbusters puts the girls in charge and adds a dash of brains and brawn with Chris Hemsworth. More paranormal than guts and gore, this movie centers on STEM superheroes: researcher Abby Yates (Melissa McCarthy), physicist Erin Gilbert (Kristen Wiig), and engineer Jillian Holtzman (Kate McKinnon). Their mission: to prove that ghosts are real, alive, and thriving in New York City and to stop the unearthly creatures from taking over the world. Watch it for a gender-flipped version of a familiar story and for lots of laughs.
Ready or Not (2019)
Where to stream: Prime Video
What to expect: 70% fear factor, 30% LOLs
Grace (Samara Weaving) has no idea about the blood and gore that's coming for her right after her wedding to Daniel (Adam Brody). His family's post-wedding tradition has her running for her life—in full wedding gear—through the Le Domas' luxurious family estate. Ready or Not is full of heart-stopping twists, gut-wrenching murder, and gripping, suspenseful, hold-your-breath scenes. Smart, irreverent, and with a great ensemble cast, this Ryan Murphy-written horror comedy is a must-see for fans of the genre and a good first go for those who are interested in dabbling.
Vampires vs. The Bronx (2020)
Where to stream: Netflix
What to expect: 30% fear factor, 70% LOLs
If you're looking for some family-friendly horror-comedy fun, Vampires vs. The Bronx mixes kid storylines with classic vampire gaffs alongside themes of gentrification and save-the-neighborhood antics. Here's proof that horror-comedy can be skewed to fit issues relevant to just about any generation. With a likeable cast of newcomers and familiar vampire plotlines getting a 2020 makeover, this is the perfect watch for young, aspiring social justice warriors having a parent-sanctioned Halloween sleepovers. If you want to introduce kids to horror movies without scaring them out of their minds, this low-stakes flick is a good bet.
ADVERTISEMENT - CONTINUE READING BELOW
Jennifer's Body (2009)
Where to stream: Prime Video
What to expect: 50% fear factor, 50% LOLs
It might be a good idea to pull up this early aughts cult classic written by Diablo Cody (Juno, Young Adult) now that Megan Fox is experiencing quite the renaissance. Jennifer's Body has Fox playing high school cheerleader Jennifer—the popular and conceited foil to quiet, introverted bookworm Needy (Amanda Seyfried). After a neighborhood bar ends up in flames, Jennifer mysteriously gains a literal appetite for guys who never would've stood a chance with her. Needy then makes it her mission to figure out who's responsible for the carnage and vows to stop it before Jennifer gets to her boyfriend.
The Love Witch (2016) 
Where to stream: Prime Video
What to expect: 50% fear factor, 50% LOLs
Context is everything when you press play on The Love Witch, which was written, produced, and directed by female-focused visual artist Anna Biller. The movie was designed to pay homage to campy 1970s Technicolor thrillers—the result is a gorgeously styled set that makes you wonder exactly what decade the actual movie takes place in. The Love Witch stars Samantha Robinson as Elaine Parks, a modern-day witch and seductress who uses her magic to bewitch men. Unsurprisingly, all her lovers end up dead, causing friends and acquaintances to question her motives and investigate Elaine. This movie is divisively love it or hate it / either you get it or you don't. Fans of '70s horror will easily get into this movie's subtle humor (stay for the Renaissance fair), while occult enthusiasts will love this for its #aesthetic.
ADVERTISEMENT - CONTINUE READING BELOW
Zombieland: Double Tap (2019)
Where to stream: HBO Go
What to expect: 50% fear factor, 50% LOLs
This crowd-pleasing Zombieland reunion takes our favorite slayers Tallahassee (Woody Harrelson), Columbus (Jesse Eisenberg), Wichita (Emma Stone), and Little Rock (Abigail Breslin) out of the White House and all the way to Graceland. The road trip to Tennessee is rife with bloody encounters, including a face-off with a new breed of zombies and post-apocalyptic survivors. Zombieland: Double Tap mixes family dynamics with the walking dead, as well as a romp through a hippie-dippie commune of vegerarian pacifists. Bizarre, fun, and everything Zombieland fans have come to love, this movie brings impressive A-team star power to a genre typically known for its B-movies and B-listers.
Hey, Spotters! Check us out on Viber to join our Community and subscribe to our Chatbot.
We are now on Quento! Download the app and enjoy more articles and videos from SPOT.ph and other Summit Media websites.
Your guide to thriving in
this
strange new world.
Share this story with your friends!
---
Help us make Spot.ph better!
Take the short survey
Load More Stories