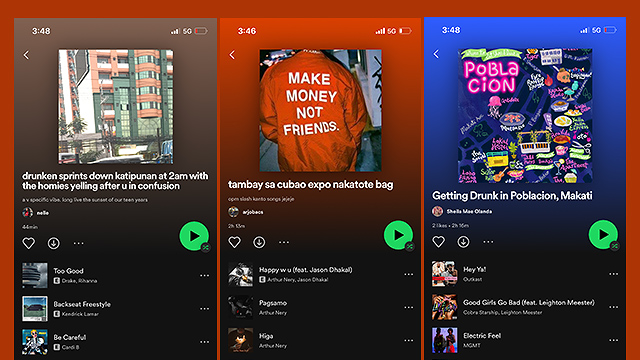 (SPOT.ph) They say that music brings people together. While you may have your own personal favorites that you listen to on your own, some songs are only truly enjoyed in specific places and around certain groups of people. You know the ones: the kind of tracks you'd never play on loop in your earphones, but once you hear them, bring back memories so vivid you remember exactly where you were, who you were with, and what you were doing.
ADVERTISEMENT - CONTINUE READING BELOW
Amid a nearly two-year-long pandemic, you may have found yourself listening to those songs—that EDM song that plays at the club, that cheesy '80s anthem you hear on your daily commute, that lo-fi tune the designated driver plays on the way home, you get the gist. And while those songs may not have that same kind of sonic magic when you hear them in a different setting, they do bring about a certain kind of nostalgia—a longing for the so-called Before Times or perhaps an escape from the dreadful present. If you ever find yourself searching for songs that can take you back to those carefree pre-pandemic days, you may want to look on Spotify. Among the endless catalogs and compilations on the streaming app are a set of oddly specific playlists made by regular city folk looking to channel those little experiences that make Manila what it is. 
We've all been hit hard by this pandemic on different levels; the relatively lucky ones have probably taken a blow to the brain cells (ourselves included). So if you've hit the point where all you want to do is laugh while crying, why not get some emotional release via these incredibly spot-on nostalgic track lists? BRB while we find an aesthetic muni-muni spot. We list the most on-the-nose ones below.
These oddly specific Spotify playlists will take you back to pre-pandemic Manila:
Tambay sa Cubao Expo Nakatote Bag
If you were attacked by the title, then we're sorry but that's on you. Keep your totes close though as Cubao Expo should be the type of place where you can let lose and be yourself—beloved canvas bags included. (Don't worry, we know it's not your entire personality). Chill back, relax, and vibe out to memories of sitting on this U-street's curbs while surrounded by good food, drinks, and the best of friends.
ADVERTISEMENT - CONTINUE READING BELOW
Most accurate song: "Binibini" by Zack Tabudlo (We might be joking)
Mga Tugtugan ng Mga Poging Tambay sa BGC
Don't worry, we rolled our eyes, too. We all know that one person or perhaps group of people (*cough* straight men) that would unironically blast this on the aux. While they're not everyone's cup of tea, they are a staple of the late-night experience at BGC. Did you even hit the clubs if you weren't bombarded by a pack of "alpha males" walking around like they own the place? And yes, you can expect all their favorite artists on the playlist: Bryson Tiller, Travis Scott, The Weeknd, and of course their supreme ruler, Drake.
Most accurate song: "Way 2 Sexy" by Drake (sarcastically)
Mga Soundtrip sa Raon
Want to understand just how much time can divide? Read the playlist's subhead,—"brad magkano yang 50w na Konzert nyo at Sakura na amplifier??"—and you'll get it. Raise your hands if you didn't understand the reference—or got it a little too well. Raon is right up there with the shopping havens of Manila: if you needed cheap finds in bulk, you go to Divisoria; if you needed tech goods though, you went to Raon (and if you needed you-know-what, you went to Recto, but we digress). Hearken back to the messy, lively, and always loved streets of a retro Quiapo with this playlist. This old-school playlist genuinely has excellent curation.
ADVERTISEMENT - CONTINUE READING BELOW
Most accurate song: "Dying Inside to Hold You" by Timmy Thomas
Mga Tugtugan sa UV Express Kapag Gabi
You probably have this memory tucked away somewhere: It's way later in the night than you realize and all you want to do is get home. Luckily for you there's still a UV Express out and about and even better, the driver has all the biggest ballads of the decades before. A cold and half-empty UV express, rainy city sights, and Whitney Houston crooning while asking where broken hearts go. There has never been a more perfect moment for some internal drama. 
Most accurate song:
"Where Do Broken Hearts Go?" by Whitney Houston
Tugtugan sa Jeep Habang Pauwi Galing sa Inuman
Forget pauwi—this was probably you on the way to your 7 a.m. college class straight from who-knows-where. And on the nights you actually did get to head wherever home was before daybreak, you probably found yourself enjoying the thrills of shuttling along an empty highway while trying to stay in your seat as manong attempts to break the sound barrier—both with his speed and his peak '90s and early aughts OPM jams. 
ADVERTISEMENT - CONTINUE READING BELOW
Most accurate song: "Migraine" by Moonstar88 (with the first line screamed instead of sang)
Getting Drunk in Poblacion, Makati
Most Poblacion regulars (a.k.a. the young folks who refer to it as "pobla") would agree that the Makati neighborhood has a different vibe from other nighttime hotspots like BGC or Katipunan. The intimate bars, crowded streets, and casual fashion make for a more laid-back experience. All that said, the experience of getting drunk in Poblacion has a certain euphoria to it: a mix of heart-thumping dance sessions with a room full of strangers and chill get-togethers with your closest friends, usually culminating with a 4 a.m. retch on the sidewalk and a P50 cup of taho. Thus, the playlist's mix of popular tunes of Top 40 hits, throwback 2000s bangers, and indie-pop tracks is a pretty accurate representation of that Saturday pub crawl.
Most accurate song: "Electric Feel" by MGMT (for the "vibes")
ADVERTISEMENT - CONTINUE READING BELOW
Drunks Sprints Down Katipunan at 2AM With the Homies Yelling After You in Confusion
The urge to recklessly run away from your friends after you've downed one too many shots is a strangely specific one and yet, one many of us can relate—or at least one we've seen many of our closest friends succumb to the primal call. Perhaps it's the fleeting sense of audacity that alcohol brings out in us or the sight of a wide open street illuminated only by streetlights and convenience store signs that drives that sudden compulsion. While Katipunan Avenue is (at least in the daytime) an area filled with students, scholars, and future doctors, on Friday night, it transforms into a riotous hotspot as those same undergrads let loose. And as Ted Mosby once said "Nothing good happens after 2 a.m."—except maybe a sobering meal at McDonald's Katipunan.
ADVERTISEMENT - CONTINUE READING BELOW
Most accurate song: "Bitch, Don't Kill My Vibe" by Kendrick Lamar
Amoy BGC, Taft, Timog, Morato, Eastwood, Katips
So you've drunkenly traveled from club to club and city to city meeting buddies and random strangers alike at each stop—whether a cozy speakeasy, an unruly resto bar, or a crowded nightclub—and now you're on the way home, smelling of sin and ready to sneak into bed before anyone notices. While the evening was mostly dedicated to ear-splitting EDM and danceable hip-hop remixes, the car ride home is for chill tunes and reflecting on your soon-to-be regrets. Is it a good feeling? Not necessarily. But do we miss it? 100%.
Most accurate song: "Young Dumb & Broke" by Khalid
Hey, Spotters! Check us out on Viber to join our Community and subscribe to our Chatbot.
Share this story with your friends!
---
Help us make Spot.ph better!
Take the short survey
More Videos You Can Watch
Load More Stories