10 Steamy International Movies to Stream on Netflix for …Reasons
Hey, you're the one clicking on the headline. No judgment here.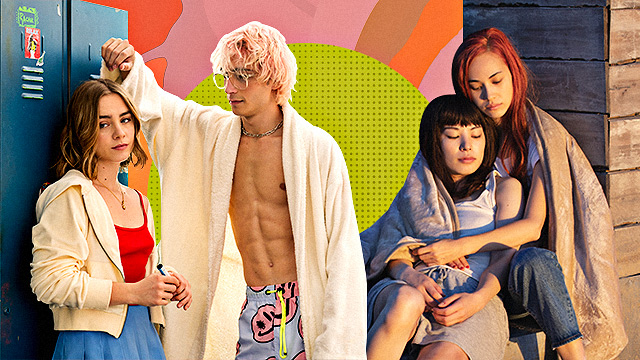 (SPOT.ph) Today on random listicles that may or may not add value to your life: adult-only films on Netflix not made by Hollywood. What for? We don't know for sure—we're not the ones who clicked on this damn article (We just made it). In case you need steamy content with international flair, we round up 10 movies you can stream that touch (with different levels of intensity) on the carnal. From more arthouse picks to raunchy comedies and more, let's dive straight in, shall we? 
Also read: 10 Steamy K-Dramas to Watch, According to How Much You Shouldn't Watch Them With the Family
In a mood? Check out these 10 steamy movies on Netflix from international production houses:
Through My Window (2022)
The gist: Two teenagers with way too many hormones. That's the TL;DR of it. But if you really do care for the plot, then it's about a girl who pines for her ultra-hot, ultra-rich, ultra-mysterious neighbor and gets far more than she bargained for. Oh, and a WiFi password gets caught in the mix somehow.  
ADVERTISEMENT - CONTINUE READING BELOW
Las leyes de la frontera a.k.a. Outlaws (2021)
The gist: It is the summer of 1978 and somewhere in Girona, Spain, 17-year-old Nacho (Marcos Ruiz) is in for one hell of a ride, and yup, it all starts with a little crush. Okay, so this one's far more gritty than it is steamy but hey, anything to get the pulse racing, right? This buzzy film touted itself as a revisitation of the Spanish quinqui genre; popular in the '70s and '80s, it focused on the city's underbelly and told tales of the marginalized with a raw and unfiltered lens.
Ride or Die (2021)
The gist: Rei (Kiko Mizuhara) saves her former classmate Naenae (Honami Sato) from her abusive husband by straight up murdering him, forcing the two girls to flee—and fall into a tempestuous affair—together. Physical abuse, lots of sex and nudity, plus a gruesome murder reminiscent of that Gone Girl scene. It's a wild ride, emotionally and physically.
Dry Martina (2018)
The gist: As Martina (Antonella Costa) says in the trailer, trust your vagina's natural reactions—only thing is that well,we'll point you back to the movie's straightforward title. A singer past her peak, she finds the well has sprung again when she crosses paths with a young man who just so happens to be an obsessed fan's boyfriend. Cue a sex-crazed adventure in Chile to find herself again. And hey, maybe even a sister.
Untold Scandal (2003)
The gist:  Les Liaisons dangereuses, but make it Joseon Dynasty. Oh, yes.This South Korean retelling of the amoral tale follows the OG premise of two conniving nobles and the poor innocent they try to ruin. We're sure you remember Cruel Intentions.
CONTINUE READING BELOW
Recommended Videos
Oh, Ramona! (2019)
The gist: This raunchy Romanian coming-of-age movie follows Andrei (Bogdan Iancu) as he messes around both in life in general and with the opposite sex. Or at least tries to, for the latter. With vibrant edits and a blurry fourth wall separating Andrei and audience, it's a fun and punchy watch; we say take a shot for every visual innuendo.
Shéhérazade (2018)
The gist: On the opposite side of the spectrum of coming-of-age films is this French drama featuring two kids trying to find love, or anything good really, in Marseilles. Zach (Dylan Robert) is fresh out of juvie, not yet done with parole, and already on the lookout for easy money—enter Shéhérazade (Kenza Fortas), a girl he used to go to school with and now works the streets. Prep for a raw and unfiltered look at young and confused love in the so-called wrong side of the tracks.
High Society (2018)
The gist: Nothing's sexier than ambition—especially if you're ready to play all the cards, whether dealt or taken. That's exactly what this couple aims to do. A professor and art curator throw themselves into the world of the upper crust, trading whatever they can for a bite. 
MILF (2018)
The gist: The title has probably given it all away. In case you need it spelled out though, this French film tracks the adventures of three 40-somethings with much younger men. Irreverent and fun, this film will take you on a cool ride. Just—maybe don't watch it with your mom, yeah?
ADVERTISEMENT - CONTINUE READING BELOW
Perfume: The Story of a Murderer (2006)
The gist: Murderous obsession. Ben Wishaw takes on the role of a man who is an olfactory genius—so much so that his quest for the perfect scent takes him down a dangerous path, particularly for the women he comes across. Fair warning: This German period film goes into overdrive, in all sense of the word. 
We are now on Quento! Download the app and enjoy more articles and videos from SPOT.ph and other Summit Media websites.
Your guide to thriving in
this
strange new world.
Share this story with your friends!
---
Help us make Spot.ph better!
Take the short survey
Load More Stories