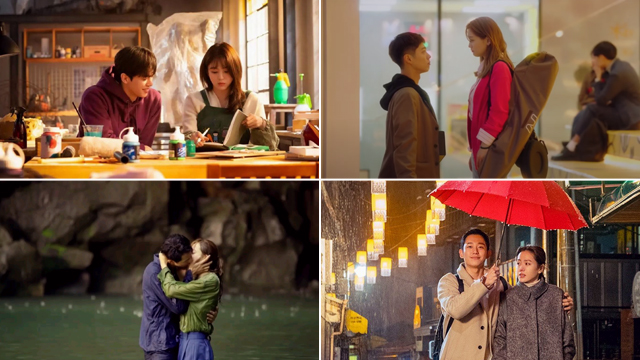 (SPOT.ph) We know why you clicked on this article. And we have absolutely zero judgment (especially since we're the ones writing it). Look, sometimes we just need a good old K-Drama to get our hearts beating again, and dang, are they good at making us absolutely swoon. Case in point: the 10 series we round up here for your viewing pleasure. We put together a list of some of the steamiest Korean Dramas out there—relatively speaking (you know how different they do things compared to say, cough, Bridgerton)—and then ranked them according to just how scandalous they get.
Also read: 
10 Steamy Netflix Titles You Really Shouldn't Be Streaming This Week
10 New Underrated K-Dramas to Watch, According to Total Running Time
Get the butterflies going with these 10 steamy K-dramas to stream: 
10. Cinderella and Four Knights (2016)
Where to stream: Viu
Swoon factor: Oh yes, that is pre-Parasite Park So Dam. Here, she plays Eun Ha Won, a bright young woman who finds herself in a Cinderella-like story. After her mother dies and her father remarries a cruel woman, she moves out and ends up living in a mansion with three super hot, super rich young men (plus a hot bodyguard, of course)—totally realistic. The fun plot makes for some equally fun kilig moments that induce just the perfect amount of butterflies.
9. Doom at Your Service (2021)
Where to stream: Viu
Swoon factor: An ordinary woman and a creature capable of ending the world cross paths—and sparks begin to fly (not just the romantic kind). When Tak Dong Kyung (Park Bo Young) unwittingly wishes for the world's doom on an incredibly bad day, she is overheard by Myul Mang (Seo In Guk), a powerful creature with a cursed fate. Who doesn't love a good us-against-the-world storyline?
8. Something In the Rain (2018)
Where to watch: Netflix
Swoon factor: We suggest not watching this if you're currently in a bitter place. This sweet drama about an older woman falling love with her best friend's younger brother is as realistic as it gets, which means the tears—and the kilig—are very real. Not only is it hard not to be invested as they fight for their "taboo" relationship, but the chemistry between Jin Ah (Son Ye Jin) and Joon Hee (Jung Hae In) just has us deeply hooked.
7. Record of Youth (2020)
Where to watch: Netflix
Swoon factor: A lot of people have been sleeping on this ultra-sweet drama starring Park Bo Gum and Park So Dam as Sa Hye Jun and Ahn Jeon Ha. This drama about young folks just trying to succeed in life already gets a lot of relatable points, and then they just crank it up by making the main relationship between a rising star and a fan of his. The dynamic means that he gets to shower her with all the sweet gifts any fan would wish they could have too—except with a real, genuine love, not just adoration. This is the part where we drop a huge #SanaAll.
6. My Roommate Is a Gumiho (2021)
Where to watch: iQiyi
Swoon factor: No K-Drama romance list would be complete without a Stockholm syndrome-type story! It's problematic, yes, but dang, does it get the butterflies going. Lee Dam (Lee Hye Ri) ends up living with Shin Woo Yeo (Jang Ki Yong), a 999-year old fox spirit after she accidentally ingests something very important to him (as in something he needs to become human). Cue a tension-filled set-up as he tries his best to treat the college student justly (read: not devour her when they kiss, literally).
5. Lovestruck in the City (2020)
Where to watch: Netflix
Swoon factor: This interview-format series follows six people talking about finding love in the city—which is always a recipe for some good old romantic complications. The series isn't straight-up butterflies-inducing but there are key moments and characters that will have you missing the days when we could go out and date, too. Best part? This K-Drama is presented in just 30-minute episodes so you can binge away.
4. It's Okay, That's Love (2014)
Where to watch: Netflix
Swoon factor: Who doesn't love the enemies-to-lovers trope? This 2014 drama about famous author Jang Jae Yeol (Jo In Sung) and psychiatrist Ji Hae Soo (Gong Hyo Jin) has something of a following—and the heavy storyline definitely explains why. The two hate each other when they first meet but end up living under one roof, and as their relationship deepens, deep traumas begin to surface. It's clear the two belong together—you can feel the chemistry through the screen—but the series traces how they first learn to heal themselves first.
3. It's Okay to Not Be Okay (2020)
Where to watch: Netflix
Swoon factor: Another K-Drama series to face mental health head on is this love story between an anti-social author, Ko Moon Young (Seo Yea Ji), and a caregiver, Moon Gang Tae (Kim Soo Hyun). We have mostly Moon Young's blunt and fierce persona to thank for the swoon-worthy scenes—we love how this time it was the female lead winning the flirting game!—but Soo Hyun definitely stepped it up towards the end. Remember when he had to take a picture of Moon Young with a fan?
2. Nevertheless, (2021)
Where to watch: Netflix
Swoon factor: Problematic male leads will never not get to us. In this ongoing series, Song Kang and Han So Hee play Park Jae Eon and Yu Na Bi, two art students, respectively. The guy is an absolute flirt while the girl has not gotten over the pain of her first heartbreak. This series definitely goes a step further than the usual romantic K-Drama scenes—and we are absolutely loving it.
1. The World of the Married (2020)
Where to watch: Netflix, Viu, iQiyi
Swoon factor: Okay, so this is taking the top spot for obvious reason. Not only is it an "adult" series because of the sexual content but because of that full-on rollercoaster ride of a storyline. In case you haven't fallen into this blackhole yet, then just know that it follows a woman's quest for revenge on an adulterous husband. It is sometimes steamy, sometimes scandalous, sometimes violent but always totally gripping. 
Hey, Spotters! Check us out on Viber to join our Community and subscribe to our Chatbot.
Your guide to thriving in
this
strange new world.
Share this story with your friends!
---
Help us make Spot.ph better!
Take the short survey
Load More Stories