(SPOT.ph) The past months have been quite a ride for horror and thriller fans. We've seen a couple of movies and shows that could induce vivid nightmares and those uncalled-for late-night musings: There's a period thriller with a pandemic featuring hyperactive zombies; a zombie apocalypse with a guy who had to stay put at home so he could keep out of danger, relying on smarts in order to survive; and even a mind-boggling, time-travel tale that connects two ladies from different years via the phone. If you want more scares in your life, Sweet Home on Netflix offers something else for you: The premise does not revolve around a blood-borne disease nor an infection that needs to be contained. Rather, people turn into monsters that reflect their internal desires.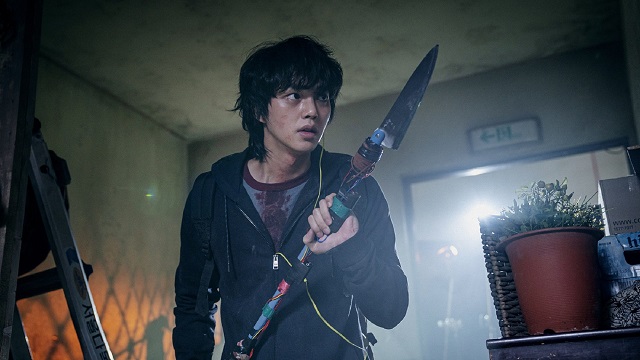 ADVERTISEMENT - CONTINUE READING BELOW
Sweet Home marks Song Kang's second show that is based on a webtoon, the first being the 2019 romance series Love Alarm. In this horror series, he plays Cha Hyun Soo, a young high school student who moves into a grungy apartment building called Green Home after having lost his entire family in a tragedy. Soon after his move, monsters appear, and he, together with his neighbors have to fight the creatures in order to survive—only it seems he might already be one.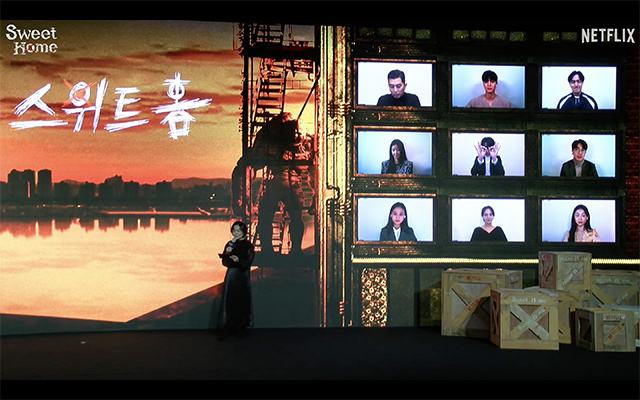 Other members of the Green Home community include Park Kyu Young (It's Okay to Not Be Okay), who plays an aspiring musician; Lee Si Young (The Guardians), a former firefighter; Go Min Si (Love Alarm), a young student; and Go Yoon Jung (He Is Psychometric), among others. The series is directed by Lee Eung Bok, who also helmed Mr. Sunshine, Goblin, and Descendants of the Sun.
Here's what to expect from Sweet Home, straight from its director and its stars:
It's mostly set in a 1930s apartment.
According to director Lee, 90% of the series takes place on set. Their team went searching for apartment buildings and saw a lot of options, but it was "an apartment building that was built back in the 1930s" that caught their attention. The choice had to do with the overall vibe they're going for. 
The set is so good, Lee Jin Wook had to show it off.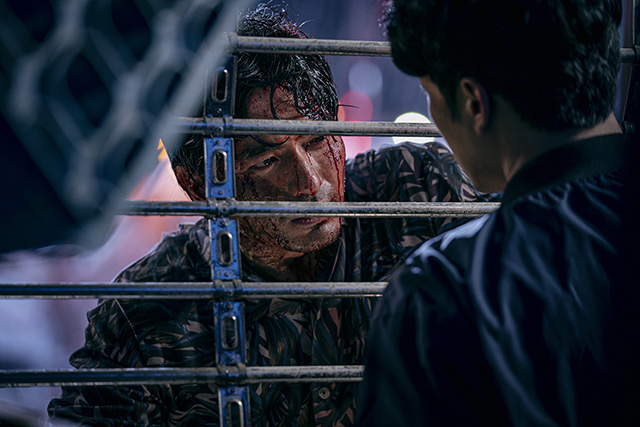 ADVERTISEMENT - CONTINUE READING BELOW
Sweet Home manages to make things visually exciting even if it's mostly set in one location—it almost has a charming quality to it despite the mess and the doom-and-gloom atmosphere. "It is so realistic, I tell you, that when I first went there, I was just taking pictures just to show it off to my friends and colleagues," says Lee Jin Wook, who plays the mysterious Pyeon Sang Wook in the series. "That was how amazing it was, you know, my friends would ask me in turn, 'Is this really a set?' because it was so realistic," he shares.
Plenty of big names in the effects industry worked on the special effects for Sweet Home.
Bringing the monsters to life are the special effects studios Legacy Effects (The Avengers, Avatar, and X-Men) and Spectral Motion, who also worked on Stranger Things. Sweet Home's team also worked with Westworld, Korea's top visual effects studio. "This is actually our third project together—I worked with them on Guardian and also Mr. Sunshine, and now this," shares director Lee, then adds, "We wanted to make it as perfect as possible. And even if we fail, we want it to fail well. So, I think I kind of did push them quite a bit, but hopefully they will be rewarded with how it is received by the audience."
ADVERTISEMENT - CONTINUE READING BELOW
Song Kang takes on a role that's way different from Hwang Sun Oh in Love Alarm.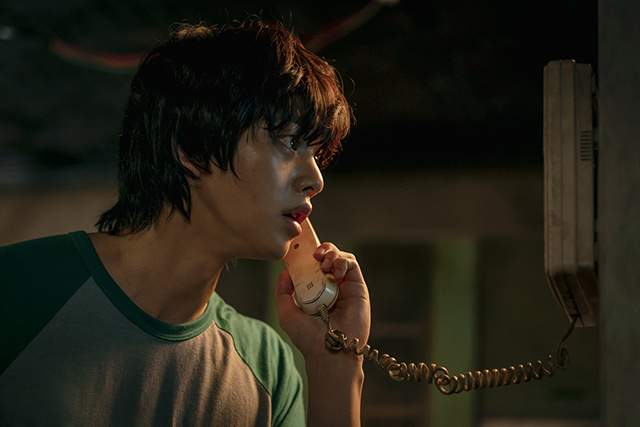 We got to ask Kang about playing Hyun Soo during the virtual roundtable. He describes his character in Sweet Home as "a reclusive loner, but he goes on to make a different choice," seeing as he is a young high school student who finds himself in a life-changing situation. Without spoiling anything, he says, "I think the reason he was able to make such a choice was because the reclusive and loner aspect of it is not really true...the righteous and the brave part of him is actually who he really is."
ADVERTISEMENT - CONTINUE READING BELOW
And speaking of Love Alarm, Sweet Home marks Song Kang and Go Min Si's reunion.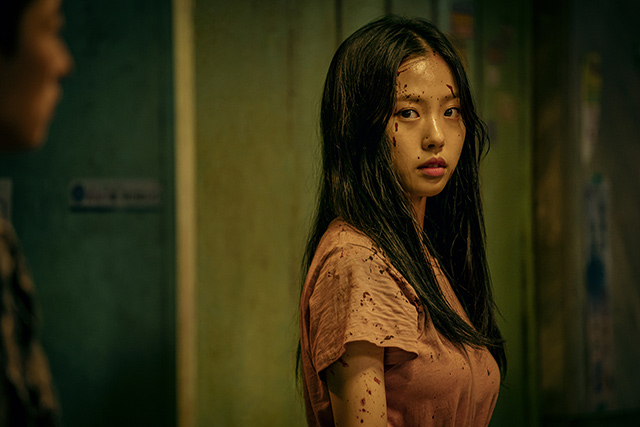 You might remember Kang as Kim Jojo's love interest in the 2019 romance drama; Min Si, on the other hand, played Park Gul Mi, Jojo's cousin. "We worked on a project that depicted us as students; [it was] very different, so I was very happy to work with her again," Kang says. When asked what it was like to work with more experienced and seasoned actors, Min Si says, "I felt like they had my back. I felt like it was an experience that really sparked  joy in my [passion for acting]." Kang echoes Min Si's sentiments, saying, "I was very nervous to be given the chance to work with them and appear on screen together, but they made me feel so much so comfortable and [they] helped me a lot, so it was really a great experience."
ADVERTISEMENT - CONTINUE READING BELOW
Lee Do Hyun is someone who's "very much in sync with the character Eun Hyeok," according to the show's director.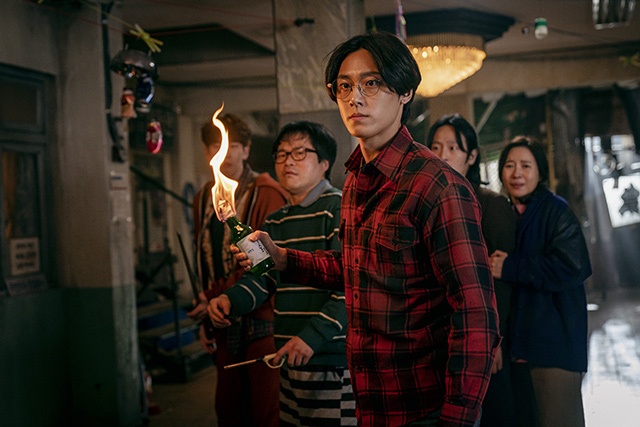 In his words during the press conference, Do Hyun described Eun Hyeok as a "cold-hearted, brainy med student who lives in Green Home...He tries to craft plans to help the people escape." When we caught up with Do Hyun in the virtual roundtables, we asked him to tell us more about his role. "I'm not as smart as the character," Do Hyun admits. "Now, however, I do pride myself in having street smarts so that I could get out of trouble and in times of disaster. I tried to really channel that side of me." He does mention being "sort of cynical and very logical" in real life, so perhaps it's also what director Lee took notice of while filming.
ADVERTISEMENT - CONTINUE READING BELOW
In the quest for survival, the Sweet Home cast reveals who could charm the monsters away.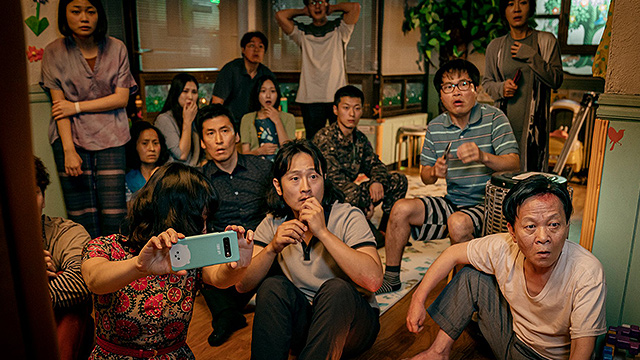 During the press conference, a fun question was thrown to the cast: Who do you think is most likely to survive a monster attack? Yoon Jung thinks it's going to be Si Young, "definitely, from start to finish." Si Young thanks Yoon Jung, and goes on to say that it's the character Eun Yoo, (played by Min Si) that would outlast them all. "She is very outspoken and she talks very well so she could probably convince the moszer with her verbal skills," she says. Min Si, meanwhile, thinks it's Eun Hyeok (played by Do Hyun), her brother in the series, who will survive until the end "because he's very clever." Do Hyun's pick is surprisingly director Lee. "He has left us so many words that still stay with us. And he could also try and talk to the monsters and while they're kind of obsessing over what he said, he could run away." Now if only it was as easy to negotiate with monsters!
ADVERTISEMENT - CONTINUE READING BELOW
Sweet Home is now streaming on Netflix. Photos courtesy of Netflix.
Hey, Spotters! Check us out on Viber to join our Community and subscribe to our Chatbot.
Your guide to thriving in
this
strange new world.
Share this story with your friends!
---
Help us make Spot.ph better!
Take the short survey
More Videos You Can Watch
Load More Stories