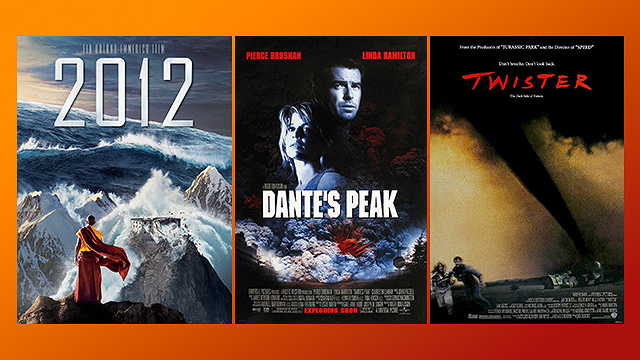 (SPOT.ph) Volcanic eruptions, epic earthquakes, rising of the sea level, and wars that can end nations as we know it. While we're talking of disasters that unfortunately happen IRL, these doomsday scenarios are also central in some of the most spine-tingling disaster movies released in the last three decades. Events in these cinematic depictions range from those that may wipe out the human race to those that may raze villages to the ground. Others start off as seemingly innocent natural disasters until they set off a domino effect of extinction-level events. So the erm, less vital question to ask—while we distract ourselves, at least—is if we're already experiencing some of these real-time, then why do we still watch the movies? Well, if humanity can be saved in less than two hours on screen, then maybe there's hope IRL, too. Or you know, maybe we just like stressing ourselves out. 
Also read:
Get Ready to Scream: 10 New Horror Movies You Can Stream on Netflix
10 Adrenaline-Fueled Action Films on Netflix, Ranked By How Crazy They Get
Stream these disaster movies on Netflix when you really want to feel the doom, for some reason:
Pandora (2016)
There are a number of movies, series, and documentaries that center on the real-life nuclear disaster that occurred in Chernobyl in 1986. There's Chernobyl 1986 on Netflix, the five-episode Chernobyl on HBO, and Life After: Chernobyl on Discovery+. But just in case these shows aren't enough to convince you of the threat of nuclear power plants, there's also the fictional South Korean disaster film Pandora. Its protagonist is Kang Jae-hyeok (Kim Nam-gil), a middle-aged man working at the local nuclear power plant. An earthquake strikes the town, causing one of the nuclear reactors to overheat, eventually leading to a full nuclear meltdown. 
ADVERTISEMENT - CONTINUE READING BELOW
Deep Impact (1998)
Deep Impact starts off with teenage astronomy enthusiast Leo Beiderman (Elijah Wood) discovering an unidentified object in the night sky in May 1998. He sends this information to astronomer Dr. Marcus Wolf (Charles Martin Smith), who realizes that it is a comet about to hit planet Earth. While on his way to warn the authorities about the discovery, the scientist dies in a car crash and that's the end of it for knowing about Wolf–Beiderman Comet. A year later, journalist Jenny Lerner (Téa Leoni) accidentally finds out through an unrelated interview with the president about this extinction-level event, which—as it turns out—is happening in roughly one year. 
Twister (1996) 
Dr. Joanne "Jo" Harding (Helen Hunt) leads a group of meteorologists and storm chasers in an effort to develop what's possibly a revolutionary device for tornado research. But to deploy it, they have to follow any developing tornado, get close enough to the funnel, and manually flick the switch of this device they call Dorothy. And if that doesn't stress you out, wait until you see a flying cow. 
The Core (2003)
We all know that the Earth rotates on its axis, which is why we have night and day, high tide and low tide, movement of currents, and temperature changes. But somewhere underneath the Earth's surface is a ball of iron roughly the size of the moon that's floating and spinning in an ocean of molten metal. In The Core, scientists find out that this inner core has stopped rotating; unless it can be restarted, the field is set to collapse and expose the Earth's surface to solar radiation. And that can get pretty bad. The U.S. government sends a team to Marianas Trench, drill a hole through the crust, and blast off nuclear explosives to trigger the rotation—if only it was that easy. The Core stars Aaron Eckhart as Dr. Josh Keyes and Hilary Swank as astronaut Rebecca Childs. 
ADVERTISEMENT - CONTINUE READING BELOW
Recommended Videos
2012 (2009)
Just basing it off the title, 2012 is obviously about the end of the world in 2012. The film starts in 2009, when American geologist Adrian Helmsley (Chiwetel Ejiofor) and astrophysicist Satnam Tsurutani (Jimi Mistry) in India find out a rare type of neutrinos—or electrically neutral particles—from solar flares are heating up the Earth's core. This triggers a domino effect of almost all dystopic scenes you can think of: a megatsunami, simultaneous eruption of volcanoes, and a series of earthquakes around the world. 2012 also stars John Cusack as California-based science-fiction writer Jackson Curtis and Amanda Peet as his ex-wife Kate. 
Dante's Peak (1997) 
In this 1997 American disaster thriller film, Dante's Peak is actually a fictional town near a dormant stratovolcano—at least that's what they thought. Volcanologist Harry Dalton (Pierce Brosnan) is sent to the area to find out what's going on after dead trees and squirrels are found at the base of the volcano. As with most films like this, authorities ignore the signs until it's too late. 
Doomsday (2008) 
In Neil Marshall-directed Doomsday, the doom comes from an "epidemic like no other" first found in 2008 Scotland. Mistakenly thinking that the virus is contained through the 30-foot wall that they built, the same outbreak recurs in London 25 years later. Major Eden Sinclair (Rhona Mitra) is sent to the pariah state to find a possible cure, but how do you make it out when the whole society they left behind is thirsty for vengeance? 
ADVERTISEMENT - CONTINUE READING BELOW
7:19 (2016) 
In 1985, a violent-classified earthquake struck Mexico City, causing an unprecedented amount of damage to buildings in the Greater Mexico City area (including the historic downtown of Cuauhtémoc) and killing at least 5,000 people. 7:19, which is directed by Jorge Michel Grau, zooms in on the true-to-life experience of Fernando (Demián Bichir) and Martin (Héctor Bonilla), who are trapped under the rubbles of a collapsed office building. 
The Perfect Storm (2000) 
Based on the 1997 non-fiction novel of the same name by Sebastian Junger, The Perfect Storm follows the true-to-life story of Frank William "Billy" Tyne, Jr. (George Clooney), captain of Andrea Gail—a commercial fishing vessel that was lost at sea during the Perfect Storm of 1991. Also known as The No-Name Storm, this weather disturbance started out as a low-pressure area off the coast of Atlantic Canada and then developed into a full-fledged hurricane that lashed the northeastern U.S. with 30-foot waves, flooded coastal properties, closed roads, and airports, and cut down the power supply. It's named after the meteorological idiom where a storm is aggravated by a rare combination of other phenomena. 
The Wandering Earth (2019) 
This Chinese-language film with English subtitles is based on the 2000 novel The Wandering Earth by Liu Cixin. Its premise is based on the idea that the aging Sun will soon turn into a red giant and engulf the Earth's orbit within 100 years. The solution? A group of astronauts led by Liu Peiqiang (Wu Jing) has to help migrate the Earth nearer to Jupiter by using fusion-powered engines. Things start going haywire when the gas giant's gravity pulls our planet, threatening an extinction-level collision.
ADVERTISEMENT - CONTINUE READING BELOW
We are now on Quento! Download the app and enjoy more articles and videos from SPOT.ph and other Summit Media websites.
Share this story with your friends!
---
Help us make Spot.ph better!
Take the short survey
Load More Stories