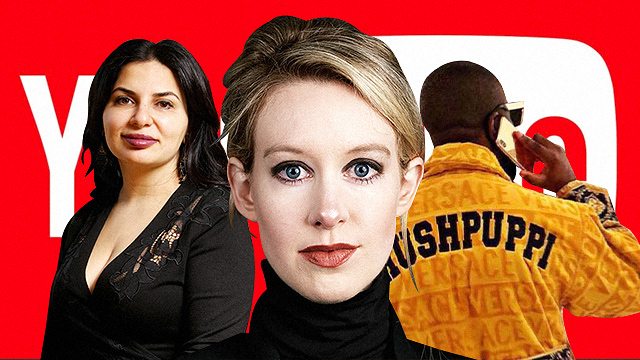 (SPOT.ph) You know what the greatest lie of all is? No, not your ex in general (though they're probably high up the list for sure), it's you telling yourself you'll watch just one video—especially when it's about true crime. Yeah, we've all fallen for that before. But hey, at least you've never fallen for a legit scammer, right? (Again, not about your ex). That probably makes watching all those in-depth videos on the wildest scams that happened IRL all the sweeter—and more addicting—to watch. So, whether or not you've got the next few hours free, we've taken the liberty of rounding up some of the most gripping videos on the wildest scams out there. Prep your tushy for some couch-lovin' time. 
ADVERTISEMENT - CONTINUE READING BELOW
Also read: 
10 Drug-Related Crime Shows You Can Stream on Netflix
10 Fraud-Related Crime Titles on Netflix if You're Into Getting Conned
Get your brain cells ready for the wildest scams you can learn about through YouTube videos:
The Fall of the World's Flashiest Scammer by Bloomber Quicktake: Originals
The scam: You ever look at an influencer online and wonder how they can afford the lifestyle they flaunt almost desperately? Well, here's proof of some of your more petty thoughts. Ramon Abbas, a.k.a. Billionaire Gucci Master, a.k.a. @hushpuppi on Instagram, was living it up IRL—until authorities got wind of where all that money was coming from.
Theranos – Silicon Valley's Greatest Disaster by ColdFusion
The scam: There's no way you haven't seen this online, especially since Hulu's even got a series starring Amanda Seyfried as a truly spot-on controversial Elizabeth Holmes. Theranos was a U.S.-based health care corporation with some truly sketchy skeletons. Their main promise? Advanced technology that could carry out blood tests with very minimal invasion. Sound too good to be true? Well, note that the company was founded by a 19-year-old—and eventually grew into a multi-million dollar one. Yup, definitely right up the too-good-to-be-true alley.
The Dark Side of The Silk Road by Barely Sociable
The scam: Prepare all your brain cells for this one. We're going in deep into the darkweb. Well, as deep as we'd be willing without actually stepping into it. This one tracks what went down with the Silk Road, a dark market site that operated in the 2010s as operated by Ross William Ulbricht, a.k.a. Dread Pirate Roberts online. Things go from selling illegal substances to straight up (alleged) murder-for-hire and while most of it happened online, the real-life repercussions are very, very real.
'Fake Bitcoin' - How this Woman Scammed the World, then Vanished by ColdFusion
The scam: Ruja Ignatova. She came out of nowhere, somehow managed to get billions worth of investments in cryptocurrency, scammed thousands—then disappeared. Yup, the ultimate play. Ignatova was known as the Cryptoqueen. She rose to literal fame touting Onecoin, a cryptocurrency that would rival Bitcoin, before vanishing in October 2017. Last authorities know, she had boarded a flight to Athens. Think of it as MLM meets crypto. And yup, all real.
ADVERTISEMENT - CONTINUE READING BELOW
The Boy Band Con: The Lou Pearlman Story by YouTube Originals
The scam: We're throwing in a little nostalgia here. Or actually, we might just be destroying a few childhood memories with this one. Lou Perlman was the producer behind the biggest boy bands of the '90s—we're talking the Backstreet Boys and NSYNC—who somehow ended up in prison for having headed a massive multi-million dollar Ponzi scheme. Yeah, this video is here to hopefully connect the dots for you.
The Enron Scandal - A Simple Overview by Company Man
The scam: Think you can play the numbers? This U.S.-based energy company sure thought they could. Often cited as one of the biggest accounting scandals ever, this video really peels back and gets into the layers of how this company managed to establish itself on a grand scale—while hiding equally grand-scale schemes in its underbelly.
Why Women Are Quitting Their Side Hustle: Leaving LuLaRoe by Vice
ADVERTISEMENT - CONTINUE READING BELOW
The scam: No way this list would be complete without a deep dive into MLM. Specifically, LuLaRoe. The multi-level marketing company that sells very cute and innocent-looking apparel has a very specific demographic in its grips—and this video takes a look at why some of those same members are leaving. There's a surprising psychological edge at play here.
The man who almost faked his way to a Nobel Prize by BobbyBroccoli
The scam: Ever cheated on an exam? Yeah, we feel you. Ever faked your way to a freaking Nobel Prize? Well, this guy almost did it. Jan Hendrik Schön is a German physicist who we take it was something of a science-world rockstar when he dropped a banger of a breakthrough regarding semiconductors back in the late '90s. That is, until it was found that his facts weren't exactly all that factual.
Line Goes Up – The Problem With NFTs by Folding Ideas
ADVERTISEMENT - CONTINUE READING BELOW
The scam: Yeah, yeah, we get it, NFTs aren't scams per se. But there sure is a whole lot of trust going on in that entire process that doesn't feel entirely warranted, even justified. This incredibly well-made deep-dive video peels back the layers on one of the biggest digital playing fields today. Whether or not the entire thing makes sense or not, that's up to you.
The Man Behind the World's Biggest Financial Fraud | Investigators by Vice News
The scam: Today in random! The Wolf of Wall Street was backed by one of the biggest fraudsters ever, Jho Low. Surprisingly apt. Low was a businessman who lived one heck of a lifestyle—including rubbing elbows with Leonardo di Caprio—before becoming a fugitive. But most likely not of the golden-hearted movie-type your thinking of right now. Low was accused of heading the 1MDB scandal, a massive fraud regarding billions of dollars, dozens of companies and entities, and several countries, that sprouted in 2009.
ADVERTISEMENT - CONTINUE READING BELOW
Your guide to thriving in
this
strange new world.
Share this story with your friends!
---
Help us make Spot.ph better!
Take the short survey
More Videos You Can Watch
Load More Stories