(SPOT.ph) There are two movie genres that tend to have a stronger staying power in one's psyche. The first would be coming-of-age films, for memory is marvelously fluid and always in motion. Though once very concrete and real to you, your adolescence can now only be remembered through the increasingly blurry haze of your mind overlayed by the thin veil of pop culture. How much of what you remember is pure and how much has been distorted by the movies, TV, and music of your time? Alongside this more romanticized genre is horror. Whether you like them or not, horror films tap into your basic insitincts as a human being, giving them the power to make fear linger long after the credits roll.
So you take one and one, put them together, and you get the horrific coming-of-age love story, Bones and All. The film follows Maren (Taylor Russell) and Lee (Timothée Chalamet), two young cannibals that embark on a roadtrip across America in the hopes of finding themselves in the midst of their "affliction." Smashing together the sentimental coming-of-age genre with the visceral horror genre, the film captures just how messy love in the time of growing up truly is.
ADVERTISEMENT - CONTINUE READING BELOW
Also read: MOVIE REVIEW: Triangle of Sadness Is a Topsy-Turvy Boat Ride That Will Rightfully Haunt You
Bones and All Is a Brutal (and Beautiful) Cannibal Romance
Acting as the inevitable mixture of Luca Guadagnino's two previous genre works, the first-love/sexual awakening film Call Me By Your Name and the nightmarish remake of the giallo film Suspiria, Bones and All finds a passionate young romance between two cannibals on the run from authorities (and their own lives) in middle America.
Interestingly, what separates Bones and All from Guadagnino's previous works isn't the either-or of its dichotomous premise. Here, Guadagnino turns his notably romantic eye (for hot people doing hot people things at hot people places) toward dirty and run-down places, where characters are doing all they can just to scrape by. From small towns in rural America being taken over by large power lines to the industrial factories popping up all over the landscape shots, it's clear we're no longer in Guadagnino's ideally realized Italian countryside.
ADVERTISEMENT - CONTINUE READING BELOW
Recommended Videos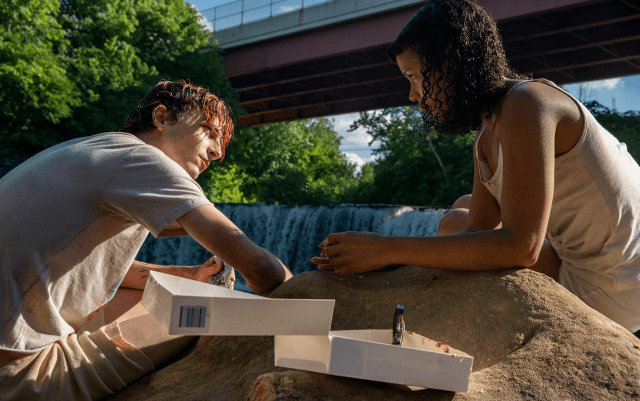 There's more traces of this push-and-pull that permeates the entire love story. Besides the film literally being about cannibalistic lovers, the film also attempts to find the emotion and human connection in the most desolate spaces.
Maren and Lee spark their romance in a beat-up stolen pickup truck and share their first kiss while trespassing a pig barn. The two constantly fight, lie, and push one another away, only to be pulled back to each other against sound reason. Even Maren's parents abandon and physically hurt her, in what they see as greater acts of love. This all culminates in the film's finale, the titular act of "bones and all."
ADVERTISEMENT - CONTINUE READING BELOW
Thankfully not used as allegory for any one specific thing, the cannibal drama used in the narrative comes through as heightened emotional turmoil for the people it "afflicts," from the 18-year-old Maren to the veteran cannibal Sully (an excellent Mark Rylance in a more physical role than what he's known for nowadays). The film effortlessly gets you to not only empathize with the characters' faults and rash mistakes but also to see that they're capable of redemption and love. Make of that empathy for cannibals what you will.
It's stunning how Russell is able to anchor Maren down on universal feelings of growing up, from the pleasures of acting upon long-repressed urges to the vulnerability it takes to stand up against parental figures.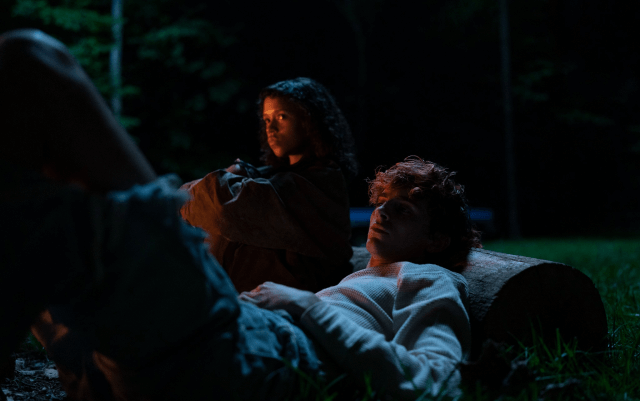 ADVERTISEMENT - CONTINUE READING BELOW
Unlike Guadagnino's previous features, Bones and All finds its form in your classic road trip movie, so its beats and structure may feel similar enough for you to get a sense early on of where it's inevitably headed. Though the film's finale remains a gut-wrencher, regardless if you see it coming or not.
As Michael Stuhlbarg's character says within the film, "There is before bones and all and after bones and all." While the film only tackles what goes on for the characters prior to the "bones and all" segment, there's no denying that their outlook on young love has been forever changed by the experience of it.
Rating: 3.5 out of 5 Spots.
Also read: Movie Fans, These Are the Must-Watch Titles Dropping in Cinemas This November
Hey, Spotters! Check us out on Viber to join our Community and subscribe to our Chatbot.
Share this story with your friends!
---
Help us make Spot.ph better!
Take the short survey
Load More Stories