10 Questions That Boggled Our Minds During the Cory Coverage
This article was originally published on August 6, 2009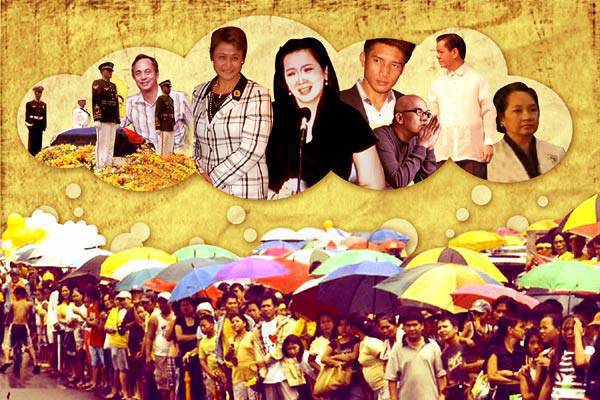 (SPOT.ph ) From citizen journalists and their FaceBook-uploaded photos to TV stations with their 24/7 coverage and live streaming on their websites, there was a lot to see and know in just the few days since former president Cory Aquino died on August 1.
With cameras aimed from every angle, we (and most anyone on Facebook, it seems) scratched our heads over matters such as: Why was the South Luzon Expressway closed even though the procession didn't pass there? Why was there a Dora the Explorer balloon near the flatbed truck carrying Cory's coffin? What are the teenagers who asked why people were signing L for loser, learning in school? What will Baby James be called when he grows up? Why did our poor flag look so flimsy when it was being folded at Manila Memorial?
Here are 10 more questions that kept us awake last night:
ADVERTISEMENT - CONTINUE READING BELOW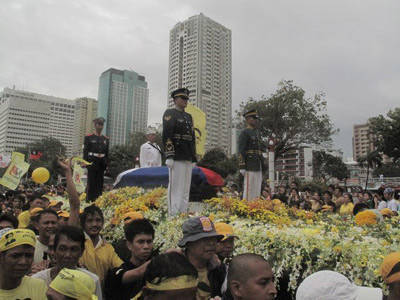 CONTINUE READING BELOW
Recommended Videos
Photo by Ricky Villabona. Click here for more citizen journalist photos.
1. The four honor guards who accompanied Cory Aquino's cortege
Army Pfc. Antonio Cadiente, Airman Second Class Gener Laguindan, Navy Petty Officer 3 Edgardo Rodriguez and Police Officer 1 Danilo Maalab stood on a moving flatbed truck under the rain for eight straight hours without sitting, eating or relieving themselves.
The question: How did you hold it all in (hunger, fatigue, your urge to pee)? What sort of training did that take?
ADVERTISEMENT - CONTINUE READING BELOW
James Yap with wife Kris Aquino and son Baby James. Photo by Noel Orsal of PEP.
2. James Yap
The basketball player and husband of Kris Aquino is known for not having a very expressive face or body language, more so during the last few days he was caught on camera.
The question: As she bawled her eyes out in heart-wrenching sobs, how come you didn't hug your wife or even hold her hand?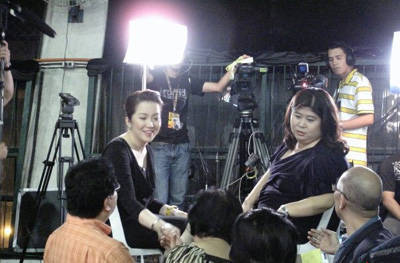 Kris Aquino with Jessica Soho. Photo by Girlie Rodis
For more citizen journalist photos, click here.
3. Kris Aquino
The youngest daughter of Cory not only turned on the waterworks full blast, she also said Cory told her she was most like her father, Benigno "Ninoy" Aquino, and that she was her mother's favorite since she brought Cory the most joy. She also thanked her many endorsers after crying because she said her mom told her to do so.
ADVERTISEMENT - CONTINUE READING BELOW
The question: Why must it always be about you?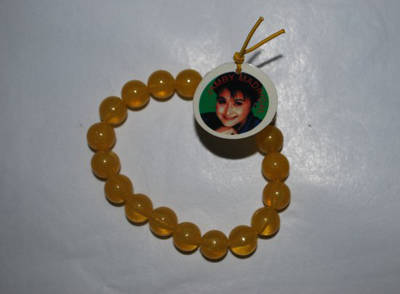 Photo from newmedia.com.ph
4. Jamby Madrigal
Yellow bracelets with the face of the senator, who recently declared she will run for the presidency in 2010, were given away at Cory's burial procession, reports newmedia.com.ph. "While [Facebook user Happy Feraren] was waiting for President Cory Aquino's cortege, she and her Mom decided to buy a yellow umbrella. They were then given a yellow beaded bracelet afterwards for free," he says.
The question: Did you know they were giving away yellow bracelets with your face on them at a wake that was honoring someone else?
ADVERTISEMENT - CONTINUE READING BELOW
From left: Pinky Aquino-Abellada, Sen. Noynoy Aquino III, Ballsy Aquino-Cruz,
Jiggy Cruz and Kris Aquino. Photo by Noel Orsal of PEP
5. Maria Elena "Ballsy" Aquino-Cruz
While the cameras zoomed in on Kris Aquino as she talked during the entire burial procession, her sister Ballsy did not have many words to say.
The question: As the eldest daughter of Cory, what would you have wanted to tell the Philippines if you had more camera time?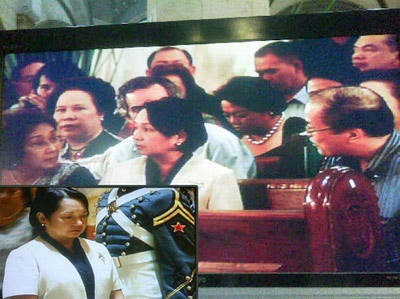 President Arroyo. Photo by Girlie Rodis.
For more citizen journalist photos, click here.
6. President Gloria Arroyo
Fresh from her US trip, GMA arrived at Cory's wake at around 3 a.m. and stayed for only seven minutes. Aquino was known to be against Arroyo and even asked her to resign when GMA admitted she talked to a COMELEC commissioner in the "Hello Garci" fiasco during the canvassing of votes for the 2004 elections.
ADVERTISEMENT - CONTINUE READING BELOW
The question: Why did you go in through the back door? Were you afraid of the crowd's reaction? Also, how does it feel to be declared dead by Manila Bulletin, Philippine Star and ABS-CBN?
7. Boy Abunda
The TV host/producer and BFF to "Krissy" Aquino seemed to have commandeered the entire Cory wake and burial, with exclusive interviews and live updates.
The question: Why did you play such a pivotal role in the whole event? And why was Kris on your arm, not James' when she stepped down from the family bus?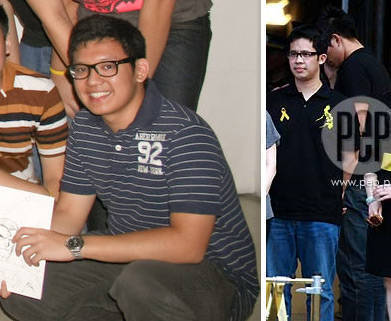 Jonty and Jiggy Cruz. Photo from Jiggy Cruz's blog and by Noel Orsal of PEP
8. Jiggy and Jonty Cruz
When did Cory and Ninoy's grandkids become so cute? Jiggy published his book Ninoy: Art and Essays last year because of his "100% love for my Lola, my Lolo, and for the comic-book industry," he says in his blog.
ADVERTISEMENT - CONTINUE READING BELOW
The question: Are you going to follow Auntie Kris's footsteps and join showbiz?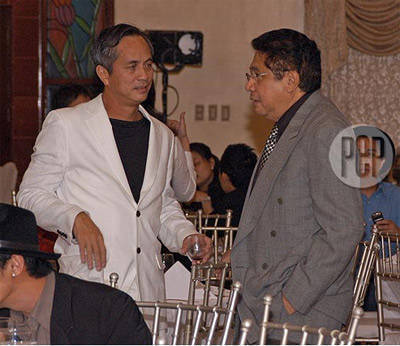 Gabby Lopez (left). Photo by Noel Orsal of PEP.
9. Gabby Lopez
The chairman of TV station ABS-CBN was spotted holding a young woman's hand during the wake. Clue: It wasn't his estranged wife Panjee Gonzales.
The question: Whose hand were you holding?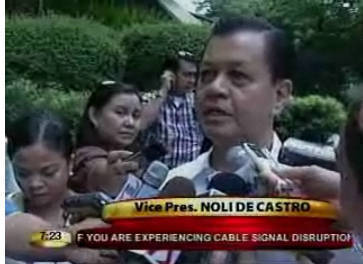 ADVERTISEMENT - CONTINUE READING BELOW
VP Noli De Castro in a GMA-7 interview at the last
day of novena for Cory when she was still alive.
10. Noli De Castro
Blogger Jamal Ashley Yahya Abbas claims he saw Vice President Noli De Castro push East Timor President and Nobel Peace Prize laureate Jose Ramos-Horta with his two hands in his hurry to get to his seat beside former president Fidel Ramos. But de Castro must have known who it was since he welcomed Horta to the Philippines last year for the latter's four-day state visit.
The question: Did you know you pushed the president of East Timor?
SPOT wants to know: What are you dying to ask them?
Artwork by Warren Espejo. This article was originally published on August 6, 2009.
Share this story with your friends!
---
Help us make Spot.ph better!
Take the short survey
Load More Stories