10 Fearless Fighters: The heroic helping hands that fought Ondoy
SPOT.ph turns the spotlight on the people who took time to share what they could–time, resources, talent, homes, or even lives–to help fellow Filipinos affected by the storm.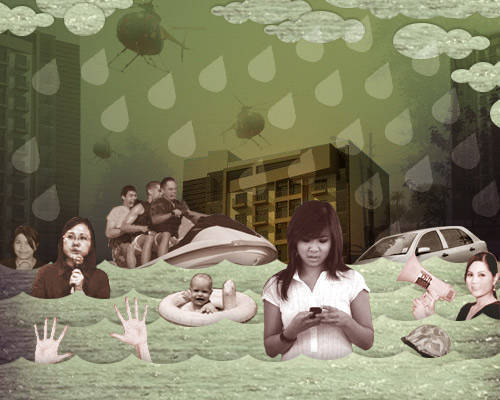 SPOT.ph turns the spotlight on the people who took time to share what they could–time, resources, talent, homes, or even lives–to help fellow Filipinos affected by the storm. Here are the heroic helping hands we've heard about, in no particular order:
1. Muelmar Magallanes
Muelmar Magallanes, an 18-year-old construction worker, was a powerful swimmer who saved 30 people from rampaging floods. He died while rescuing a baby girl who was swept away on a Styrofoam box. His body now lies at a makeshift evacuation center in Quezon City.
Magallanes, who brought his family to higher ground on Saturday, decided to go back for neighbors stranded on their rooftops. Witnesses said he saved more than 30 people from drowning. Ms. Penalosa, the mother of the baby he saved, said Magallanes was washed away by the torrent of water. His body was found on Sunday, September 27.
2. Venancio Ancheta, Jr. and four members of the Civilian Armed Force Geographical Unit (CAFGU)
Pfc Venancio Ancheta Jr. saved 20 flood victims but could not save himself in the end as he was carried away by the flood at Brgy. Tunhac, Famy, Laguna. In the midst of rescue operations, another soldier and three members of the (CAFGU) also died: Cpl. Adriano Regua of the 59th Infantry Battalion and CAAs Erineo Olaguer, Joel Hernalin, and Florencio Dequito.
3. Enderun College students and volunteers
Opening its kitchens on Monday, September 28, Enderun College culinary students and fellow volunteers cooked hot meals to be distributed by the Red Cross. To date, Enderun College has sent out 16,000 meals which were distributed by the Red Cross and picked up by various volunteers who took them to evacuation and relief centers.
ADVERTISEMENT - CONTINUE READING BELOW
Enderun College was supposed to resume classes on October 1, Thursday, but opened their kitchens this morning to continue helping out typhoon victims. Contact Ancie Pamintuan at 0908-6795936 for any donations or assistance you can extend.
4. Medical mission groups
Makati Medical Center, Cardinal Santos Medical Center and PLDT is holding medical missions until October 4. MakatiMed is based at Rizal, Cardinal Santos Medical Center at Pasig and PLDT at Marikina. Doctors consult and distribute medicine to those in need.
To volunteer, call Dr. Victor Gisbert of the Social Services Department at 0917-8922807 and Dr. Johnny Sinon of Makati Medical Center at 0917-5261345.
CONTINUE READING BELOW
Recommended Videos
Donations may be sent to the Social Services Office, G/F Makati Medical Center, Amorsolo St., Makati City. Look for Jocelyn or Fatima at 789-4790 to 91 and 888-8999 local 7124 and 7104.
5. Gang Badoy
Founder of the alternative education movement, Rock Ed and host of Rock Ed radio, Gang has made civic-awareness interesting for teenagers with hopes to turn apathy into collective action. Gang went onboard on Jam 88.3 for four straight days of 14 to 16 hours on air, using radio to inform people about the current situation in typhoon-affected areas and call out for help. Along with other DJs and volunteers, they utilized the airwaves to keep everyone connected, informed and inspired while updating their Twitter accounts.
At the end of the third day, Gang Badoy tweeted at 7:24 a.m. September 29, "What an honor to be given the chance to give out crucial info at a crucial time."
ADVERTISEMENT - CONTINUE READING BELOW
6. Patricia Hizon
Sportscaster Patricia Hizon housed 40 orphans whom they "carried 1.5 to 2 kilometers because they had no slippers," according to her tweet. Armed with "a delivery truck, ropes, megaphone and big hearts," she is one of the driving forces behind relief operations in Tumana, Marikina. From September 30 onwards, they will also help out in Pasig. If you have goods or time to donate, send her a tweet.
7. Netizens on Facebook and Twitter
Technology has proven to be one of this generation's greatest tools, with people sending out useful information over the Internet, posting calls for help and encouraging everyone to do their share, just through their computers and cell phones.
Among them, TV host and sports reporter Lia Cruz mobilized volunteers through Twitter while on the move herself. She continuously announced updates on people needing rescue, what to donate and where, and retweeted useful information and contact numbers. Cruz was a former Ateneo courtside reporter for the UAAP.
8. Hon. Ralph Lee
Quezon City Judge Ralph Lee rode on his jetski and rescued dozens of people in Novaliches, according to a report by Inquirer.net. Lee drove from Fairview to Novaliches, with life vests and two rubber boats he used for weekend wakeboarding. He was able to save 100 lives.
"I heard that so many families were already stranded on their rooftops because water from the Tullahan River was already overflowing," Lee told media.
9. Linda Tizon
Purchasing Manager Linda Tizon opened her Quezon City home to over 200 survivors of typhoon Ondoy on Sept. 26. According to Tizon, flood water was rising in Novaliches and displaced families living near the creek found refuge in the neighborhood chapel. Soon after, even the chapel began to get flooded and she saw people literally being dragged by the floodwaters' strong current. Tizon invited people into her home and managed to house and feed 250 people.
ADVERTISEMENT - CONTINUE READING BELOW
10. Jason de Guzman
It almost seemed like a scene from a movie--a female doctor climbing up her car to escape the raging water and a security guard bravely jumping to rescue her.
Jason de Guzman, security guard at the University of the East Ramon Magsaysay hospital, said he was only doing his job when he helped the female doctor. Fortunately, he did not get sick from braving the flood but he did stay at the hospital until Sunday since his Marikina home was severely affected by typhoon Ondoy.
"I hope this can be an inspiration to all security guards. We should all fulfill our duties," he said in Filipino.
Local celebrities have also been spotted helping out. To read more about it, click here.
Click here to see a list of drop-off points or places that need more volunteers.
SPOT.ph wants to know: Do you have a hero story or have Ondoy photos to share? Let us know through the comments section or send us an e-mail at info@spot.ph.
Artwork by Warren Espejo.
Share this story with your friends!
---
Help us make Spot.ph better!
Take the short survey
Load More Stories