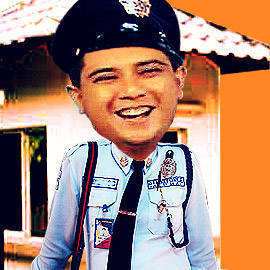 Juan Miguel "Mikey" Macapagal Arroyo is not exactly the most loved politician in the country. The firstborn of former-president-turned-Congresswoman Gloria Macapagal-Arroyo and Atty. Jose Miguel "Mike" Arroyo seems to attract controversy faster than you can say "security guard" or "tricycle driver." SPOT.ph plays pop profiler and attempts to zero in on the things that secure his identity.
1. He's a Bull. Arroyo's birthday is on April 26, which means he's a Taurus. According to Astrology Insight, Taureans "excel in business matters" because they have a "strong need for security." They're also very sociable and committed to their causes. They can be as stubborn as a bull. On the flip side, Taureans "can be seen as being overly possessive" and "may show signs of being greedy and non-creative." A few years ago, Arroyo was accused of some of these not-so-great Taurean qualities when he imported racehorses. Some people alleged that he wanted to avoid paying the taxes for the horses.
2. He welcomes attention. When he was younger, Arroyo tried to make it as a movie star. He has starred in more than a dozen movies like 'Di Kita Ma-Reach (2001), Masamang Ugat (2003), and A.B. Normal College: Todo Na 'Yan, Kulang Pa 'Yun (2003). Psychologists hypothesize that people who seek attention often see it as proof of their worth. They want to be validated. Perhaps, Arroyo felt he had to stand out in an industry where he wouldn't be compared to any other members of his political clan.
ADVERTISEMENT - CONTINUE READING BELOW
To say Mikey Arroyo got major flak for his P63 million beachfront home in California is a huge understatement. Take a virtual tour of the posh digs by clicking here.

3. He's loyal to his family. In 2002, Arroyo, then 33, married Maria Angela Montenegro, who is his second cousin. This love match is reminiscent of the days when nobles and royals did the same to preserve their bloodline and, perhaps, ensure that their vast holdings didn't get torn apart.
4. He rolls with the punches. Though he's been elected as the representative of Ang Galing Pinoy (AGP), a party-list group that supposedly champions the rights of security guards and tricycle drivers, Arroyo has been disowned by the groups he is supposedly representing. Security guards and tricycle drivers say that he really isn't one of them. His critics also question his sincerity as AGP representative. Instead of crying in a corner, Arroyo fought back by calling his critics "hypocrites." Whether they like it or not, he is now a congressman once more.
Mikey Arroyo strikes back.
5. He's a Doer. Among the personality types documented in the Myers Briggs personality test, Arroyo can be classified as a "Doer." Doers are "enthusiastic and excitable" people who are "willing to plunge right into things and get their hands dirty." They also "live in the here-and-now, and place little importance on introspection or theory." Just recently, to combat negative news about his AGP representation, Arroyo hit the streets and talked to tricycle drivers. It is not clear, however, if they now consider him as an honorary brother.
ADVERTISEMENT - CONTINUE READING BELOW
Recommended Videos
Mikey Arroyo gets creamed by Winnie Monsod on Unang Hirit.
6. He loves the finer things in life. In 2009, when President Gloria Macapagal-Arroyo was slammed for her $20,000 tab at Le Cirque in Manhattan, Arroyo came to his mother's defense by telling the media, "Do you want your president to eat in McDonalds or some turo-turo? I think there's more dignity in having your president, and her Cabinet members, and members of the Lower House to eat in a decent restaurant." Such a statement would make some observers think that Arroyo equates posh things with respect. (We wonder what he'll say about US President Barack Obama eating hamburgers with Russian President Dmitry Medvedev.)
7. He's a gentleman. When he puts his mind to it, Arroyo does manage to avoid further controversy. Just recently, GMANews.TV reported that Representative Walden Bello of the Akbayan party-list group, delivered a "scathing privilege speech" against Arroyo's mother, the former President. Arroyo said, "We will not retaliate. We were taught by our parents to behave and be a gentleman at all times."
Rufa Mae Quinto denies rumors linking her to Mikey Arroyo and brushes off allegations that he bought her a house in the US.
8. He's been linked to a bombshell. Many powerful men are usually linked to bombshells--and Arroyo joined the club when he was linked to actress Rufa Mae Quinto. Nevetheless, he stayed quiet about the issue. Gossipmongers, however, had a field day.
9. He's an Earth Rooster. Since he was born in 1969, Arroyo is an Earth Rooster. According to Metaphysical Zone, Earth Roosters like him are "hardworking, resourceful, courageous talented, and self-assured people" who are "notoriously dominant." Then again, Earth Roosters "can be conceited creatures, vain and boastful, with a strong egotistical need to constantly be the center of attention." Hopefully, Arroyo doesn't have too much of the fowl's foul qualities.
ADVERTISEMENT - CONTINUE READING BELOW
Mikey Arroyo stars in 2003's A.B. Normal College: Todo Na 'Yan, Kulang Pa 'Yun.
10. He's got a fun side. In his 2003 movie, A.B. Normal College: Todo Na 'Yan, Kulang Pa 'Yun, Arroyo allegedly suggested that his dopey reel character be named "Miguel," after his real-life dad. Whether he did this to pay tribute or poke fun at his dad is not clear, though.
Art by Warren Espejo.
Share this story with your friends!
---
Help us make Spot.ph better!
Take the short survey
Load More Stories