Pepato
L1, Greenbelt 2, Ayala Center
Makati City, Tel. (02) 757-2636
It's always been a wee bit out of place where it was. It always seemed a bit dark and foreboding, intimidating and otherworldly, and most definitely unconventional-looking--certainly against the backdrop of Greenbelt 2's restaurant row. I often found it sitting quietly, without any more than a few tables occupied. In fact, I don't quite recall when I've seen it packed. Not that it's a bad thing. I've always thought it to be one of the best date places in the city, or at least certainly a place to give a great first impression--the seduction began here. Food wise, it's a laboratory of sorts, whose owner channels her inner mad scientist and puts together the zillion ideas in her head and makes it come alive.

I'm talking about Pepato, the landmark restaurant of Margarita Fores, which sadly is closing its doors on August 15. I don't know if people really got this place--though I do know of those that truly love it. It's quite pricey, for sure, but you cannot fault the quality of the cooking and the ingredients. This is a place that has been known to fly in red and yellow peppers, and even tomatoes from Italy. How did you classify the food? Hard to say, really, though of course almost everything was of an Italian bent. This is the kind of place that one cannot pigeonhole, for sure. To me, all that mattered is that they churned out great food with style and with flair--and if you've met the lady behind it all, then you will know right away Pepato is an extension of who she is and what she's about.
ADVERTISEMENT - CONTINUE READING BELOW
I had the chance to visit last Sunday to have one more taste. My family is complete only on Sundays, and that is always a reason to celebrate life (oh ok--it's also an excuse to indulge a bit!) First thing on our table was a plate of fried squash blossoms, oyster mushrooms and apples served with a bagna cauda (anchovies and garlic) cream sauce. Carefully fried, these were crisp and greaseless, and such a treat. So good that it called for a second plate.
We also ordered some once-close-to-extinction diwal, straight from Bacolod (angel wing clams) and a wink to Ms. Fores' hometown. Traditionally just grilled and dipped in some vinegar, this being Pepato it was served with an indulgent truffle infused butter. Though I am still a fan of the grilled variety, I'm not one to refuse other kinds of preparations. Probably just as well--these were awesome.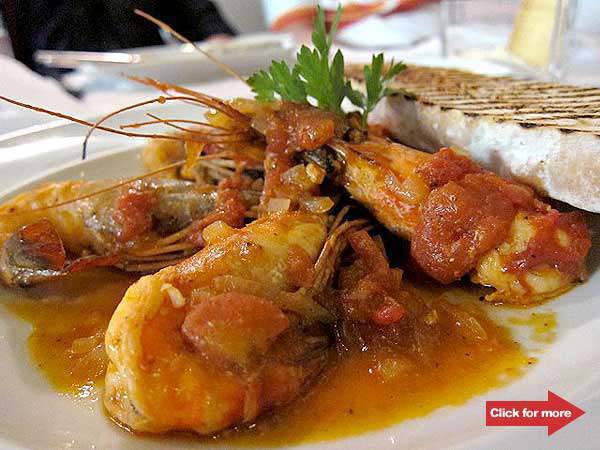 ADVERTISEMENT - CONTINUE READING BELOW
Recommended Videos
River Prawns in Guazetto. Click for more photos.
A tasting plate of house-made taglierini Lusso came in a rich cream sauce, and was topped with fresh rose cracked pepper and a medallion of foie gras brushed with a santol glaze. Richer than a million bucks, it was nonetheless a delicious indulgence. Speaking of which--I think it's a great idea to have a meal doing 2-3 (or more, depending on your appetite) tasting portions of the pasta varieties. If anything, Pepato has one of the widest and most creative varieties of fresh and dry pasta in Manila. You'll probably have to be carted away after a few, but that's what friends and family are for...

In the name of research, of course I got to sample what the others were having. C had a watercress salad with toasted pine nuts, plums, shaved palm hearts and Parm, and tossed in vinaigrette with a local acacia honey base. This is a classic combination of flavors, and its hint of bitterness (from the cress) and sweetness (from the plums and the honey) and crunch are a refreshing prelude to your mains. G had a pomodoro soup--a tomato lover's dream, it is pure, unadulterated, chunky tomato soup and a nice hint of herbs, clean, flavorful and healthful.
For my main I had a plate of river prawns "in guazetto"--simply cooked with tomatoes, garlic and wine, and served with grilled bread. Sweet and toothsome, without that mushy mouth feel of overly cooked shellfish, this is as simple, rustic and delicious as it gets. As my fork was gravitating to both my left and my right, I tried both my seatmates' food as well: C had an equally simple and beautiful halibut fillet on tomatoes with fennel confit, whilst T had sea bass which I imagine was supposed to be cooked "in cartoccio" or wrapped in paper and baked, but this was made in some sort of clear wrapper which, thankfully, did not detract anything from the melding flavors. Well-seasoned, fully flavored and clean tasting, these dishes are a celebration of ingredients--not masked by cream, or cheese, or other strong flavors.
ADVERTISEMENT - CONTINUE READING BELOW

M's bolognese on top of house-made fettucini, one of the simplest of all the dishes on the table, was also one of the best--one of the crown jewels of Pepato's menu, and also one of their unsung heroes. The meat was melt-in-your-mouth tender, indicating a sauce that took its time cooking, surely for hours. T's deconstructed carbonara had a whole egg on top, which is supposed to be broken and mixed in with the pasta and guanciale (pig's jowl bacon) and then topped with Parm and lots of cracked, black pepper. As a dish it was ace - savory, simple, with the super fresh yolk unctuously pleasant on the tongue. And yes, yet again, no cream whatsoever--just the way the Romans eat it. G's spaghetti alla Checca with raw tomato, garlic, basil and mozzarella was the king of simplicity. If there was anything that highlighted the ingredients, it was this. This burst flavors in your mouth.

The only slight miss for the meal was J's salmon, which, while perfectly cooked to a medium rare, was probably barely seasoned. Nothing a little sea salt couldn't fix. My dessert of Parmesan gelato was tasty enough--a foreign, posh-er cousin of our queso sorbets--but lacked that creamy texture that the best gelatos have. I suspect the milk they used didn't have high butterfat content. Nevertheless, they made up for it with a slice of flourless chocolate cake (made with Valrhona--the best in the local market) served with some cerveza gelato. Once again, rich and indulgent, just like a lot of the things on the menu.
ADVERTISEMENT - CONTINUE READING BELOW

The grapevine says that Ms. Fores already has something up her sleeves.. a new concept, a better location. But, of course, it just won't be the same. If you have never been yet, or haven't been in awhile, you still have time to visit. Bring a date, bring your parents, bring your lolo and lola.. bring them all for a special occasion dinner, or even just to try the specialties of the house one last time. In just a few weeks, all of this will just be a memory, albeit a truly mouth-watering one.
RATING: 4 out of 5 Spots. ....


Share this story with your friends!
---
Help us make Spot.ph better!
Take the short survey
Load More Stories