Top 10 Noli Me Tangere Characters and the People We'd Like to Play Them
Who will SPOT.ph cast in our no-budget <em>Noli</em> fantasy flick? Don't go "Damaso" on us now...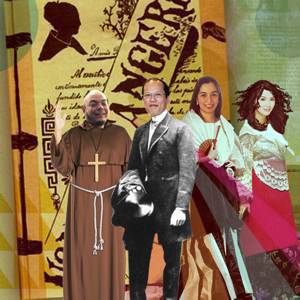 Performance artist, activist and popular Manila tour guide Carlos Celdran, arrested on September 30 for staging a protest during an ecumenical service at the Manila Cathedral, expressed his sentiments against the Catholic Church's opposition to the Reproductive Health Bill by holding up a sign that said "Damaso," referring to the villainous Spanish friar Damaso Verdolagas (or simply Padre Damaso) in Jose Rizal's Noli Me Tangere, which was published in 1887. Aside from rocking the proverbial boat, Celdran's move probably prompted a lot of people to re-read Rizal's brilliantly biting book, and perhaps even seek out the 1961 flick directed by Gerardo "Gerry" de Leon, National Artist for Cinema.
Inspired by Celdran, Rizal, and de Leon, SPOT.ph decided to play a game of "fanstasy movie casting"--that is, make believe we were making a low budget (or no-budget) Noli Me Tangere flick. So we couldn't really cast a lot of big-name stars but instead, had to be creative and opt for interesting personalities in the country's political and pop culture scene, assuming they'd offer their services for free (or at rock bottom prices).
Before you proceed, keep in mind that this list is not meant to be used as a substitute for the book or as a crib sheet for any academic undertaking involving the novel. Our descriptions of the Noli Me Tangere characters here do not have the blessing of educators or literature experts, so quote at your own risk and don't go all Damaso on us.
ADVERTISEMENT - CONTINUE READING BELOW
This can serve as Kris Aquino's audition video.
KRIS AQUINO as Sisa

Character study: Sisa is a laundrywoman who is married to a no-good cockfighting aficionado named Pedro who, from time to time, also hurts her physically. She has two sons: Basilio and Crispin. She goes insane when her sons go missing.
Acting job: Kris Aquino can certainly relate to this character. She's dealt with not-good-for-her men and has done things most people would consider insane. Just like Sisa, she also has two sons. She just has to get a tan, get a little dirty, and get a bed-head hairdo for the role. Watching all her massacre and horror flicks, we already know she's got what it takes to let out deranged screams. If we're going to splurge on a big showbiz name for this flick, we might as well spend it on her because she sells: Crazy brings in the cash. (To save money, maybe we can get a package deal and ask Josh and Baby James/Bimby to play Basilio and Crispin. Never mind the age difference.)
CONTINUE READING BELOW
Recommended Videos
Here's looking at you, Mikey Arroyo.
MIKEY ARROYO as Padre Salvi
Character study: Padre Bernardo Salvi is the thin and sickly curate who secretly desires Maria Clara, the sneaky bastard who stays in the sidelines and then goes in for the kill when people are vulnerable.
Acting job: Let's face it, Mikey Arroyo will never be as stellar as his mother. He can relate to this role because he's good at being in the sidelines. Minus 30 to 40 pounds, he'd make a believable Padre Salvi. He may have given a hammy performance in 2001's Mahal Kita...Kahit Sino Ka Pa (where he played an incorruptible cop) but we think he can pull off being a crafty priest.
ADVERTISEMENT - CONTINUE READING BELOW
Joseph "Erap" Estrada probably laughs over the fact that nobody takes him seriously.
JOSEPH "ERAP" ESTRADA as Pilosopo Tasyo
Character study: Pilosopo Tasyo is an old man who writes about his hopes and dreams for the country using a "cryptographic alphabet." In other words, nobody understands what the hell he wants to happen. Despite his claims that the stuff he writes will teach future generations a lot of things, nobody takes him seriously. Pilosopo Tasyo used to be Don Anastacio but he transformed into his community's "village idiot."
Acting job: Like the character, Erap Estrada fell from grace and, really, nobody takes him seriously these days. (Except, maybe, the 9,487,837 people who voted for him in the May 2010 elections. And, yes, we're being ironic.) Then again, we suspect that the dumb act is just that, an act: It sure gives him license to say whatever he wants.
The sound of Annabelle Rama's voice alone makes her the perfect Doña Consolacion.
ANNABELLE RAMA as Doña Consolacion
Character study: Doña Consolacion is a former laundrywoman who aspires to climb up the social ladder. She's not a major character but she has a spotlight contrabida moment when she gets a whip and uses it on Sisa.
Acting job: The sight and sound of Annabelle Rama subjecting Kris Aquino to a reel whipping is too hard to resist. People would pay to see that scene alone.
Dr. Vicki Belo unwittingly lets her catty side out of the bag.
ADVERTISEMENT - CONTINUE READING BELOW
VICKI BELO as Doña Victorina de Espadaña
Character study: Doña Victorina is Filipina who mimics Spanish ladies by putting on heavy white makeup. One could say that she wants a major makeover. She had many admirers when she was young but she didn't pick any of them because she wanted to be married to a Spaniard. Later on, when she had no other choice, she hooked up with Don Tiburcio de Espadaña, who is 10 years younger than she is.
Acting job: Vicki Belo is certainly the country's makeover queen. She's made herself over and has made money making over many others. She also hooked up with a younger man.
Hayden Kho can look weak and submissive when he wants to.
HAYDEN KHO as Don Tiburcio de Espadaña
Character study: Don Tiburcio is a Spaniard who assumes the title of a medical doctor even though he never went to medical school: a quack. And he's henpecked by Doña Victorina.
Acting job: Since his medical license was revoked, Hayden Kho is, technically, not quite a medical doctor right now. Like the character, he's with a stronger older woman. If Kho takes this role, he and Belo could finally have a "video" of their own that's fit for public viewing.
Shalani Soledad is as sweet as Maria Clara--even if she seems fond of wearing jeans.
SHALANI SOLEDAD as Maria Clara

Character study: Maria Clara is the sweetheart of Crisóstomo Ibarra, the hero of Noli Me Tangere. She is the daughter of Pia Alba. Though she thinks that Don Santiago de los Santos or Capitan Tiago is her father, her real progenitor is actually Padre Damaso. Though Maria Clara is portrayed as a silent and passive character, one has to admire her tenacity when it came to finding out the truth about her mother being raped by the friar.
ADVERTISEMENT - CONTINUE READING BELOW
Acting job: Just like Maria Clara, Shalani Soledad is an expert at saying it best by saying nothing at all. She also has a complicated relationship with her own father. As she candidly revealed in an interview with Kris Aquino, "Hiwalay kasi sila ng mommy ko. Since I was small, hiwalay na sila. There was really no relationship [with my father] but yes, I know him. Kasi magkaaway sila ng mommy ko."
Ramon Bautista would make a cool Elias.
RAMON BAUTISTA as Elias
Character study: Elias is a fugitive fighting against the authorities. Towards the end of the novel, he becomes the hero's sidekick.
Acting job: To ensure that our movie has a cult following, Ramon Bautista has got to be in it. We think he can relate to the character because he's been poking fun at the Establishment for some time. But, of course, Bautista believes in using humor to do so. We're pretty sure he won't be taking any hostages or tossing a grenade to prove his point.
Carlos Celdran is probably too cute to play Padre Dámaso.
CARLOS CELDRAN as Padre Damaso

Character study: Padre Damaso is a hypocritical priest who is totally against encouraging critical thinking. He promotes the Church's doctrines, even as he continutes to be cruel to the people around him. Hey, let's not forget he raped Maria Clara's mom.
Acting job:It wasn't just SPOT.ph blogger and TV-5's Sapul host Lourd de Veyra who pointed out that Carlos Celdran could be cast as the Spanish friar. Philippine Daily Inquirer columnist Michael Tan likewise observed: "There was a bit of irony to all this because Celdran put on a dark overcoat for his cathedral caper, intending to portray Jose Rizal, but after he was arrested the newspapers had a field day showing him behind bars. I think the photographs' impact was stronger because what I, and many others, saw was not Rizal in detention but a Spanish friar, Padre Damaso, no less." We're pretty sure Celdran can pull off this role. It's highly likely he knows the character who symbolizes his "enemies" well enough.
ADVERTISEMENT - CONTINUE READING BELOW
Just like the Noli hero, P-Noy has so much on his plate he's neglected his love life.
NOYNOY AQUINO as Crisostomo Ibarra
Character study: Crisostomo Ibarra is the son of Don Rafael Ibarra, a man larger than life in the town of San Diego but who gets into trouble because he questions the Church's practices. So Padre Damaso makes his life miserable, and Don Rafael dies before Crisostomo can come home from Europe. Alas, the Crisostomo Ibarra-Maria Clara love story does not have a happy ending.
Acting job: President Noynoy Aquino is the son of a man whose life was made miserable when he dared to question the Establishment. Chances are, he can relate to the character. However, he might have to undergo acting workshops or speech sessions to improve the way he delivers his lines. Moreover, it looks like the Noynoy Aquino-Shalani Soledad love story isn't going to have a happy ending.
Art by Paula Pangan, photos from screen captures from various video clips.
Share this story with your friends!
---
Help us make Spot.ph better!
Take the short survey
Load More Stories