Top 50 SPOT.ph Comments of 2011
Did your comment make it to our favorites this year?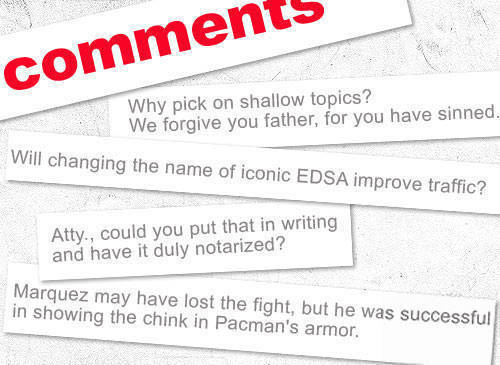 (SPOT.ph) We love hearing from our readers, a passionate group not apt to let a moment pass without sounding off on issues, stories and reviews. Following last year's list, we've culled the funniest, most insightful, honest and witty comments. Here, our top 50 favorite comments for 2011:
50. "Reality hurts when a non-Filipino tells it in (sic: to) your face."
THE WATCHER on PH senators tell US ambassador to say sorry for 'sexual tourism' remark-or pack his bags
49. "Better "praning" than "patay," I guess."
ELISE on Australia renews "terror warning" vs. PH, lists dangerous places
48. "No one put the heat on that lady, except her and her tweets."
GENUINE on Valerie Concepcion apologizes for "Malacañang party tweets," defends P-Noy's presence at gathering
47. "At least you know Vic Sotto won't have a leaked video when the relationship ends."
CRAZY CAT on Vic Sotto, 57, and Pauleen Luna,23, "officially an item," writes showbiz scribe Ricky Lo
ADVERTISEMENT - CONTINUE READING BELOW
46. "Ma'am Charo and all the gods of ABS-CBN must be calling an emergency meeting right now."
DAN on KC Concepcion in tears as she admits breaking up with Piolo Pascual
45. "It wasn't just Cory who challenged the Marcos dictatorship. Dream on and let that overrated drama live on."
@THEWATCHER on Proposal to rename EDSA to Cory Aquino Avenue slammed by netizens
44. "Ito na ang pinakamalaking soap opera ng kontemporaryong panahon."
KORORO on Gloria Macapagal-Arroyo barred from leaving the country despite Supreme Court order
43. "I don't think that the world would respect Pacquiao this way if he was fighting "irrelevant" fighters."
CONTINUE READING BELOW
Recommended Videos
@URGH on After Manny Pacquiao's controversial victory, Freddie Roach says, "I think Marquez deserves a rematch"
42. "Well, I'd say out of the two ... Carla had the bigger balls."
BIGGER BALLS on Actress Carla Abellana reaches out to showbiz scribe Mario Bautista, apology accepted
41. "How unfortunate that no matter how intelligent our opinions may be, they will remain unread and unheard by the people who make decisions."
PHILOSOPHY IS KEY on Sen. Lito Lapid finally joins RH Bill debate, presents his wife as "case study"
40. "Face it, Anne Curtis makes news...Let's not be bitter."
CHINO on Anne Curtis rides MRT again to avoid heavy traffic during Typhoon Kabayan
39. "The tongue is the sword that slits the throat. Remember that ladies."
BLACK DEATH on Shaina Magdayao comes clean about texting Ruffa Gutierrez: "I told her to leave us alone"
ADVERTISEMENT - CONTINUE READING BELOW
38. "Well... majority of SPOT commenters are surely "possessed by evil spirits." "

EXORCIST on 100 high school students in Cagayan allegedly "possessed by evil spirits"
37. "Napapa-lingon ala Linda Blair ako sa mga nangyayari sa bayang ito."
KORORO on Exorcist priest leads ritual outside CCP to make up for "sinful" exhibit; Manila Cardinal declares Aug. 26 as "Day of Penance"
36.  "I believe we should ask the new secretary the following question: how can we help in your tourism campaign?"
GLAD TO BE PINOY on DOT Sec. Jimenez promises "aggressive" campaign, says PH "easy to sell as Chickenjoy"
35. "Mga tunay na lalake lang ang may karapatang mag-sando kahit saan, kahit kailan."
IWA on Sa Ikaaayos ng Mundo, 'Wag Mag-Sando!
34. "What we need is an energetic Cheer Leader who can sell refrigerators to the Eskimos."
IGLOO on Tourism Secretary Alberto Lim resigns due to "personal reasons"
33. "Freedom of expression is a universal declaration. The US blueprint may be a guide but not the only model."
FREEDOM on MMDA disapproves Lovi Poe's Belo billboard for public display
32. "Only a demon can recognize another demon who might have surfaced from hell."
DAN on Senators Estrada and Sotto threaten to slash CCP budget, Estrada says "blasphemous" art piece could only have been done by demon who surfaced from hell
31. "If everybody needs to pay taxes, where do our taxes go?"
WORK HARD, PAY TAXES on BIR says pedicab and tricycle drivers, market vendors, sari-sari store owners must issue receipts
ADVERTISEMENT - CONTINUE READING BELOW
30. "We don't need to hurt each other just because we believe in different things."
ART-OR-NOT on Church spurns artist's "blasphemous" art
29. "Why pick on shallow topics? We forgive you father, for you have sinned. "
JUDAS on Bishop targets "foul-mouthed" DJs of FM radio stations, urges KBP to punish them
28. "Marquez may have lost the fight, but he was successful in showing the chink in Pacman's armor."
MARQUEZ DESERVES A REMATCH on After Manny Pacquiao's controversial victory, Freddie Roach says, "I think Marquez deserves a rematch"
27. "It's sad that this new age tool of communication has been widely used to spread misinformation."
KORORO on Jon Bon Jovi laughs off death hoax, tweets, "Heaven looks a lot like New Jersey"
26. "The Circus is indeed in town."
DAN on VIDEO: Annabelle Rama fires off no-holds-barred tirade after she "almost punched" Nadia Montenegro in front of state prosecutor
25. "This is about a scorned lover who couldn't face the fact that his lover no longer wants him."
IM SURE on Rhian Ramos files "harrassment case" vs. ex-boyfriend Mo Twister
24. "The problem with Filipino die-hard fans is that their loyalty crosses the private lives of their idols."
SOLILOQUY on Ruffa Gutierrez bares all in "text debacle" vs. Shaina Magdayao; tells John Lloyd Cruz: "I'd be the happiest when you can finally be a real man"
23. "You know you've arrived when you have such polarizing effect on those who read your stuff."
ADVERTISEMENT - CONTINUE READING BELOW
GENUINE on Words and Phrases a Real Man Must Never Use Part 2
22.  "Can someone please donate a hearing aid to Dan Hill..."
DAIQUIRI on "Manny Pacquiao is a really, really good singer," says singer-composer Dan Hill
21. "You only live once. But if you live it right, once is enough. He is the perfect example of that."
KORORO on Apple boss Steve Jobs dies at 56
20. "He should spend his money somewhere else. He became famous and successful, without them."
DANICA on Manny Pacquiao's membership application to Manila Polo Club denied
19. "Atty., could you put that in writing and have it duly notarized?"
JUDGE DREDD on "Ipapatanggal ko ang itlog ko 'pag di bumalik ang mga Arroyo," says Atty. Ferdinand Topacio
18. "I'd love to hear from the drivers, helpers, and guards about the things that "Ang Galing" party did for them."
NO HOPE PHIL on Rep. Mikey Arroyo leaves for the U.S. after paying P180,000 bond
17. "His conscience is so clear, he appears to have none at all."
DOLPH ZIGGLER on "My conscience is clear," says Ombudsman Merceditas Gutierrez, will continue working despite House impeachment
16. "Let us put all our energy where it is needed most."
CYBERWATCH on DPWH slammed by netizens for posting "Photoshopped" image on official Facebook page
15. "It takes a "Croc" to nab a monster Croc."
WHAT A CROC! on Monster croc Lolong gets own "nature park"; hunt for another "bigger" crocodile starts in October
ADVERTISEMENT - CONTINUE READING BELOW
14. "I guess the security guards' magic wand didn't work out as planned this time now did it?"
OKEEM on Enraged woman shoots husband inside QC mall
13. "May I respectfully suggest to require brain scanners in Congress?"
DAN on Require malls to have X-ray scanners, controversial congressman proposes
12. "Will changing the name of iconic EDSA improve traffic?"
MOMMA on Proposal to rename EDSA to Cory Aquino Avenue slammed by netizens
11. "May mga bibig na parang manhole. Dapat palaging nakasara."
KORORO on Kris Aquino defends P-Noy's presence at PSG Christmas party: "Hindi naman pwedeng huminto na lang ang buhay at magmukmok na lang tayo"
10. "If the crocodile isn't eating, they should try feeding him our politicians. "
POLITICIANS ARE NICE on PETA defends Agusan del Sur's monster crocodile: "Free Lolong!"
9. "The government, and yes even the church does not have the right to choose which people to protect or provide for. Every human being here in this world has that right."
BABAITA on CBCP targets gay rights provisions in anti-discrimination bill, fears it may pave the way for same-sex marriages


8. "Gloria Macapagal-Arroyo = Best Actress in a Drama Series"
FAMAS on Gloria Macapagal-Arroyo's fingerprints, mugshots taken by police in her hospital room


7.  "Sana income taxpayers lang ang pwedeng bumoto."
DON GEPOT on Sen. Lito Lapid says he fears RH Bill debates due to his "poor English" and lack of education
6. "I don't know if Spot made another mistake. Based on the list of names above, the title could have possibly been "5 possible boyfriends for Papa P (In case it doesn't work out with KC Concepcion)." lol. I am not sure, SPOT, but setting up KC with at least 5 guys from the list above might give her the same problems she is encountering now with Papa P."
ADVERTISEMENT - CONTINUE READING BELOW
DAN on 10 Possible Boyfriends for KC Concepcion (In Case it Doesn't Work Out with Papa P)
5. "PNoy has found where his balls were!!!"
SMACKMYBITCHUP on P-Noy says no to a state burial for Marcos
4. "Why not raise a bill to execute lawmakers who come up with silly resolutions/laws/acts?"
CABALLERO  on Resolution to honor Steve Jobs filed by Congressman Roilo Golez
3. "There really are a lot of snakes in NAIA. Cold-blooded and predatory, they look for prey frequently at customs check points."
FLYBOY on Another python captured in NAIA
2. "All I can say is she's been a good chess player with whatever she's been thrown with so far."
GAME OF POLITICS on Gloria Macapagal-Arroyo postpones travel plans, aide says she is now "too weak"
1. "Anyone there who wants to make an article titled, "Umasal lamang ng ayon sa talino"?"

BLACK LUNG on Umasal Lamang Nang Ayon sa Ganda
Read 2010's Top 50 Comments of the Year
SPOT.ph wants to know: What was your favorite comment of the year?
Share this story with your friends!
---
Help us make Spot.ph better!
Take the short survey
Load More Stories