Willie Revillame's party-list dreams, Migz Zubiri wants to move on + more lowlights
Miriam Quiambao chides Miss Universe, Gloria Arroyo's up and about, and more nutty tales.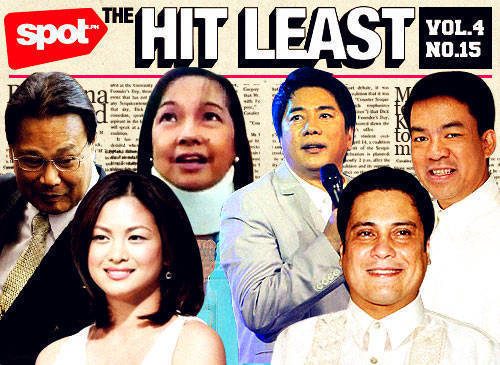 1. AN AIRPHIL EXPRESS FLIGHT TO PALAWAN IS ABORTED DUE TO A PASSENGER'S ALLEGED BOMB JOKE. When is a bomb joke ever funny?
2. TAXI OPERATORS SEEK A ₱10-INCREASE ON THE FLAGDOWN RATE TO HELP OUT THEIR DRIVERS. How about helping them out by also lowering thouse boundary fees a bit?
3. CHIEF JUSTICE RENATO CORONA CLAIMS HE AND HIS FAMILY ARE BEING WATCHED AND THAT THEIR PHONES HAVE ALSO BEEN TAPPED. Whoever's doing that so-called surveillance should be ashamed of himself for not being ninja enough.
4. ENVIRONMENT GROUPS POINT OUT THAT DISCARDED CIGARETTE BUTTS ARE POISONING OCEANS. We'll do something about this only when we taste tobacco-flavored seafood. (Smoked fish, anyone?)
5. RESIGNED SENATOR MIGZ ZUBIRI ASKS SENATOR KOKO PIMENTEL TO LET GO OF THE 2007 POLL FRAUD ISSUE SO THEY COULD BOTH MOVE ON. And forget that four Senate years were stolen from him? Not bloody likely, dude.
ADVERTISEMENT - CONTINUE READING BELOW
6. WILLIE REVILLAME FORMS A POLITICAL PARTY AND SEEKS PARTY-LIST ACCREDITATION FROM COMELEC, BUT SAYS HE WON'T RUN FOR OFFICE. Are we looking at our future president?
7. FORMER PRESIDENT AND CURRENT PAMPANGA REPRESENTATIVE GLORIA ARROYO PLEADS "NOT GUILTY" TO GRAFT CHARGES. Remember, at one point, this woman also said she wasn't running for office anymore.
8. FORMER PRESIDENT AND CURRENT PAMPANGA REPRESENTATIVE GLORIA ARROYO SAYS SHE NOW ALSO SUFFERS FROM SHINGLES. What's next? Hysterical blindness?
9. MANNY PACQUIAO DRAWS FLAK FOR HIS NEW LIQUOR AD, AS PEOPLE POINT OUT IT DOESN'T EXACTLY MAKE HIM THE ROLE MODEL HE SAYS HE WANTS TO BE. If you can quote a Bible verse saying that doing the ad will send him to hell, then he'll listen to you.
10. MISS UNIVERSE ALLOWS A TRANSGENDER CONTESTANT TO COMPETE, FORMER PAGEANT CONTESTANT MIRIAM QUIAMBAO SAYS THIS IS A BAD IDEA. This year, you can recycle this pageant question: "What is the essence of a woman?"
ADVERTISEMENT - CONTINUE READING BELOW
Art by Warren Espejo, with screenshots from news video clips.
CONTINUE READING BELOW
Recommended Videos
Share this story with your friends!
---
Help us make Spot.ph better!
Take the short survey
Load More Stories