Willie Revillame's party-list dreams, Migz Zubiri wants to move on + more lowlights
Miriam Quiambao chides Miss Universe, Gloria Arroyo's up and about, and more nutty tales.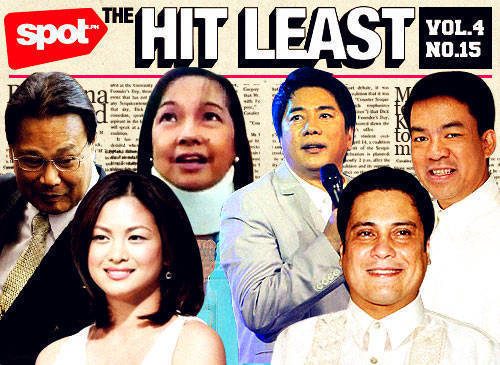 1. AN AIRPHIL EXPRESS FLIGHT TO PALAWAN IS ABORTED DUE TO A PASSENGER'S ALLEGED BOMB JOKE. When is a bomb joke ever funny?
2. TAXI OPERATORS SEEK A ₱10-INCREASE ON THE FLAGDOWN RATE TO HELP OUT THEIR DRIVERS. How about helping them out by also lowering thouse boundary fees a bit?
ADVERTISEMENT - CONTINUE READING BELOW
CONTINUE READING BELOW
Recommended Videos
3. CHIEF JUSTICE RENATO CORONA CLAIMS HE AND HIS FAMILY ARE BEING WATCHED AND THAT THEIR PHONES HAVE ALSO BEEN TAPPED. Whoever's doing that so-called surveillance should be ashamed of himself for not being ninja enough.
4. ENVIRONMENT GROUPS POINT OUT THAT DISCARDED CIGARETTE BUTTS ARE POISONING OCEANS. We'll do something about this only when we taste tobacco-flavored seafood. (Smoked fish, anyone?)
5. RESIGNED SENATOR MIGZ ZUBIRI ASKS SENATOR KOKO PIMENTEL TO LET GO OF THE 2007 POLL FRAUD ISSUE SO THEY COULD BOTH MOVE ON. And forget that four Senate years were stolen from him? Not bloody likely, dude.
Load More Stories