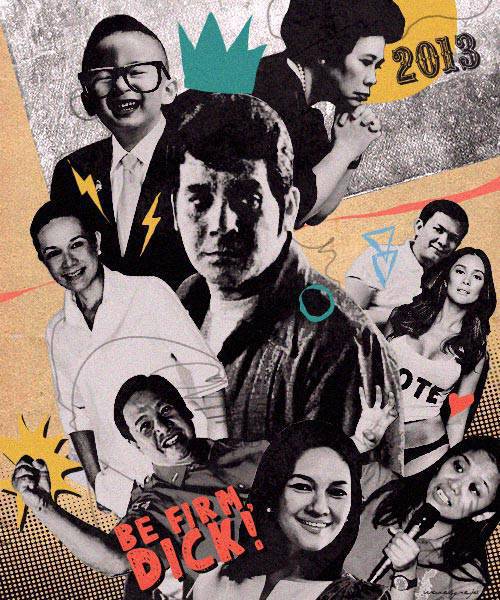 (SPOT.ph) The real winners of the 2013 Senatorial Elections have to be fans of Da King, as his presence graced us quite persistently during his daughter's campaign. We have to keep things exciting now that Madam Senator Miriam Defensor-Santiago is making an exit so I hope she keeps her promise of Tatak FPJ. I'm looking forward to hearing his movies being quoted on the senate floor. This line from Aguila rings in my ears, "Huwag mo na linlangin ang sarili mo, anak. Hindi ako ang hinahanap mo sa kabuuan ng iyong paglalakbay. Ang tunay na hinahanap mo ay kahulugan."
What about us? What are we looking for this season?
Certainly not big banners with gummy smiles since Comelec unexpectedly did a great job removing oversized posters plastered on buses. This might've disappointed Sonny Angara's camp because despite his very handsome résumé, his strongest asset is a sex appeal that even his camison can't contain. Even Madam Senator Santiago couldn't resist mentioning it. As a good friend of mine said, "Kung magpapaloko ka, dun na sa pogi!"
Poor Sonny, though. His last name might actually be making people avoid him and the public isn't really paying attention to his pretty decent track record, which he urged people to peruse. The Magsaysays aren't appealing to the masses either but I can pin the blame on strange remarks from Mitos. Yes, she's that lady who said, "Hindi mo pwedeng paghiwalayin ang simbahan at pamahalan sapagkat ako po ay pinanganak na Katoliko." I still don't see the logic of that statement.
ADVERTISEMENT - CONTINUE READING BELOW
Meanwhile, dear old Nancy is well on her way to becoming Senator Binay. It's so much easier to read the list of her achievements because face it, it's kinda exhausting reading the laws that Teddy Casino co-authored. A blank white page is more soothing to the eyes.
Nancy's api appeal will take her to places we all know she's never been before. This year, we might actually have five Binays (six including the Vice President) in public office. I'm hoping she'll push for the legislation of The Birthday Cake Act once she inevitably gets elected. It's her father's greatest legacy and we hope she continues the amazing work he's done. I'd also like to see her make good on her promise to debate Risa Hontiveros once they're both serving as senators but that will only happen if Hontiveros wins. She almost won three years ago and I think she'll almost win again this year. Keep trying, Risa.
Former presidential candidates Jamby Madrigal, JC de los Reyes, and Brother Eddie Villanueva probably need to reconsider their career paths if they don't get elected as senators. I don't mean that they should go for an even lower position. I mean stop. Specially you, JC. Stay in church, where you can talk about what your divine being of choice likes all day long.
I'll admit that I want to see Dick Gordon be declared a winner but then, with a name like Dick? It's kinda hard to like the man despite his pretty solid performance in debates. He's got some shady things under his belt for sure but at least he has something under his belt. In mock elections, like the one done at the University of the Philippines in 2010, he's a top grosser;  but for some reason, his charm falls short outside campuses. Perhaps it's his weak stand on the RH Law. What on earth is that about? Don't do things just to please us, Dick. We like it when you come down hard on issues. We like it when you're firm. Be firm, Dick. Be firm.
CONTINUE READING BELOW
Recommended Videos
One thing that surprised me this year was the lack of luster from celebrities. Chiz Escudero took a beating despite his girlfriend's highly polished appearance in a magazine. Naiingit kasi kami, Chiz. I don't want to vote for you, just to prove that you can't have everything.
Sadly, I know that there's a reason why it's called an automated election. They could have used the term "electronic" but it doesn't quite capture the essence of the Philippine Elections. What we have is a guarantee that we'll have another Villar to replace the departing Villar. We'll still have the Cayetano siblings. I guess they're pretty okay but I'm wondering if they'll continue bickering with the Enriles (if Jack manages to beat Gringo Honasan out of the last spot.) I'm also wondering if Migz Zubiri is regretting his decision to resign or his decision to admit that he "indirectly benefitted" from the cheating that went on in 2010, now that he's lagging behind in the latest SWS Surveys. I can hear Koko Pimentel cackling in the background.
And of course, we've got a package delivered to us perfectly wrapped with a yellow ribbon. I don't really have a problem with Bam trying to divine the spirit of his uncle but until I hear him orating passionately from the podium... what am I even saying? There's no end to the Yellow Fever. Bimby's probably going to be President someday too. Thankfully, I'll be dead by then. I'll make sure of it.
ADVERTISEMENT - CONTINUE READING BELOW
Share this story with your friends!
---
Help us make Spot.ph better!
Take the short survey
Load More Stories