Pick Your Player: 10 Cheating Politicians
This list shouldn't exist but it does: a look at the giants of Philippine politics and their track record of infidelity.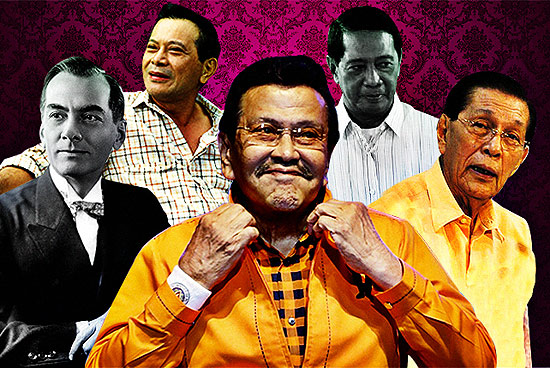 (SPOT.ph) There are two things we quietly accept about politicians. First is that they are prone to corruption (okay, not all of them). Second is that they lie and they cheat, or so one movie describes them. Art imitates life, so there has to be some truth to it, right? We're not unfamiliar with the stereotype of politicians who like putting things in their pockets and unzipping their pants-allowing other people as well to access the money tucked in their pockets. It's quite a shame that they have such a bad reputation because some of them are pretty okay. For those who do "live up" to the cliché, we're not their wives so we're not bound by any marriage contract to look the other way.
Almost everyone has been accused of infidelity in the realm of politics, and while some maintain that they did not have sexual relations with that woman, there are some facts that just can't be ignored. Watch out: 10 cheating politicians coming your way!
This list is not ranked.
Also Read:
Sex and Pinoy Politicians: 10 Scandals That Shocked the Nation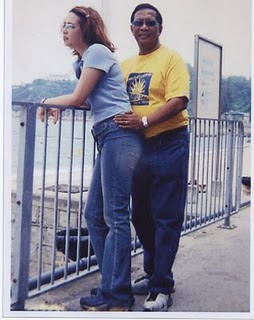 ADVERTISEMENT - CONTINUE READING BELOW
1. Vice President Jejomar Binay
Dirty details: Photos of the incumbent vice president with his mistress circulated in 2010, supposedly due to the success of his campaign strategies. The photos were mercifully tasteful (everyone had their clothes on) but cheating on your wife, we hope, is still frowned upon in our culture. His family shrugged it off as politically motivated, although Binay admitted that the affair nearly destroyed his marriage. He apologized for the infidelity and claimed that he atoned for his sins.
Saving grace: Pleading guilty to a crime does soften the consequence. The smear campaign did little to affect Binay's bid for the vice presidency-and if anything, it was free publicity. His camp handled the issue with grace, complete with his children making testimonies about their father's efforts to mend the marriage. A spin that would do Olivia Pope proud.
CONTINUE READING BELOW
Recommended Videos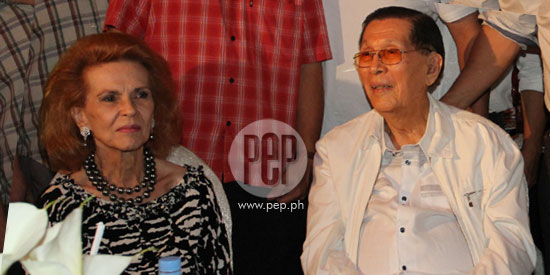 2. Senator Juan Ponce Enrile
Dirty details: Oy vey! Where do we even begin with this one? In an interview with Winnie Monsod, Cristina Ponce Enrile casually revealed to the public that her husband had 38 affairs throughout their marriage-mostly fleeting, except for the one with his Chief of Staff, Gigi Reyes. We don't know how she stayed married to him. We'd really rather not speculate on Enrile's sexual prowess and we also don't want to demean Cristina's integrity by pondering why she stuck it out with Manong Johnny. Perhaps denying a cheater a divorce is actually the cruelest punishment of all.
ADVERTISEMENT - CONTINUE READING BELOW
Saving grace: Is it a good thing that we are reminded that Enrile was once a strapping young lad? Or maybe...it's good to see a bad example, so that history stops repeating itself? Would this discourage the youth from aspiring to be dirty old men?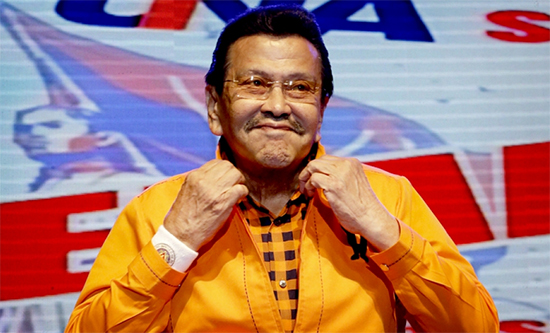 Photo from the Associated Press
3. Manila Mayor Joseph Estrada
Dirty details: He's practically a legend. He has 12 children with six different women. It must be the bigote, or so the chauvinists would like you to believe. The extra-marital affairs didn't put a dent in Erap's political career. If anything, it seems to just add to his charm. Feminists must be quietly seething every time they see his face...especially when he says things like, "It's part of a man's life. It happens even to bishops, priests. It happens. Who's the perfect husband?"
Saving grace: He seems to really love his wife (in some weird way that does not involve monogamy) plus he supports his mistresses and his children. Erap is like an artifact from the days when men had to prove their virility by going against the Word of God. (Jesus said "love everyone"-not "make love with everyone.")
ADVERTISEMENT - CONTINUE READING BELOW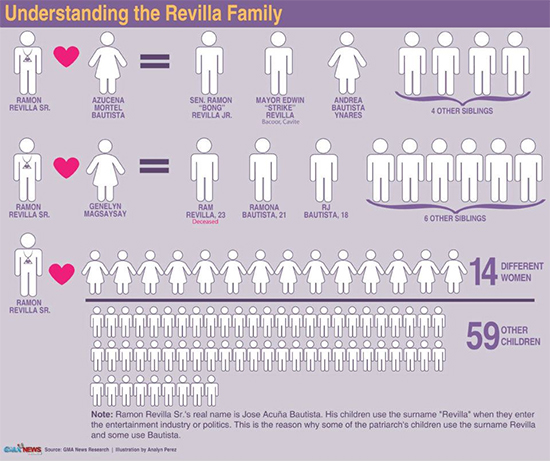 Infographic by GMA News
4. Former Senator Ramon Revilla Sr.
Dirty details: If Erap is practically a legend, then former Senator Ramon Revilla Sr. is an actual legend. He has more than 70 children from about 16 women. We have to admit that we're not entirely sure if that's an accurate number. After 25, it's probably hard to keep track. His large family (an understatement) has become a target now that the PDAF Scam investigation is in full swing. People would like to think he is doing the right thing and is supporting the 38 (or 39?) children he acknowledges. The question is, where does it come from?

Saving grace: He penned R.A. 9255 or the Revilla Bill, which amended the Family Code to allow illegitimate children to use their father's surname (provided the father acknowledges paternity). He also cries for his son during privilege speeches when needed. That counts for something. At least he's a good father, right? Right?
ADVERTISEMENT - CONTINUE READING BELOW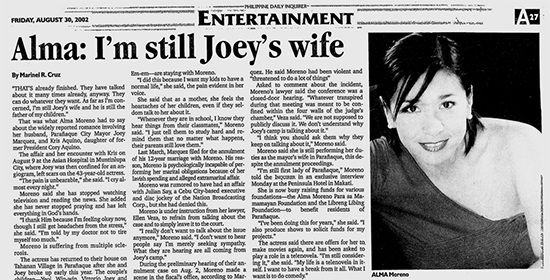 5. Former Parañaque Mayor Joey Marquez
Dirty details: This is a little confusing because of the messy process that is separation and annulment in the Philippines (not that divorce in other countries is any better). The "we were on a break" defense works a lot, but people are people and feelings are feelings. It was Joey who first accused Alma Moreno of having an affair and, after filing for annulment, rumors about a relationship with Kris Aquino began to spread. In an August 2002 article in the Philippine Daily Inquirer, Moreno said that she was Marquez's wife and she still wanted to continue her duties as the first lady of Parañaque. Aquino and Marquez went public with their romance after an interview with The Buzz in 2003. The benchmark for bad breakups was set by the couple. Moreno and Marquez were officially annulled in 2004.
Saving grace: We learned that working things out with your wife is easier than dealing with a new lover.
ADVERTISEMENT - CONTINUE READING BELOW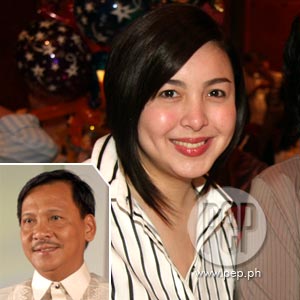 6. First District of Caloocan Representative Enrico Echiverri
Dirty details: We have the same stand on the Enrico Echiverri-Marjorie Barretto affair as RJ Echiverri (the son of Representative Echiverri), which is that it cannot be confirmed nor denied. There was a rumored letter from Dennis Padilla to Echiverri, the mayor of Caloocan at the time, and there was also a rumor about a child. Barretto stated that there is nothing to say about the issue and that there are more important problems in life. In any case, the younger Echiverri said that his parents are still together.
Saving grace: This can still turn out to be nothing but a rumor...although we are still sad that Marjorie Barretto and Dennis Padilla broke up.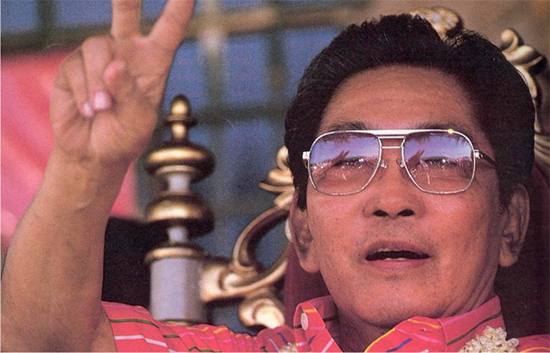 ADVERTISEMENT - CONTINUE READING BELOW
7. Former Strongman Ferdinand Marcos
Dirty details: The Telegraph was still talking about it in 2001 and the Dovie Beams tape earned a spot in our Sex and Pinoy Politicians: 10 Scandals That Shocked the Nation list. It's all very colorful and the infidelity just adds to the long, bad track record of  the president-turned-dictator.
Saving grace: Seeing as the Good Lord has taken him, he's not going to be able to do it again.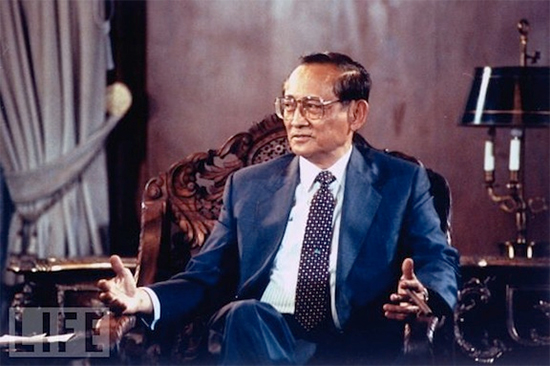 Photo from Life
8. Former President Fidel Ramos
Dirty details: It may or may not be true, but Rosemarie "Baby" Arenas has been referred to as the "Hidden First Lady" and "Second First Lady of the Philippines." Both parties claim that while they do have a special bond, it's not a romantic one. This could be just a rumor, but it's one that hasn't died.
Saving grace: If this turns out to be true, at least they are discreet about it.
ADVERTISEMENT - CONTINUE READING BELOW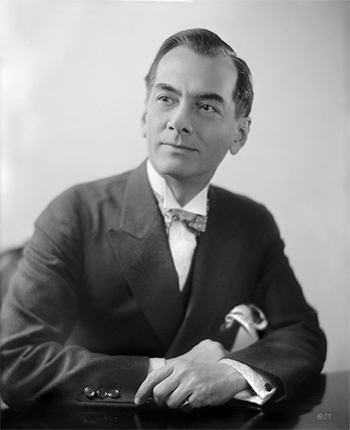 Original photo from the USA Library of Congress collection
9. Former President Manuel L. Quezon
Dirty details: He's more than a playboy, but he is still a playboy. Wilson Lee Flores of the Philippine Star wrote about those days when Doña Aurora Quezon would allegedly be looking for her husband, not knowing that he was on a yacht with a different woman. Flores also wrote about Quezon being a traditional politician and so we ask...is being a womanizer part of that description?
Saving grace: It's a good reminder that even the best of men have flaws. Yes, womanizing is a flaw.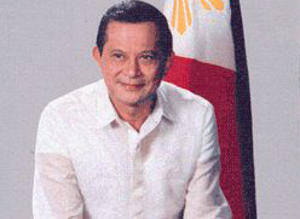 ADVERTISEMENT - CONTINUE READING BELOW
10. Former Vice President Salvador Laurel
Dirty details: He was a good-looking man and a good-looking man is hard to resist. One of his more famous, uhm, romantic links was with the actress Pilar Pilapil, which not only rocked Laurel's marriage to Celia Diaz, but it also resulted in an offspring (model/actress Pia Pilapil). It's nowhere near the 70 children Revilla Sr. sired but still...why are conservatives being prim and proper about marriage if infidelity has been going on since who knows when?
Saving grace: Laurel was graceful enough to withdraw his presidential candidacy in favor of Cory Aquino's-thus uniting the political opposition at a critical time in the twilight of the Marcos dictatorship.
Also Read:
Sex and Pinoy Politicians: 10 Scandals That Shocked the Nation
Photos from PEP.ph where indicated.
Share this story with your friends!
---
Help us make Spot.ph better!
Take the short survey
Load More Stories