Top 50 SPOT.ph Comments of 2014
Yes, we still read them.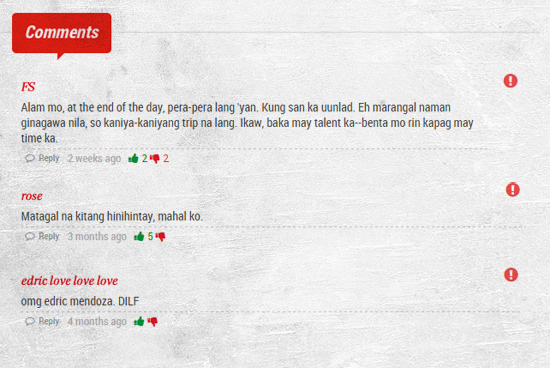 (SPOT.ph) If there's one word we can use to describe the SPOT.ph readers, it would be "passionate." There are a lot of strong feelings that go into that section at the bottom of the page. Statements that range from harsh to funny to even thought-provoking-our comments section is really a testament to how enthusiastic you all are.
Once again, we round up the top 50 favorite comments we've received this year. Think of this as our way of showing our appreciation. We're glad you take the time to leave a message or two.
Also read:
Top 50 SPOT.ph Comments of 2013

50. Um. from "MOVIE REVIEW: Big Hero 6"

49. sisirinmoangsisidlan from "Coolest Offices in Manila: Globe Telecom"

48. Fire & Forget from "Filipino scientists develop low-cost wound dressing from honey"

47. Partyjesus from "CHECK IT OUT: Il Ponticello at Valero Street, Makati"

46. Ramon1 from "CHECK IT OUT: Wildflour Café + Bakery at Bonifacio Global City, Taguig"

45. edric love love love from "Top 10 Cutest TV Newsmen (All-Star Edition)"

44. Anne from "MOVIE REVIEW: She's Dating the Gangster"

43. p.o. box from "Singapore Tourism Board blames PH TV network for a promo video that's 'so bad it will go viral'"

42. dianne from "10 Picks From the Folded and Hung x Star Wars Collection"

41. Iam Whoiam from "10 Things the LTFRB Could be Busy with Instead of Uber"

40. byt from "P-Noy praises own administration because it 'under-promises and over-delivers'"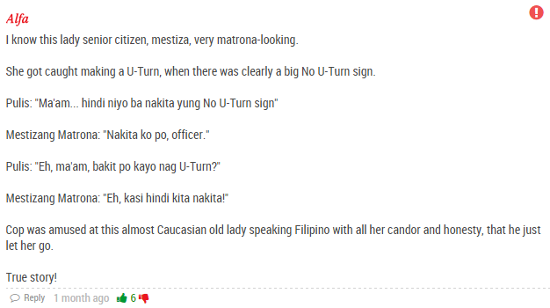 39. Alfa from "10 Craziest Traffic Excuses You've Ever Given a Traffic Cop"

38. turncoatisaac from "Robinson won't like this: Shake, Rattle & Roll 15 features story inspired by mall urban legend-with a major detail changed"
ADVERTISEMENT - CONTINUE READING BELOW

37. bkfbadba from "Japanese porn queens fight AIDS through a 24-hour "squeeze-a-thon"

36. bir from "Michael Christian Martinez gets $10,000 from Manny Pangilinan for competing in Winter Olympics"

35. Olivia Sanchez from "This is a Crazy Planets: An Open Letter to Vic Sotto"

34. Edith Bula from "10 New Filipino Artists You Need to Know Now (2014 Edition)"

33. neil from "10 Awkward MRT Positions During Rush Hour"

32. Joke lang from "10 Best Graduation Speeches"

31. Baldong_Siga from "10 Most Embarrassing Things Parents Do on Facebook"
30. FS from "Macho Manila: Wearable Wit by RA Rivera, Ramon Bautista, Jun Sabayton, and Lourd de Veyra"

29. noel_po from "NTC to require Internet Service Providers to block porn online starting March"

28. Porsche Cart from "Sex doll and other curiosities (like five Rolex watches) found inside the New Bilibid Prison"

27. chris from "Robinson won't like this: Shake, Rattle & Roll 15 features story inspired by mall urban legend-with a major detail changed"

26. arthman928 from "Luxury condo prohibiting maids from using passenger elevators draws flak from CBCP and other group"

25. Dirch from "20 Great Films for Soul Searching"

24. Jamzter from "House bill seeks P10,000 fine for people cutting in line or breaking queues"

23. Ubu from "The P50-million "egg" art in NAIA-3 might soon be dismantled"

22. agree from "10 Things Only People Who Regularly Ride the MRT Would Know"

21. WetBlanket from "DILG Secretary Roxas: 'Hindi ako nagpapansin.'"

20. roidcasm from "KADIRI THE SQUATTERS, Part 2"

19. WEY from "Top 10 '90s Cartoon Shows We Miss the Most"

18. DOMINIC MFING B from "McDo's Twister Fries are Back"
ADVERTISEMENT - CONTINUE READING BELOW

17. PUTS! from "Vice President Jejomar Binay mulls Vilma Santos as running mate for 2016 polls"

16. Nalilito Atatienza from "Rep. Lito Atienza on PH population increasing this year: 'Having 100 million Filipinos is our way to economic progress'"

15. Maserati from "10 Twisted Lessons from The Legal Wife"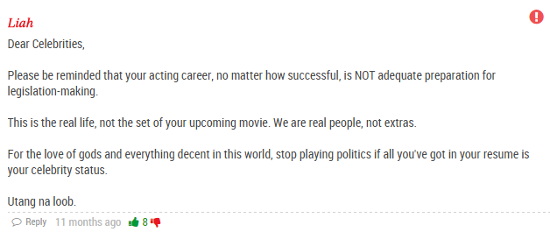 14. Liah from "Ai-Ai delas Alas reveals she plans to run for Congress once she's not so active in showbiz"

13. nilobee from "Kris Aquino says she's getting blessings because she's not having sex"

12. tofiaz from "Sen. Jinggoy Estrada defends giving his pork barrrel allocation to Manila: 'I did not give it to Mayor Estrada, I gave it to the people of Manila'"

11. Liah from "Jinggoy's son, Joseph Luis 'Jolo' Estrada shows off posh lifestyle on Instagram"

10. rose from "McDo's Twister Fries are back"

9. feminist from "10 Perfect Date Restaurants-for Budgets Under P500"

8. tyrion from "Senator Bong Revilla fights pork barrel scam allegations with a music video"

7. GORI from "It's official: 8 MMFF 2014 flicks picked"

6. mike soq from "If We Were X-Men: 10 Mutant Powers That Would be Very Useful in Manila"

5. master_baiter from "M is for MAR"

4. erick loves mayen from "On the Spot: Lang Leav, Author of Love & Misadventure"

3. p_dude from "These baby names are now banned in Mexico: Scrotum, Terminator, Virgin, Facebook, and many more"

2. noel_po from "9 out of 10 Pinoys prefer funny partners vs. good-looking ones"

1. flashdrive from "MOVIE REVIEW: 300: Rise of an Empire"
Also read:
Top 50 SPOT.ph Comments of 2013
Load More Stories