10 Rainy Season Problems in Manila
Does traffic even count? Isn't that always a problem?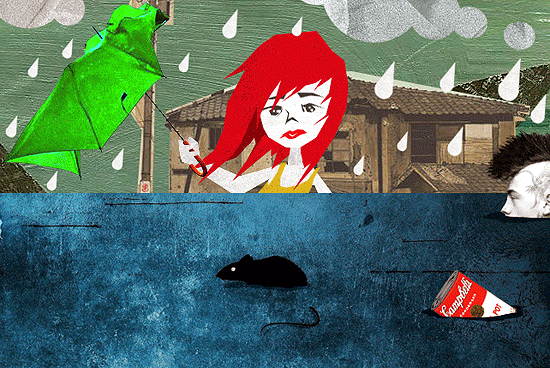 (SPOT.ph) For all the advances we've made, the weather is still kind of a tricky thing to predict...or we're just not funding the right agencies. We're willing to make a compromise and say that it's a mix of both. And even if we knew that we're transitioning from one season to the next, it doesn't really make it easy for us to deal with...say, flooding. 
Rain is great and all, because plants need water and we need plants...actually, we need water and plants. Anyway, what we're trying to say is that rain is great, but maybe we can do without some of the problems it brings. 
Go out prepared for heat, get home drenched from a sudden downpour.
You're in your best summer clothes—colorful, frilly, sleeveless...heck, it's so hot you're brave enough to wear a crop top. Limited-edition sneaks? Check! But then, thunder rolls. You now look like a shivering sisiw. (P.S. Your socks are wet.)
ADVERTISEMENT - CONTINUE READING BELOW
You don't get wet in the rain, but you do get the dreaded "umbrella splatter." 
...or worse, you're standing on the sidewalk and a jeep speeds over a puddle. It's okay. The universe doesn't hate you. People are just insensitive. There, there. 
Two minutes of rain equals two feet of flood!
Road closures in Magallanes, España, and Araneta. Go bond with Office Crush for an hour or three.
When is the car-boat going to be commercially available?
Speaking of flooding, we all constantly daydream of owning amphibious vehicles. Forget about flying cars, we need friggin' boats!
You know exactly how Tom Hanks felt in Cast Away.
CONTINUE READING BELOW
Recommended Videos
Standing there, on an island, waiting for rescue. The fact that buses pass by, filled with passengers, doesn't really help. It just makes you feel even more alone. 
It's raining really hard in Quezon City, but it's sunny in Makati.
Your boss doesn't understand why you're late. It's a perfectly sunny day out! What do you mean it was hard to get a ride and traffic was horrible? The best part is, the process repeats itself when you're on your way home, with the rain doing horrors in Ortigas. Two-hour ride turns to five!
ADVERTISEMENT - CONTINUE READING BELOW
Bye, Internet.
You might also want to say fond farewells to electricity. (You're lucky if you have LTE...although sometimes even mobile networks go on the fritz. Le sigh.) 
Too hot, too cold, too...bleargh.
It's too warm under a raincoat, but too cold without it. Do you wear a scarf? Jacket? Sweater? Sometimes, you're forced inside an air-conditioned establishment lightly drenched, so you get the chills. Next thing you know, you're sneezing. 
The very real struggle of riding a jeep in the rain.
It starts with the hurried yanking down of the tarp on the side and then praying...because those wheels barely have any traction and manong still insists on racing with his friends. Get off and get stuck waiting for another ride or throw caution to the wind and just hope for the best? 
Umbrellas kind of suck at keeping you dry.
It keeps at least 20% of your body dry, mostly on the north parts like the hair. What about the legs? Who takes care of the legs, man? If there's wind, the rain faills horizontally; If there's flood, it's everywhere. Plus, you're umbrella's going to turn inside-out thank to that sudden gust. 
ADVERTISEMENT - CONTINUE READING BELOW
Art by Warren Espejo
Share this story with your friends!
---
Help us make Spot.ph better!
Take the short survey
Load More Stories