SPOT.ph EXCLUSIVE: Chic chat with best-selling Pinay chick lit authors in Singapore Maya Calica, Noelle Chua and Tara Sering
The three chick lit books by Pinays that took Singapore by storm are now available in the Philippines.
It's been almost a year and a half since three chick lit books by three Pinays were launched in Singapore and Malaysia, and made it to the top five of the bestseller list of one of Singapore's biggest bookstore chains, Kinokuniya. Now, the first three of the Asian Chic books, Undercover Tai Tai (P150) by Maya O. Calica , Mrs. MisMarriage (P150) by Noelle Chua and Amazing Grace (P150) by Tara FT Sering are finally available in local bookstores.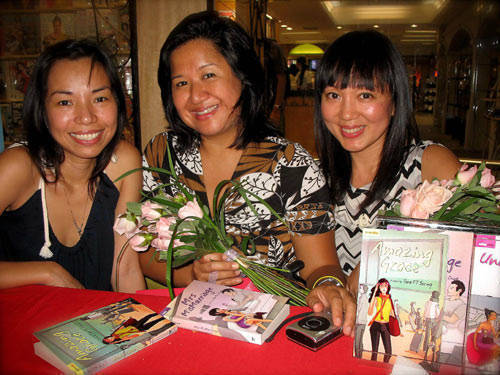 From left to right: Tara FT Sering, Noelle Chua and Maya O. Calica
In Undercover Tai Tai, an Australian-Singaporean book researcher stumbles upon detective work as a tai tai, roughly meaning a woman of leisure or a socialite. During the book launch, Calica Calica disclosed with a laugh: "I've always wanted to write about mystery, love, action and a chihuahua that has detective powers. [My book] is the most serious one actually."
ADVERTISEMENT - CONTINUE READING BELOW
Chua's Mrs. MisMarriage heroine, the "fairy-tale trapped and wed-locked" Singaporean expat wife deals with the trials of marriage including a career-absorbed husband and attractive men who suddenly "pop up all interested in her."
Amazing Grace is about a recently engaged woman who chases after her fiancé, with a leggy blonde to contend with. Sering says, "The publisher [Marshall Cavendish] wanted a book that would appeal to the international audience, especially the ASEAN (Association of Southeast Asian Nations) region. Being the very literal person that I am, the [Chinese-Filipina] main character travels to three countries in the ASEAN region, making habol [chasing after] her boyfriend. It's called Amazing Grace because it's patterned after the Amazing Race. 'Di ba ?"
CONTINUE READING BELOW
Recommended Videos
Each book sold about 2,000 copies in Singapore and Malaysia according to a Newsweek article published on June 2009. Mrs. MisMarriage became no. 2 in the bestseller list of Singapore bookstore chain Kinokuniya, Undercover Tai Tai no. 3 and Amazing Grace no. 5, according to Inquirer.net .
ADVERTISEMENT - CONTINUE READING BELOW
Maya Calica was the former Seventeen Philippines editor-in-chief
"We're very happy [to finally launch it in the Philippines] and we hope it's only the beginning," Chua, a Palanca awardee for short ficiton and internationally published writer and editor, told SPOT.ph. "The best thing that people have said to me is that [Mrs. MisMarriage ] feels real. One review said it was a very accurate portrayal of how marriages in Singapore are. Because [the authors] are Filipino, I think Filipinos will have a special connection even though the main heroines aren't Filipino. They will see themselves in it."
ADVERTISEMENT - CONTINUE READING BELOW
Sering, also a Palanca awardee for short fiction, managing editor of Contemporary Art Philippines and Philippine Star SUPREME columnist as well as former Cosmopolitan Philippines managing editor  says, "Even when the publisher said they wanted a Singaporean character, I felt that I couldn't do it unless she was somehow Pinoy. I decided to make her Chinese Filipina… A lot of Pinay transplants in Singapore send me messages on Facebook about how they can totally relate to the book and how it provided them with a lot of comfort because it was familiar. (The flashbacks are set in the Philippines.)
"I think [Filipinos] will take to it very well, hopefully, because of the element of travel. We Pinays like to travel a lot."
Calica, founding editor-in-chief of Candy and Seventeen Philippines and now editor of Cebu Pacific's in-flight magazine, Smile , says, "People tell me they can't help but laugh out loud while reading it. A Muslim girl blogged about how she enjoyed the bit of sexy scene in it. I don't think I'm the first [Asian writer to write that way] but it's interesting that she really liked it. One review slightly bashed the book but the saving grace according to it was the sexy scene. I call it light petting. (laughs)"
ADVERTISEMENT - CONTINUE READING BELOW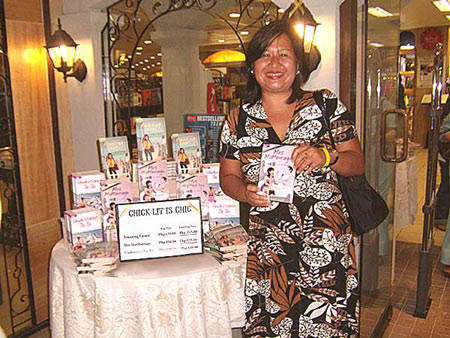 Noelle de Jesus Chua, former Cosmopolitan Philippines associate editor
Unlike Calica, who wrote The Breakup Diaries, and Sering, who wrote Almost Married, Between Dinner and the Morning After and Getting Better, it's Chua's first venture into chick lit. While Sering finished in two months and Calica in three months, it "came more slowly" for Chua.
ADVERTISEMENT - CONTINUE READING BELOW
"When I finished it, the editors came back to me and said, 'This is very good but it doesn't feel so chick lit.' This is also why (my book) took a little longer (to finish). Since I thought Maya got the writers she knew, I thought, 'You mean I have to change?' But I saw that they really wanted to hew close to the genre. I had to take the text back and really get into that kind of writing."
The authors either live or were based in Singapore. Sering stayed in the Lion City for one and a half years but came back to Manila. "I felt that I could put my writing to better use if I lived here and wrote about what I knew." She gets her fix of her favorite Singaporean food, the black pepper crab, at the Salcedo Market in Makati City from "the only guy who sells live crab there two stalls down to the right from the entrance." The crabs come from Roxas City, Capiz.
ADVERTISEMENT - CONTINUE READING BELOW
Meanwhile, Calica and Chua are based in Singapore and fly to Manila every once in a while. Calica frequents Museum Cafe for the wine and food and Cafe Juanita when she visits. She recalls a "good hole-in-the-wall" place, Rasa Singapura.
On the other hand, Chua "runs away from Singaporean food" when she's in Manila. She frequents bookstores to check out local releases, stores on sale like Prima Linea, and a certain drugstore chain where she stocks up on personal products. She has recently discovered Razon's.
All three authors plan to publish more books under the Asian Chic line which will be released in the Philippines as well.
Photos courtesy of Anvil Publishing and Maya O. Calica.
Share this story with your friends!
---
Help us make Spot.ph better!
Take the short survey
Load More Stories