This Church in Mandaluyong Embraces All Kinds of Love
Because love always wins.
(SPOT.ph) In the 2018 drama film The Miseducation of Cameron Post, headlined by Chloë Grace Moretz (or if you're a bit older, there's the 1999 rom-com But I'm a Cheerleader), we see our teenage queer protagonists being sent to "gay conversion therapy centers" or "rehabilitation camps" by their conservative folks to "pray the gay away." "Your struggle is with the sin of same-sex attraction," goes one of the "teachers" in these camps. In another, men are forced to do "manly" chores like chopping wood or fixing car engines, while women are taught how to deal with stubborn laundry stains.
It may sound ridiculous and too fictitious, but places like these actually exist—in one form or another—across the world. Despite their dangers (i.e. cause of suicide), they're still backed by fundamentalist Christian groups and other organizations that use religion to discriminate against lesbians, gays, bisexuals, transgenders, and queers. Here in the Philippines, a rainbow flag-bearing church (yes, a church!) provides a safe space for anyone who's been judged (or, worse, shunned) by their community for their sexual orientation, gender identity, and expression—Open Table Metropolitan Community Church along Sierra Madre Street in Mandaluyong City.
ADVERTISEMENT - CONTINUE READING BELOW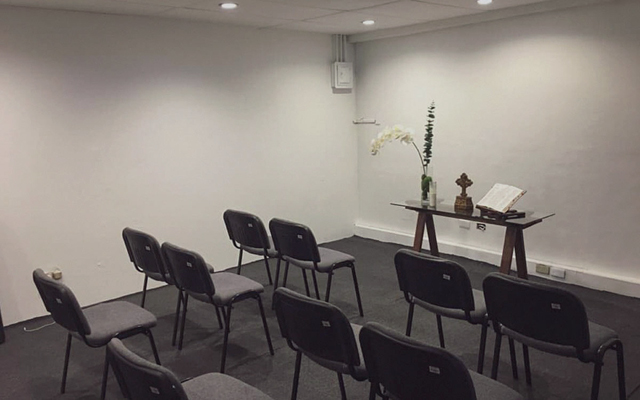 A Sanctuary for LGBTQ+s
"The primary major difference is our LGBT-affirming stand," starts Pastor Joseph Tiu San Jose in an interview with SPOT.ph about Open Table Metropolitan Community Church (MCC), a progressive Christian Church. This position to serve as a sanctuary for LGBTQ+s  is not in line with Vatican's circulated document on June 24 that calls gender fluidity a symptom of "confused concept of freedom," rejects "ideas" that "go beyond the constitutive male-female sexual difference," and wants to do away with "gender neuter," "third gender," "intersex," and "transgender." 
ADVERTISEMENT - CONTINUE READING BELOW
Recommended Videos
"I believe we're just tolerated, but not totally accepted. There is really a need to have a specific church that is affirming of LGBTQs, because most of the mainline churches are not welcoming or affirming," says Bro. Michael Mia, ministry leader for congregational care at Open Table MCC.
Mia once held a leadership position at a Pentecostal church, which called him sinful and unworthy when he came out as a gay man. He later found out about MCC Manila through a newsprint publication called Manila Out. "There was this article of Fr. Richard Mickley—he was the one who brought MCC to the Philippines, about how homosexuality is not a sin. I was able to reconcile my Christian faith with my sexual orientation. For me, it was very liberating," he recalls.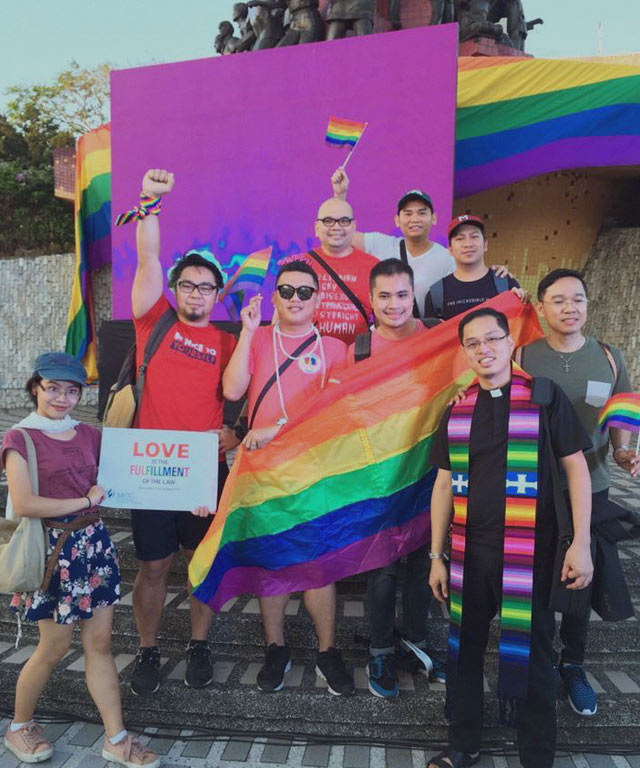 ADVERTISEMENT - CONTINUE READING BELOW
From California to Manila
It was on October 6, 1968 in Southern California when 12 people came together to reconnect with their faith through a worship service led by Rev. Troy Perry, who was also defrocked as a clergyperson by a Pentecostal church because of his homosexuality. This led to the establishment of the Metropolitan Community Church. Over two decades later, in 1991, a group of Filipino gay men wrote to the Universal Fellowship of Metropolitan Community Churches asking how this Protestant denomination could be brought to the Philippines. It was Mickley, an MCC Pastor from New Zealand, who helped the group organize themselves and establish MCC Manila, which was registered as MCC Philippines.
"It started in Manila—Malate. During the '90s, Malate was like the LGBT haven of Metro Manila and even in the Philippines. That's where you [belonged]. That's where people [gathered] together to meet other LGBTs. Kasi wala pa namang Internet, hindi pa uso ang social media. It was a safe place for LGBTs to get together," narrates Mia.
ADVERTISEMENT - CONTINUE READING BELOW
From worship services in Malate, they relocated to Makati City where they were renamed as Good Samaritan - MCC Makati in the early 2000s. But because of the distance, church-goers from Quezon City held their own regular Bible study and support group sessions at a member's residence. Eventually, this mission church north of the Metro—initially regarded as a "parish extension" of MCC Makati, according to San Jose—was granted full independence and autonomy as MCC Quezon City in 2008. More parish extensions were established in the succeeding years, such as MCC Metro Baguio (now independent) in 2009 and MCC Marikina (now an emerging ministry) in 2010. In 2017, the whole congregation decided to discontinue the MCC Quezon City identity and officially establish Open Table Metropolitan Community Church. They temporarily found home at the National Council of Churches in the Philippines, still in Quezon City, before they moved to Mandaluyong City.
ADVERTISEMENT - CONTINUE READING BELOW
"There were people from Quezon City, Mandaluyong—ako, taga-Laguna. To meet at the center, [that's] Mandaluyong," San Jose says about their conscious decision to now be more centrally located.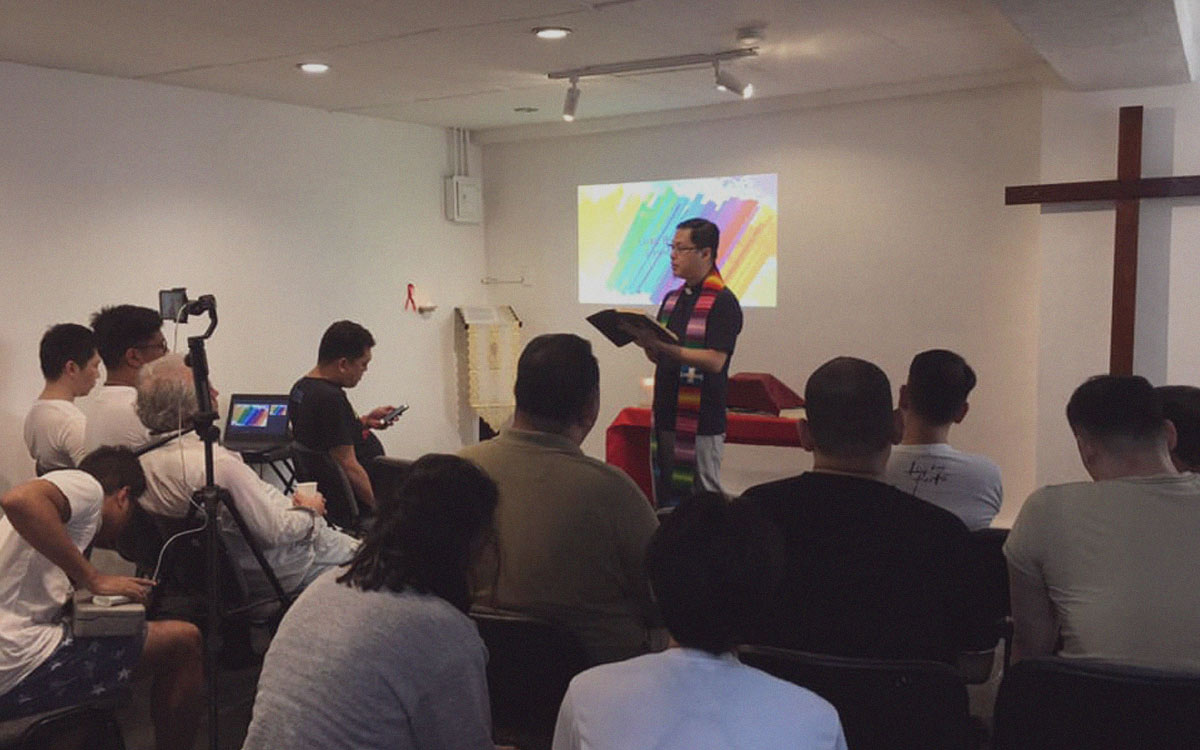 The church holds regular worship service every Sunday at 4 p.m.
The "Protestant of Protestants"
San Jose calls Open Table MCC the "Protestant of Protestants." It's not strictly a mainline Protestant church, but neither can it be categorized as a fully ecumenical denomination. Their practices seem to be a mix of various traditions, which springs from the idea that Open Table MCC isn't dogmatic. "Faith for us is conversational and an ongoing process, major difference 'yan. With other churches, you have to adhere to one particular interpretation of the Bible, to a specific set of doctrines, et cetera," the pastor explains. 
At Open Table MCC, pastors—who may be male or female, LGBTQ+ or not, living with HIV, single or married with a family, with or without partners—don a rainbow-colored stole over their cassock during worship services and other sacramental celebrations. Sunday mass is pretty much the same, except for certain differences: Instead of a homily, Bible readings are followed with historical context and intertextual analysis (which is why they don't believe the idea that the Bible condemns homosexuality); attendees can get their own host from the altar during communion; and their Lord's Prayer, which is a version sung by Gary Granada, never mentions God as a "He" or as the "Father." "Sa amin, hindi lang siya father, pwede rin siyang mother, or—para mas inclusive—parent, magulang," San Jose adds.
ADVERTISEMENT - CONTINUE READING BELOW
You also don't have to convert to Protestantism to attend their worship service, or be gay to enter through their doors (obviously). "It's open to all people, whatever your sexual orientation, gender identity, or [gender] expression; whatever your belief. You're welcome here. You're welcome to be in our community," Mia says.
Open Table MCC isn't just about Christian spirituality. They also hold seminars on SOGIE (sexual orientation, gender identity, and expression), HIV and AIDS, sex-positive theology and ethics, and on how the Bible does not state that homosexuality is a sin.
What Does the Bible Say About LGBTQ+?
"What they don't understand, they fear; and what they fear, they hate," Mia points out about religions that use the Bible to condemn sexuality. Reasons for this range from reading wrong translations (that have been passed on through generations), taking verses out of context, and believing that the Scripture is absolute. San Jose explains that this hate is "not necessarily religion-based." There's also patriarchy to blame for this, he added.
ADVERTISEMENT - CONTINUE READING BELOW
The pastor also adds that an often-quoted passage used to argue against homosexuality is the story of Sodom and Gomorrah. "Andaming nagko-quote, but I think they haven't really read it properly. Pag binasa mo talaga siya tatlo o apat na beses, may mga bagay kang mare-realize do'n." According to him, a critical analysis of the text would reveal that it doesn't even say anything about men who are sexually attracted to men. Open Table MCC, for Pride Month 2019, conducted a five-part seminar titled "Proud Faith Series: Homosexuality is Not a Sin," which is also available through their Facebook page and YouTube channel as a video series.
"There's a proper way of reading the Bible. The Bible itself is not anti-LGBT, maling interpretasyon lang," Mia says.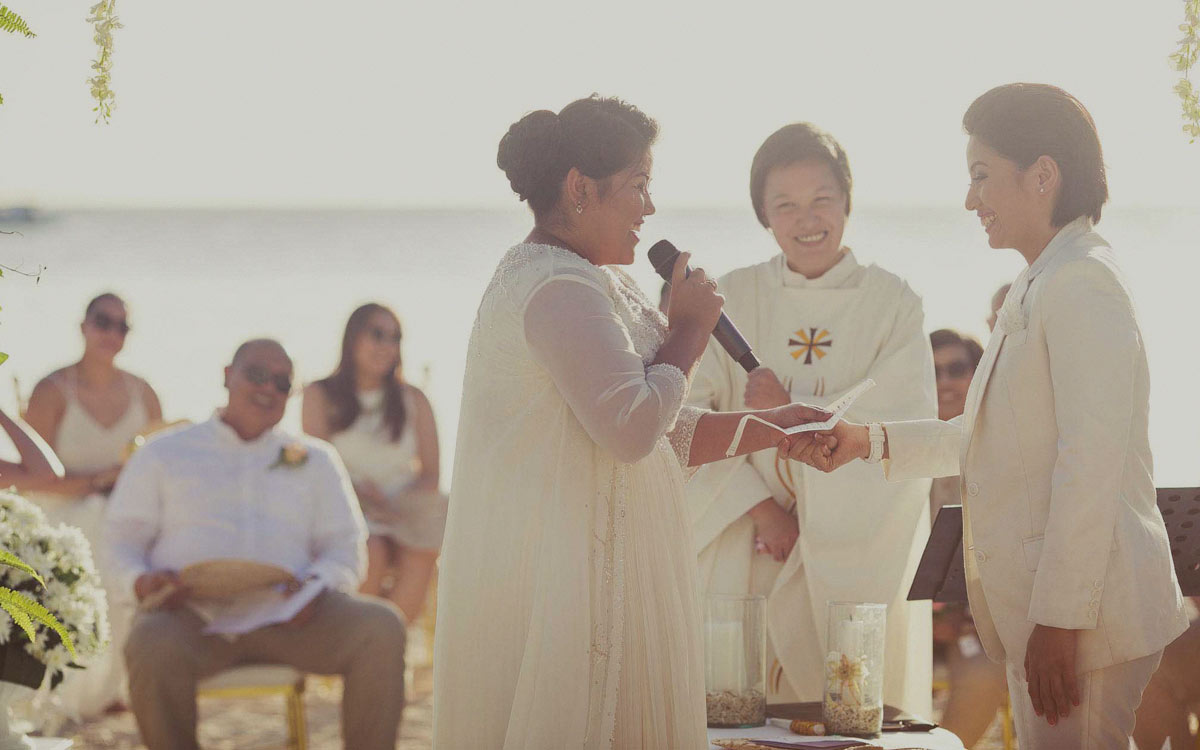 Rica and Ann's Rite of Holy Union was officiated by Pastora Kakay Pamaraan on the island of Boracay in Aklan.
PHOTO:

Oly Ruiz / Metrophoto
Celebrating Love Regardless of Sex and Gender
Open Table MCC administers the Rite of Holy Union to LGBTQ+ couples (and even those who are not). The church uses the term "Holy Union" since, according to their website, "marriage" is a legal term where the government recognizes a particular partnership. It is not legally binding given the current Family Code of the Philippines, but it's pretty much the same as a wedding ceremony where a celebration of love is witnessed by family and friends. (Plus all the drinking and dancing.) 
ADVERTISEMENT - CONTINUE READING BELOW
"They want to celebrate it with family—usually 'yong mga gano'n, it's because their family has accepted their relationship and they want to celebrate with them. The other [reason], kahit hindi siya legal, the ceremony itself gives a feeling of legitimacy," says San Jose. The pastor also explains that some LGBTQ+ couples have attested that, in countries where there is marriage equality, Open Table MCC's Certificate of Holy Union is recognized as proof of togetherness and, in some cases, accepted as a legal document.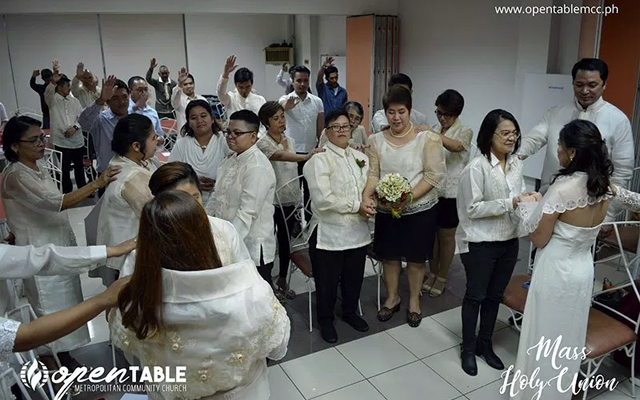 ADVERTISEMENT - CONTINUE READING BELOW
As for the structure of the ceremony, San Jose says that, according to people who've witnessed one, it shares a few similarities with both Catholic and Christian traditions. Like Christian weddings, you can choose to do it anywhere, and personally written vows are welcome. Catholic symbols of the cord, veil, and coins can be part of the ceremony or not. Rings can be substituted with bracelets or necklaces. It all takes less than an hour.
When asked about Open Table MCC's position regarding the House Bill on "Civil Partnership of Couples," the pastor says they would still push for marriage equality. For all intents and purposes, it provides almost the same rights as heterosoxual marriages, but it's still not marriage for same-sex couples, much less for transgender people. "In a way, okay na 'yon, it's the same rights and all that; but in law, bakit ka magka-categorize? Bakit mo ginagawang second category of citizens itong mga taong ito?"
ADVERTISEMENT - CONTINUE READING BELOW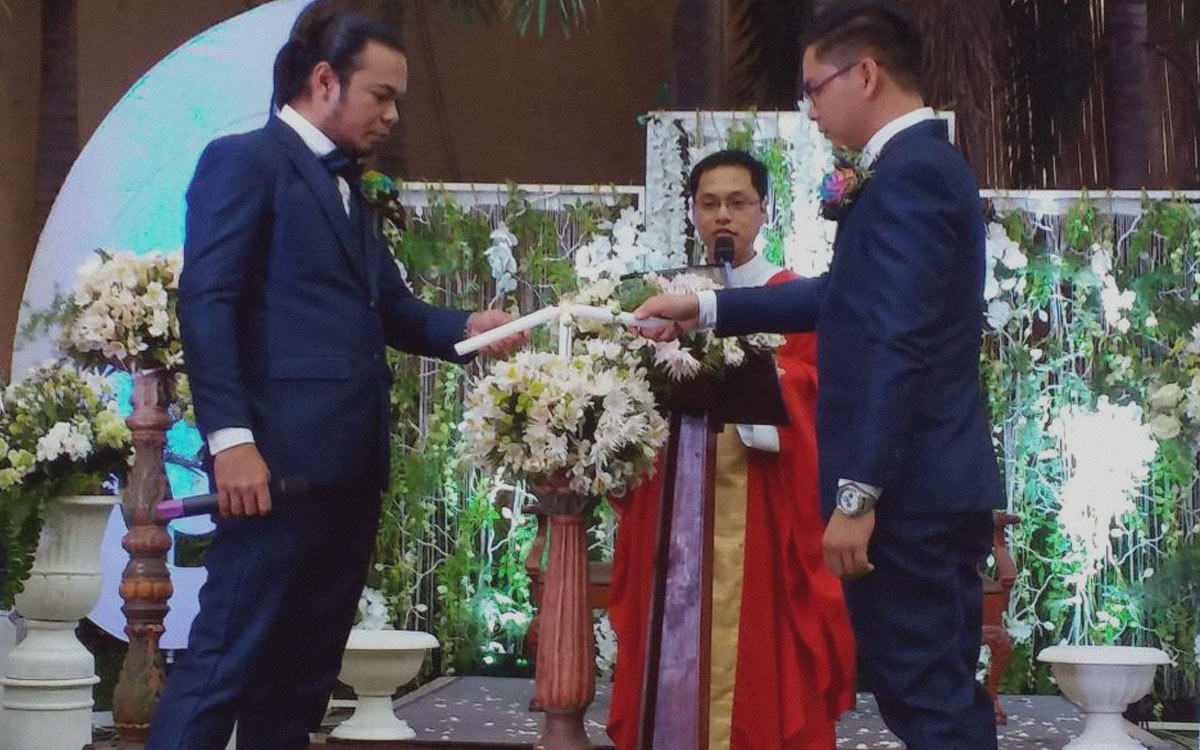 Jayson and Morris celebrated their love with family and friends in a garden ceremony after more than 10 years of being together.
On Gay Rights as Human Rights
It is this fight for equality that Open Table MCC is deeply rooted in. On June 26, 1994, members of what was then MCC Manila together with Pro-Gay Philippines (or Progressive Organization of Gays in the Philippines) marched from EDSA to the Quezon Memorial Circle in what was dubbed as "Stonewall Manila." Aside from rallying against LGBTQ+ discrimination, it also protested other social issues affecting Filipinos in general, including the imposition of Value Added Tax, government corruption, low wages, among others.
"We have to remember that Pride is a remembrance of the Stonewall riot, and the Stonewall riot was really the uprising of LGBTs against the oppression of the police. Hindi lang drag queens—people who are unemployed, people who [were] against the Vietnam War at that time. So maraming intersectional issue 'yong first Pride, which was the Stonewall riot. That's what it [also] brought [for the] first Pride March in the Philippines and Asia," Mia elaborates. 
ADVERTISEMENT - CONTINUE READING BELOW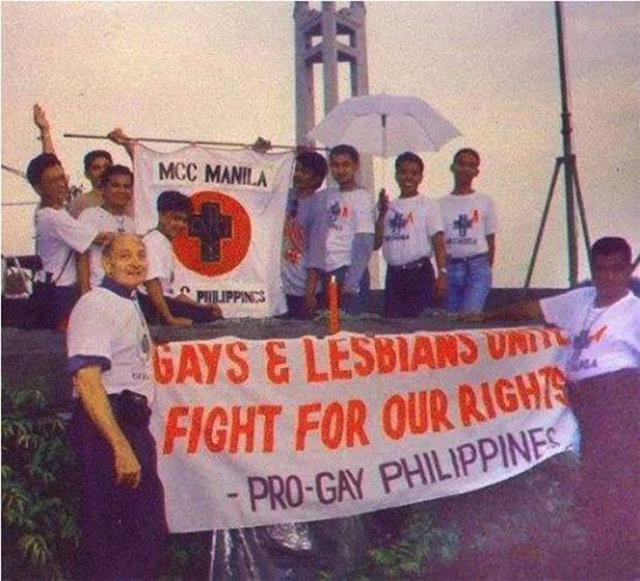 Until today, Open Table MCC actively participates in the annual Metro Manila Pride March and rallies against government actions that treat LGBTQ+s as second-class citizens. 
"May mga political interest, natatakot silang mawalan ng boboto sa kanila. We have to admit, entrenched pa rin ang mga conservatives. They still have the money, the power, and the influence. Kung meron lang talagang matapang na politiko—if you really want to break the status quo, then pass the Anti-Discrimination Bill, pass marriage equality," Mia adds.
ADVERTISEMENT - CONTINUE READING BELOW
The 1987 Constitution of the Philippines indicates that "The separation of Church and State shall be inviolable." This means that religious beliefs shouldn't affect legislation and vice-versa. But the reality is that this doesn't stop our public officials from using Bible verses or the name of God in debating about what laws need to be passed. There's Sen. Tito Sotto's "If we approve the [Reproductive Health] bill, may I ask God the Father to forgive us for we do not know what we are doing" (December 2012); Sen. Manny Pacquiao's belief that the Bible allows "authority to impose death penalty" (August 2018); and the controversial anti-LGBTQ+ post by the boxer-turned-senator that quoted Leviticus (February 2016).
With all these things happening in what's supposed to be a lawmaking body representing all Filipinos, you can see why it would be difficult to be an LGBTQ+. It's even harder if you can't find refuge in your own community.
ADVERTISEMENT - CONTINUE READING BELOW
"Pag di mo na kaya, masyado nang toxic. Sa tuwing magsisimba ka, hindi mo na kayang tingnan 'yong pari o 'yong pastor. At the same time, hindi mo na rin kaya kung ano 'yong naririnig mo. It's affecting you physically, mentally, spiritually. Andito kami. [Open Table MCC] is here," San Jose concludes.
And, no, you don't have to "pray the gay away."
Open Table Metropolitan Community Church is at Unit 401 Alfonso de Oro Building, 587 Sierra Madre Street, Mandaluyong City. For more information, visit MCC's website.
All photos used with permission from Open Table MCC.