(SPOT.ph) In the 2018 drama film The Miseducation of Cameron Post, headlined by Chloë Grace Moretz (or if you're a bit older, there's the 1999 rom-com But I'm a Cheerleader), we see our teenage queer protagonists being sent to "gay conversion therapy centers" or "rehabilitation camps" by their conservative folks to "pray the gay away." "Your struggle is with the sin of same-sex attraction," goes one of the "teachers" in these camps. In another, men are forced to do "manly" chores like chopping wood or fixing car engines, while women are taught how to deal with stubborn laundry stains.
It may sound ridiculous and too fictitious, but places like these actually exist—in one form or another—across the world. Despite their dangers (i.e. cause of suicide), they're still backed by fundamentalist Christian groups and other organizations that use religion to discriminate against lesbians, gays, bisexuals, transgenders, and queers. Here in the Philippines, a rainbow flag-bearing church (yes, a church!) provides a safe space for anyone who's been judged (or, worse, shunned) by their community for their sexual orientation, gender identity, and expression—Open Table Metropolitan Community Church along Sierra Madre Street in Mandaluyong City.
ADVERTISEMENT - CONTINUE READING BELOW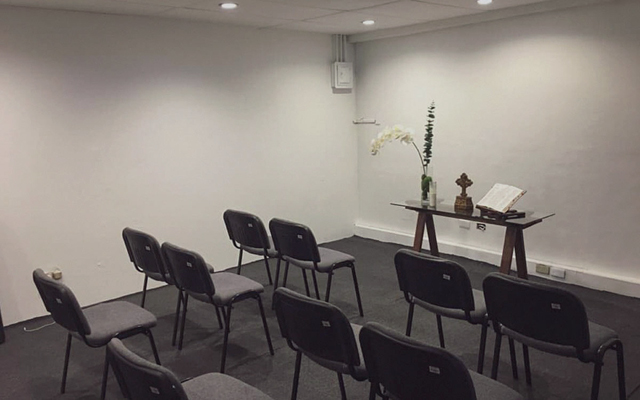 A Sanctuary for LGBTQ+s
"The primary major difference is our LGBT-affirming stand," starts Pastor Joseph Tiu San Jose in an interview with SPOT.ph about Open Table Metropolitan Community Church (MCC), a progressive Christian Church. This position to serve as a sanctuary for LGBTQ+s  is not in line with Vatican's circulated document on June 24 that calls gender fluidity a symptom of "confused concept of freedom," rejects "ideas" that "go beyond the constitutive male-female sexual difference," and wants to do away with "gender neuter," "third gender," "intersex," and "transgender." 
"I believe we're just tolerated, but not totally accepted. There is really a need to have a specific church that is affirming of LGBTQs, because most of the mainline churches are not welcoming or affirming," says Bro. Michael Mia, ministry leader for congregational care at Open Table MCC.
Mia once held a leadership position at a Pentecostal church, which called him sinful and unworthy when he came out as a gay man. He later found out about MCC Manila through a newsprint publication called Manila Out. "There was this article of Fr. Richard Mickley—he was the one who brought MCC to the Philippines, about how homosexuality is not a sin. I was able to reconcile my Christian faith with my sexual orientation. For me, it was very liberating," he recalls.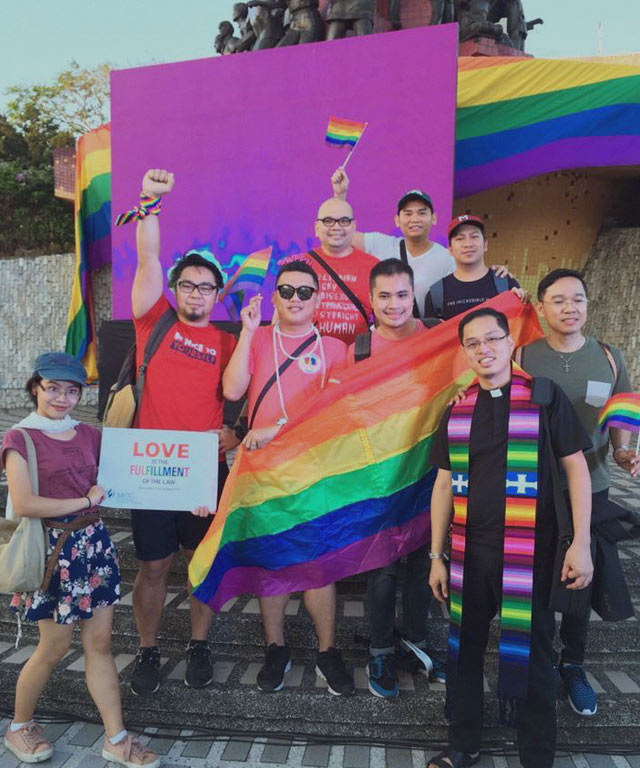 ADVERTISEMENT - CONTINUE READING BELOW
From California to Manila
It was on October 6, 1968 in Southern California when 12 people came together to reconnect with their faith through a worship service led by Rev. Troy Perry, who was also defrocked as a clergyperson by a Pentecostal church because of his homosexuality. This led to the establishment of the Metropolitan Community Church. Over two decades later, in 1991, a group of Filipino gay men wrote to the Universal Fellowship of Metropolitan Community Churches asking how this Protestant denomination could be brought to the Philippines. It was Mickley, an MCC Pastor from New Zealand, who helped the group organize themselves and establish MCC Manila, which was registered as MCC Philippines.
"It started in Manila—Malate. During the '90s, Malate was like the LGBT haven of Metro Manila and even in the Philippines. That's where you [belonged]. That's where people [gathered] together to meet other LGBTs. Kasi wala pa namang Internet, hindi pa uso ang social media. It was a safe place for LGBTs to get together," narrates Mia.
ADVERTISEMENT - CONTINUE READING BELOW
From worship services in Malate, they relocated to Makati City where they were renamed as Good Samaritan - MCC Makati in the early 2000s. But because of the distance, church-goers from Quezon City held their own regular Bible study and support group sessions at a member's residence. Eventually, this mission church north of the Metro—initially regarded as a "parish extension" of MCC Makati, according to San Jose—was granted full independence and autonomy as MCC Quezon City in 2008. More parish extensions were established in the succeeding years, such as MCC Metro Baguio (now independent) in 2009 and MCC Marikina (now an emerging ministry) in 2010. In 2017, the whole congregation decided to discontinue the MCC Quezon City identity and officially establish Open Table Metropolitan Community Church. They temporarily found home at the National Council of Churches in the Philippines, still in Quezon City, before they moved to Mandaluyong City.
ADVERTISEMENT - CONTINUE READING BELOW
"There were people from Quezon City, Mandaluyong—ako, taga-Laguna. To meet at the center, [that's] Mandaluyong," San Jose says about their conscious decision to now be more centrally located.