How an '80s Apartment Gave Its Owner Work/Life Balance
An interior designer explains why not being near your office can be a good thing.
(SPOT.ph) Everything that interior designer Wilmer Lopez needed was within spitting distance of each other. He lived in a high-rise condo that was a two-minute walk from his design firm in the middle of Ortigas Center. The furniture store and art gallery that he and partner Thor Balanon owned were also within the same building, and restaurants and shopping malls were all just a few blocks away.  
Lopez recalls the morning when riding in the crowded elevator in his condo suddenly felt claustrophobic. "Doon, paglabas mo sa door mo, dapat naka-on ka na. I needed a place where I can compose myself before going to work."
"Three years ago, I started to look for a place which was grounded, as in literally grounded, where you could see grass in front of your window," Lopez says. "I felt that I was too close to my work. Even when I'd go home to the condo, I'd feel like I was working pa rin. I felt like my life wasn't okay in terms of balance." 
ADVERTISEMENT - CONTINUE READING BELOW
CONTINUE READING BELOW
Recommended Videos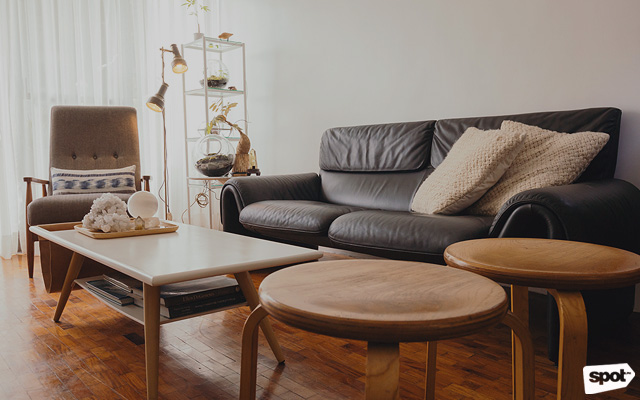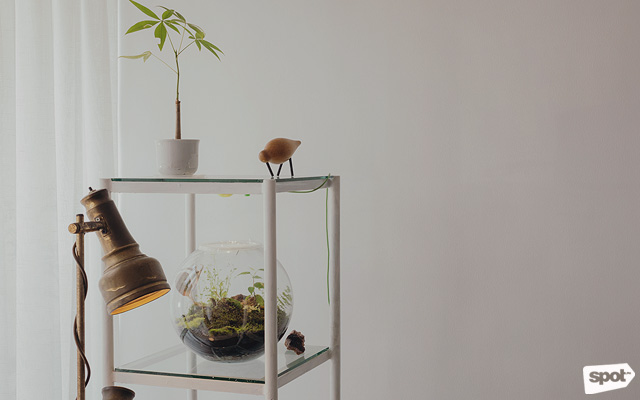 ADVERTISEMENT - CONTINUE READING BELOW
The designer found that "grounded place" when a fellow interior designer invited him over to his home in an early-1980s building in Pasig. Lopez immediately loved the low-rise, low-density apartment complex, which had a post-modern, block-y feel, and was within a gated village. "Hindi siya densely populated, like in my condo. This one had open space. Maganda ang mga cuts ng units, and simple ang layouts. It wasn't far, and the best thing was that it was quiet."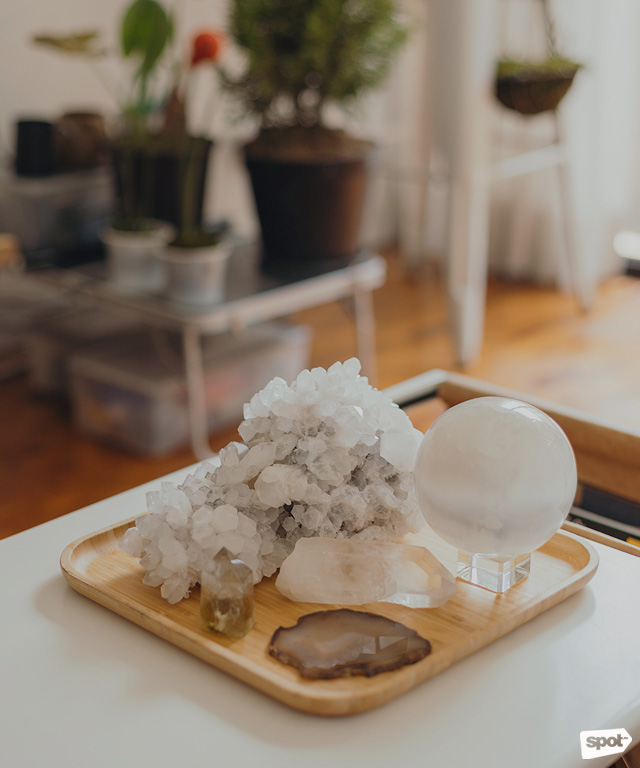 ADVERTISEMENT - CONTINUE READING BELOW
A Clean, Well-Lighted Place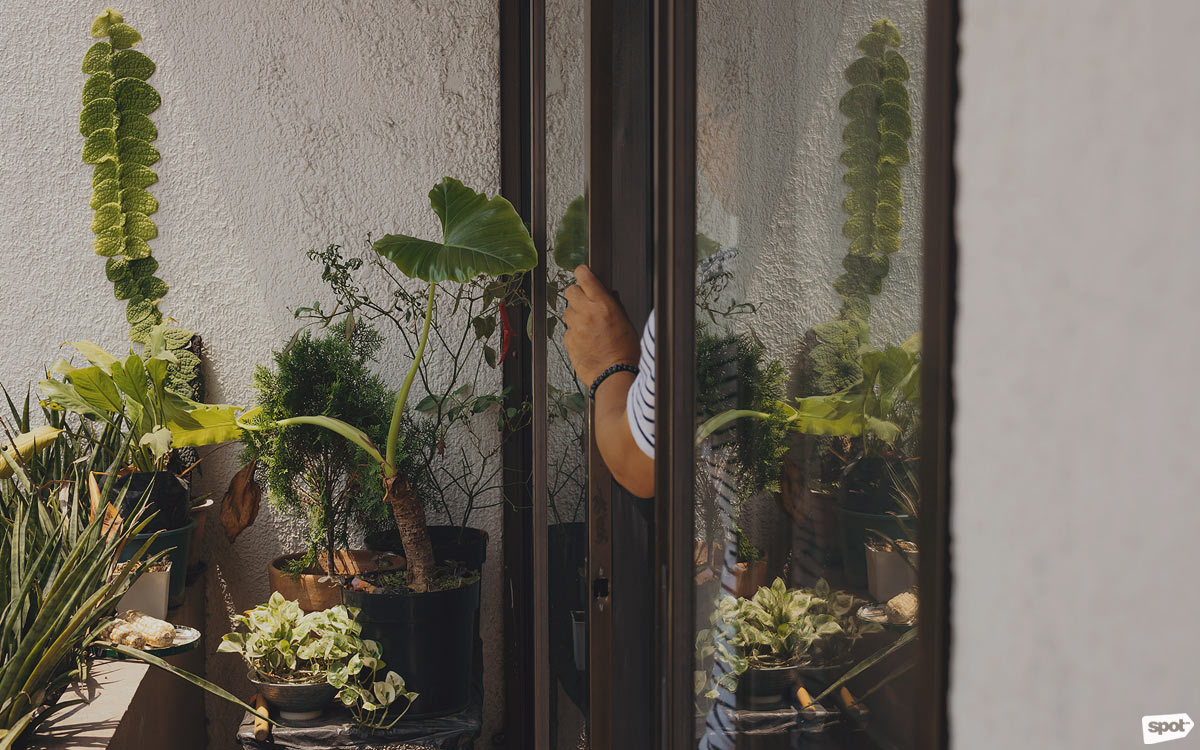 Having his own tiny plant box right outside his living room allowed Lopez to bring his prized plants to his new home. Boston fern, bird's nest fern, gabi, philodendrons, and pothos vines are just some of the species. 
PHOTO:

Jilson Tiu
Lopez started moving into his new home in April, and he admits that fixing it up was quite easy—he didn't buy any new furniture pieces, or even add built-ins or cabinets to the unit. "In fact, nagbawas pa ako ng built-ins," he says.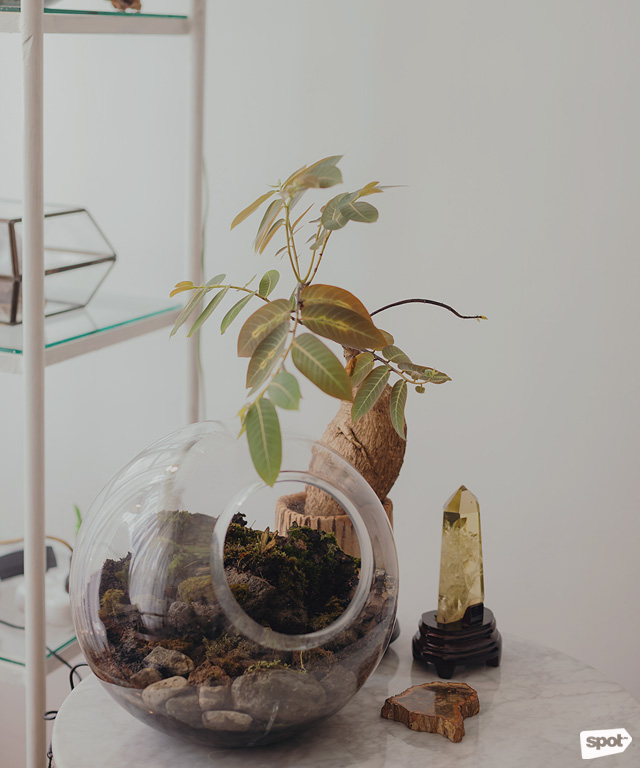 ADVERTISEMENT - CONTINUE READING BELOW
There is an outdoorsy feel to the interior spaces, with big windows that wash the unit in natural light and reveal the plant boxes and trees outside, as well as potted plants and terrariums that dot every corner. "I wanted this to become my personal space where I can do whatever I wanted," Lopez shares. "'Yong ginagawa ko noong bata ako, nagagawa ko ulit dito, like the plants and the terrariums." 
Reworking the Retro Vibes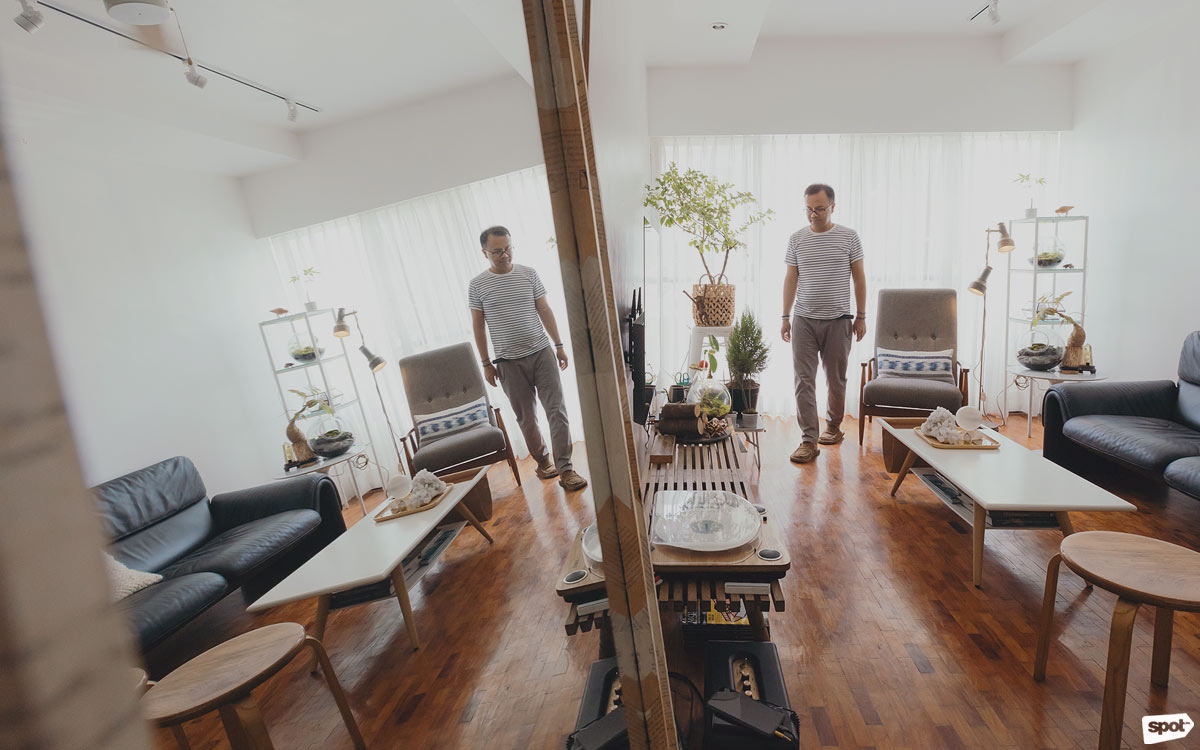 Lopez shares that he was immediately attracted to the 1980s building. "
'Yong
 modernist na simple 
lang
. 
'Tsaka
 free flowing. It feels kind of Scandinavian 
pagpasok mo
, not intentional at all."
PHOTO:

Jilson Tiu
This simplified approach to decoration was a deviation of sorts from Lopez's previous condo homes, which was full of color, textures, patterns, and pop-culture references.
This time, what you'd see is a wide expanse of all-white walls, which provide a backdrop to the carefully selected artwork from Space Encounters Gallery. Furniture pieces in neutral colors are kept to a minimum, so the rooms remain uncluttered. There is restraint in pattern as well, with throw pillows, sheets, and curtains all in plain beige with a bit of texture.
ADVERTISEMENT - CONTINUE READING BELOW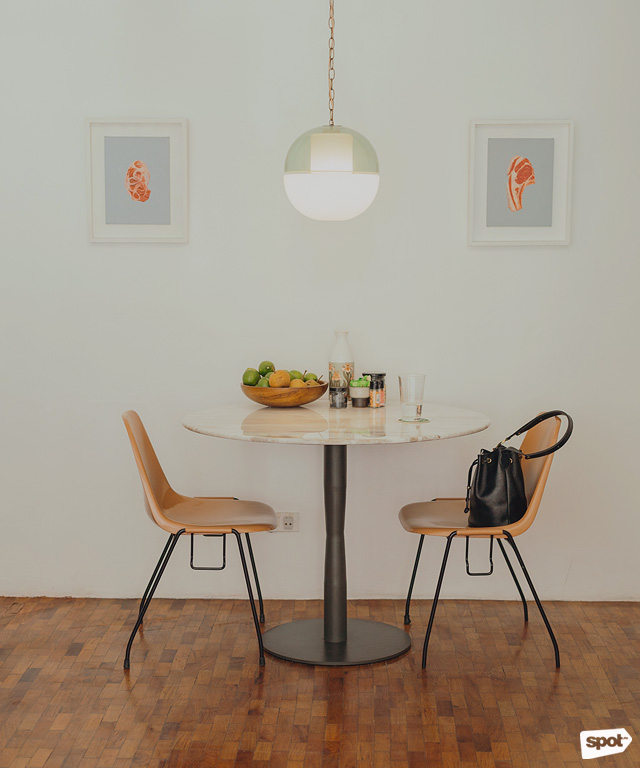 The designer furnished this home with mid-century modern furniture pieces, some from his own store. The others are Scandinavian Alvar Aalto stools, Breuer chairs, and 1950s furniture collected throughout the years. "The theme of mid-century modern is still there," he explains. "But now, it's more nature-driven, all-white, and not too much color from when I was fond of pop style. When you grow old, you tend to choose only the things that are necessary, so simplified lang." 
ADVERTISEMENT - CONTINUE READING BELOW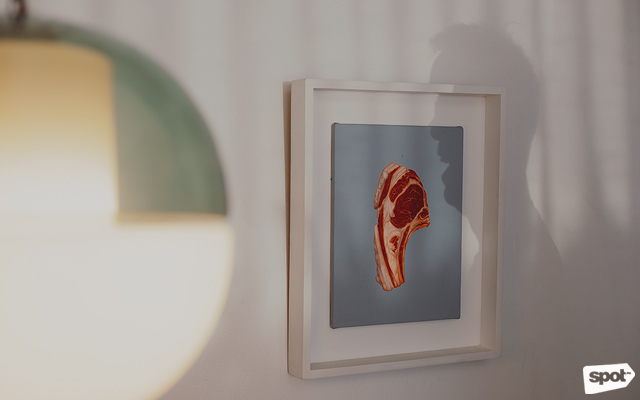 The Space Odyssey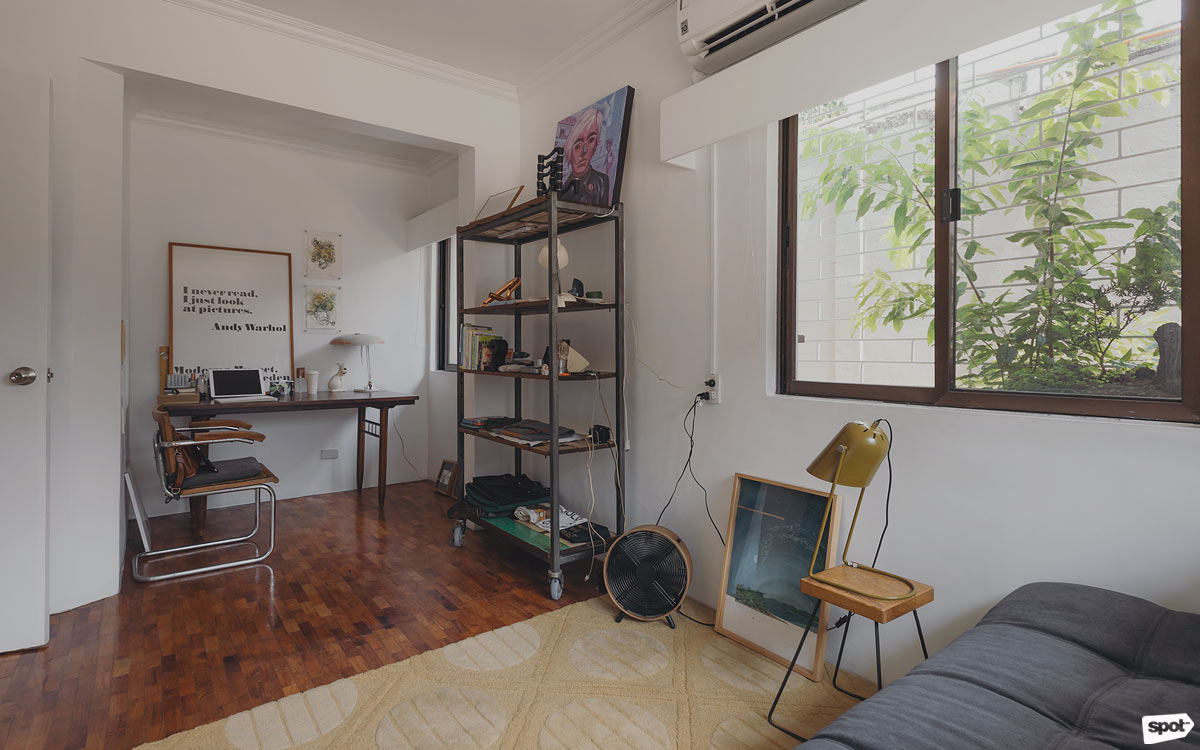 Lopez's mother uses the guest room when she's in the city. The blue sofa from SB Furniture can fold out into a bed. The solihiya Breuer chair is from Allen Oblena, and the small paintings are by Irish Galon.
PHOTO:

Jilson Tiu
ADVERTISEMENT - CONTINUE READING BELOW
Lopez's fondness for mid-century modern design started more than 10 years ago, way before he opened Space Encounters with Balanon in 2009. "We were looking for a place for the furniture store, but there wasn't a specific theme yet. And then when I went to Scandinavia where I encountered a lot of mid-century modern pieces, doon nagkaroon ng connection."
The Space Encounters store was a launching pad for design collections and became a marketing tool to help Lopez's residential design practice branch out into commercial projects. "We wanted a more public presence, because we were doing mostly residential projects and model units. We figured that if we had a physical store, potential clients could see what we were actually doing."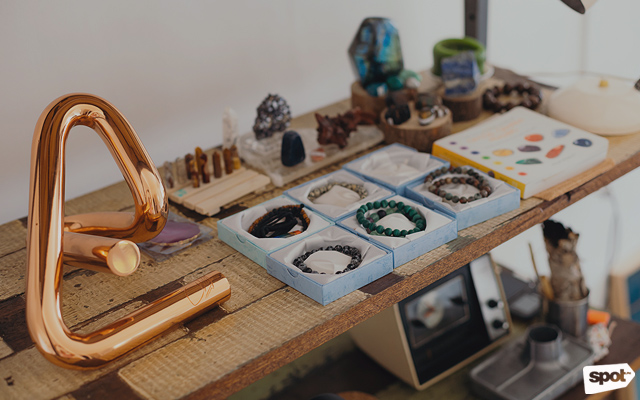 ADVERTISEMENT - CONTINUE READING BELOW
Mid-century modern became the signature style of many of Lopez's furniture pieces and early interior projects. It was innovated upon with each succeeding collection to include Indochine, brutalist, industrial, pop, and even classical revival touches while maintaining its design style core. "Mid-century will be there forever," Lopez stresses. "It is not a trend, it is an evergreen style."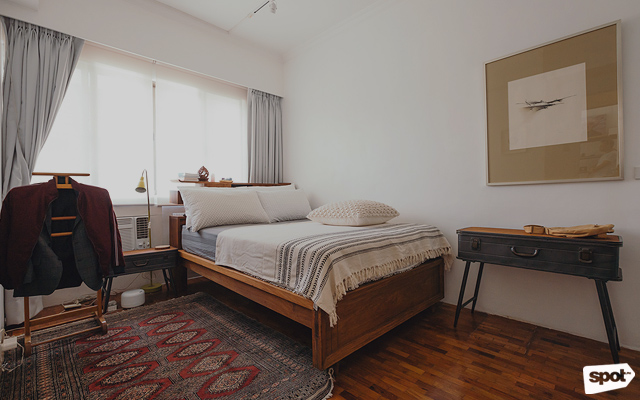 ADVERTISEMENT - CONTINUE READING BELOW
In 2017, when operations of both the interior design and furniture arms were running smoothly, Lopez and Balanon decided to open a gallery. "It wasn't a long-term plan at first. Three years ago, we were only collecting or appreciating art. We knew that opening a gallery was a big risk, but then our neighbors vacated the unit at Padilla Building and we thought of using it as an extension of the furniture showroom but I thought it was lacking something, so naging art gallery na siya." 
Design Comes Home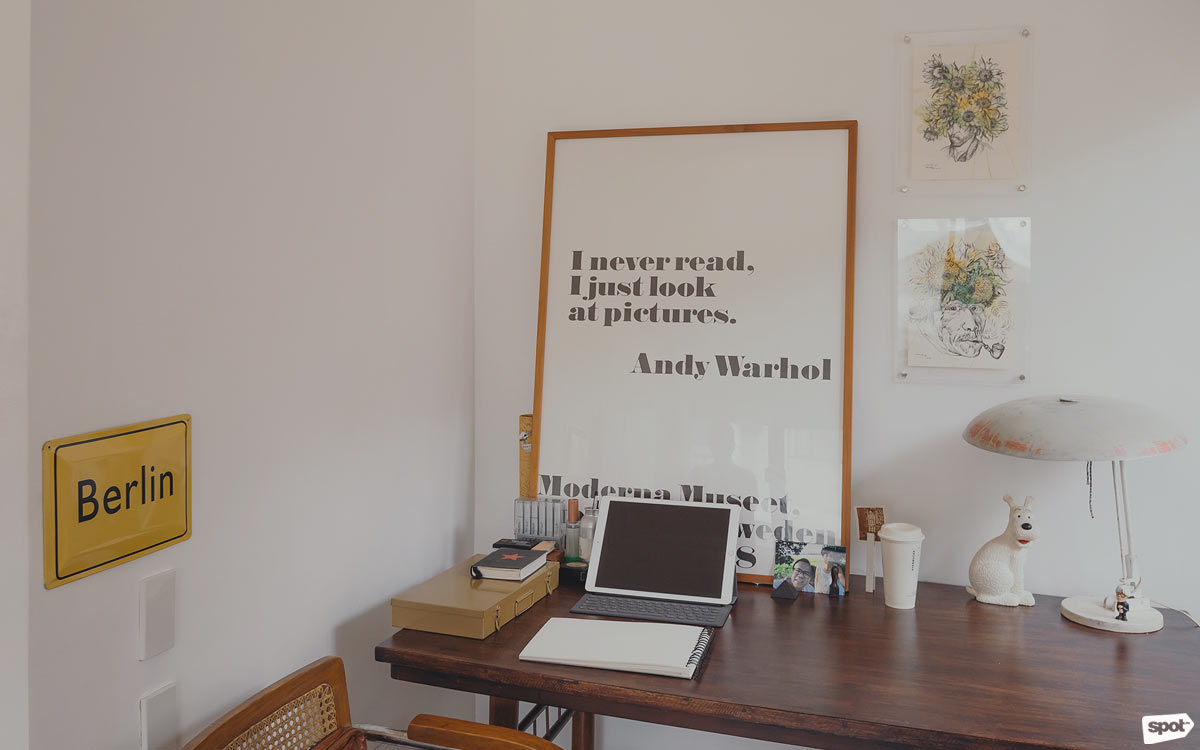 ADVERTISEMENT - CONTINUE READING BELOW
When asked if the style that is seen in his own home influences the style that he implements in his design projects, Lopez couldn't help but chuckle at the irony of the question, since he admitted earlier that he moved to get away from work.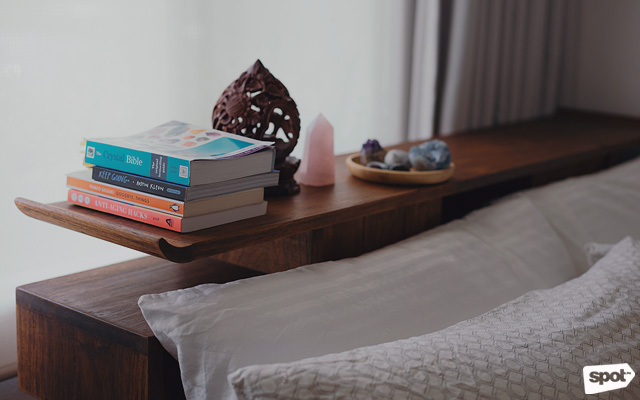 ADVERTISEMENT - CONTINUE READING BELOW
"In a way it does, because the person who lives here also works there. You cannot separate that especially if you're really passionate about your work," he says. Each of his homes, whether it's in the city or in the province, would set the look for every succeeding furniture collection that they launched.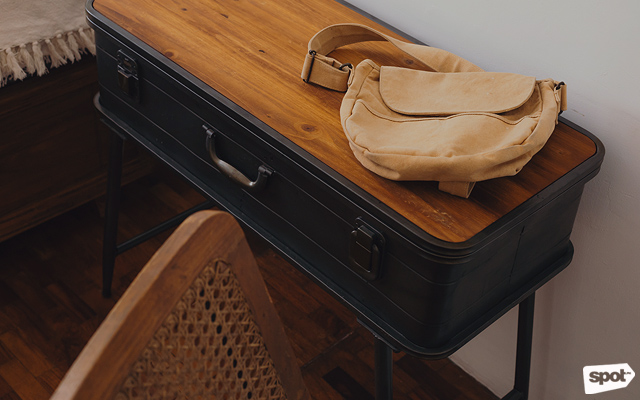 ADVERTISEMENT - CONTINUE READING BELOW
In spite of this, Lopez makes it a point not to bring any actual work home, at least to this one. "Since it's quieter now, I can finally cook, read books at my own pace. And I have more time to analyze my priorities and plans for the coming months," he shares. "This is really a place to compose myself in. Kasi when you've composed yourself, and then you finally go out, that's it, okay ka na talaga." 
Space Encounters Home is at Unit B, Mezzanine Level, and Space Encounters Gallery is at the 7/F Padilla Building, F. Ortigas Jr. Road, Ortigas Center, Pasig City. For more information, visit Space Encounters' website.
Photos by Jilson Tiu
Rachelle Medina is a licensed interior designer, heritage enthusiast, and the former editor-in-chief of Real Living. She spends her free time exploring museums and decaying old buildings. Follow Rachelle on Instagram @goldosmom.
ADVERTISEMENT - CONTINUE READING BELOW