(SPOT.ph) People rarely think of Pinoy fonts as a form of art in themselves, but just the way a letter curls can sometimes say more than an entire picture. Think of the usual typography art you see—beyond the usual "Eat, Pray, Love" ones—and you'll get what we mean. Some local artists have taken lettering to a new level, and made cool typefaces that we can use for free! From designs based on the works of national artists, to fonts that take inspiration from everyday signs, and even ones that mark historical publications, these typefaces would make a cool addition to your creative arsenal.
Here are 10 Filipino-inspired fonts you can download for free:
Arturo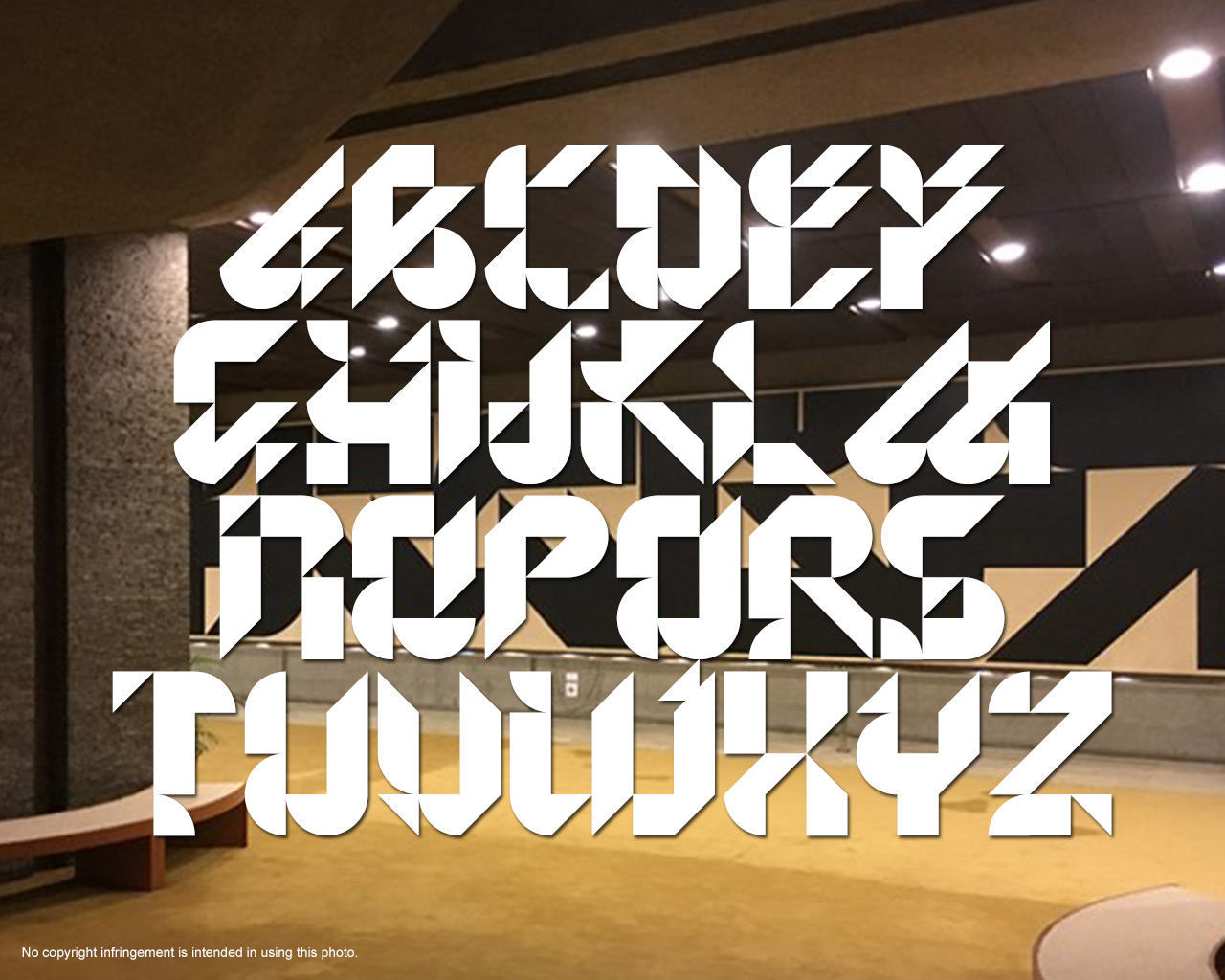 ADVERTISEMENT - CONTINUE READING BELOW
This ahem, cutting-edge typeface was designed in honor of Arturo Luz, National Artist for Visual Arts and founding member of the local Neorealist movement; specifically, his work "Black Forms On White Space." It was made by graphic artist John Misael Villanueva who wanted to "contribute [to the] type community, and to raise awareness about our national artists' works." It's a cool way to incorporate normally "highbrow" art into your everyday life.
Download the Arturo Typeface here.
Kalayaan
This typeface is actually just one of four striking designs collectively called the "Freedom Fonts," each one inspired by historical revolutionary publications that proved the pen is indeed mightier than the sword. The Kalayaan typeface takes inspiration from its namesake, the official newspaper of the Kataastaasang, Kagalanggalangang Katipunan ng mga Anak ng Bayan. Somewhat aptly, KALAYAAN only had a single issue, but its spirit lives on.
Download the Kalayaan Typeface here.
Katipunan
ADVERTISEMENT - CONTINUE READING BELOW
Next in the "Freedom Fonts" collection is Katipunan, which, with its old-school serif design, is reminiscent of La Solidaridad. As one of the most important publications that pushed for reform during colonial times, it was staffed by people like Jose Rizal, Marcelo del Pilar, and Graciano Lopez Jaena, among others. The typeface was designed with the same push for "love and liberty" as the original paper it was based on.
Download the Katipunan Typeface here.
Kagitingan
ADVERTISEMENT - CONTINUE READING BELOW
This chunky, no-frills typeface has the same feeling of purpose as La Independencia, albeit on a much smaller scale. La Independencia was arguably the voice of the Philippine Revolution as it ran from 1898 to 1899 under the direction of Heneral Antonio Luna (yes, also a member of La Solidaridad). The Kagitingan typeface is a show of valor, filled with "the unwavering spirit of La Independencia."
Download the Kagitingan Typeface here.
Kapayapaan
ADVERTISEMENT - CONTINUE READING BELOW
The design of Kapayapaan, the last of the "Freedom Fonts," may not look as serious as the rest, but its impact is no less significant. It takes its cue from Renacimiento Filipino, a pre-World War I publication which gave voice to nationalist sentiment—if you remember studying the piece "Aves de rapiña" in high school, then you know this publication closed down after a libel suit filed by an American official landed some of the staff behind bars in 1910.
Download the Kapayapaan Typeface here.
Barabara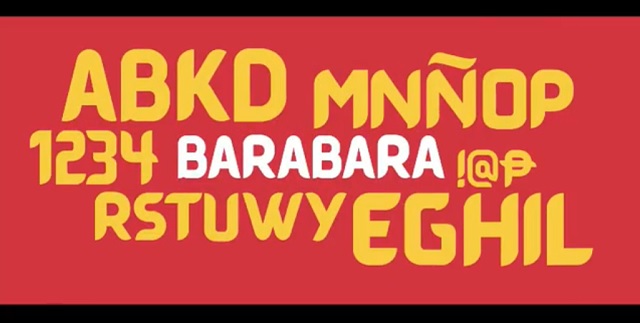 ADVERTISEMENT - CONTINUE READING BELOW
Who hasn't downloaded the official #ItsMoreFunInThePhilippines font of the Department of Tourism? The Barabara font was launched in February 2019 and is a happy little take on the signs and Filipino lettering we see in everyday Filipino life: from jeepneys to roadside stores. Plus, this custom-made font was made free so that everyone could join in on the, well, fun!
Download the Barabara Typeface here.
Obra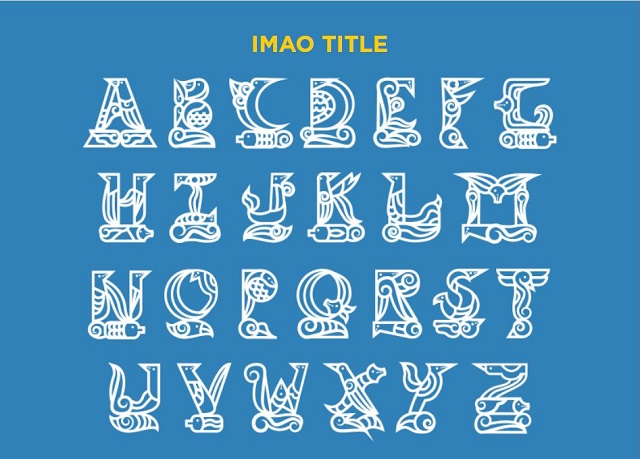 ADVERTISEMENT - CONTINUE READING BELOW
Another font made to bring average folks like us together with National Artists and their art, Obra typeface was inspired by the works of Abdulmari Asia Imao. You might spot his familiar icons—the intricate sarimanok, okir, and naga motifs—in the ornate (but still legible) design of this typeface. It was made by the Ayala Museum together with J. Walter Thompson Philippines as a way to bring art to more people.
Download the Obra Typeface here.
Baybayan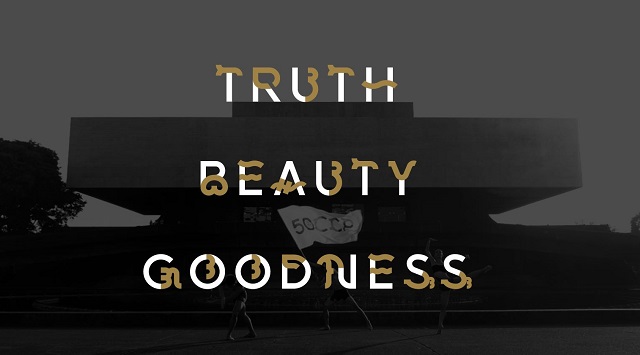 ADVERTISEMENT - CONTINUE READING BELOW
If you're too intimidated to dive head first into Baybayin, you could start with Baybayan, a typeface that integrates the ancient script into our modern way of writing. It might be hard to imagine, but Baybayan pieces together Baybayin script with corresponding letters from the alphabet we use today. It was made in celebration of the 50th anniversary of the Cultural Center of the Philippines.
Download the Baybayan Typeface here.
Bayani Baybayin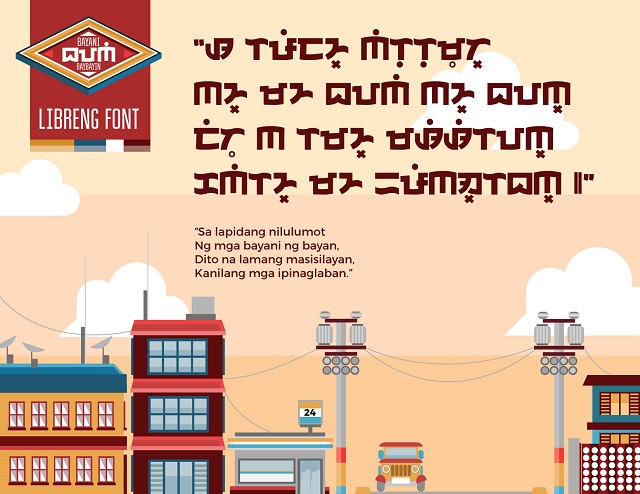 ADVERTISEMENT - CONTINUE READING BELOW
Once you're more confident with your Baybayin skills, you can check out the Bayani Baybayin typeface. This font updates the ancient script with a chunkier, straighter, more contemporary look, but stays true to its purpose. Graphic designer Lloyd Zapanta has also made a Baybayin guide book along with this font, just so you can be sure you're on the right path to complete literacy.
Download the Bayani Baybayin Typeface here.
Dangwa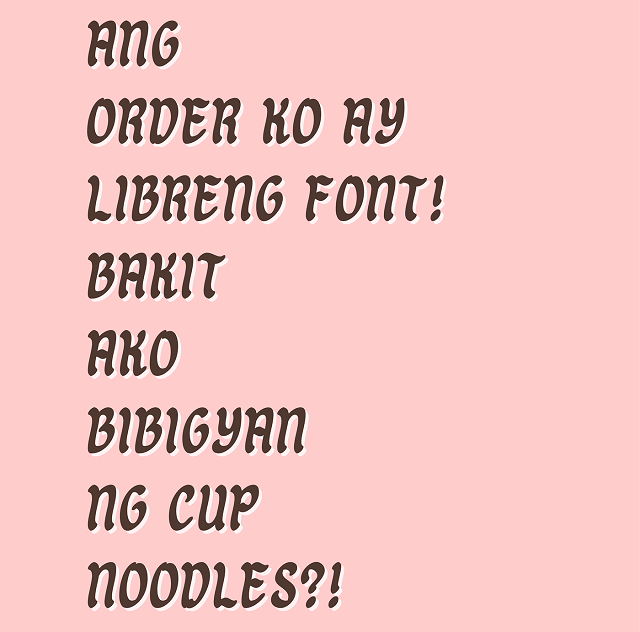 ADVERTISEMENT - CONTINUE READING BELOW
It's no secret that the streets of Metro Manila and the rest of the nation all have their own #aesthetic, from the way goods are arranged to the signs painted pretty much everywhere. Well, if you've ever wanted to carry over that look to your work, check out Dangwa. This typeface was inspired by the typography found in the "lively streets of Manila and the Philippines," says maker Aaron Amar—and the font seems to be specially inspired by its namesake, the Dangwa Flower Market in Manila. Plus, you might want to check out Amar's other works: Quiapo and Cubao typefaces.
Download the Dangwa Typeface here.
Share this story with your friends!
---
Help us make Spot.ph better!
Take the short survey
More Videos You Can Watch
Load More Stories