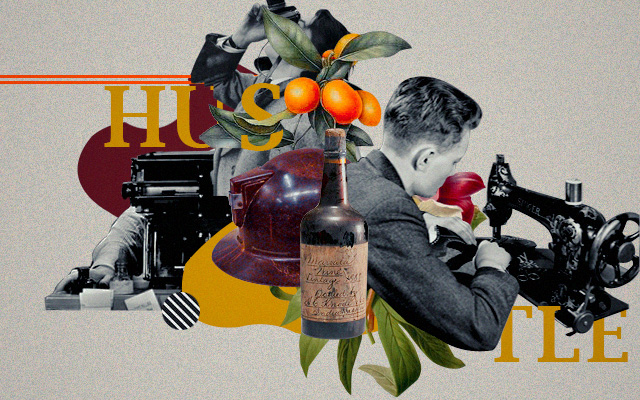 (SPOT.ph) We've all heard—and dreamt—of a work-life balance, but a few people in the Metro have managed to do us one better: a work-work-life balance. We're talking about the folks who have a full-time job, a side hustle, and enough free time and energy left to recuperate and stay sane in the (cliché alert) fast-paced, dog-eat-dog, sa-mga-kuko-ng-liwanag, urban world of Metro Manila. It is this word, "hustle," that hangs heavy over the head of every working-age person in the city, where every moment must be spent in the pursuit of something, anything at all, to make us feel made, accomplished, worthy. 
ADVERTISEMENT - CONTINUE READING BELOW
Inevitably, the burnout does get a little too real for some. It is difficult to sustain a full throttle 100% of the time, and while we're not here to school you on how to better yourself (we certainly aren't experts on the topic), we did get to speak with three people who have somehow achieved a balance. These three folks from different corners of the Metro have a full-time job and a sideline, whether for added income, peace of mind or both. We're sure you're dying to know how they did it, and whether you can do it, too, so take a peek into what a day in their life is like.
Here's what it's like to have a side hustle in Metro Manila:
Jac Cotangco-Juliano, BPO Manager and Leather Worker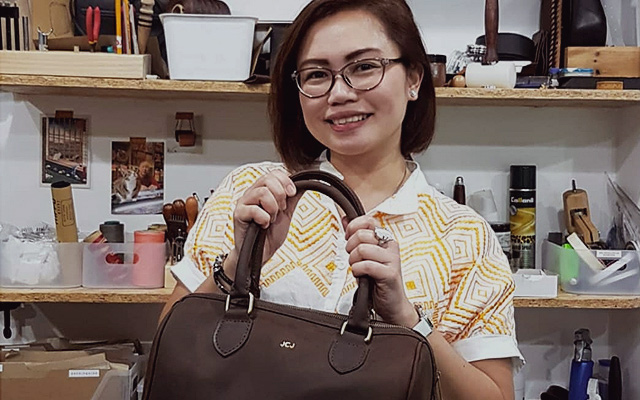 When BPO operations manager Jac Cotangco-Juliano isn't at the helm of her division of 150 team leaders and agents, she finds time to work leather into anything from tags, wallets, pouches, bags, and more. It's not often someone can answer the question "What's your hobby?" with "Leather work!"—but she's not just made the rather niche skill into a pastime, it's aIso her side hustle. A room in her house—which is in Marikina City, of course—has already been converted into a workshop and contains not much more than a bench and a whole lot of leather.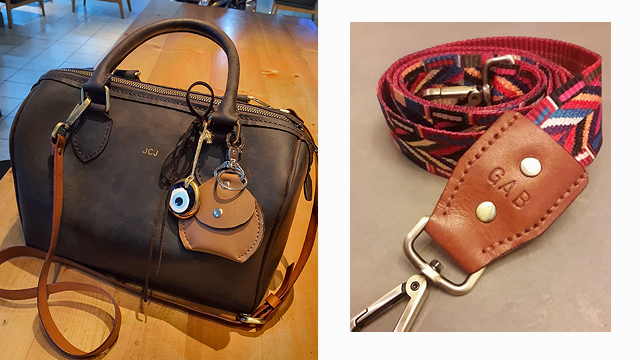 ADVERTISEMENT - CONTINUE READING BELOW
A typical day in the life of Cotangco-Juliano starts at 4:30 a.m. She travels to her office in Mandaluyong City where work starts at 7 a.m. and ends "hopefully, at 4 p.m." The leather magic happens throughout the day, especially during breaks when "one can usually find me in a coffee shop sewing or cutting leather." Think of those grandmothers in cartoons always just knitting wherever and whenever, but instead of an old lady, it's a corporate manager at a coffee shop, and instead of yarn and knitting hooks, it's leather. Sewing and cutting continue while in transit, while heavier work like punching and stamping is done at her home studio.
Working with leather was a hobby Cotangco-Juliano picked up in March 2018, back when she was looking for something new to do—a feeling that comes to people at some point in their lives. Now, she gets an order at least once a week, and she makes each and every piece by hand. 
ADVERTISEMENT - CONTINUE READING BELOW
CJ Omlas, Head Nurse and Freelance Makeup Artist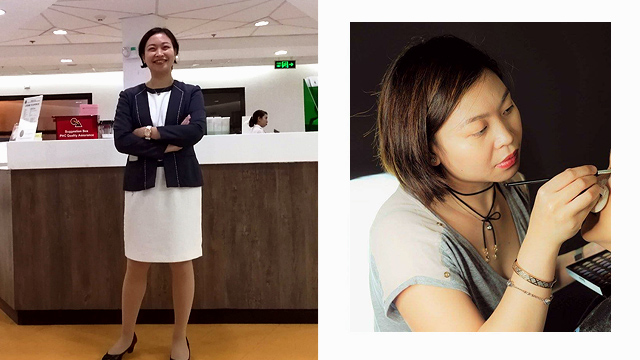 A hospital job is already as stressful as it gets, but CJ Omlas also finds time to work as a freelance makeup artist—on top of being a mother of three, at that. That last "occupation," according to Omlas, "is, personally, the hardest job of all," she cheekily tells us. Omlas has been working at a government hospital for 12 years and is now the head of a medical-surgical unit, while she started in the beauty industry six years ago. The arts and the medical industry may seem worlds apart, but for Omlas, the two have come together quite smoothly. 
ADVERTISEMENT - CONTINUE READING BELOW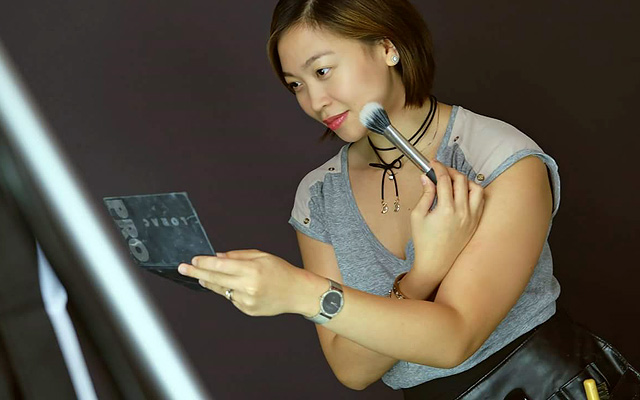 A typical day in the life of Omlas begins at—prepare yourselves—3:30 a.m. She cooks breakfast and packs lunches for her kids before leaving for work at 4:45 a.m. She has some time to herself before work starts at 6:30 a.m., and hustles on until 3 p.m. Then Omlas rushes home before rush hour, and picks up her kids around 5 p.m. The whole family has dinner together around 7 p.m. Omlas is usually in bed by 9:30 p.m.—although she does still wake up through the night to breastfeed their baby. She jokes, "Mabuti nang walang tulog, kaysa walang gising," is her mantra on particularly tiring days.
ADVERTISEMENT - CONTINUE READING BELOW
But that entire schedule gets scrapped when she's on makeup-artist duty, as she usually ends up "on-call" at the event the entire day. Admittedly, makeup was not her first love—sketching and painting came first—but after attending a few tutorial classes, Omlas found herself buying cosmetics and makeup tools. "I never thought it could be addictive," she tells SPOT.ph. Her husband then pushed her to turn it into an actual business; "He believed I can do it, and I did!" It was a big investment, Omlas says, but it was well worth it. For her, it's always about making people feel better—whether as a nurse or as a makeup artist. 
Angelo Mendez, Kumu Head of Programming and Entrepreneur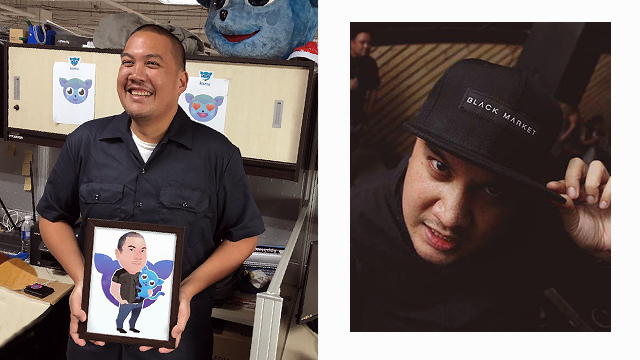 ADVERTISEMENT - CONTINUE READING BELOW
You know the stereotype: big companies are always led by cleancut men in expensive suits with questionable intentions, but Angelo Mendez is pretty much the exact opposite. Mendez is, officially, a tech guy—he is head of programming for social media and live-streaming platform Kumu—but he's also one of the instigators of nightlife in the Metro. He is one of the people behind clubbing brand Black Market, has worked with and started several hotels in the Philippines, and even DJs once in a while—which was originally how this California native ended up on our shores, after all.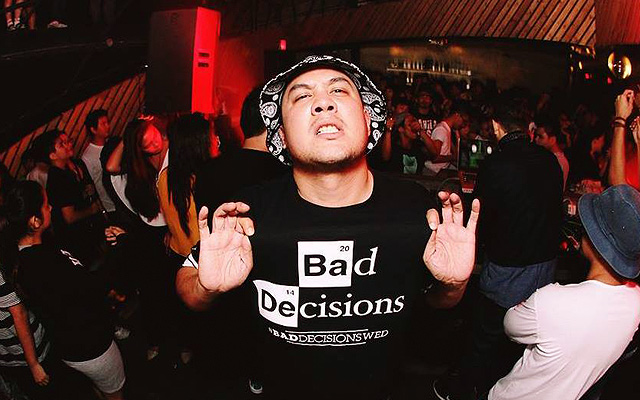 ADVERTISEMENT - CONTINUE READING BELOW
A typical day in the life of Mendez begins around 6:30 a.m. You can usually find him at the gym by 7:30 a.m. Around 10 a.m.—once the worst of traffic is over—he heads to his office in Quezon City where the marketing strategist works with his team as Kumu's "Noise Maker." Simply put, the team "come up with crazy ideas and figure out how to pull them off on Kumu," he tells SPOT.ph. At night, he catches up with Kumu co-founders Roland Ros and Rexy Dorado to talk business. "Depending on our night, it might turn into drinks or it might just be like 'oh crap, we have a lot of stuff to do tomorrow.'"
Mendez's work in the Philippines began with a vacation to Boracay in 2006—one that ended up becoming a six-month stay working as a DJ over at the Juice Bar. Since then, he's always been a mainstay of the clubbing scene, even being one of the main minds behind Black Market's Bad Decisions Wednesdays. "We just really wanted a place to listen to really, really bad rap music," jokes Mendez. Now that Black Market is smooth sailing—though he drops in to DJ once in a while— Mendez spends his time concentrating on building hotels—with another one popping up soon in Siargao. The tech guy has come a long way from his days as a "beach bum," but it's clear the hustle continues.
ADVERTISEMENT - CONTINUE READING BELOW
It's hard to deny that it seems the most practical common thread here is waking up early. But before you call your mom to tell her she was right, there's also the matter of feasibility, and not to mention the cliché of first finding your passion—or passions. Daunting, we know. But the hustle never ends, as today's mantra goes, so to all the people who don't quite have it all figured out just yet, fingers crossed you find your groove soon.
Share this story with your friends!
---
Help us make Spot.ph better!
Take the short survey
More Videos You Can Watch
Load More Stories