10 Cool Classes You Can Take From Home
With courses ranging from astrophysics, YouTube, to the science of beer.
(SPOT.ph). While a whole day of napping, eating, and binge-watching (repeat 10 times) is very tempting, staying at home doesn't have to be completely unproductive. It's always a good idea to spend a few hours learning a useful skill or understanding a new idea. To help you figure out what to do with your free time, we've put together a list of cool courses you can take from the comfort and safety of home.
Also read:
10 Free Online Courses That Are Too Cool for School
10 Free Apps to Help Keep Your Last Three Brain Cells Alive
Check out these classes available online:
The Rise of Superheroes and Their Impact On Pop Culture
Offered by: Smithsonian via edx
Time to complete: six to 12 hours
Price: Free
Whether you're a comic-book aficionado or someone interested in learning more, you will find that this course, offered by the Smithsonian, gives you a new perspective on your favorite superheroes, including Superman, The Avengers, The Hulk, and others. Here, you'll learn about the history of the superhero, its political importance throughout the 20th century, how it has impacted moral and ethical codes around the globe, and more. 
The Science of Beer
Offered by: Wageningen University via edx
Time to complete: 12 to 24 hours
Price: Free
Beer lovers, this course is for you. This online class promises students a new appreciation of the beverage—from learning how beer is made and marketed to understanding its effects, which in turn will make you a more responsible consumer. Another fun thing about this class is that it was developed by students from the Netherlands' Wageningen University, meaning it won't be bogged down by any stuffy professors!
ADVERTISEMENT - CONTINUE READING BELOW
Astronomy: Frontiers and Controversies in Astrophysics
Offered by: Yale University
Time to complete: 24 hours 
Price: Free
Need to take your mind off Planet Earth for a little bit? Look towards the stars with this astronomy course offered by Yale University. In this online class, you have access to 24 lectures about astrophysics, including black holes, dark energy, the multiverse, and the Big Bang. It goes over both what is known in the field, and what is yet to be known. If you want to test your knowledge as you go through the course, you're free to take the midterm and final exam offered to actual Yale students. Or, if you prefer, skip the tests! This course is free, so there's no pressure either way. 
CONTINUE READING BELOW
Recommended Videos
Script Writing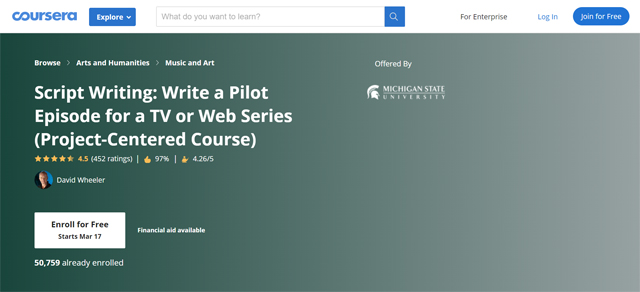 Offered by: Michigan State University via Coursera
Time to complete: five to 10 hours 
Price: Free
When you're done binge-watching shows on your fave streaming service, maybe it's time to create your own. This project-centered course will teach you how to write a pilot episode for a TV or web series. Regardless of whether you're interested in creating a drama, comedy, thriller, or something in between, this course walks you through the steps of how to produce a pitch-ready script.
ADVERTISEMENT - CONTINUE READING BELOW
YouTube Masterclass
Offered by: Udemy
Time to complete: 5.5 hours
Price: U.S.$199 (roughly P10,270)
Before you launch your vlog, take this masterclass, which teaches you everything from how to start a channel from scratch, gaining subscribers, creating videos on a budget, to monetizing your channel. This course is helpful for everyone, regardless of experience level or access to equipment, though they suggest that you already have an idea for what type of channel you want to start. It takes students from the basics all the way to navigating analytics and optimizing your channel. 
Mind Mapping Mastery
Offered by: Udemy
Time to complete: six hours 
Price: U.S.$199 (roughly P10,270)
Eager to stay mentally sharp during your time at home? Take this course in memory and productivity. You will learn the trick of mind mapping, a mental approach that will help you reduce the time you need to learn new things. With this class, you'll get techniques on how to think more clearly, learn better, study more effectively, and recall things faster. 
Mindfulness for Wellbeing and Peak Performance
Offered by: Monash University via FutureLearn
Time to complete: 12 hours 
Price: Free
During a time of high anxiety, you might find value in taking a class about mindfulness. Here, you'll learn techniques on how to reduce stress and improve performance in work or study. This course will cover how to manage your emotions, cultivate self-compassion, and practice empathy with those around you. You'll come away with a range of mindfulness techniques, an understanding of the stressors in your life, and a model of a more mindful approach to work, study, relationships, and more. 
ADVERTISEMENT - CONTINUE READING BELOW
Yoga for Strength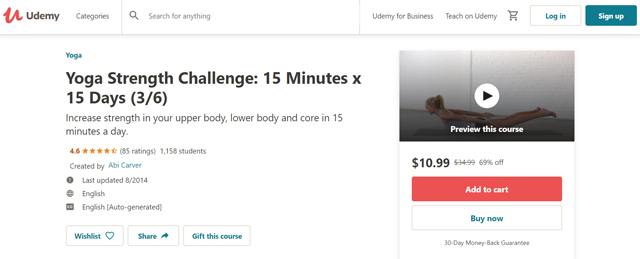 Offered by: Udemy
Time to complete: four hours 
Price: U.S.$34.99 (roughly P1,800)
Get your muscles moving with this yoga course. Requiring just 15 minutes of your time for 15 days, this yoga challenge invites you to increase strength in your upper body, lower body, and core as you follow a series of videos that leads you through various poses. Aside from the basics, you will also get a step-by-step guide on how to build your yoga habit so that you can continue your practice after the course ends. 
Ethics: An Introduction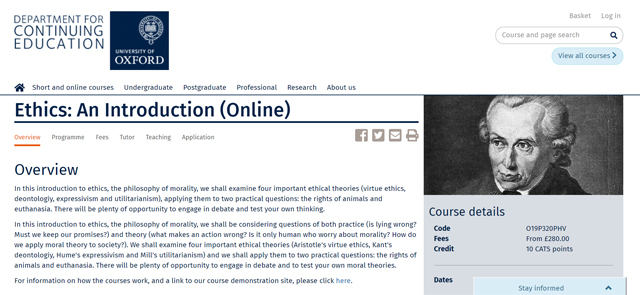 ADVERTISEMENT - CONTINUE READING BELOW
Offered by: University of Oxford
Time to complete: 100 hours 
Price: Starts at £280.00 (roughly P17,500)
For a truly comprehensive online course that will require your time and dedication, take this Ethics class offered by one of the top learning institutions in the world. In this introductory course, you'll get to challenge your thinking and fortify your values. It considers both practical and theoretical applications of ethics, asking questions that range from "Is lying wrong?" to "What makes an action wrong?" By taking this class, you'll be eligible for a Certificate of Completion from Oxford University.
The Music of the Beatles
Offered by: University of Rochester via Coursera
Time to complete: 19 hours
Price: Free
Get an in-depth look at one of the most influential bands of all time. In this course about the music of The Beatles, you'll learn about the band's musical development, how they pioneered new recording techniques, their role in the music industry, and of course, how they made an impact on our culture. The course follows their trajectory from their early days in England to their success in America and around the world. This class is perfect for those who want to learn more about a band they already know and love, and for those who are interested in the inner workings of the music business. 
Share this story with your friends!
---
Help us make Spot.ph better!
Take the short survey
Load More Stories