In Numbers: How Do Past Coronavirus Outbreaks Compare to COVID-19?
We take a look at MERS, SARS, and COVID-19.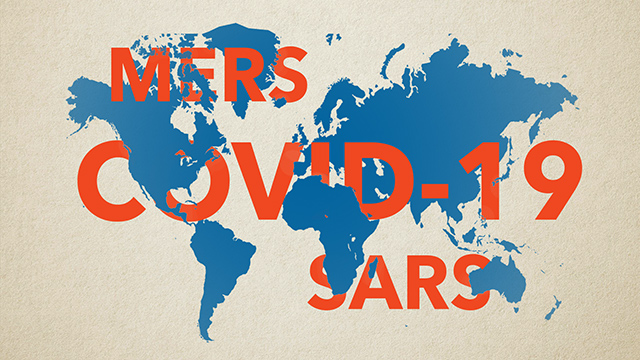 (SPOT.ph) The entire globe is at a standstill as the COVID-19 disease sweeps through several nations—including our own. An enhanced community quarantine is in effect over the entire island of Luzon while several regions have closed off their boundaries. As of writing, 230 people in the Philippines are confirmed to have COVID-19, according to the Department of Health. Additionally, eight people have recovered, 18 have died.
Globally, the virus has spread to a total of 246,275 individuals in 163 countries, as of writing. A total of 86,035 have recovered, while 10,038 have lost their lives. The disease has been called a pandemic by the World Health Organization. At the time this was announced on March 12, the World Health Organization (WHO) director general Dr. Tedros Adhanom Ghebreyesus reported 118,000 cases in 114 countries, with 4,291 dead—a startling jump in just a few days.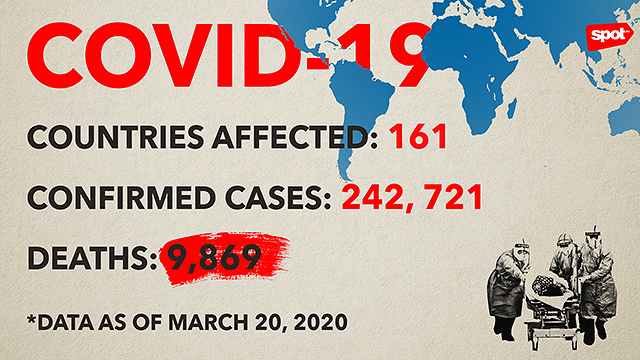 ADVERTISEMENT - CONTINUE READING BELOW
What We Know and Don't Know
The COVID-19 disease is caused by the SARS-CoV-2, a new strain of the coronavirus. These viruses come from animals and are known to cause several illnesses in humans, from the common cold to far more serious ones.
Reports of a mysterious illness that causes pneumonia first appeared in December 2019 in Wuhan City in the Hubei province of central China. The virus is claimed to have started at a wet market in Wuhan where wild animals were reportedly being traded and sold as food. Several animals have been cited as possible carriers of the virus, but none have been definitively proven. Conspiracy theories stating the virus may be a bioweapon developed at the Wuhan Institute of Virology have also surfaced—a rumor the institute has already denied.
CONTINUE READING BELOW
Recommended Videos
No singular fatality rate can be recorded for the disease for now, but WHO estimates the ratio to be between 3% to 4%. Much is still unknown about the disease: The exact way it moves and infects others is still being studied, though the WHO says it can be spread through droplets when a person with COVID-19 coughs or exhales, which is why social distancing is incredibly important. 
As the numbers for COVID-19 continue to fluctuate throughout the globe, we can take a look at past diseases caused by different strains from the same family. Both the Middle East Respiratory Syndrome and the Severe Acute Respiratory Syndrome were caused by different strains of coronaviruses. These diseases also caused several outbreaks in the past two decades; check out the numbers below.
ADVERTISEMENT - CONTINUE READING BELOW
Middle East Respiratory Syndrome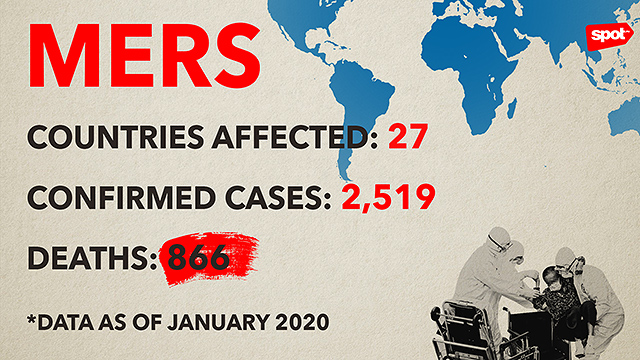 More commonly known as MERS, this disease was first identified in Saudi Arabia in September 2012. The MERS-CoV virus is suspected to have come from dromedary, or one-humped Arabian camels, with studies suggesting it may have originated from bats, according to the World Health Organization. MERS has been reported in a total of 27 countries since 2012. The largest outbreaks occurred in Saudi Arabia, United Arab Emirates, and South Korea.
A total of 2,494 cases have been reported so far since 2012, with patients in Saudi Arabia accounting for 80% of that number. Around 35% or 866 people lost their lives due to the disease. This appears to be the highest fatality rate among the three coronavirus diseases, although the WHO notes that this number is affected by possible non-reporting of mild cases.
Severe Acute Respiratory Syndrome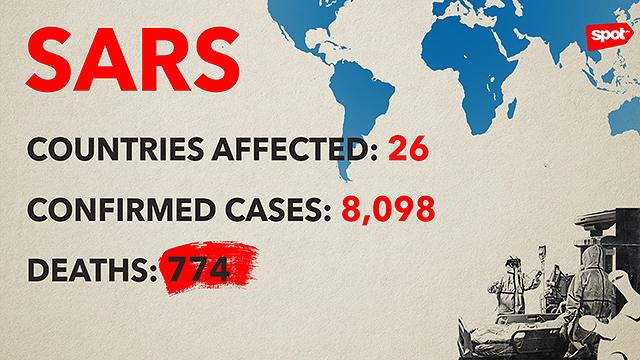 ADVERTISEMENT - CONTINUE READING BELOW
SARS first appeared in the Guangdong province of Southern China in November 2002. It was identified in February 2003. Studies also linked the SARS-CoV virus to another wet market; this time from civet cats being sold in the area. Bats are also being studied as a possible origin of this virus.
From 2002 to 2003, the SARS epidemic spread throughout 26 countries before being contained. A total 8,098 cases were reported with 774 patients dead; these numbers were surpassed by COVID-19 in just two months, according to the U.S. National Institutes of Health-National Institute of Allergy and Infectious Diseases. Its mortality rate was around 10%. 
The numbers for these illnesses show just how much bigger the spread of COVID-19 is. Countries across the globe are doing what they can to battle the disease, but for now experts are saying it may still be a long while until it is contained and we can go back to normal life. For now, the best we can do is stay home as much as possible, constantly and properly wash hands, regularly disinfect surfaces, and practice social distancing.
Share this story with your friends!
---
Help us make Spot.ph better!
Take the short survey
Load More Stories