10 Pen-and-Paper Games That Kept Us From Getting Bored in the '90s
Stuck at home? No problem!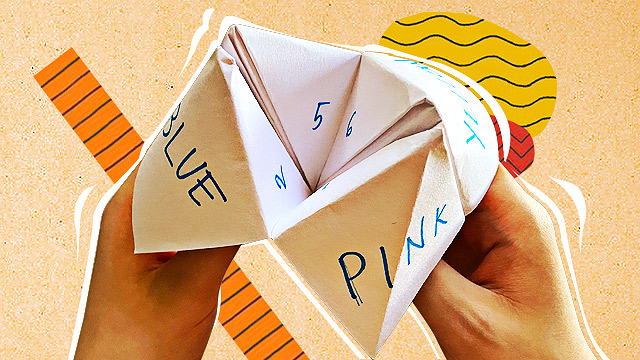 (SPOT.ph) If you grew up in the '90s, you've probably been through a variety of boredom-inducing situations with no mobile phones to save you: city-wide blackouts, a math lecture that never ends, or the daily ride in your school service. It's a good thing that our generation can make do with what we have. Give us a pen and a piece of paper, and we're all set for hours of fun and games. 
Also read:
10 Words We Miss From Childhood
10 Things Only '90s Students Would Know
Check out this list of pen-and-paper games that saved us from boredom back in the day:
FLAMES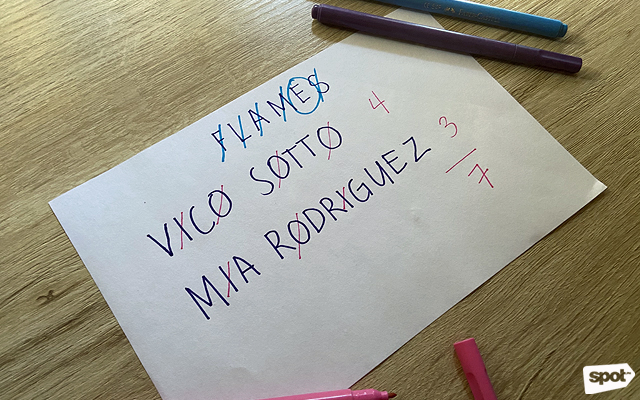 ADVERTISEMENT - CONTINUE READING BELOW
As soon as girls and boys get crushes in their pre-teen years, the rowdy game of tag turns into a giggly session of playing FLAMES—which stands for Friends, Lovers, Anger, Marriage, Engagement, and Soulmates. You write down the names of two people: yours and your crush's, then cross out similar letters. Count the total number of remaining letters against each letter of the acronym to predict your future. For example, if you have four remaining letters, that number falls on the letter M (a.k.a. marriage). You can play this on your own while daydreaming. 
PANTS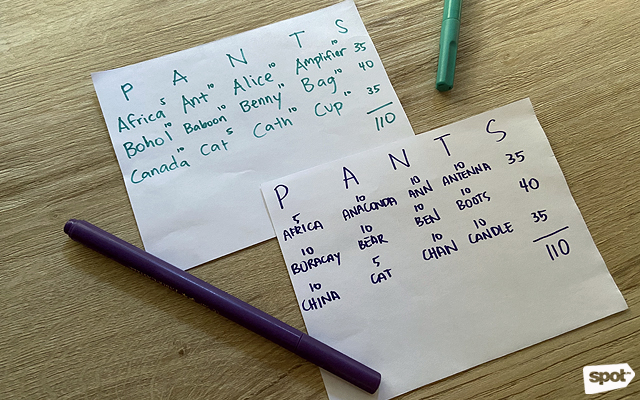 CONTINUE READING BELOW
Recommended Videos
PANTS stands for Place, Animal, Name, Thing, and Score. To play this game, one of you—or a person not playing the game—picks a random letter from the alphabet. Players then list down a place, animal, name and thing that starts with the chosen letter as fast as they can. Everyone drops their pen as soon as one of you completes all four, or you can just set a timer for everyone. Ten points go to unique answers and five points go to those who have the same answers for one category. 
ADVERTISEMENT - CONTINUE READING BELOW
XOX / Tic-Tac-Toe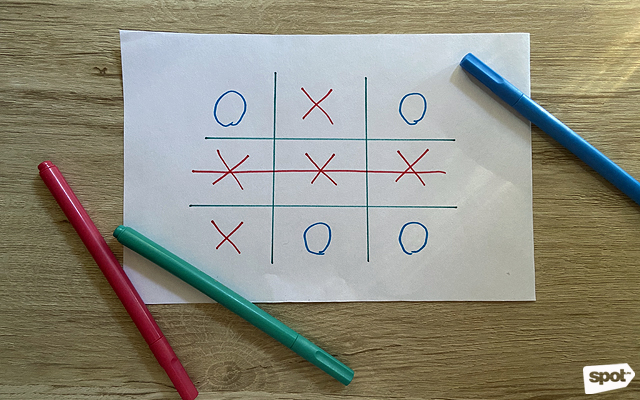 XOX, a game for two also known as Tic-Tac-Toe. One person is assigned the letter X, while the other is assigned the letter O. Your battlefield? Nine squares where you have to complete one whole row—horizontal, vertical, or diagonal—with just all X or just all O. The trick is to block the opponent from doing so by blocking a row with your assigned letter. 
SOS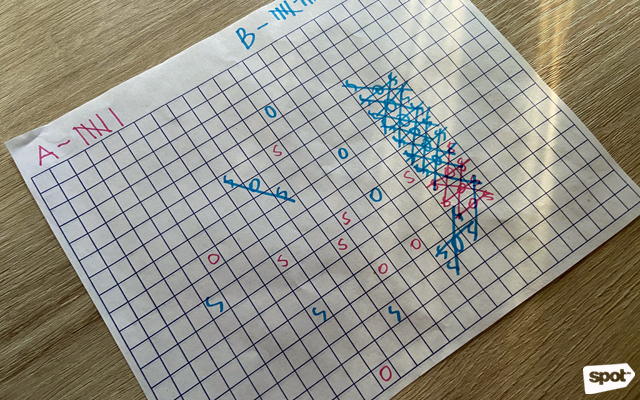 ADVERTISEMENT - CONTINUE READING BELOW
Another game for two people, SOS is like XOX or Tic-Tac-Toe but with a bigger playing field and no assigned letters. For every turn, you can write either an S or an O and you get a point whenever you get a full SOS sequence—diagonally, horizontally, or vertically. The player who completes an SOS immediately takes another turn, and keeps taking turns until he or she can no longer complete an SOS. The person with the most number of SOS completed wins. 
Dots and Boxes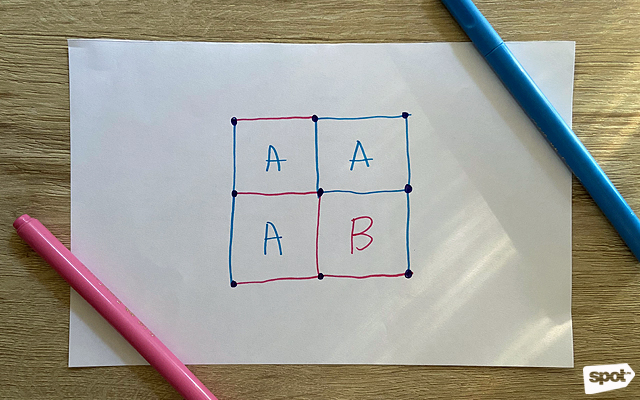 Dots and Boxes starts with an empty grid of nine dots arranged in three rows. Each player draws a horizontal or vertical line to connect two adjacent dots per turn. The goal is to be the one to draw the fourth side of a box. Players should mark the box they complete to see who gets the most boxes. 
Paper Fortune Teller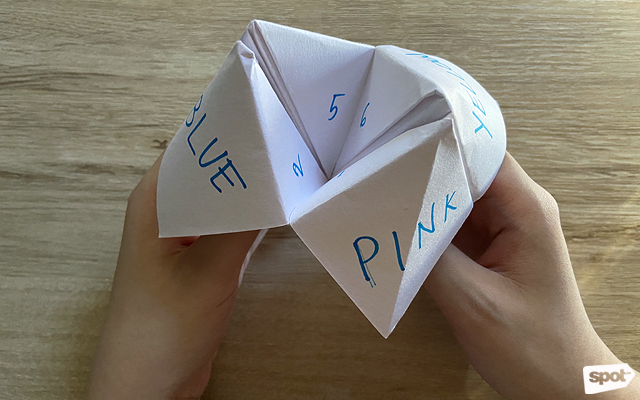 ADVERTISEMENT - CONTINUE READING BELOW
Paper fortune teller isn't only a game, but also a form of origami. Each part is labeled with colors or numbers from which another player chooses. From there, the other player does a pinch-and-pull motion with the paper fortune teller depending on the number chosen or the number of letters in a chosen color. Another set of options is revealed inside, which has flaps that conceal a message underneath. 
Hangman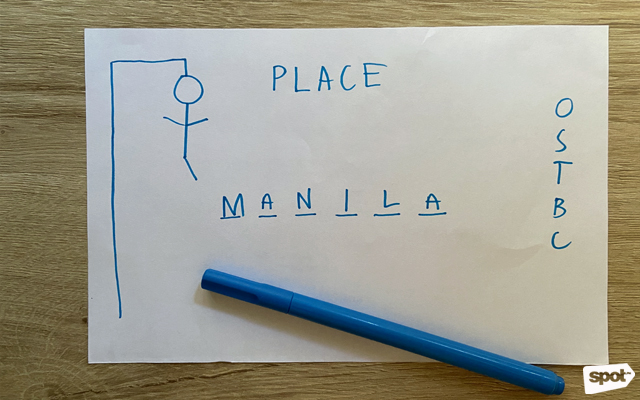 Hangman is a guessing game for two or more players. To start, one player thinks of a word or phrase while another tries to guess by suggesting letters. Think hard before you make a guess, as one wrong move penalizes you with one stick drawing on the hangman figure. You win when you've guessed the whole word (even without guessing all letters), but lose when the diagram of a hanging man is completed before you do so. 
ADVERTISEMENT - CONTINUE READING BELOW
Battleship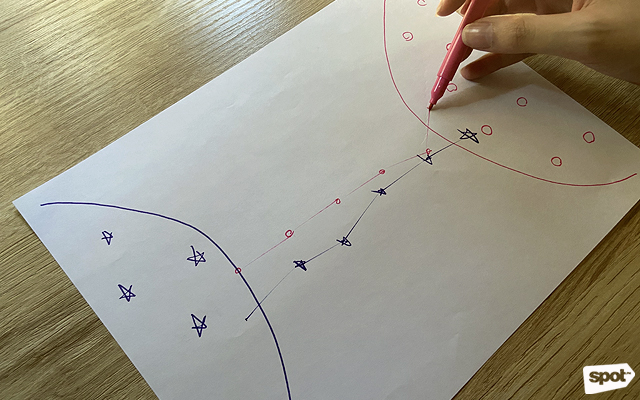 To start with Battleship, two players draw an equal number of stars or circles (or any other shape) in their respective homebase. The goal is to reach the other base by sliding your pen towards the opponent's homebase. One slide counts as one turn, so you have to mark the end of your pen's stroke. 
Spaceship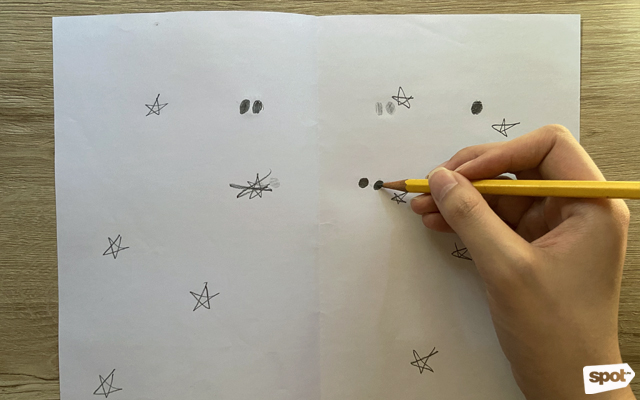 ADVERTISEMENT - CONTINUE READING BELOW
In Spaceship, you get a bigger battlefield by folding a piece of paper into two. Both players draw the equal number of stars (or spaceships or tanks) on their respective sides. To "attack," you have to draw and shade a small circle and transfer this to the other side by folding the paper and shading underneath. When your transferred circle hits a star, you get a point. 
MASH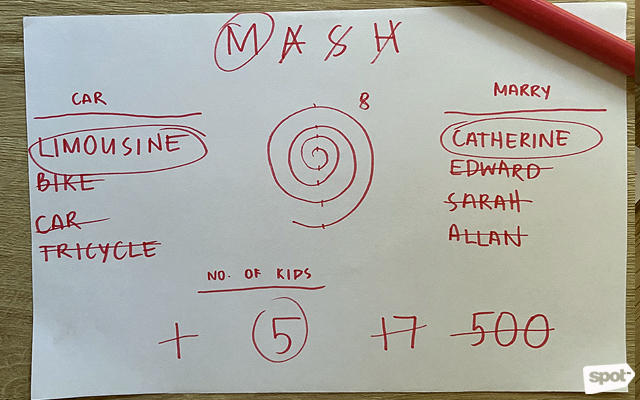 MASH is like FLAMES, but a lot more complicated. To start this fortune-teller game, you have to choose your categories; for example, cars, people to marry, and number of kids. These are very flexible, you can also add the city you'll be living in and your future career. For each category, you have to put in four options. The next step is to draw a spiral until someone tells you to stop, then count the number of lines you produced. This number is counted against the letters of MASH and all the options you listed down per category. If your number is eight, you stop at the eighth entry and cross that out. Repeat the whole process until you only have one entry per category, which ultimately tells what the future holds. (Or so we've been told.) 
ADVERTISEMENT - CONTINUE READING BELOW
Want to see what the games are like? Watch the video below:
Share this story with your friends!
---
Help us make Spot.ph better!
Take the short survey
Load More Stories