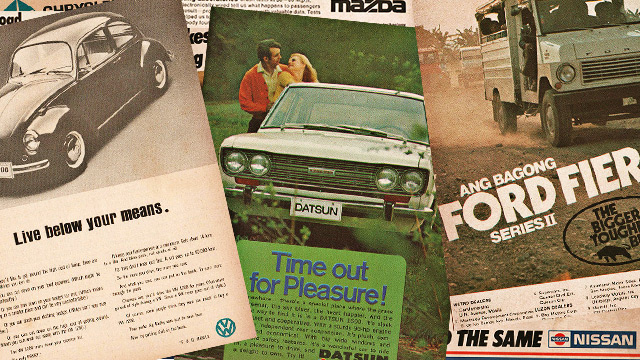 (SPOT.ph) Let's cruise down memory lane—quite literally. We recently reached into the baul stored in lola's room and unearthed treasures from a time long gone: Vintage print ads featuring some of the finest rides we used to have. Remember riding in the backseat of your family's old car, windows rolled down, your parents playing their favorite tunes, coasting through the old provincial roads of your childhood home? Everything was fine back then. If you need a reminder of the good times that have passed, check out these old print ads, and remember, the good times will come again!
Also read:
PHOTOS: Vintage Beverage Ads From the '60s
PHOTOS: Vintage Print Ads Featuring Pinoy Celebs
Take a peek at the old-school ads of Volkswagen, Nissan, Chrysler, and more:
Datsun 1600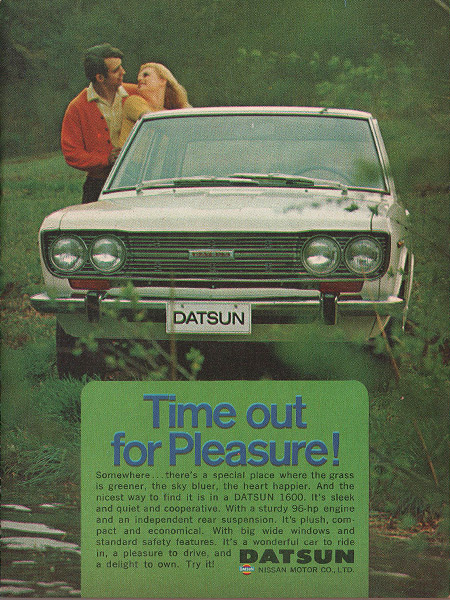 ADVERTISEMENT - CONTINUE READING BELOW
Before Nissan became the global household name that it is today, your parents might have known their cars as Datsun. The name comes from the 1934 merger of two Japanese car companies: DAT Automobile Co. and Jitsuyo Automobile Co. This 1968 ad features the DATSUN 1600. We imagine this vehicle is the type that still came with built-in ashtrays somewhere near the door handle.
Chrysler Hillman Super Minx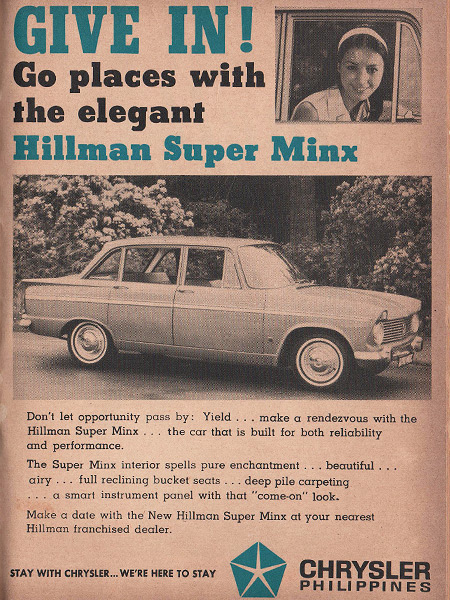 ADVERTISEMENT - CONTINUE READING BELOW
Recommended Videos
Chrysler has always been about luxury. Just check out this 1966 ad for a Hillman Super Minx. These spacious cars boasted full-reclining seats, carpeting, and a "smart instrument panel." We're pretty sure "smart" here means something different from how we understand it today—but we still definitely get what the "come-on" look means. Those sleek retro-looking wing accents by the trunk are hard to ignore, indeed.
Honda N360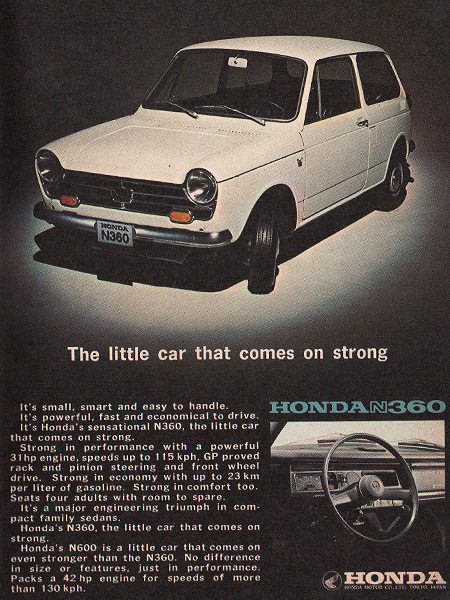 ADVERTISEMENT - CONTINUE READING BELOW
Forget about the little engine that could; Honda's N360 is the little car that comes on strong. It may look a bit like Mr. Bean's wonky Mini, but this thing packs in a 31- horsepower engine and reaches speeds of up to 115 kilometers per hour—not bad for 1968. Also, 23 kilometers per liter of gasoline is pretty hard to beat, even by today's standards.
Volkswagen 1200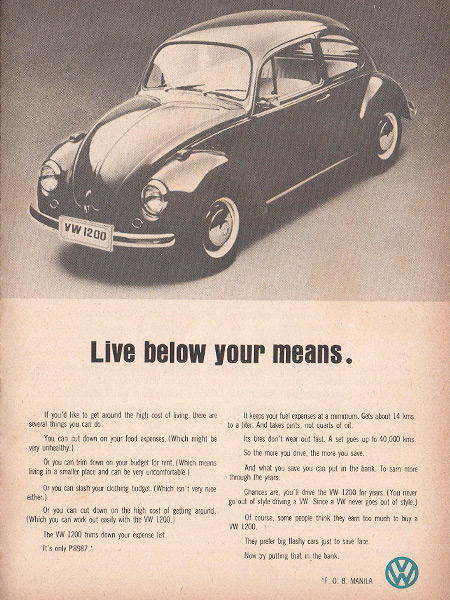 ADVERTISEMENT - CONTINUE READING BELOW
Time for a math problem: If P8,987 could buy you a Beetle back in 1968, how many could you buy with your salary today, assuming we're working with said pricepoint? The idea of being able to buy a brand new car for less than P10,000 isn't just ridiculous, it almost sounds like a scam. Nonetheless, the "kotseng kuba"—as most people call it—has definitely proved it is worth more than the petty sum (relatively speaking) today.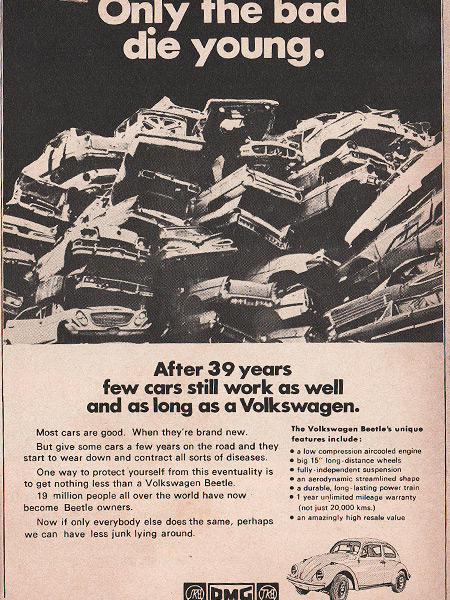 ADVERTISEMENT - CONTINUE READING BELOW
The Beetle hits us with nothing but truth and a healthy dose of shade in this 1977 ad. "Most cars are good. When they're brand new." Can't say we disagree. The sight of a grandpa clunking along the highway up to Baguio City in a Beetle as old as he is isn't all that shocking, after all. Don't forget to yell "pendong" when you spot them!
Ford Fiera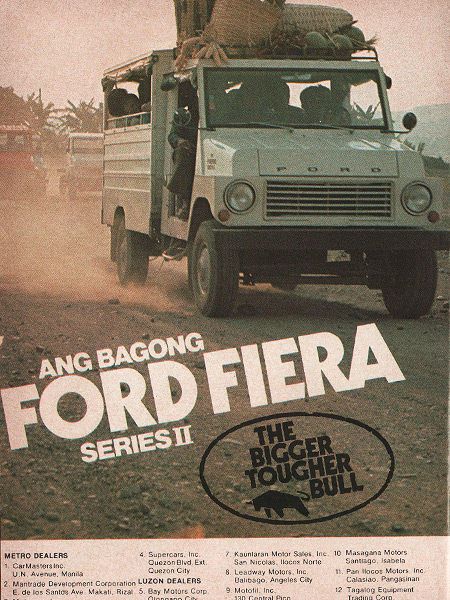 ADVERTISEMENT - CONTINUE READING BELOW
Before the American brand took over local roads with their massive pick-up trucks, they proved their usefulness with this series. The Ford Fiera was hardier than it was attractive; It got the job done and then some. Take a look at this old-style Asian utility vehicle, fondly called "Fiera" by the older generations. And for commuters in the Pasay area, yes, you probably have spotted them alongside other Asian utility vehicles (AUVs) like General Motors' Harabas and Carco-Mitsubishi's Cimmaron picking up passengers.
Mazda 808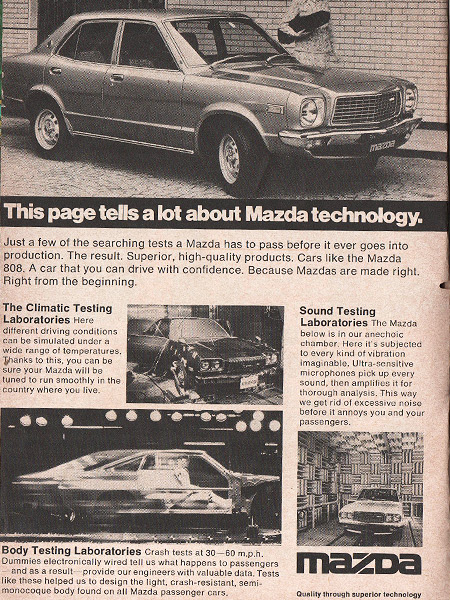 ADVERTISEMENT - CONTINUE READING BELOW
Remember how much copy old print ads used to have? This vintage Mazda print ad has more words than the infographics we usually see online today, and as promised, the page definitely says a lot. Check out the anechoic chamber on the lower right: Who knew car makers went through all that effort when developing new rides?
Mitsubishi Colt Galant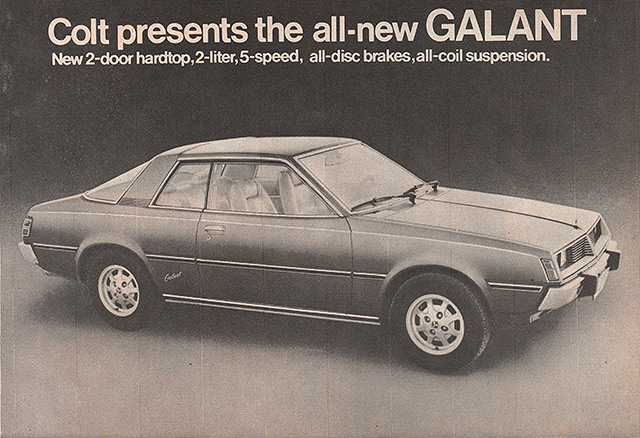 ADVERTISEMENT - CONTINUE READING BELOW
The Mitsubishi Colt Galant was still pretty new when this ad came out in November 1978, as the first ever model came out in 1969. This ad had a lot less copy but no less of an impact. After all, the sleek two-door design said enough on its own.
Volkswagen Passat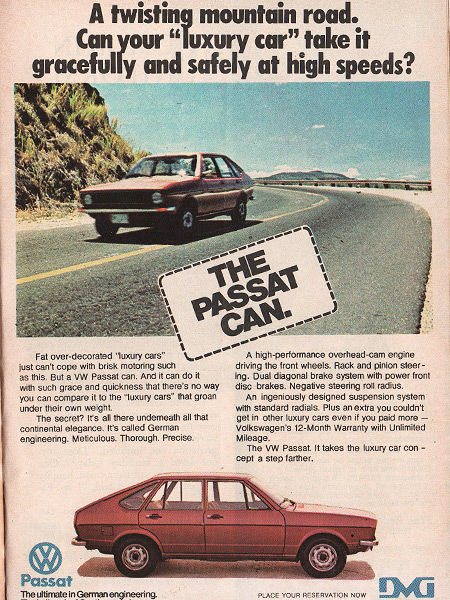 ADVERTISEMENT - CONTINUE READING BELOW
This spacious sedan took luxury and transformed it for family use. Volkwagen came out with this series in 1973 and is still making them today—sans the hatchback. The German car maker may have said goodbye to the good ol' beetle in 2019, but at least the facelifted version of the Passat is here to stay.
Nissan Datsun Pick-Up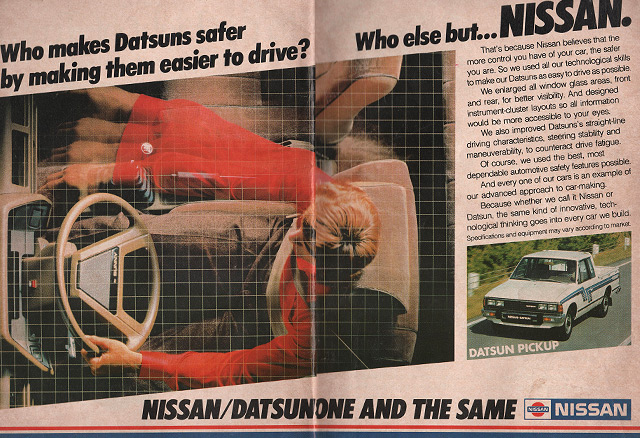 ADVERTISEMENT - CONTINUE READING BELOW
By the time the '80s hit, Nissan was more than ready to reintroduce itself. They began the shift from Datsun to Nissan with the tagline "One and the same." This 1983 ad for a pick-up truck boasted a new and improved design.
Nissan Datsun Bluebird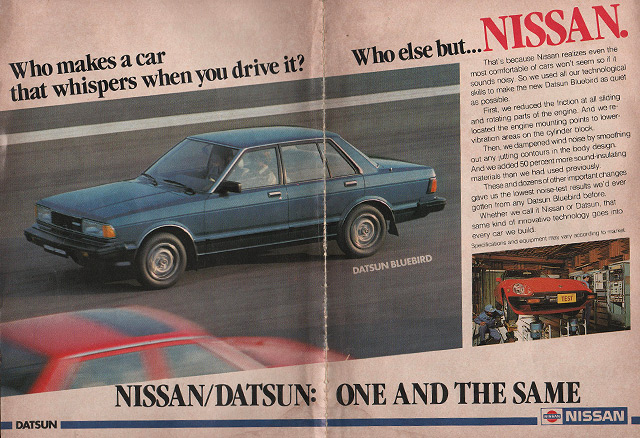 ADVERTISEMENT - CONTINUE READING BELOW
Nissan came out with this ad in the same year as the pick-up. The high-end Bluebird was refitted with more comfort and less noise. Anyone else remember spotting these cars cruising around Metro Manila streets back when they were way less congested?
Volvo 850 GLT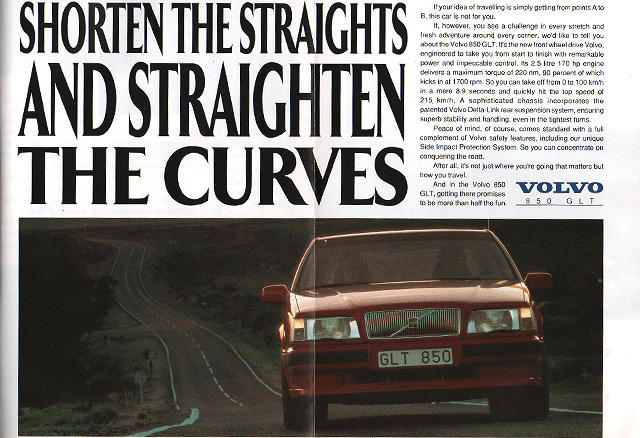 ADVERTISEMENT - CONTINUE READING BELOW
Check out that jump from the Honda N360's maximum speed of 115 kilometers per hour in 1968 to this Volvo's 215 kilometers in 1994. The Volvo 850 was arguably one of the most popular cars pre-2000s. Chances are you were taught how to drive in one!
Share this story with your friends!
---
Help us make Spot.ph better!
Take the short survey
Load More Stories