DOH Says Dolomite in Manila Bay Has "Minor Effects"
Vergeire said it could cause respiratory issues, eye irritation, and diarrhea.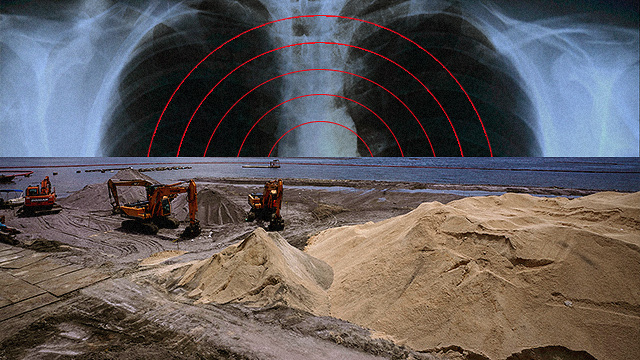 (SPOT.ph) Ongoing operations to fill 500 meters of Manila Bay's coast with white sand is getting flak from different sectors of the society: environmentalists are calling out its harmful effects to the marine ecosystem, scientists are expressing concern over its possible effect when a strong typhoon hits the Metro, and health experts are alarmed over the potential hazards to the human body. As clarified by the Department of Environment and Natural Resources, the sand being used is not actually white sand from a beach, but "crushed dolomite boulders." The material, all 3,500 metric tons of it, was shipped from Alcoy town in southern Cebu to the Manila Integrated Cargo Terminal in Manila.
Amid all the scrutiny, DENR Undersecretary Benny Antiporda said, "Tulungan na lang nila ang gobyerno. All these health hazards, etc, that they are saying, they have to prove it."
In a press briefing by the Department of Health on September 7, Undersecretary Maria Rosario Vergeire said that medical literature shows that crushed dolomite can cause adverse respiratory reactions. She clarified, however: "Hindi naman po natin sinasabi na when you go to Manila Bay, you'll get it at once, pero 'yon lang po ang sinasabi ng mga artikulo."
ADVERTISEMENT - CONTINUE READING BELOW
Vergeire then cited the effects of dolomite based on studies: "Dolomite dust, pag naging dust na siya, nag-aerosolize sa air—it can cause respiratory issues. Pag napunta sa mata, nagkakaroon ng irritations. Pag na-ingest, it can have discomfort sa gastrointestinal system natin, magkakaroon lang ng konting sakit ng tiyan at pagtatae. These are the minor effects of dolomite na nilagay doon sa Manila Bay," she added.
Here are academic studies and safety reports pointing out that dolomite can be hazardous to health:
Respiratory disorders associated with heavy inhalation exposure to dolomite dust
In a 2012 study published on the Iranian Red Crescent Medical Journal and available online via the U.S. National LIbrary of Medicine, it was concluded that "exposure to high atmospheric concentrations of [dolomite] is likely to be associated with respiratory symptoms." The methodology of the research compared a group of 39 individuals "engaged in digging and excavating activities that were in operation for building a local dam" and a group of 40 non-exposed employees. Subjects were interviewed about their respiratory health and they underwent chest x-ray and lung function tests. The digging sites were also checked for dolomite through the use of X-ray fluorescence technique to determine the chemical composition of the dust.
CONTINUE READING BELOW
Recommended Videos
Leigh Hanson's Safety Data Sheet for Dolomite
Chemicals and compounds always go with a Material Safety Data Sheet (MSDS), which is a document containing information about the potential hazards and how to safely handle them. They're especially useful for shipping chemical products and any other building material, such as—in this case—dolomite.
ADVERTISEMENT - CONTINUE READING BELOW
Lehigh Hanson, Inc., a Texas-based supplier of cement, ready-mixed concrete, asphalt, and other building materials, issued a safety data sheet for dolomite in 2012. The document says that dolomite (a.k.a. crushed stone, calcium magnesium carbonate, and other aggregates) has the following hazard statements: "may cause cancer," "may cause damage to organs (lung) through prolonged or repeated exposure," "causes skin irration," and "causes serious eye irritation." It also pointed out that dolomite is a "naturally occurring mineral complex that contains varying quantities of quarts (crystalline silica)" and "respirable crystalline silica may cause cancer."
Blue Mountain Minerals' Safety Data Sheet for Dolomite
Another U.S. based contractor, this time a supplier of limestone and dolomite for agricultural and industrial applications, identified similar hazards for the material as last updated in 2015. It explained the "Globally Harmonized System Classification" for dolomite as: "irritating to the eyes (Category 2B, Mild Irritant), respiratory sensitizer, and skin (Category 3, Mild Skin Irritation)." It other words, "can cause skin, respiratory, and eye irritation." Toxicological information also indicate target organs: "eyes, skin, and respiratory system"; exposure routes: "inhalation, skin, or eye contact"; and symptoms: "Irritation to eyes, skin, mucous membrane; cough, sneezing, rhinorrhea (discharge of thin nasal mucous); and lacrimation (discharge of tears)."
The National Lime and Stone Company's Material Safety Data Sheet for Dolomite
The National Lime and Stone Company, an Ohio-based supplier of crushed stone and mineral products, has the same information about dolomite. In a data sheet prepared in 2015, it explained that effects of overexposure to dust may irritate the respiratory system, eyes, or skin. While it pointed out that dolomitic limestone is not listed as a carcinogen, crystalline silica—a component of the product—is listed.
ADVERTISEMENT - CONTINUE READING BELOW
Lhoist Data Sheet for Dolomite
Lhoist, which operates in the U.S. and Canada, classified dolomite with the following hazards identification: Carcinogen - Category 1, Specific Target Organ Toxicity Single Exposure – Category 3 (Respiratory System), and Specific Target Organ Toxicity Repeat Exposure – Category 1 (Respiratory System). According to their MSDS, dolomite "may cause respiratory irritation, causes damage to lungs through prolonged or repeated exposure when inhaled, and may cause cancer through inhalation."
Hey, Spotters! Check us out on Viber to join our Community and subscribe to our Chatbot.
Share this story with your friends!
---
Help us make Spot.ph better!
Take the short survey
Load More Stories