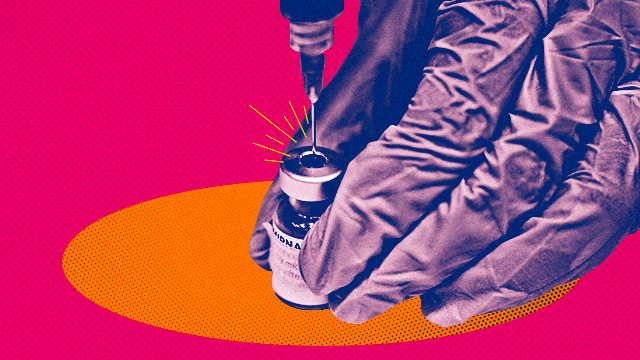 (SPOT.ph) Metro Manila's vaccination program started in March with the Philippine government looking to inoculate 70 million Filipinos (or 70% of the population) and achieve "herd immunity" by the end of 2021. This target, however, was reduced to a more realistic 50 million to achieve "population control." But as of August 5, the Philippines has only inoculated a little over 10.3 million Filipinos, or 9.5% of the population.
Local government units are doing their best to ramp up their vaccination programs and hoping that the vaccination supply increases, too—all alongside the enhanced community quarantine implemented from August 6 to 20. If you still haven't received your first dose or have been having trouble scheduling a slot, here's a comprehensive guide to every city's vaccination drive. All local government units in Metro Manila are now vaccinating A1 (health workers), A2 (senior citizens), A3 (persons with comorbidity), A4 (workers), and A5 (indigent) priority groups.
ADVERTISEMENT - CONTINUE READING BELOW
Also read:
You Can Book Evening Vaccination Slots at These Cities in Metro Manila
These Cities in the Metro Have "Tamper-Proof" Vaccination Cards
These Cities in Metro Manila Allow Walk-Ins for COVID Vaccination
Here's everything you need to know about the Metro Manila vaccination programs (as of August 9, 2021):
Caloocan
Caloocan City has so far inoculated more than 550,000 residents and workers with about 330,000 of them fully vaccinated. Before the enhanced community quarantine (ECQ), the city's vaccination team does on-site vaccinations at senior pension payout sites on Tuesdays and Thursdays to bring the program closer to the elderly. Vaccination sites and the brand of vaccine to be administered are also regularly posted on Mayor Oscar "OCA" Malapitan's Facebook page.
On August 5, the city started enforcing a pre-listing system within barangays. For online appointments, local residents and workers only have to choose their vaccination site, date, and time. The current sites for online appointments are SM Sangandaan, Notre Dame of Greater Manila, Caloocan Sport Complex, and Metro Plaza Quirino. Only senior citizens are allowed for walk-in vaccinations during the enhanced community quarantine (ECQ).
Vaccination sites:
SM Sangandaan Cinema Complex
Caloocan City North Medical Center
Caloocan City Medical Center
Zabarte Mall
Metroplaza Bagong Silang
Metroplaza Quirino
Notre Dame of Greater Manila
Where to register: Caloocan COVID-19 Vaccine Profiling
Las Piñas
The City of Las Piñas regularly announces the available vaccination sites and schedules through their Facebook page. As of August 8, there are currently over 214,000 fully vaccinated individuals in the city, with a total inoculation of around 490,000 doses. Seniors are assigned special sites to encourage them to get vaccinated, and are the only ones exempted from presenting a QR code or Patient ID. Lining up during curfew hours is prohibited; an individual can only do so from 6 a.m. onwards. 
Vaccination sites: 
SM Center Las Piñas
SM South Mall
Robinsons Place Las Piñas
The Tent at Vista Global South
Village Square
University of Perpetual Help System Dalta Gym
Las Piñas Doctors Hospital
Almanza Uno Covered Court
TS Cruz Covered Court
Golden Acres Covered Court
San Antonio Covered Court
Gatchalian Covered Court
Bambusetum Covered Court
Verdant Covered Court
CAA Elementary School
Pamplona Elementary School
Las Piñas Central Elementary School 
ADVERTISEMENT - CONTINUE READING BELOW
Where to register: eZconsult
Makati
The city has plenty of initiatives to encourage people to get the jab. Fully vaccinated seniors are given P1,000 worth of gift certificates. They also have programs like Vax OTG for residents who are not able to fall in line every Thursday and Friday from 3 p.m. to 7 p.m., as well as Vax H2H to inoculate bedridden senior citizens in their homes. 
As part of their security measures, Mayor Abigail Binay said on July 9 that vaccination cards in Makati City have "a holographic sticker with a unique code that cannot be replicated or forged." She added that this becomes visible only under blue light. Cards also have unique QR codes that establishments and medical centers can scan to see a person's vaccination status. As of July 31, the city has vaccinated around 167,000 residents. As with most cities in the Metro, walk-ins are not allowed. Make sure you have received an SMS with your confirmation number from BAKUNAMKT before going to a vaccination site.
Vaccination sites:
Power Plant Mall
Glorietta 5
Ayala Malls Circuit
San Lorenzo Place Mall
Makati Coliseum
Benigno Aquino National High School
Palanan Elementary School
Fort Bonifacio Elementary School
Where to register: Proud Makatizen
Malabon
Workers and residents in Malabon City can either pre-register through a Google Form page or through a physical form at their respective barangay health center. They also allow walk-in seniors on selected dates, which are announced through 100% Pusong Malabon Facebook page. On August 8, they announced that they would open a special first dose lane for senior citizens in all vaccination sites, and that they will also administer the jab to the senior citizen's registered companion from any category. Around 75,000 individuals have been fully inoculated as of August 2.
Vaccination sites:
Robinsons Town Mall Malabon
Fisher Mall Malabon
Oreta Sports Complex
Epifanio Delos Santos Elementary School
Potrero Elementary School
Arellano University - Elisa Esguerra Campus
Ninoy Aquino Elementary School
Ospital ng Malabon
Acacia Elementary School
Malabon National High School
Longos Elementary School
ADVERTISEMENT - CONTINUE READING BELOW
Where to register: Malabon City COVID-19 Vaccination Pre-Registration Form
Mandaluyong
Mandaluyong City has fully vaccinated more than 219,000 residents and workers. Prior to the enhanced community quarantine, they extended the hours of vaccination at two vaccination sites: City Hall Grounds (across Petron Station) and Megatrade Hall at SM Megamall. The evening schedule is from 5 p.m. to 8 p.m., and available to A1 to A5 priority groups. Schedules for both the city's Bakuna Night initiative and the regular hours for vaccination are posted on the city's Facebook page.
Vaccination sites:
SM Megamall
Forum Robinsons
La Salle Greenhills
Williams Center
Shangri-La Plaza Mall
Andres Bonifacio Integrated School
Pedro P. Cruz Elementary School
Jose Rizal University
Rizal Technological University
Mandaluyong City Medical Center
Hulo Integrated School
Mauway Gymnasium
Namayan Gymnasium
Eulogio Rodriguez Integrated School
Where to register: MandaVax
Manila
Manila made headlines in mid-June after residents complained of long queues at vaccination sites. The city allowed walk-ins at various locations, prompting people to line up as early as 2 a.m. just to get a slot. Because of this, Manila Mayor Isko Moreno announced that a no-walk-in policy would be implemented on June 21, only to scrap it later in the day following a low turnout.
On August 2, the city announced their plans to make vaccinations 24/7. Currently, three schools serve as 24/7 vaccination sites, with 1,000 doses allotted for each site. On August 5—a day before the enhanced community quarantine took effect–plenty of individuals went to vaccination sites as early as curfew hours. People reportedly came in droves because of fake news—particularly one about unvaccinated individuals not being allowed to go out during the ECQ.
On August 7, Mayor Isko Moreno said that barangays will distribute stubs that indicate the time and assigned vaccination site. Apart from the stub, individuals scheduled for vaccination will also have to bring their ID, QR code, and printed waiver form. Walk-ins are not allowed. 
ADVERTISEMENT - CONTINUE READING BELOW
They have fully vaccinated more than 666,000 Manila residents and workers. Vaccinated individuals can secure a copy of their vaccination certificate, which can be used for travel, through the Manila Covax website. 
Vaccination sites:
Emilio Jacinto Elementary School
Vicente Lim Elementary School
Pres. Sergio Osmena High School
Francisco Benitez Elementary School
Andres Bonifacio Elementary School
Pedro Guevarra Elementary School
Juan Sumulong Elementary School
Ramon Magsaysay High School
Moises Salvador Elementary School
Rafael Palma Elementary School
Justo Lucban Elementary School
Aurora Quezon Elementary School
Sta. Ana Elementary School
EARIST
Isabelo Delos Reyes Elementary School
Holy Trinity Academy
Jacinto Zamora Elementary School
Quirino Grandstand (drive-thru)
Where to register: Manila CoVax
Marikina
Marikina City doesn't allow walk-ins in their vaccination sites. They have separate registration links based on four categories: senior citizens, bedridden senior citizens, persons with comorbidities, and others. The city also hand-delivers letters to households with the schedule of vaccination so that residents won't miss an appointment. As of July 12, around 190,000 residents have gotten the jab.
Vaccination sites:
Marikina Sports Center
Marikina Elementary School Covered Court
Where to register: Senior Citizens | Seniors who are bedridden | Persons with comorbidities | Others
Muntinlupa
Muntinlupa City has a "Bakuna sa Bahay" program, which caters to bedridden residents. Prior to the enhanced community quarantine, they allowed walk-ins when there are extra vaccines at the different sites. "Papayagan lamang ang walk-in kung may sobrang bakuna mula sa alokasyon ng may appointment pero no-show sa araw na iyon," the MunCoVac page said in a post. Currently, a limited number of senior citizens are allowed even with no prior appointment at vaccination sites. They have fully vaccinated more than 145,000 individuals.
Vaccination sites:
SM Center Muntinlupa
Tunasan Victoria Health Center
Tunasan Pavillion (Arandia Street)
Tunasan National High School, Centennial Ave. (formerly MNHS Tunasan Annex)
Ayala Malls South Park

Putatan: Soldier's Hills Covered Court

Bayanan: Bayanan ES Unit 1 (Baywalk)

Festival Mall
Alabang Town Center (for A4 non-residents)
New Cupang Health Center
Sucat Covered Court
Buli Elementary School
Colegio de Muntinlupa
ADVERTISEMENT - CONTINUE READING BELOW
Where to register: MunCoVac
Navotas
Navotas rolls out a list of names to be vaccinated per site on the next day through their page Navoteño AKO! Some sites vaccinate until the A5 priority groups, while others cater to specific essential workers. They also have a "Vax 1, Take 1" campaign, where a senior citizen to be vaccinated with the one-dose Janssen vaccine can bring a companion to be vaccinated with the same brand, as long as the said companion is between 18 to 59 years old and lives in Navotas as well. Navotas has fully vaccinated more than 85,000 individuals with a target of 150,000. 
Vaccination sites:
Kaunlaran High School
Daanghari Elementary School
Tumana Health Center
Navotas Elementary School-Central
Tanza Elementary School
Tangos National High School
Navotas City Hospital
Where to register: COVAX Navotas
Parañaque
Parañaque City has one of the most interesting vaccination cards in the Metro. Instead of a small piece of paper or card, individuals get a vaccination booklet, which has a QR code plus space for a 1x1 photo. Inside, there's plenty of space for other non-COVID vaccines in case they get vaccinated in their LGU's health center. Their Facebook page, Parañaque City - Public Information Office, also posts the list of names for next day's vaccination schedule to make sure that no one misses their dose. As of July 20, they have fully vaccinated 130,000 individuals.
Vaccination sites:
Ayala Malls Manila Bay
SM BF
SM Bicutan
SM Sucat
Where to register: Parañaque Vaccine Form
Pasay
ADVERTISEMENT - CONTINUE READING BELOW
Pasay City's vaccination campaign is "Vacc to the Future"—complete, of course, with that font from the '80s movie. As of writing, they only allow walk-ins for senior citizens and persons with disabilities. Those part of priority groups could opt to register via their barangay or the city's EMI portal app. To date, the city has fully vaccinated more than 134,000 individuals. 
Vaccination sites:
Cuneta Astrodome
Resorts World Manila
SM Mall of Asia Giga Vaccination Center
Pasay City West High School
P. Zamora Elementary School
A. Bonifacio Elementary School
Timoteo Paez Elementary School
Office of the Senior Citizens' Affairs
M. Dela Cruz Health Center
Barangay 178 Gym
Barangay 187 Covered Court
Barangay 194 Covered Court
Where to register: Pasay EMI Portal
Pasig
On July 15, Mayor Vico Sotto celebrated the 100,000 mark for the second dose, but revealed that they're running out of vaccines for the first dose. "The supply chain is a global issue. We can't blame anyone. What matters is our capacity is good (it's higher than planned)," he added. The young mayor also used a GIF of himself to express his feelings about the situation. As of August 3, they have surpassed the 400,000 mark in terms of deployed vaccines. The city has fully vaccinated more than 170,000 individuals. 
Vaccination sites:
Pasig Elementary School
Buting Elementary School
Kalawaan Elementary School
San Miguel Elementary School
Pineda Elementary School
Santolan Elementary School
Oranbo Elementary School
Dr. Sixto Antonio Elementary School
Canlogan Elementary School
Eusebio High School
Bagong Ilog Elementary School
Sta. Lucia High School
Manggahan High School
Manggahan Multipurpose
Pinagbuhatan Elementary School
Pinagbuhatan High School
Tanghalang Pasigueño
Pasig City General Hospital
Pasig City Children's Hope
Rizal Medical Center
TriCity
The Medical City
Where to register: PasigPass
Pateros
Pateros Mayor Miguel Ponce III announced on June 16 that the municipality is now accepting walk-in clients in an effort to increase their daily rate, limited to Pateros workers and residents belonging to the A1 to A4 priority groups. However, they had to temporarily halt this initiative in light of the ECQ. They have fully vaccinated more than 30,000 individuals with a target of 49,000 residents. 
ADVERTISEMENT - CONTINUE READING BELOW
Vaccination sites:
AMC Gym
Pateros Catholic School-Annex
Pateros Catholic School-Main
Villa Monica Clubhouse
Where to register: 0949-623-555
Quezon City
Metro Manila's biggest city launched "Bakuna Nights" on June 16 in an effort to inoculate workers whose only free time starts at 6 p.m. To register, just log on to QC Vax Easy's website and check "Gabi" (night) for the question on your availability (Kailan ka mas available para sa iyong bakuna?). They're also encouraging Quezon City-based businesses to partner with the local government unit and facilitate inoculation of their employees right at their office by sending an e-mail to qcprotektodo@quezoncity.gov.ph. 
They also started affixing "tamper-proof security seals" on vaccination cards of local residents and workers following their second doses on July 9. The hologram seals are countersigned by authorized representatives of the LGU's Task Force Vax to Normal. 
The city has a total of 34 vaccination sites, the biggest number among all NCR cities. The list  includes SM City Sta. Mesa, Robinsons Magnolia, SM City Fairview, Robinsons Novaliches, and Smart Araneta Coliseum. 
As of August 5, the city has administered 1,612,773 vaccines for residents and workers under the A1 to A5 priority groups. Around 620,000 individuals are already fully vaccinated.
Vaccination sites:
Esteban Abada Elementary School
Batasan Hills National High School
Emilio Aguinaldo Elementary School
Pinyahan Elementary School
Kaligayahan Activity Center
Placido del Mundo Elementary School
Ateneo de Manila University - Grade School Cafeteria
UP-Ayala Technohub Sports Center
Robinsons Galleria Movieworld
Smart Araneta Coliseum
Balingasa High School
Commonwealth Elementary School
Quirino Elementary School
Alejandro Roces High School
Lagro High School
Pasong Tamo Elementary School
SM Skydome
Cathedral Parish of Good Shepherd
CCF Tandang Sora
Celebrity Sports Plaza
QC Hall Covered Walk
Ayala Malls Cloverleaf
Ayala Malls Fairview Terraces
Ayala Malls Trinoma
Ayala Malls UP Town Center
Fishermall
SM North EDSA
SM Fairview
SM Novaliches
SM Sta. Mesa
Robinsons Novaliches
Robinsons Magnolia
Waltermart
Ever Commonwealth
Eastwood City
Where to register: QC Vax Easy
San Juan
ADVERTISEMENT - CONTINUE READING BELOW
San Juan City was the first Metro Manila LGU to surpass their target numbers for vaccination—for the first dose at least. They were able to administer the first dose of COVID-19 vaccines to about 95,000 people of their 132,512 population on July 12, hitting the 112% mark of their target. The city is looking at having 70% of their population fully vaccinated in August.
Vaccination sites:
FilOil Flying V Center Arena
V-Mall Greenhills
Theatre Mall Cinemas 1 and 2 
Where to register: VaxReg
Taguig 
Senior citizens in Taguig are allowed to register on-site and get vaccinated on the same day. For workers who can't miss a day's work, they officially launched their version of Bakuna Nights on July 14 at the Taguig High Street Mega Vaccination Hub. They have also deployed the Taguig Vaccination Bus to accommodate more residents and augment the capacity of the city's vaccination hubs.
During the enhanced community quarantine, individuals with scheduled vaccination at selected vaccination centers that are allowed to operate until midnight are exempted from the curfew hours, as long as you are scheduled for your first dose or that you weren't able to get your second dose during your scheduled slot in the day. As of August 7, they have fully vaccinated over 260,000 individuals.
Vaccination sites:
Taguig Lakeshore
Vista Mall Taguig
Bonifacio High Street
EM's Signal Village Elementary School
Western Bicutan National High School
Venice Grand Canal Mall
Sea Breeze Resort
SM Aura
Lakeshore Trade Center
RP Cruz Elementary School
EM's Signal Village Elementary School
Western Bicutan National High School
St. Lukes Medical Center
Medical Center Taguig
Sea Breeze Resort
Where to register: TRACE
Valenzuela
Valenzuela City has fully vaccinated more than 160,000 residents and workers, and they're moving to inoculate up to 476,00 people. Prior to the enhanced community quarantine, they have also started evening vaccination from 6 p.m. to 10 p.m. at Pasolo Elementary School for the A4 priority group. 
ADVERTISEMENT - CONTINUE READING BELOW
Vaccination sites:
Pasolo Elementary School
Justice Eliezer Delos Santos National High School
Gen. T. De Leon National High School 
Karuhatan West Elementary School
Where to register: Valenzuela ValTrace
Hey, Spotters! Check us out on Viber to join our Community and subscribe to our Chatbot.
Your guide to thriving in
this
strange new world.
Share this story with your friends!
---
Help us make Spot.ph better!
Take the short survey
More Videos You Can Watch
Load More Stories