These Are Some of Cebu's Creepiest Urban Legends
Hauntings, sightings, and even mysterious deaths.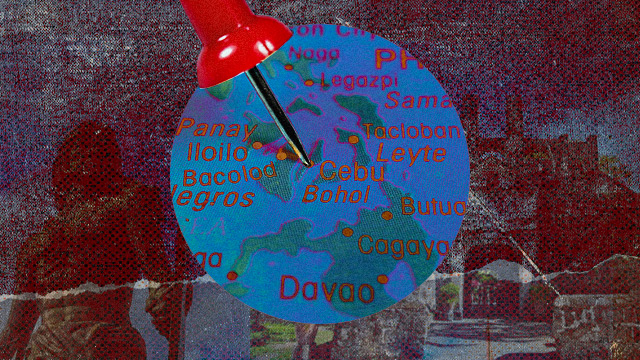 (SPOT.ph) Growing up in Cebu, you're sure to have heard your share of ghost stories—or even experienced your own. The island's violent past has created a trove of mysteries and curiosities that over time became folklore and urban legends. These narratives have been retold time and time again, so much so that they've come to be accepted as true despite their unverifiable origins. Circles of friends have exchanged these stories in classrooms, pantries, bars, and jeepneys and gotten that inexplicable thrill we get from talking about the unexplainable.
As the city turns more and more into a concrete jungle, a couple of these terrifying tales are maybe in danger of fading from the public's memory. Here are some places associated with urban legends in Cebu. Be warned: Do not read this past midnight—unless you think you're braver than most. Just know you've been warned.
ADVERTISEMENT - CONTINUE READING BELOW
These urban legends in Cebu are not for the faint of heart:
The Sisters at Perpetual Succour Hospital 
According to its official website, Perpetual Succour Hospital's beginnings can be traced back to a wooden, ramshackle house, where the Sisters of St. Paul of Chartres set up a small hospital to take care of the sick and the poor. In the war, Japanese bombs caused the hospital to burn down, forcing the nuns and their patients to evacuate to Iloilo. In 1951, they returned to Cebu to continue their mission, and by the late 1950s, the Perpetual Succour Hospital was built and stands there to this day. Having a remarkable history behind it, you wouldn't wonder why many have reported sightings within the hospital walls. We've heard hospital personnel recount stories, among which was seeing a nun walking up and down the corridors, day and night. The Sisters could be seen either entering or leaving patients' rooms. It is believed that they remained in the hospital to comfort souls moving on to the next life, for it was believed that whoever they visited was soon going to die. 
CONTINUE READING BELOW
Recommended Videos
The Mysterious Monument
According to historian Resil Mojares's essay, "A Hero in Search of a Monument," there was once a plan to build a "15-storeys-high" monument of Lapu-Lapu, like a local Statue of Liberty. But such a project proved to be too huge, literally. Instead, in 1933, a life-sized monument of Lapu-Lapu was erected in the plaza of Opon, armed with a bow and arrow.
In quick succession, two mayors and one vice mayor died while holding office in 1934 and 1935. Townsfolk were convinced that the monument had something to do with the deaths: Lapu-Lapu's pana (arrow) was aimed straight at the municipal hall. In 1938, Lapu-Lapu's pana was removed, replaced with a staff and a bolo. That seemed to have lifted the curse, as the then-town executive Mariano Dimataga became the longest-serving mayor of Opon, now Lapu-Lapu City, for over 30 years. Curiously, according to Pigafetta's account, Magellan was killed by a poisoned arrow.   
ADVERTISEMENT - CONTINUE READING BELOW
The Apparitions at St. Joseph the Patriarch Parish Church 
Built in the 18th century, St. Joseph Parish Church looks splendidly maintained and renovated. But the addition of a second floor made something apparent not just to some clergymen and caretakers, but also to parishioners. From time to time, a dark-hooded figure reportedly appears at the back row of the second floor. Some made it out to be the deceased monsignor overseeing his beloved parish.
In the wee hours of the night, the caretakers say they also hear mumbles or cries coming from the pews. At times, the pews would slam hard against each other. The caretakers can only offer their prayers, as they believe the church is where the restless, tormented spirits go to seek peace.
The Tale of Two Haunted Buildings Along Escario Street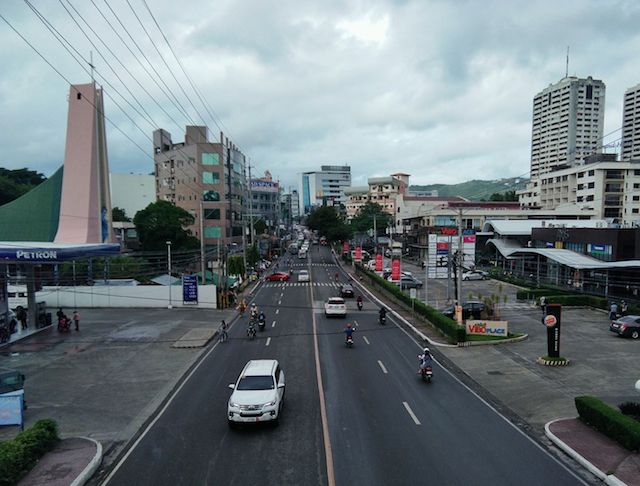 ADVERTISEMENT - CONTINUE READING BELOW
Cebu Pensione Plaza, situated along Escario Street, is reportedly a host to playful ghosts, whose footsteps clatter the hallways at night. A few of these footsteps stop at someone's door, and then there'd be loud frantic knocks that could be heard throughout the whole floor.
A small group of ghost hunters, a few of which were members of the Order of the Mystic Arts (now the Cebu Paranormal Society), even deemed the building that stood across the pension house too dangerous for their activities. User naomi6000 on the online form iStorya has also said as much, saying that it's "a gateway to the other side." That seems to be the only explanation to the strange, terrifying occurrences that had happened there decades ago.
According to old accounts, the building's construction had to be stopped after one worker died each month or suffered an accident. Its owner and some of his family members soon passed away too. In the years that it was abandoned, nearby residents could overhear recurring banging sounds from the building, as though the construction was still going on. Later, it was reconstructed into another, newer hotel. No more deaths have been reported since.
The Haunted University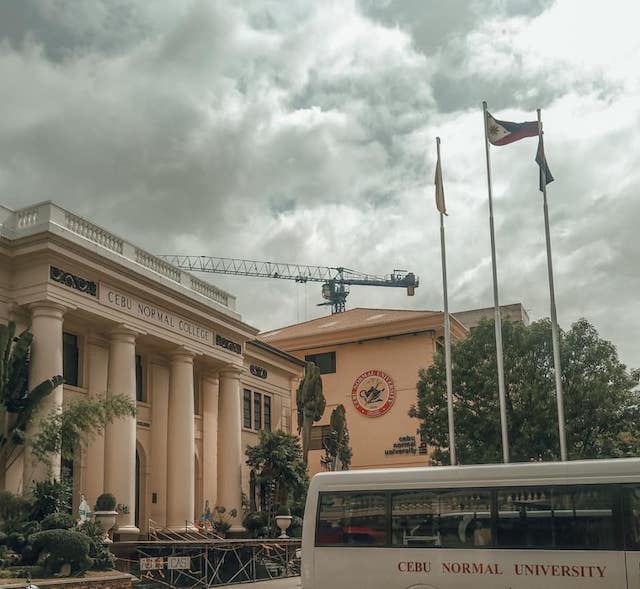 ADVERTISEMENT - CONTINUE READING BELOW
During World War 2, the Kempeitai or military police took over Cebu Normal University and used it as a death camp, where they tortured and executed hundreds of guerillas and sympathizers. What were once prison cells and beheading chambers are now used as admin offices and classrooms.
This probably explains why teachers and students spoke of chilling experiences they had at the school. Janitors and security guards who stayed after dark had the worst share of this horror. They reportedly heard cries of pain and incomprehensible Japanese shouting piercing through the walls. They reportedly spotted military men patrolling the grounds and disappearing like vapor in front of the admin building. 
Their university publication, Ang Suga, occasionally features a section that covers the latest horror stories floating around. Classes in the admin building in particular are not allowed to go beyond a certain time in the afternoon, while night classes are only held in the new buildings. 
The CNU admin building is a heritage site. It's over 100 years old. Until now, its facade has hardly changed and is still well-maintained. Periodically, a mass is held there for those who died in the war.
The Ruins of Compania Maritima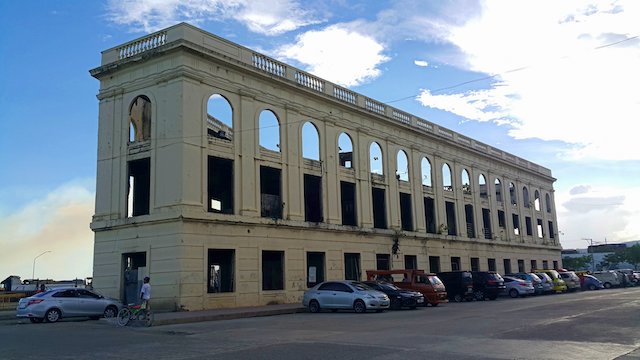 ADVERTISEMENT - CONTINUE READING BELOW
In 1910, the building was first known as the Fernandez Building, later occupied by Shamrock Hotel (related to today's Shamrock Otap and Shamrock Pension House). It was nearly destroyed during the Liberation of Cebu in 1945. Afterward, it was repaired and became the Compania Maritima main office. Despite being then one of the biggest fishing lines in Cebu, the business fell, filed for bankruptcy, and closed in the late 1980s. The building has been abandoned ever since. 
Declared a heritage site, this once-prominent building has long turned into a hollow structure, which still retains its classic American arcs, balusters, and beams that hint of its heyday. It fronts the seaside, so anyone passing by South Road Properties or Cebu City Hall can glimpse at these striking ruins. Its outside area is now used as a parking lot. 
But as night falls, the building awakens, revealing a life (or afterlife) of its own. Over the years, passersby and drivers have reported seeing entities standing and walking around the deserted edifice well into the night. Others have reportedly heard sounds coming from the inside. Dogs barked and howled at the building in reaction to these occurrences. Come daylight, the ruins of Compania Maritima Building turn silent as if it has fallen asleep.
The Beautiful, Haunted District of Parian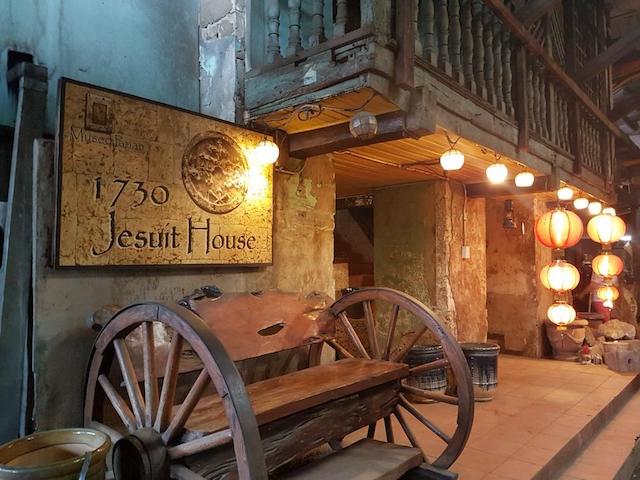 ADVERTISEMENT - CONTINUE READING BELOW
At the heart of Parian, you'll find three of the country's oldest Spanish colonial houses. They are a stone's throw from each other: the Casa Gorordo, the 1730 Jesuit House, and the Yap-Sandiego residence. In these ancestral houses, Cebu's richest and most influential people once lived and died. All of them are now museums and heritage sites.
Founded in 1590, Parian is one of the oldest places in the Philippines, and so a witness to the city's deadliest times. Strolling the district's streets and alleys at night, you'll feel like you're winding back the centuries. And indeed, nothing turns back time more than seeing headless priests standing or war soldiers marching the district. These apparitions are commonplace, as the dwellers will tell you, sometimes joking about how they'd ask the ghosts where they're going.
One of the old stories in Parian tells about the seven Jesuits murdered by a single man. Out of remorse, the murderer carved a cross on the walls of the Jesuit House, which tied the souls of seven priests to the house. Many believe the seven priests remained as caretakers, because they appear now and then, and in 2014, one of them is believed to have been caught on camera. A black figure was photographed standing among the crowd during a night tour at the house. Jesuits are known to wear black cassocks. That said, maybe Parian took the meaning of its name too far. 
The Dorm in the Middle of the Street 
ADVERTISEMENT - CONTINUE READING BELOW
Ramos Street is a lively street throughout the day, since business buildings, shops, cafés, pharmacies, a hospital, and a school fill the whole length of the street. It also links up with the then-sleepless Mango Avenue (now General Maxilom Avenue). Pedestrians flood the sidewalks, and vehicles rule the road from day to night. It's only when midnight falls, most shops close, and the students and workers have already gone home that you'll notice the hidden horrors of F. Ramos Street. The huge, old trees that line it suddenly appear imposing, an eerie silence seems to have fallen over the place like a blanket, and passersby begin spotting ghostly apparitions.
Based on some accounts, most of these sightings take place near St. Mary's Dormitory, which was across Velez Hospital and University. The all-ladies dorm has since built up a reputation of being haunted. Spirits and doppelgangers are said to plague the hallways and rooms, most notably in the fourth and fifth floors of the dorm. There's also a story about how two boarders there attempted to commit suicide—one because she had failing grades, the other because she got pregnant. 
Minda Mora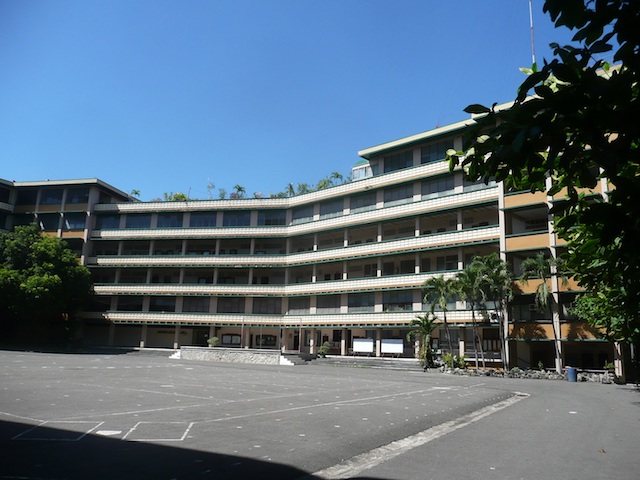 ADVERTISEMENT - CONTINUE READING BELOW
Here's how the urban legend goes: Minda Mora was an attractive, talented student of the University of San Carlos (USC) - South Campus. She had a passion for acting, and from the first time she performed onstage at the school cultural center, it was apparent she had the makings of a star. One night, she was late from finishing her rehearsals. Three guards on their usual late-night rounds saw someone hiding on the stage. One of them saw a shadow move and fired at it, but the shadow actually was Minda Mora. Her body was said to be buried within the cultural center.
As with all urban legends, the tale of Mora took on a life of its own and has spawned multiple, contradicting versions. Other stories say that Mora was raped. Some accounts base their story on a 1980s interview with someone who was in charge of the cultural center, who claim that Mora committed suicide on the mezzanine floor.
Nobody truly knows who Mora was, or whether she actually existed. No records were found of her name or other variations that could be "Minda Mora." There weren't even news reports of the incident. Still, more than a couple students in the campus have reportedly experienced Mora's haunting. Due to her passion for theater and the violent way her life ended, her spirit is believed to be tied to the Rudolf Rahmann Cultural Center. Students practicing in the center sometimes hear cries and footsteps coming from the back of the center, where there's a locked room where Mora's soul is said to dwell. Perhaps the craziest story of all is this: whenever someone mocks a nervous or bad performer onstage, that person reportedly dies a few days later.
ADVERTISEMENT - CONTINUE READING BELOW
UPDATE (September 30, 2021, 1 p.m.): This article has been revised to omit references to one well-known property.
Hey, Spotters! Check us out on Viber to join our Community and subscribe to our Chatbot.
We are now on Quento! Download the app and enjoy more articles and videos from SPOT.ph and other Summit Media websites.
Share this story with your friends!
---
Help us make Spot.ph better!
Take the short survey
Load More Stories