Champagne Problems: Will I Ever Feel Safe Enough to Travel Again?
One writer spirals about a vacation to Boracay.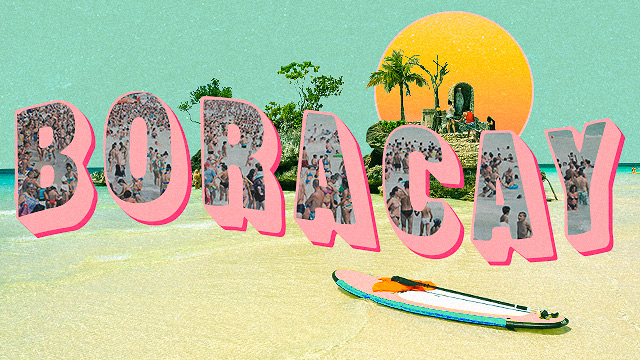 (SPOT.ph) Who knows if it's because of social media or airline seat sales, but we've all been conditioned to believe that travel is a normal part of life. But all that came to a grinding halt when the pandemic hit. Two years ago, February 2020 to be exact, I got on a plane not knowing it would be my last air trip in a long while. I wore a dust mask as a cute little accessory, but didn't believe it was necessary. Back then, I thought COVID would be gone in a matter of months, that our little tropical paradise would remain untouched the way it did back when SARS affected Hong Kong and our temperate Asian neighbors. I even purposely went out the weekend after Manila went on lockdown, thinking I had to "maximize" my time before Cebu would follow suit. That's how little I thought of this pain de mie. And then everything changed.
ADVERTISEMENT - CONTINUE READING BELOW
Also read: I Came Back to Metro Manila for RTO and Now I'm Questioning All My Life Choices
Thanks to the free flow of information that is the Internet, I wisened up to the reality of COVID and became the most paranoid person I know. I could only turn to a handful of friends who understood my level of paranoia. It was—still is—insane. At least that's how it feels to be told everything is alright again when I'm still just trying to catch up. Make it make sense!
I still haven't ventured out of the house except for once-in-a-lifetime milestones such as weddings and first birthdays. Even basic tasks like grocery shopping are still in the pick-up-slash-delivery realm for me—a privilege, I know. But for someone who's spent the past two years as a hermit, flying to Boracay actually feels like I've thrown myself off the deep end.
ADVERTISEMENT - CONTINUE READING BELOW
So, Why Boracay?
Short answer—another big unmissable occasion. I really don't have a reason to fly to a beach destination when I already live in Cebu. But it was a different world when I booked this trip in January 2022. RT-PCR tests were required, and almost everything there is open-air anyway. So I thought why not? The risk seemed manageable.
But as my departure neared, the island—and the rules—changed: the curfew was lifted completely, no form of testing was required for vaccinated guests, and foreign nationals were given the greenlight to enter the island. Not that limiting it to locals would make that much of a difference, but I just wanted to highlight how much had changed—for context and posterity. Even before my trip on April 1st, as I did my research by spending hours on Tiktok, I could already see how Boracay was changing. The crowds were reemerging; beachfront hotels were fully booked again; and queues formed outside restaurants. I could also feel my anxiety level rising, but I wasn't going to back out now that I sank so many pesos in nonrefundable bookings.
ADVERTISEMENT - CONTINUE READING BELOW
What's Boracay Like Now?
The only times anyone checked our Health Declaration QR Codes were at the check-in counter at the airport and at the jetty port at Caticlan, and not once on Boracay itself. On the island, not just by the beach, the people crowded—especially from Fridays to Sundays. A considerable number of them were walking around maskless. (There was only one night we saw policemen tell people to put their masks on.) So I guess you could say it's "normal." It gets less crowded on weekdays, especially from Tuesdays to Thursdays, so be sure to book your trip on those days if you plan on getting some R&R in.
ADVERTISEMENT - CONTINUE READING BELOW
As for food, it's easy to walk in most restaurants on weekdays, even at meal times. But on weekends, it's best to make a reservation. Even as early as a day in advance for the really popular places, like Pig Out Bistro, Muchos, Chacha's, and those at Station X. Others like Spicebird and Sunny Side Cafe don't accept reservations, so you'll have to queue in person. A quick workaround is delivery, if your hotel allows it.
If you miss the "old Bora," you'll be glad—in one way or another—to know that bars are a maskless wasteland on weekends. Close to midnight on a Friday or Saturday night, you can literally forget COVID exists. Escapism is available to you, if you crave it. The only difference now is you need to reserve (and maybe even pre-pay for) a table to be able to get in. Even if the curfew has been lifted entirely, some bars have posters indicating their closing time. Most of them say 2 a.m. but actually close later than that. Top picks are Epic, Om, and Wave; Station 2 is where it's at.
ADVERTISEMENT - CONTINUE READING BELOW
Water activities are also "back to normal." After the rehabilitation of the island, most of these activities were consolidated at select spots as jump-off points. There still are lots of sales agents hawking them by the beach though, so you're sure to bump into one of them as long as you're not staying at Station 0 where Shangri-La, Crimson, and Movenpick are. Some of them are also available for pre-booking online on sites like Klook, if you're the type who hates haggling.
How Did I Feel After Everything?
My flight arrived pretty late, so my first view of the main beach was at sunset. Even if my friends had already warned me, I was still taken aback by just how many people were there. But because of the flurry of activities—even before I landed at Caticlan, I was already late to the welcome party—there were moments when, to my horror, I genuinely forgot that we were still in the midst of a pandemic. But I'm also not going to deny how much fun that trip was. It was my first vacation in years, and all my close friends were there too. I even got to make new friends because of the wedding festivities.
ADVERTISEMENT - CONTINUE READING BELOW
But the scene-stealer was my roommate getting the worst of the stomach bug that seemed to be going around Boracay. To my knowledge, there were six people who caught it; only four were wedding guests. (A sign of how "normal" Boracay is now: it's so easy to find some friend or acquaintance who's also there.) My friends and I were supposed to stay days after the event line-up ended just to chill and visit the other beaches, but my roommate's condition was so bad that we asked our hotel's service center to call a doctor. They were able to find one and get him hooked to an IV line within the hour—props to Coast Boracay. The manager on duty, Sharmen, even helped us secure a very specific brand of antibiotics, which had to be sourced all the way from the mainland.
I can't say I'm ready to rejoin the outside world as I'm writing this in isolation, a five-day quarantine. The trip made me question the illusion of control that I've created at the start of the pandemic by delineating the inside (home) and outside worlds. Staying in a hotel already threatened that as housekeeping could freely come and go in their outside clothes. I can't explain to you the way my anxiety shot through the roof when the on-call doctor sat on my bed without a fresh PPE. Even my indisposed roommate kept glancing to check if I was going to have a meltdown. I kept it together for everyone's sake, but immediately called housekeeping to change the sheets after the doctor and nurse left.
ADVERTISEMENT - CONTINUE READING BELOW
I'm still recovering from everything that went down during the trip—but the bit of breathing space I had, even if it was cut with a layer of anxiety throughout—was a fun way to ease into the new post-COVID world. At least there, I didn't have to worry about infecting the senior citizens of my household—the primary, more pinpointed reason for my paranoia.
I still worry about the trajectory of our lives with the threat of COVID always looming over our heads. If the case numbers in China and the U.S. are any indication, we still can't do away with restrictions like mask mandates completely. But it also doesn't make sense to keep myself hidden away the same way I have for the past two years—both socially and financially. (RTO is real.) It's been extra tempting to rejoin the world after I've seen what it's like to live as if COVID is gone, but then I remember that there are those who still continue to do the right thing for immunocompromised individuals, and that desire to re-enter the world with reckless abandon fades just a tiny bit.
ADVERTISEMENT - CONTINUE READING BELOW
CONTINUE READING BELOW
Recommended Videos
We are now on Quento! Download the app and enjoy more articles and videos from SPOT.ph and other Summit Media websites.
Share this story with your friends!
---
Help us make Spot.ph better!
Take the short survey
Load More Stories