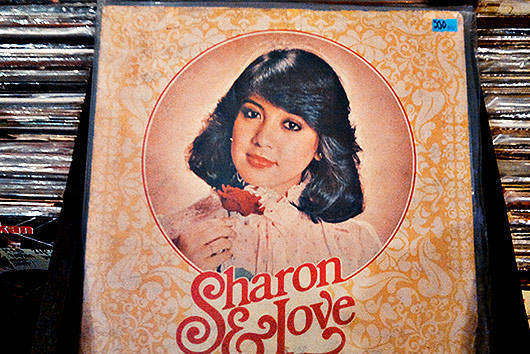 (SPOT.ph) They used to be everywhere until the advent of the CD forced vinyl factories to close shop and collectors to sell away what they thought at that point had become junk. But time has been kind in its judgement on the vinyl format, which unfortunately has become a pricey hobby for earnest music collectors. The up side is that the search for great vinyl qualifies as a worthy treasure hunt. And that warm sound the record makes, even that pop-pop sound from the stylus pressing dust in the groove gives character to the experience of listening to music. Here are 10 shops where you can find great vinyl.
This list is not ranked.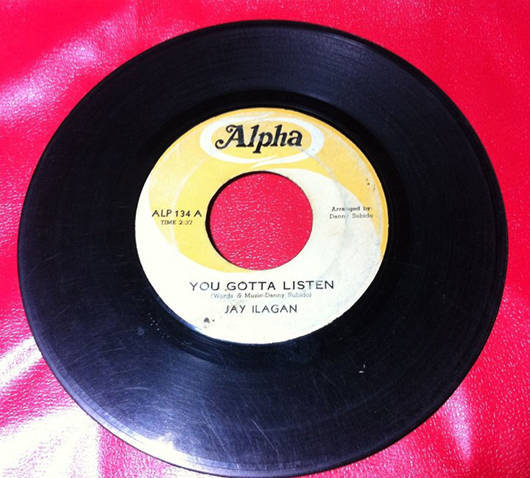 ADVERTISEMENT - CONTINUE READING BELOW
45 rpm at Vinyl DUMP Thrift Store in Cubao Expo. Photo from their Facebook page
1. Vinyl DUMP Thrift Store
Cubao Expo, Socorro Street, Araneta Center, Quezon City
Tel. No. 439-8558
Open daily from 10 a.m. to 8 p.m.
Formerly the Marikina Shoe Expo, the Cubao Expo is the now-famous place that turned collecting into an art. It's here where this shop is located, and where the Kagatan Vinyl Swap Meet first started. It has since turned into a quarterly get-together where collectors buy, sell, and trade. If you don't mind getting down and dirty, then crate-digging is the order of the day here.  There's also a house on neighboring 20th Avenue where a whole floor is littered with boxes of vinyl. You know right away this community is paradise for collectors. One can find, for example, a priceless item like a reprint of Anak Bayan's debut album-which, unfortunately, can fetch a pricey P500.
Also check out their Facebook page.
2. Golden Days Records and Collectables
27 Kamias Road, Quezon City (near EDSA, in front of the Orange Place Hotel)
Contact persons: Jojo Alba (0917-982-2938/932-2962) and Arnel Mena (0917-732-0261)
Open daily from 1 p.m. to 9 p.m.
This is a fairly new vinyl shop which relocated from the previous Kamuning thrift shop across the other side of EDSA. It has the friendly feel of a barber shop but with the warm smell of a vintage shop, and stacks of records and the preferred vinyl medium of funk and soul 45s for mixers, mashed-ups, and OPMs for the likes of the Radioactive Sago Project.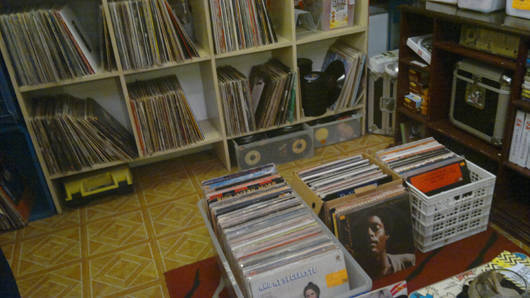 ADVERTISEMENT - CONTINUE READING BELOW
Some of the impressive finds at Tres Kuleros. Photo by Spot.ph
3. Tres Kuleros Records & Dry Goods
641 Boni Avenue, Mandaluyong City
Mobile No. 0927-823-0516
Open daily 1 p.m. to 9 p.m.
Tres Kuleros is about six blocks from the Boni Station of the MRT. You won't spot them right away because on the outside, the store is called "Next Frame," but it's in a building that also houses the Registry of Deeds office. Knock on their door, and someone will lead you upstairs to what is really a typical living room full of records and stereo equipment. Their collection is awesome-pricey, yet worth it. The OPMs, as in other stores, are expensive; make no mistake, those records have greater value now than your typical hipster choices.
Also check out their Facebook page.
4. MRI Music
Rm. 604, Travelers Inn, 7880 Makati Avenue
Tel. No. 895 7061 ext. 604
ADVERTISEMENT - CONTINUE READING BELOW
Open Mondays to Saturdays, 10 a.m. to 6:30 p.m.
For those who happen by this road, Room 604 of the Travelers Inn is a delightful surprise that houses over 10,000 LPs and approximately 2,000 CDs. There are also hundreds of DVDs as well as cassette tapes, plus a ton of audio gear from vintage amps, CD players,  tape decks, turntables, DVD players, tuners,  speakers,  subwoofers, guitar amps and cables that might fit any of those darn hi-fi equipment. Whew. Also, new arrivals in balikbayan boxes come in regularly (likely every other day).
5. Yesteryears Music Gallery and Vinyl Store
Maginhawa Street, UP Village
In a corner of quiet UP Village, on Maginhawa Street (near Mini-Stop), is a small establishment that's well known among its neighbors but identifiable only by an obscure sign that seems to lead to a bodega. Inside is an impressive collection of records, and its archivist is Mang Nestor Vera-Cruz, whose widely reputed knowledge on Filipino music is as encyclopedic as his collection is huge. Any fanatic music lover who cherishes the wealthy past would find it worth his time to go exploring in this neighborhood. And as any progressive band from Asin to the Oktaves will affirm, the past equals the future, and modernism is always rooted in tradition. This small corner of the world is truly worth checking out.
ADVERTISEMENT - CONTINUE READING BELOW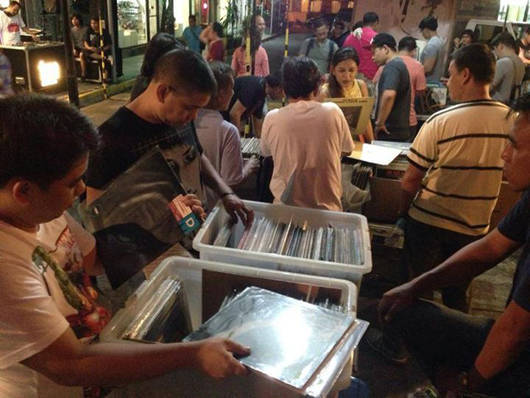 Patrons of Happy Dads at the Kagatan Swap Meet. Photo from the shop's Facebook page
6. Happy Dads Vinyl Shop
1106 Quezon Street, Quezon City
Mobile No. 0947-896-8257
For vinyl heads who spend a lot of time online, this website is the local virtual trading store. Browsing their catalogue reveals pressings of local artists like Pilita Corales and Magicman Kulas, as well as foreign pop acts from the '70s and '80s like Flock of Seagulls, Madonna, Eric Clapton, Cutting Crew, and Cream. Decent enough. But the shop also has an actual location you can check out at No. 1 at the left-side list of this map.
ADVERTISEMENT - CONTINUE READING BELOW
Also visit their Facebook page.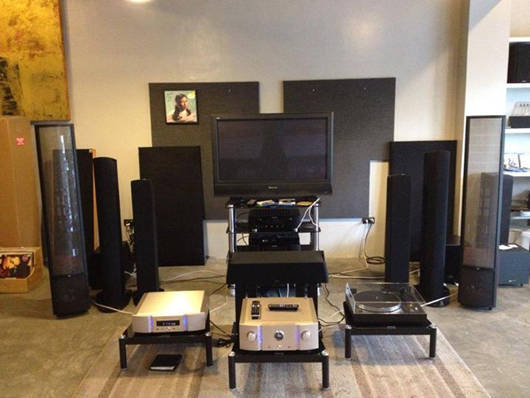 The Grey Market suits the hip crowd, says a collector. Photo from the shop's Facebook Page
7. The Grey Market
Bellitudo Lifestyle Strip, 79 Katipunan Road, White Plains, Quezon City
Tel. No. 791-8704
Open daily 11:30 a.m. to 9:30 p.m.
Another word-of-mouth establishment, with a wide appeal among the hip crowd, as one collector whom Spot.ph talked to said of this shop. The Grey Market also boasts among the finest of audio equipment, as its Facebook page shows.
ADVERTISEMENT - CONTINUE READING BELOW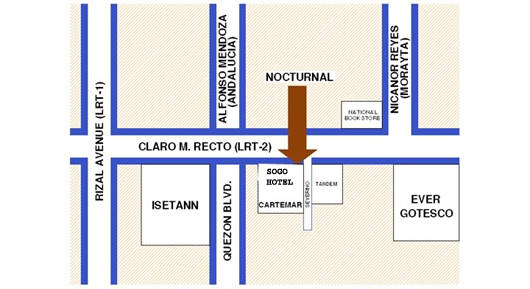 Map to Nocturnal Records.
8. Nocturnal Records
Claro M. Recto Avenue, Manila.
Mobile No. 0918-945-7168. Email: nocturnal_rec2003@yahoo.com
For lovers of doom and darkness, this is the thrift store for your grubby delectation.  (The map above should help you find it.) Though dealing mostly with CDs, there are a lot of metal and hard rock artists releasing vinyl singles these days and this guy has a good bet on their trail. Contact Sonny for orders  in the vein of Mastodon, Nightwish, God Dethroned, Origin, Children of Bodom, The Red Chord, Old Man's Child and Slayer. Or more obscure bloody good stuff like Gorguts, Sinister, Dark Angel, Amorphis, Vio-Lence, Bolt Thrower, Dissection, Katatonia, Autopsy, Demolition Hammer, Pestilence, or Candlemass.
ADVERTISEMENT - CONTINUE READING BELOW
9. Evangelista Street, Makati City
This spot is really for the adventurous. The thrift stores here have no signs identifying them, let alone any contact information, but if you're walking from Taft Avenue, in the neighborhood of the Libertad LRT Station, toward the direction of Makati, you should be able to find them right away. The ultimate thrill of every collector is a great find, and among the recent surprises here are the eponymous album of American "New Wave" group Translator, the double LP Wave Twisters by Fil-Am Turntablist champion DJ QBert, and a whole stack of Chinese,  Hong Kong, and Taiwanese records-nostalgic stuff you'd hear from the soundtracks of great Chinese cinema. And the best thing about Evangelista is you can still get an LP for under P100 pesos.
10. Tom's Vinyl Shack
You can check out their Closed Group Facebook Page and click to be a member. They offer original pressings and reissues of various genres (disco, classic rock, '80s-'90s pop), and also the now hard-to-find (because no longer being reissued) OPMs.
ADVERTISEMENT - CONTINUE READING BELOW
Share this story with your friends!
---
Help us make Spot.ph better!
Take the short survey
More Videos You Can Watch
Load More Stories