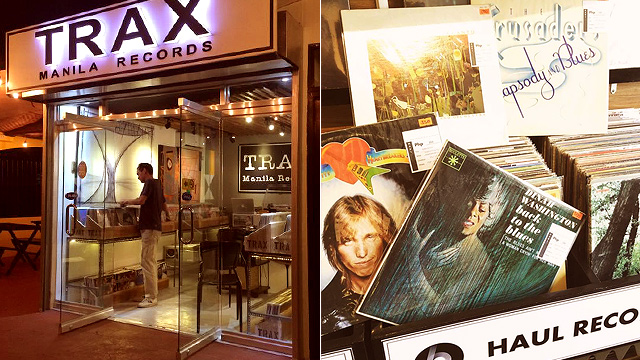 (SPOT.ph) Aside from digitally streaming music, people have rediscovered a way to consume tunes in a very old-school way: by playing vinyl records. Vinyl's heyday dates back to the 1960s and 1970s. Those who have taken part in its resurgence or who have never stopped collecting records over the years would argue that playing records gives a level of satisfaction that no other format provides. For whatever reason you're interested in vinyl, whether it's because you love the sound quality, you're a new collector, or both; one thing's certain: You'll only want to buy records with music you love.
Records have become increasingly popular since their so-called renaissance. Even today's hottest recording artists are releasing albums on vinyl and the number of sellers—locally and abroad—has increased.
If you've been wanting to collect vinyl records, here's a list of local shops to get you started:
Satchmi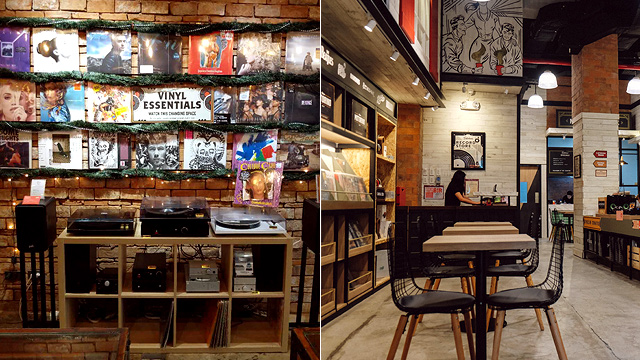 ADVERTISEMENT - CONTINUE READING BELOW
This shop is known for carrying the latest releases of both mainstream pop artists and emerging indie talents, as well as remastered versions of classic albums, from Taylor Swift's Reputation and Beyonce's Lemonade to St. Vincent's eponymous album and The Beatles' Revolver.
Satchmi's selection has grown exponentially over the years to accommodate every possible genre you can think of—pop, rock, electronic, hip-hop, R&B, and jazz, among others. The selection now also includes second-hand records of recording artists who may not be as popular among young listeners as the albums previously mentioned (Lou Reed, anyone?), and these pre-loved records are more affordable than the new releases.
If you want to grab a cup of coffee while deciding on which new record to buy, Satchmi's got the space and facilities for you to enjoy a delicious brew. They have a listening room, too.
See a list of Satchmi branches.
Treskul Records and Cafe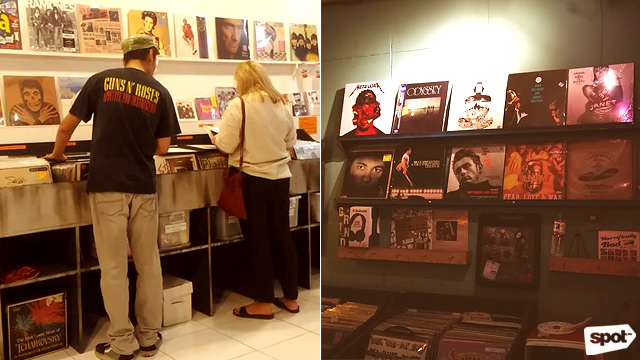 Newly launched pop albums don't come in droves at Treskul. What you will find here is a healthy variety that includes records of rock legends like Bob Dylan and Jimi Hendrix; pop icons like Madonna, Michael Jackson, and Cyndi Lauper; legendary bands like The Beach Boys and The Beatles; New Wave acts The Smiths and The Cure; punk/post-punk acts The Clash and Joy Division; disco/pop groups like Bee Gees and Abba; jazz artists Astrud Gilberto and Miles Davis; and '90s alternative rock bands Pearl Jam and Radiohead. Want something heavier? Pick up that Slayer record and test it.
ADVERTISEMENT - CONTINUE READING BELOW
The selection comprises both LPs and singles. There's an abundance of 45s containing singles by OPM artists like Sharon Cuneta and The Apo Hiking Society, as well as a few of Gary Valenciano's albums. Every so often, hard-to-find records like a first pressing of the Grease Soundtrack or a first pressing of Beck's Odelay will come into view. Recent releases like the Bohemian Rhapsody soundtrack or local releases like Apartel's most recent album are also part of the mix.
Don't be afraid to sort through the pile of marked-down items because chances are, you'll find an old record you'd be willing to bring home without testing for as low as P100. Whatever cash you get to save, you can spend on food and drinks if you happen to be in Treskul's shop in Mandaluyong.
When digging at Treskul, you'll most likely find a record that isn't currently being reproduced or widely distributed. Most of the time, only one or two copies of second-hand albums are available. So if you find something that you really like and it's fairly priced, go ahead and buy it before you lose your chance.

Treskul has branches at  641 Cifra Building, Boni Avenue, Mandaluyong and at  ALI X, UG/F Ali Mall, Araneta Center, Cubao, Quezon City.
ADVERTISEMENT - CONTINUE READING BELOW
This Is Pop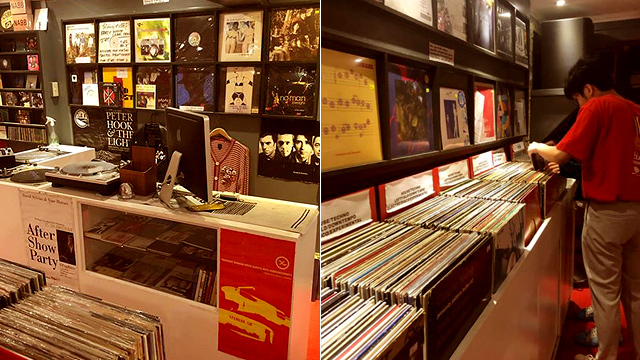 If you're into postpunk, indie, and electronic music, then this is the place for you. You'll find the latest releases from well-known acts like Tahiti 80 and Two Door Cinema Club, but it's more likely for you to find music by English indie bands Blueboy and Prep rather than Maroon 5; or a record by Jessy Lanza rather than Taylor Swift. 
ADVERTISEMENT - CONTINUE READING BELOW
This Is Pop has flown in foreign artists like Toe, The fin., and The Wedding Present to perform at the store. As it's owned by Toti Dalmacion of Terno Recordings, it's the best place to buy albums from the indie record label. Get yourself a copy of Up Dharma Down's Capacities, as well as releases from The Strange Creatures, Aoui, Lenses, Maude, The Ringmaster, Skymarines, and more. You can also find Prodigy's Firestarter, The Sundays' Reading, Writing, and Arithmetic, and The Cardigans' Life, plus more than a couple of albums by acts like The Colourfield and Everything But The Girl. There is a handful of unlikely options that have gotten lost in the sea of avant-garde music, but This Is Pop caters to a very specific niche, which in the universal sense, is not pop at all.
This Is Pop is at Unit B, G/F Legaspi Tower 100, 148 Legazpi Street, Makati City.


ADVERTISEMENT - CONTINUE READING BELOW
The Grey Market Records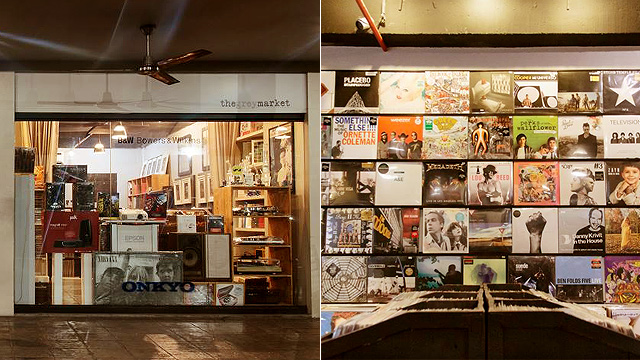 This is a haven for rock-music fans, and its selection spans albums from the past few decades up to the present—from The Rolling Stones and Aerosmith to U2, Pearl Jam, and Soundgarden. They also have releases by Rage Against The Machine, Smashing Pumpkins, The Goo Goo Dolls, and Weezer. Possibly every famous rock band you've listened to over the years and even artists who haven't been particularly active in the mainstream consciousness of Pinoy listeners lately (like Ben Folds) would probably have a record or two being sold at The Grey Market.
ADVERTISEMENT - CONTINUE READING BELOW
There are trendier options such as Coldplay, Ariana Grande, Bruno Mars, Jason Mraz, and Lana Del Rey; as well as oldies but goodies Chicago and Earth, Wind & Fire. There's also The Beatles, Michael Jackson, Madonna, Frank Sinatra, and practically all other music icons you can think of. Looking for soundtracks? You'll find them here, too, from older releases like the Reality Bites OST to more recent ones, like the soundtrack of the Guardians of the Galaxy sequel. You're bound to find a number of to-die-for records that you'll definitely want to add to your collection, regardless of the price or your preferred genre.
The Grey Market Records has branches at Bellitudo Lifestyle Strip, 79 Katipunan Avenue, White Plains, Quezon City; Shoppesville Greenhills, San Juan City; and UG/F Alfaro Place, 146 Leviste Street, Salcedo Village, Makati City. 


Spindle Hole Records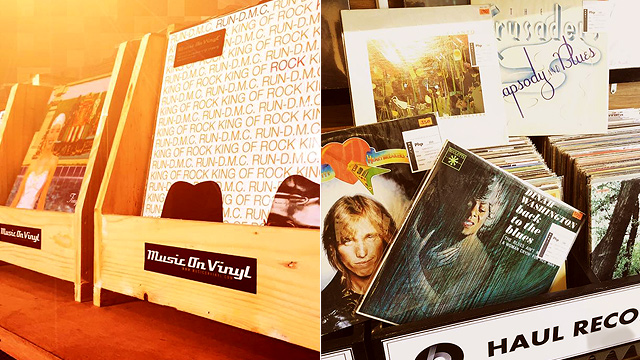 ADVERTISEMENT - CONTINUE READING BELOW
Here's where you'll find stuff from independent local sellers like Bear's Den Records, Black Circles, Haul—and of course Spindle—all in one shop. A colorful variety of both second-hand and brand-new vinyl records in sealed packaging, new releases, and reissues are lined up inside crates and ready for digging.
The selection rivals that of The Grey Market, and records that might be considered rare in other shops can be found here, such as those of Scottish rock band Teenage Fanclub and English indie pop act Veronica Falls. We're tempted to say that the shop might have practically the entire discography of certain artists available; the selection includes quite a few albums each of The Beatles, The Cardigans, Queen, The Smiths, and Belle and Sebastian, to name a few.
Not everything is indie or high-brow—there's this Britney Spears record that you won't be able to take your eyes away from and the Disney soundtracks your inner princess secretly desires. Spindle Hole also sells releases from United Cassettes, which includes the album of homegrown band Pastilan Dong. That's right—cassettes are also becoming a thing again.
ADVERTISEMENT - CONTINUE READING BELOW
Spindle Hole Records is at Unit 14 Penthouse Creekside Mall, Amorsolo Street, Makati City.


Bebop Records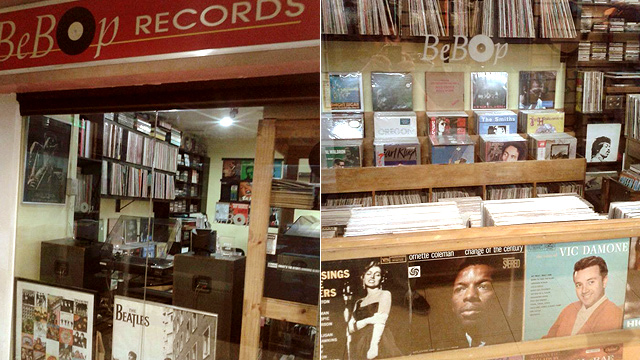 At the basement of Makati Cinema Square is this unassuming record store that houses a wide selection of vinyl releases, both preloved and new. You might end up staying for hours digging through crate after crate and from one shelf to another, so it's almost impossible not to find something to your liking, especially when you're into the older stuff. Bebop Records is the perfect place to find music that was meant to be played on turntables in the first place—such as those of Elvis Presley and Paul Simon, as well as Stevie Wonder and The Culture Club.
ADVERTISEMENT - CONTINUE READING BELOW
Bebop Records is at 50-A First Basement, Makati Cinema Square, Chino Roces Avenue corner Arnaiz Avenue, Makati City.
Northwest Estate and Collectibles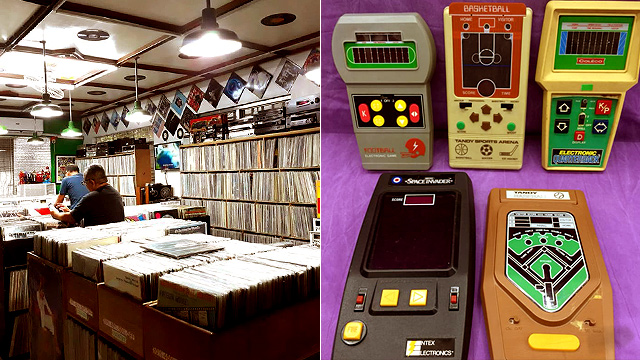 What's interesting about this shop aside from a record selection that includes essentials from a variety of artists such as Hall & Oates, Depeche Mode, Pink Floyd, The Beatles, Mariah Carey, and possibly every other memorable rock or pop album you may have listened to, is that the albums aren't arranged by genre, which makes digging a bigger but more romanticized challenge. The shop also sells other pop-culture memorabilia in the form of toys, magazines, books, and comic books—more stuff for you to collect!
ADVERTISEMENT - CONTINUE READING BELOW
Northwest Estate and Collectibles is at 170 K-1st Street, Quezon City.
Trax Manila Records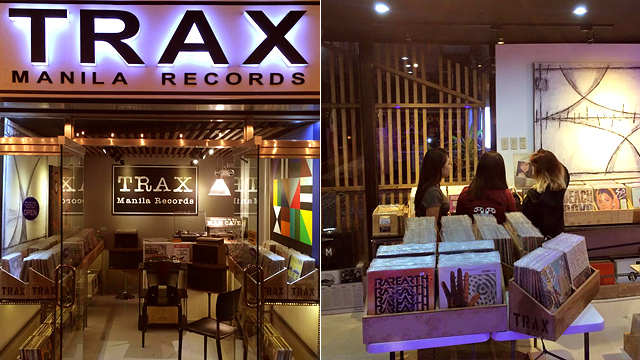 If you find yourself in the east of the Metro, you may want to check out Trax Manila in Marikina. It's a great place to shop if you're a big fan of '60s, '70s, and '80s music and pop culture. You'll find pop, rock, jazz, disco,  and new wave from these eras; as well as original soundtracks of films that were famous during those decades, such as Saturday Night Live, Top Gun, and Pretty In Pink. You might find some classical records in some of the crates, too. 
ADVERTISEMENT - CONTINUE READING BELOW
While Ray Conniff and Bread aren't exactly popular among young people today and Tina Turner and Barbra Streisand may not necessarily be your go-to sirens, Trax Manila presents options that you never thought you'd still find given the growing number of fresh album releases from current artists. Want further proof of unusual stuff you'll find in this shop? We found a Vanilla Ice's album, Cool As Ice, in one of the crates. How cool is that?
Trax Manila is at 60 Sapphire Street corner Sandalwood (near Lilac Strip) Street, Marikina City.
Share this story with your friends!
---
Help us make Spot.ph better!
Take the short survey
More Videos You Can Watch
Load More Stories