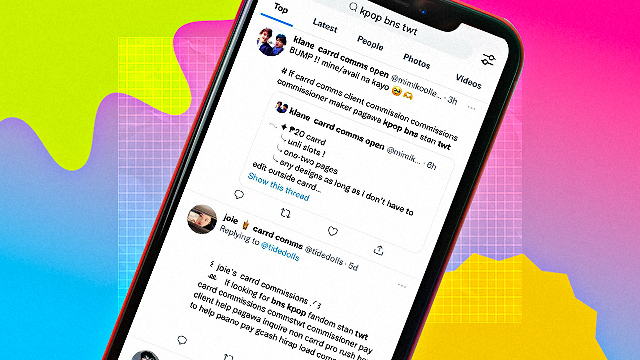 (SPOT.ph) Where would one begin to explain and encapsulate what goes on in the social media app called Twitter? Hell, even someone who's—let's say—been using the application for over ten years now doesn't even know how to answer that. You could have five accounts and still not know everything, as each bubble has its own different "language and references" which sound completely alien or gibberish to outsiders.
ADVERTISEMENT - CONTINUE READING BELOW
"wts, lfb/wtb, lfs," "dop, eta," "payo,"—No, this is not the next "istg istg istg fr fr no cap no cap" Gen Z terms/slangs that have become known as meme for some reason, nor it is Simlish ("Ah, docka morpher!") or a keyboard smash. These words are magic when it comes to the world of K-Pop buy-and-sell Twitter, and it can get you anything and everything you're looking for in more or less 280 characters.
But what's K-Pop BNS Twitter?
It's one of many, many bubbles to be found in the social media platform—there's personal, alter, even stan—where you could simply, as the name suggests, buy and sell different things, mostly K-Pop merchandise (photocards, albums, exclusive and past collectibles, etcetera). In simple terms, it's Twitter's online K-Pop marketplace which has grown exponentially throughout the years, made more interactive and probably funnier.
Also read: 10 Gen Z Slang Terms And What They Really Mean
We asked one of our trusted sellers on K-pop BNS Twitter for some common terms and basic know-hows so your ship won't end in wreckage once you set sail in this world.
WTS and LFB
If you're new and you want to sell: the tags you'll want to start your posts with are "wts" which can mean "where to sell" or "want to sell"—it can mean either, but when you have this tag, it's understood that you're selling a product, and "lfb" which means "looking for buyer."
WTB, LFS, WTT, and LFT
However, if you're the one buying, the tags to use are "wtb (where to buy, want to buy)" and "lfs (looking for seller)." For trading, you can use "wtt (where to trade, want to trade)" and "lft (looking for trader)." Of course, you'd include the item you'd want to buy, sell, or trade.
ADVERTISEMENT - CONTINUE READING BELOW
Usually, they have "rfs/t" (reason for selling/trade) which includes their reason for selling or trading something.
Remember, you can't use one without the other, and be as specific as possible.
Mint and Flawed
You'll also have to check on the products' condition before buying or selling—the magic keyword to look out for is "mint", which means they are in perfect or new-like condition, and while the opposite, "flawed", means they have dents or marks.
DOP, DOO, DP, RB, and MOP
The next ones that'll make you raise a brow and say "Huh?" are "dop and doo," which means deadline of payment and deadline of order. There's also the back-to-back "dp and rb," the down payment (which could be stated in percentage or exact amount), and the remaining balance. There's also "mop," meaning "mode of payment".
We often see the word "mine!" in live online shopping, but in some cases on K-pop BNS Twitter, there's almost always a "PAYO" next to it. What does it mean though? It means you'll pay as you order. As fast and easy as a snap or in this case, a tap of a finger.
ADVERTISEMENT - CONTINUE READING BELOW
ETA and its many forms
"ETA" is a term that goes beyond BNS twitter, but ICYDK: It means "estimated time of arrival," in this case, for your parcels. Usually, for pre-orders, you get to choose (the price depends on it as well) how fast they'll arrive from Korea or international shops—there's NETA, FETA, SEMI-FETA and long ETA, which means normal ETA (after two months), fast ETA (after two to three weeks), and semi fast-ETA (four to five weeks) from the day it was shipped. But when the products are already in the Philippines, they'll say "on hand," if they're "soon-to-be on hand," they'll include "stbo."
These abbreviations are created so it'll be easier for the sellers and buyers to find what they are looking for, avoid further confusion, and also fit everything in Twitter's limited character field.
ADVERTISEMENT - CONTINUE READING BELOW
ADVERTISEMENT - CONTINUE READING BELOW
But before you trust any seller and use up your hard-earned cash, be sure to check their account and shop for proof (they usually have a hashtag full of feedback from their accounts). Be a responsible seller and buyer, give and/or ask for updates regarding the conditions of the products beforehand. Sellers usually have their own terms and conditions stated in their accounts. You don't want to get scammed, right? 
Share this story with your friends!
---
Help us make Spot.ph better!
Take the short survey
More Videos You Can Watch
Load More Stories