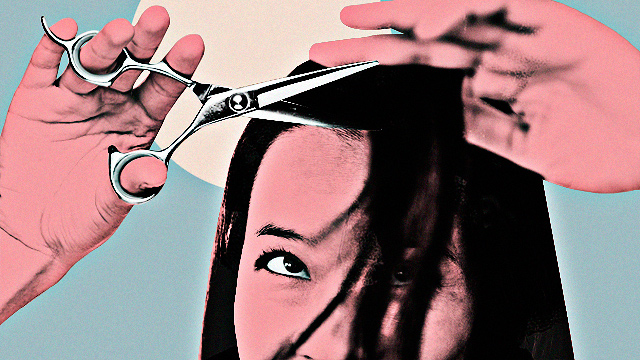 (SPOT.ph) Being stuck home for what feels like an entire decade and getting a serious case of cabin fever, you're probably on your way to the fifth stage of grief which is acceptance...and if we're living life like we're in a comic—this one, in particular—that means sooner or later, you're bound to cut your own bangs for no particular reason except that you're bored to death and need something new and exciting going on in your life. 
ADVERTISEMENT - CONTINUE READING BELOW
Cutting your bangs can go two ways: the first is that they end up looking really good on you and you regret not doing it sooner and the second is, well, let's just say life was so much better and brighter before you've used scissors. 
If you know deep down that you want to take this risk, then we're here to supply you with some useful tips when cutting your own bangs straight from a pro! Hairstylist and entrepreneur Lourd Ramos shares with us some fool-proof techniques on how to cut your own fringe properly. But first, here's what you'll need:
A pair of regular pointed scissors
A comb
Two clips
Hairdryer (optional)
One or two rollers (optional)
Check out these expert tips on how to cut your bangs at home:
Start with damp hair
"I suggest you cut your bangs when it's wet so you can manipulate properly and you don't overcut it," shares Ramos. Having damp hair makes it easier to handle your strands when you begin the cutting.
Make a triangle on the front-middle section of your face
Ramos shares, "The triangle section is important because it will frame your face." To do this, simply comb some hair towards the front of your face and form a triangle shape on your scalp, with the tip of the triangle nearing the middle of your head. You can adjust the size of the triangle to your liking—bigger if you want a thicker fringe, smaller if you just want wispy bangs.
Bonus tip: If it's difficult to keep the triangle in place, use a hairdryer to get rid of the natural parting of your hair. Just point the hairdryer towards your roots so the rest of your hair remains damp throughout the process.
Don't underestimate the power of hair clips
According to Ramos, the reason some people end up with "epic fail" bangs is because they did not use clips to section their hair. With hair clips, you'll have a guide on where to start and where to end when cutting your tresses. With that said, take the rest of your hair that's not part of the triangle you just made and clip them away from your face so that you're only dealing with the strands from the triangle you just made.
ADVERTISEMENT - CONTINUE READING BELOW
Start cutting your bangs from the middle section
"Never cut your bangs from the side. Always start cutting your bangs [near the center of your nose]. This will determine how short or how long or how dramatic [your bangs] will be," he shares. Before you start snipping away, comb your bangs downwards, take the middle section, and begin cutting the ends horizontally. 
Keep hair as close to your face when you're cutting
Don't make the mistake of lifting your hair away from your face when cutting your bangs. Keeping your strands close to your face gives you a better idea on how short you're actually cutting your fringe compared to cutting the hair away from your face.
Take some strands from the middle section and use them as a guide to cut the sides
Once you're happy with the length of your bangs, part them in the middle and combine with the remaining strands on either side of your face. This will be your guide where to start cutting the sides of your bangs. Then, cut the side bangs slanting towards your ear.
ADVERTISEMENT - CONTINUE READING BELOW
"Soften the bang"
If you feel like your bangs are too thick or heavy, Ramos says to "soften the bang." To do this, grab your scissors and start cutting the ends of your strands vertically (scissors pointed to the ceiling) until you're satisfied with the look of your bangs. 
Use a roller to style your bangs
Take a roller or two and roll your fresh fringes away from your face. Leave for a few minutes then remove to reveal your new look. Ta-daaa! Now, if only your picture-perfect bangs can give you the power to make the pandemic go away...
Share this story with your friends!
---
Help us make Spot.ph better!
Take the short survey
More Videos You Can Watch
Load More Stories