On the Spot: Rafe Totengco
The international accessories designer on his new eco- collaboration, partying with Katy Perry in Manila, and JT Manukan's chicken inasal.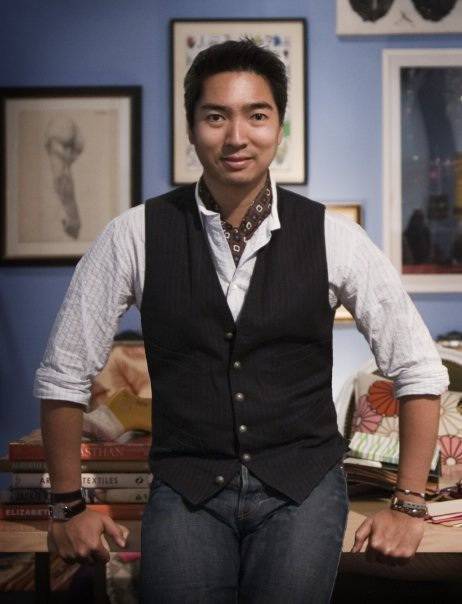 Rafe Totengco left Manila and his thriving fashion design business in 1989 to move to New York. He took up courses in FIT while supporting himself by taking jobs in the fashion industry from sales to styling to fabric design. In 1994, he launched a sold-out collection of belts and watchbands for a SoHo boutique that led to a clamor for matching bags, of which he had none, but to which he volunteered "Yes"–and immediately set out to make some, without knowing the first thing about it.
ADVERTISEMENT - CONTINUE READING BELOW
The rest is Rafe bag history: By 1999, Rafe bags were in 60 stores worldwide and he was named finalist for the Perry Ellis Accessories Design Award for Council of Fashion Designers of America (CFDA). In 2001, the Accessories Council awarded him Best Accessories Designer. Hollywood stars were spotted sporting his pieces, like Cameron Diaz, Sandra Bullock, Paris Hilton, Lindsay Lohan, Katherine Heigl, and Fergie. In 2005, Rafe was the first accessories designer to create a collection for the US mass retailer, Target. In 2007, he designed the bridesmaid clutches for Desperate Housewives star Eva Longoria and basketball star Tony Parker's wedding.
CONTINUE READING BELOW
Recommended Videos
Famous for combining sophistication and edge with function, Totengco adds one more ingredient to the mix: green consciousness. He has partnered with Invisible, an organization that teaches marginalized women to crochet and knit accessories from waste materials, founded by artist and environmentalist Ann Wizer. Part of his spring 2010 line, "Craftwork" is a capsule collection of handbags featuring three styles: a tote, a clutch and a wristlet.
ADVERTISEMENT - CONTINUE READING BELOW
In an exclusive SPOT.ph interview, the Bacolod-born Rafe (a nickname derived from his full name Ramon Felix) talks about giving back to the country, life in New York, and his top Manila eat picks and experiences.
Who initiated the collaboration?
I first heard of Ann Wizer through Illac Diaz when I was visiting Manila a few years ago. I looked her up and was intrigued by her installations using plastic crochet and empowering these women to use their talent in ways that they never would have thought possible.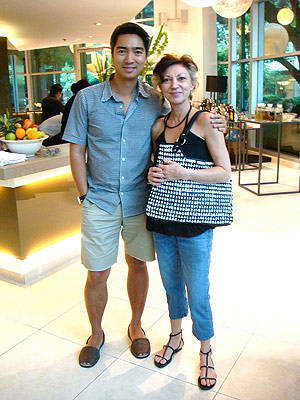 Rafe Totengco with Ann Wizer and the Rafe Craftwork bag crocheted from discarded plastic bags.
ADVERTISEMENT - CONTINUE READING BELOW
What made you decide to do it?
I've always been on the look out for a project like this and I love things that are handcrafted. I also liked the idea that I might be able to help them by utilizing their talent with my design. It's a true collaboration and a fulfilling one too.
How did Rafe New York and Invisible work together on the design and manufacturing?
I came up with the concept and had Invisible assign the work to the women they felt could follow my lead. I also worked with Edna Cruz to finish the bags and coordinate logistics with Invisible Sisters.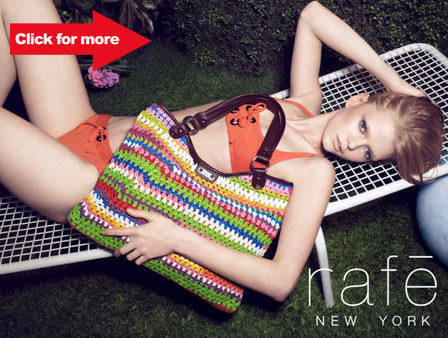 The "Drew" tote bag
ADVERTISEMENT - CONTINUE READING BELOW
What material and techniques were used?
[About 40,000] rescued plastic bags collected by Invisible Sisters from local groceries and school drives. Ann Wizer has been teaching these women the art of crochet for several years now and these women are incredibly skilled at it.
Which "Craftwork" bag is your favorite?
The "Drew" tote is my favorite because you get to really see the amount of work that went into it. It also goes with everything, and it's perfect for the beach or the city. The leather straps make it more user-friendly. After all, the last thing you want is a sweaty shoulder.
What was it like working with Ann Wizer and the Invisible Sisters?
Ann and her team are truly inspiring people who work endlessly and with so much passion. I truly hope that this project inspires other designers to collaborate with her and do something for the local market.
ADVERTISEMENT - CONTINUE READING BELOW
Who else would you love to collaborate with?
I would be interested to work with Rags 2 Riches at some point.
What environmentally friendly acts do you practice?
I always bring my own canvas bag to the grocery, and if I can fit something into my bag I refuse the plastic bag they offer.
What's the latest with Rafe New York?
At the moment I'm busy designing Spring 2011 so that's all I can say. It's business as usual. The economy is slowly recovering so that's a good thing.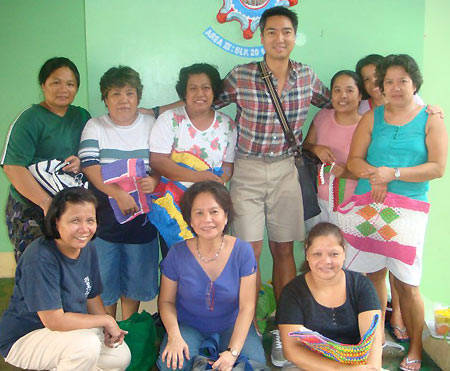 Rafe Totengco and the Invisible Sisters working on the Rafe Craftwork bags
ADVERTISEMENT - CONTINUE READING BELOW
Your American Express TV ad is getting a lot of airtime. How has it changed your life and career?
You can't imagine how positive it's been for me. Everyday more and more people join the Rafe New York Facebook Group and follow me on Twitter. Even my barista recognized me and gave me free coffee while quoting my line ("How can I keep my best employees?"). It was hilarious. The other day I was on the treadmill and the commercial came on. Needless to say, I got some curious stares from other guys on treadmills.
Whenever you are in Manila, what are your must eats?
JT's Manukan is a must! I live for our mangoes; I could turn yellow from eating too much, it's crazy. I also love Gaita Fores' Cibo for merienda and of course Fely J's in Greenbelt 5. They should take their inasal off the menu though because it doesn't come even close to JT's. The Pinoy Breakfast at M Café is a must!
ADVERTISEMENT - CONTINUE READING BELOW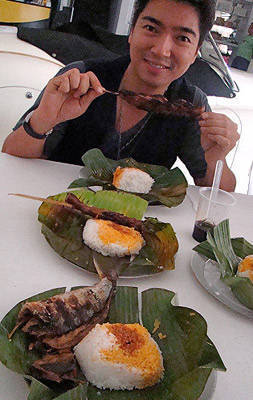 Rafe Totengco captioned this photo: "JT Manukan Chicken inasal, super sarap!"
Pinoy food that you can't live without?
Bacolod inasal, mangoes, boneless bangus, adobo, lechon kawali, bibingka and puto.
What's the hottest party in Manila you've ever gone to?
The Katy Perry after-party at Embassy (now Encore). Great music and beautiful crowd. Liz Uy (Preview contributing editor) introduced me to all her gorgeous friends while I danced the night away with my BFF Teresa Herrera (model and Project Runway Philippines host). So much fun and I got to meet Katy Perry, too!
ADVERTISEMENT - CONTINUE READING BELOW
What do you miss most about Manila?
My friends and the food!
If you were to show non-Filipino friends around Manila, where would you take them?
I would take them on Carlos Celdran's tour for sure. Antonio's in Tagaytay for lunch. Establishment at the Fort for cocktails. And maybe get one of my fab friends to host a dinner at home because nothing beats Pinoy home cooking and hospitality.
Which Pinoy designers do you admire?
Rajo Laurel and Louis Claparols. I don't know that many, unfortunately.
What's your opinion on crab mentality among Filipino fashion designers? Have you ever experienced this?
I have unfortunately, a long long time ago. C'est la vie. I say, live and let live. There are far more important things to worry about instead of all that professional jealousy. One of my favorite expressions is, "NEXT!"
Photos courtesy of Rafe Totengco.
Share this story with your friends!
---
Help us make Spot.ph better!
Take the short survey
Load More Stories