Top 10 Favorite Condiments of Pinoys
What's the point of <em>ulam</em> without the right <em>sawsawan</em>? SPOT.ph rounds up the condiments on every Pinoy's dining table.
In this country, condiments are like rice: both are staples of the dining table, kitchen, and cupboard. And no halfway-decent, self-respecting persons who consider themselves Filipinos would be caught dead without them. Condiments--which range from sauces, relishes, and the like--enhance the ï¬Â'avor of every meal by providing the diametric opposite of its taste. Take for example, sinigang na baboy. It just tastes better with patis because the saltiness counteracts the tartness of the former.
That being said, SPOT.ph lists Pinoys' 10 favorite condiments--most of which have become a part of our dining tradition.
Datu Puti Vinegar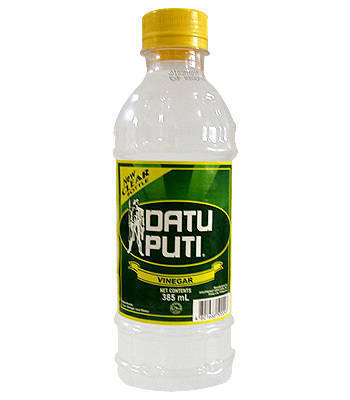 ADVERTISEMENT - CONTINUE READING BELOW
CONTINUE READING BELOW
Recommended Videos
Datu Puti is considered one of the Philippines' most popular vinegar brands, thanks to advertising strategies that capitalized on its superior tartness. Its "Mukhasim" campaign still works to this day. There's no way of knowing, though, if the brand name was inspired by one of the datus in Pedro Alcantara Monteclaro's Maragtas epic.) Datu Puti is best enjoyed as a dip for grilled or roasted meat, dried or fried fish, and chicharon.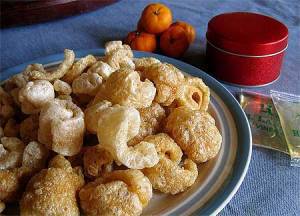 ADVERTISEMENT - CONTINUE READING BELOW
SPOT.ph recommends you pair this with: Lapid's Chicharon (P150 for 100 grams with laman/ P55 for 100 grams for chicharon bilog). The vinegar offsets the greasy texture of the chicharon and injects tartness into the crispy treat. Tip: Just dip the chicharon in vinegar for a few seconds. If you dip it too long then it gets soaked and its flavor is ruined.
Rufina Patis and Lorins Patis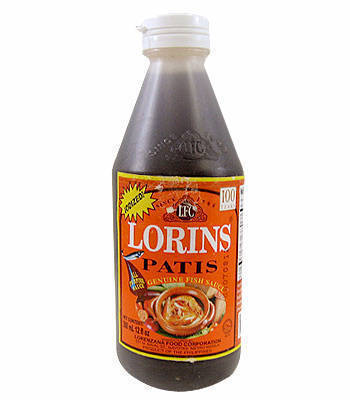 ADVERTISEMENT - CONTINUE READING BELOW
Patis or fish sauce (which is extracted from fermented fish) is the universal condiment to the Filipino meal. If a meal tastes too bland--whether in the process of being prepared or eaten--cooks and diners alike take great pains to shower a dish with the substance. Its formulation may have captured and perhaps even defined the Filipino palate for patis, giving Thai-made patis a run for its money. Patis is the favorite sawsawan for fried fish and flavoring for arroz caldo or sinigang.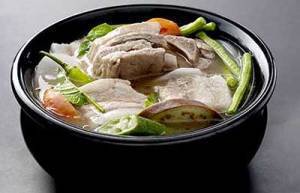 ADVERTISEMENT - CONTINUE READING BELOW
SPOT.ph recommends you pair this with: Max's Pork Sinigang (P269 for delivery/ P244.63 dine-in). The pungent saltiness of the patis brings out the flavor of the meat and the broth.
Marca Pina Soy Sauce and Silver Swan Soy Sauce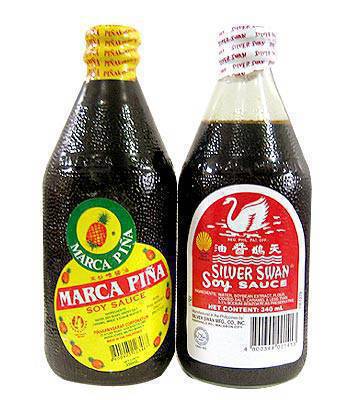 As far as anyone can remember, soy sauce or toyo has gotten a bad rap. Tinotoyo is the Tagalog term used whenever anyone is having either a bad mood or an extreme mental episode. However, in the ï¬Âeld of seasonings, toyo is among the condiments and sauces that reign supreme. According to Food.com, soy sauce is "made from fermented soy beans mixed with some type of roasted grain (wheat, barley, or rice are common), injected with a special yeast mold, and liberally flavored with salt. After being left to age for several months, the mixture is strained and bottled." Toyo can be used both as a dip and a marinade. Of the two leading local soy sauce brands, both Silver Swan and Marca Pina have their own unique qualities. Although Silver Swan may taste sharper, Marca Pina nevertheless provides a full-bodied soy sauce experience. Toyo is used as a dipping sauce for fish, grilled meat, and siomai.
ADVERTISEMENT - CONTINUE READING BELOW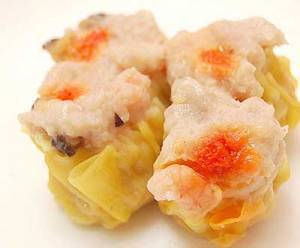 SPOT.ph recommends you pair this with: Causeway Siomai (P65 for 4 pieces).   Squeeze a little bit of calamansi juice and mix it with the toyo. The tart-yet-earthy taste of the dip enhances the flavor of the siomai fillings.
Mang Tomas All-Around Sarsa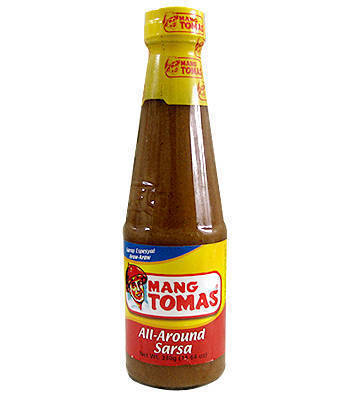 ADVERTISEMENT - CONTINUE READING BELOW
Though it's tagged as an all-around sauce, most of us identify Mang Tomas as lechon sauce. In fact, lechon sauce has been so closely associated with Mang Tomas that the latter may very well be considered as a common noun, like aspirin, thermos, and zipper. Not that the makers of Mang Tomas are complaining. After all, becoming synonymous with lechon sauce has done nothing but to capitalize on the quality and taste of its ï¬Â'agship product. Mang Tomas' special formulation (water, sugar, bread crumbs, vinegar, salt, liver, spices, pepper, and 0.1 percent sodium benzoate as a preservative) tastes so good that it hasn't prevented anyone from using it for other fried and roasted chicken and beef dishes.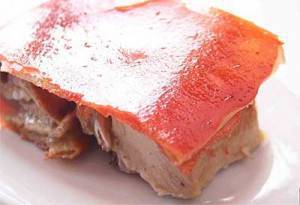 ADVERTISEMENT - CONTINUE READING BELOW
SPOT.ph recommends you pair this with: Elar's Lechon (P150 for 1/4 kilo and P300 for 1/2 kilo). The sweet taste and liver-y texture of the Mang Tomas sarsa brings out the taste of the roasted pork. The crispy lechon skin becomes even more tasty when dipped in the sauce.
Papa Banana Ketchup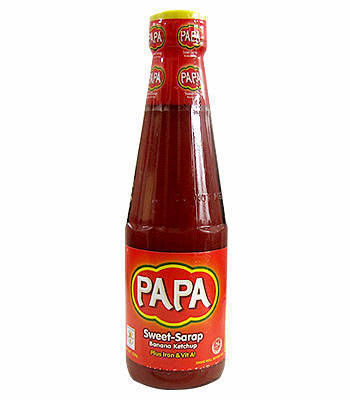 ADVERTISEMENT - CONTINUE READING BELOW
Every single day, a small but silent debate is raging at dinner tables all across the country. The dispute? Ketchup. Yes, ketchup. Introduced by the Americans, tomato ketchup was given a local twist when a company decided to bring in bananas into the mix. To this day, the debate remains unresolved. Whether you're sticking with the original tomato-based formulation or not, one thing's for sure: you're likely to reach for ketchup--banana or tomato--when served fried chicken or pork chops. Most Pinoys prefer banana ketchup because it's a little bit sweet.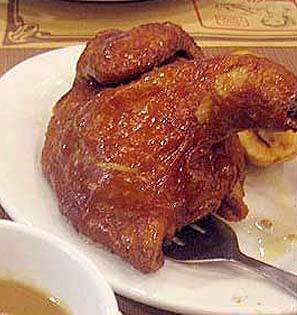 ADVERTISEMENT - CONTINUE READING BELOW
SPOT.ph recommends you pair this with: Savory Fried Chicken (P170 for half and P320 for whole). The sweet-and-sour taste of the banana ketchup complements the saltiness of the fried chicken.
Bagoong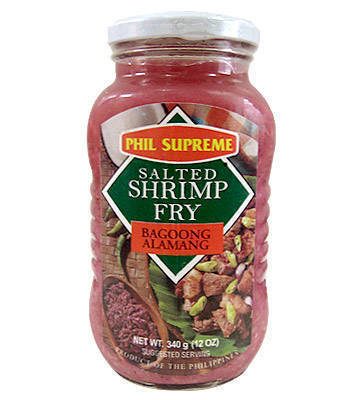 Bagoong has come a long way from its origins in Northern Luzon. Initially produced using fish and brine, the condiment now has various iterations, such as sauteed, spicy, and sweet versions. Bagoong is always a steady companion to kare-kare, a special oxtail and beef stew cooked using peanut sauce. It's also eaten with manggang hilaw (green mango).
ADVERTISEMENT - CONTINUE READING BELOW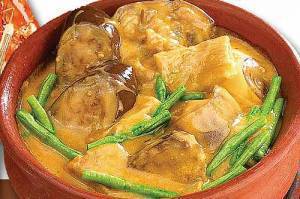 SPOT.ph recommends you pair this with: Kare-Kare from Barrio Fiesta (P350). The saltiness of the bagoong is the perfect seasoning for this dish.
Mother's Best Hot Sauce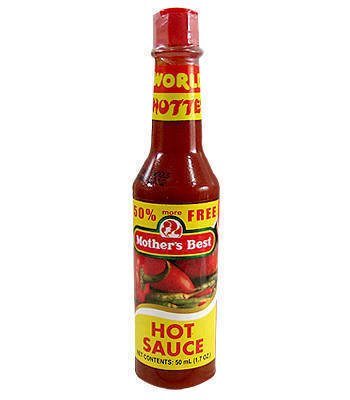 ADVERTISEMENT - CONTINUE READING BELOW
HDR Food's Mother's Best Hot Sauce is the staple sauce for those who want to add a spice to their food. The sauce goes well with fried dishes and even pizza. This sauce is made from siling labuyo, which is considered one of the world's hottest chilis.
ADVERTISEMENT - CONTINUE READING BELOW
SPOT.ph recommends you pair this with: Handuraw Margherita Pizza (P238, to order: call 399-8368 for delivery). The hot sauce kicks up the cheesy goodness several notches.
Sweet Chili Sauce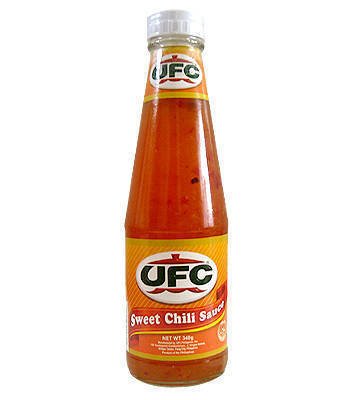 Made with tomatoes, chilis,onions, sugar, salt, and vinegar, Pinoys use the sweet chili sauce mainly as a dip for lumpiang Shanghai. UFC's Sweet Chili Sauce, one of the more popular brands out in the market, has a solid sweet taste with just a tinge of chili. Some condiment freaks use it as a dip for chips. They swear that it goes well with potato chips and cheese-based munchies.
ADVERTISEMENT - CONTINUE READING BELOW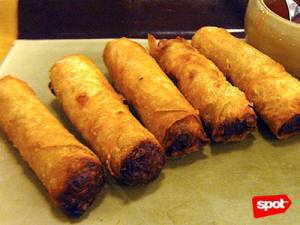 SPOT.ph recommends you pair this with: Lumpiang Shanghai at Serye (P220 for 5 pieces). The sweet chili sauce offsets the saltiness of the ground meat filling of the lumpiang Shanghai.
Atsara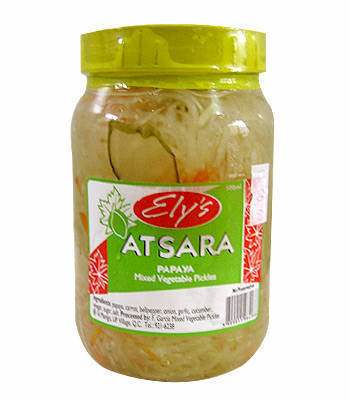 ADVERTISEMENT - CONTINUE READING BELOW
According to PinoyRecipe.net, "achara or atsara is the Philippine contribution to the world of Asian pickles. There are many versions, and virtually any vegetable can be used for making achara. Any mention of achara, though, will most likely evoke thoughts of this type of achara, which uses green papaya." Aside from grated green papaya, the relish also contains sliced onions, ginger, carrots, and bell peppers. The boiling vinegar-and-sugar syrup is poured over it. Is is bottled as soon as it cools. Atsara is often served with tapsilog, lechon kawali, and grilled pork liempo.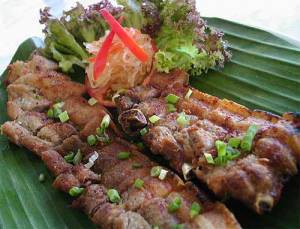 ADVERTISEMENT - CONTINUE READING BELOW
SPOT.ph recommends you pair this with: Inihaw na Baboy from Milky Way Cafe (P325). The tartness of the atsara enhances the taste of the grilled pork.
Knorr Liquid Seasoning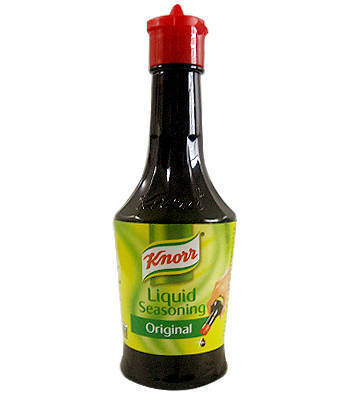 Used mainly as a flavor enhancer and a marinade, Knorr Liquid Seasoning can be called a posh version of the soy sauce. A few drops of it goes very well with grilled fish or roasted chicken. There are also those who use it for fried rice and sisig.
ADVERTISEMENT - CONTINUE READING BELOW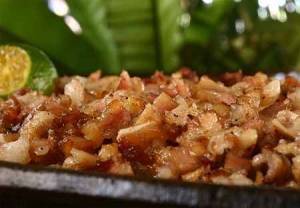 SPOT.ph recommends you pair this with: Trellis Sisig (P160). With just a few drops of the seasong, the sisig becomes more delicious.
SPOT.ph wants to know: What's your favorite ulam-sawsawan combo?
Photographs by Paul Ang (Causeway siomai), Tednmiki (chicharon), milkyway.com.ph (Inihaw ng Baboy), Trellis' Facebook page (sisig), Handuraw Pizza's Facebook page.

ADVERTISEMENT - CONTINUE READING BELOW
Load More Stories