Hot on Spot: The Mushrooming of "Noynoying"
Is the newly coined verb here to stay?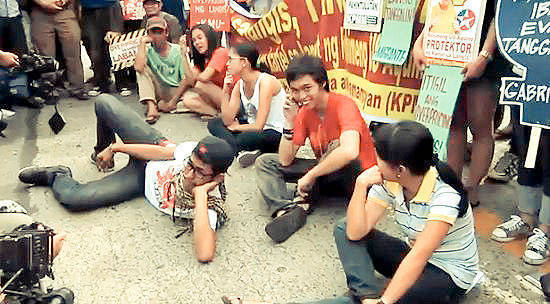 "Noynoying" demonstrated (Screenshot from the YouTube video uploaded by POV Productions, also used for flashbox, featured field, and thumbnail images)
(SPOT.ph) In this part of the world, planking is most definitely out and "Noynoying" is in. The term-which now has its own Facebook page, website, and Wikipedia entry-is obviously wrought from the nickname of President Benigno "Noynoy" Aquino III. Turning the president's nickname into a verb indicates that the word alludes to the act of being him and doing what he does. And-as his critics point out-it also highlights the things he fails to do.
"Noynoying" made its big news debut this March-but that doesn't necessarily mean that it was spawned right then. In an October 7, 2011 post, the author of the blog, Juan Republic, wrote: "I came across a screen (capture) of a Facebook conversation [that] supposedly (came) from [the] Overheard at UP Facebook page. According to it, 'Noynoying' is defined as a term for "that idle moment na walang ginagawa pero dapat ay mayroon na (when you're not doing anything although you're supposed to be doing something already)." As proof of his source, the Juan Republic author posted a link to a page showing the screen capture of the Overheard at UP Facebook page conversation.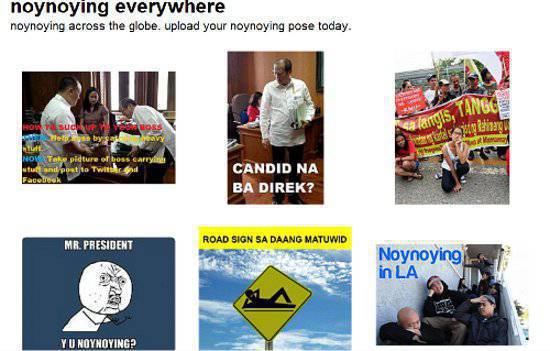 ADVERTISEMENT - CONTINUE READING BELOW
The "Noynoying" variants. (Screenshot from Noynoying.com)
That being said, there's no "official origin" (if there is such a thing) of the term, "Noynoying." But whoever said it first is probably enjoying his or her handiwork immensely. It has mushroomed on the Net. It sure has its supporters-among them is the congressman from Quezon City's second district.
According to an InterAksyon.com report written by Joseph Holandes Ubalde, Representative Winston Castelo-the same guy who filed the "Anti-Planking Bill" in September 2011-said, " We will definitely not put it into (a) law (banning Noynoying). We respect the rights of the individuals to express their grievances. I, for one, will oppose any move to prevent the Noynoying." In the report, Castelo also pointed out that "planking is dangerous in contrast to 'Noynoying.'"  Castelo decribed "Noynoying" as "a passive expression of our sentiments that will not put the lives of the people in danger."
CONTINUE READING BELOW
Recommended Videos
Meanwhile, in his article, "'Noynoying' poses challenge to Philippine leader," James Hookway of The Wall Street Journal wrote: "'Noynoying' plays on the widespread perception that Mr. Aquino-who is widely known by the nickname Noynoy-might not be the most hands-on president to have led the Philippines. Since being elected in a landslide in 2010, Mr. Aquino has sometimes been caught laughing it up with celebrities instead of attending to the impact of typhoons and other disasters. It also taps into old Philippine folk tales about Juan Tamad, or Lazy Juan, who manages to get by doing the least amount of work to get by."
ADVERTISEMENT - CONTINUE READING BELOW
In this News to Go clip, P-Noy dismisses "Noynoying" and also shuns questions about his love life.
So, what does Malacañang have to say about "Noynoying"? It depends on whom you ask. Presidential Spokesperson Atty. Edwin Lacierda dismissed "Noynoying" as  "propaganda (that) will not sell to the public." Presidential Communications Secretary Herminio Coloma said it was "degrading." P-Noy himself said he's not going to do anything about it because his presidential track record can speak for itself. Besides, Senate President Juan Ponce Enrile has told P-Noy to just "laugh off" the "Noynoying" craze.
Another InterAksyon.com report quoted P-Noy's reponse: "When they say that I am not doing anything and our situation is turning downhill, what conclusion can we form from that? Are they looking (at what we have accomplished)? Are they listening to us? If they do not want (to acknowledge our accomplishments), what can I do? I will just do what I think is right and I think this has brought us (positive) results."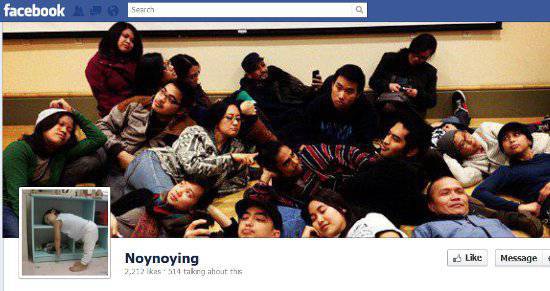 ADVERTISEMENT - CONTINUE READING BELOW
As of 8:20 a.m., March 21 the  Noynoying Facebook page has 2,223 likes. (Screenshot from the Noynoying 2012 Facebook page.)
In any case, on Twitter, the #noynoying hashtag doesn't necessarily lead to posts that slam P-Noy.  Twitter user Jahm Thor used it for a (presumably) rhetorical question: "Where do I stand now? #noynoying." A tweet posted by user Ayeth Chiong used it as a pop culture reference: "We all have that #noynoying song... Yung bigla mong nakakanta sa kalagitnaan ng pagtunganga mo (The one that you suddenly sing when your mind is blank)."
Maybe "Noynoying" isn't such a bad thing after all. That is, if you're not Noynoy Aquino.
Share this story with your friends!
---
Help us make Spot.ph better!
Take the short survey
Load More Stories