(SPOT.ph) There's something so relaxing about foot massages but if you want something that can loosen up your tense leg muscles and leave your feet baby-smooth and squeaky clean, go for a foot spa instead! Foot spas usually include lots of scrubbing followed by a relaxing foot massage and because we only want the best for our dear readers, we tried the best ones and ranked them based on comfort level, quality of service, friendliness of staff, and of course, value for money.
All SPOT.ph Top 10 lists are researched for, paid for, tested, and selected by the writers and editors. They are discreetly conducted without any notice made to the establishments or their owners.
10. Pink Peony Foot Spa (P920)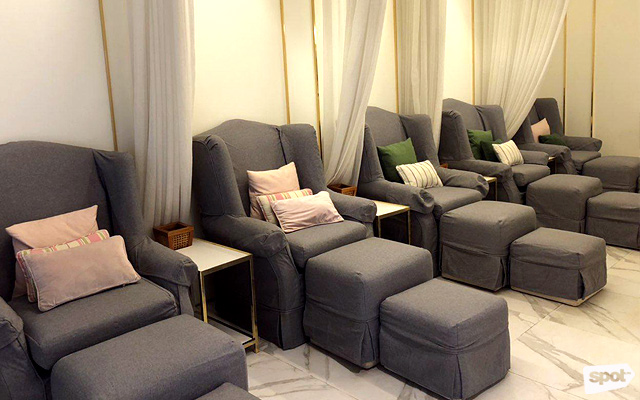 ADVERTISEMENT - CONTINUE READING BELOW
This IG-worthy nail salon will make you feel like a princess upon stepping inside. There are cream-colored drapes that separate each cushy couch so you can get some extra privacy if you need it. The staff are very warm and friendly, but they tend to get chatty with each other, so if you're looking for some peace and quiet, you might want to tell your therapist ahead of time or you can ask them to pull the curtains. If it's quiet enough, you'll be able to doze off in an instant thanks to the skillful hands of the therapist. The 45-minute treatment includes exfoliation and a foot massage but the price is a little steep for P920.
9. Ecru Signature Foot Spa (P380)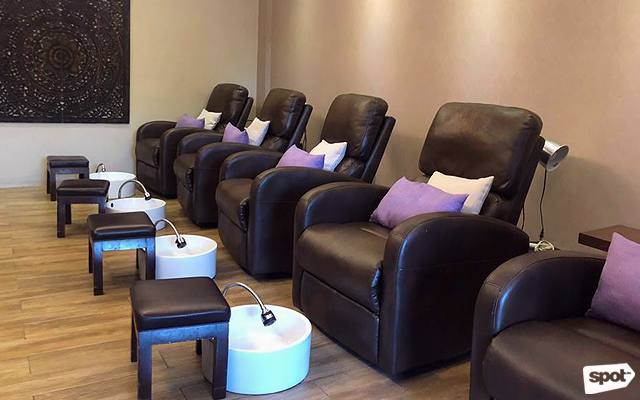 ADVERTISEMENT - CONTINUE READING BELOW
Recommended Videos
Ecru's Foot Spa service is pretty remarkable, considering its price. For P380, you get 30 minutes of relaxation and you walk out feeling like you just got a brand-new pair of feet. The neighborhood nail salon features clean, no-frills interiors and plush reclining couches. The only downside? The receptionist can be pretty intimidating so you might feel a little uncomfortable asking for special requests. The therapist, however, was very warm and skilled at her job. The service includes scrubbing, cleaning, and is finished off with a quick massage which we wish lasted a little longer. Overall, getting your feet scrubbed, your nails cleaned and cut, and your legs and feet massaged for less than P400 will really make you feel like you got the most bang for your buck.
8. Kiyosa Foot Spa (P580)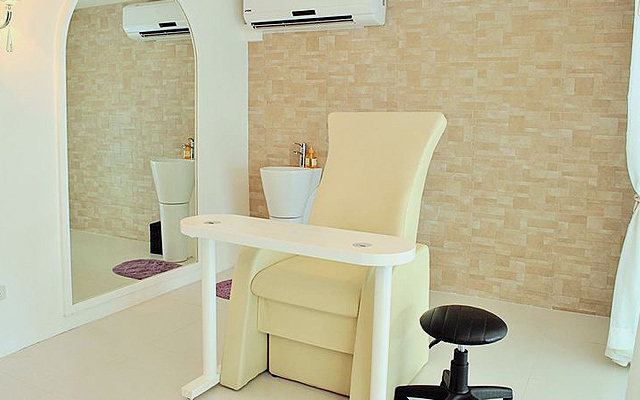 ADVERTISEMENT - CONTINUE READING BELOW
In true Japanese fashion, the staff at Kiyosa greet you with smiles as you enter their brightly lit and visibly clean nail salon. While they're known for their eyelash extension service and gel manicure, Kiyosa also offers a foot spa treatment which includes scrubbing and a quick foot massage. Just like their other services, the therapist is very meticulous and thorough in exfoliating your feet, so don't be shy to let her know if she's going a little too rough or if you're feeling ticklish. The ambience can make it a little tricky to fall asleep during the foot massage, but you'll want to get the full experience anyway, since the treatment will be over before you even know it. If you want a full makeover from head to toe, Kiyosa is the perfect place for you.
7. Nail Spa Pamper Feet (P800)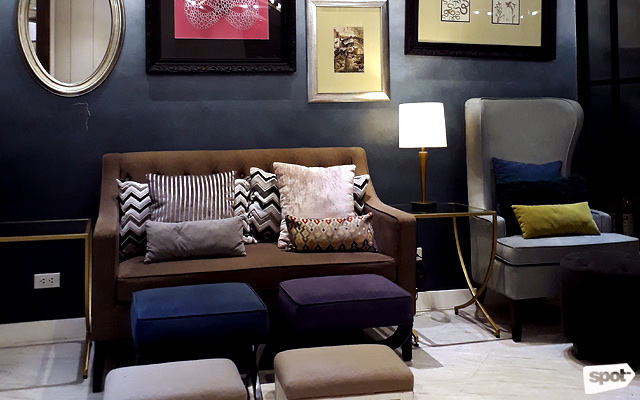 ADVERTISEMENT - CONTINUE READING BELOW
Nail Spa's interiors give off a luxe vibe, thanks to the plush sofas in gorgeous, jewel-toned fabrics. The nail salon have a lot of areas that are not visible from the outside, so you'll get plenty of privacy which adds to the overall experience of the service. The receptionist is very accommodating, eager to answer all your questions about their services and the staff and therapists are equally warm and are very skilled at what they do. The Pamper Feet service starts off with a soak, followed by a fragrant scrub that'll ease your senses, getting you in the mood for that relaxing foot massage that'll loosen up tense muscles and soothe your tired feet. If you need a quick pamper sesh and don't mind spending a few extra, you won't go wrong with Nail Spa.
6. Kallista Signature Pampering for Feet (P715)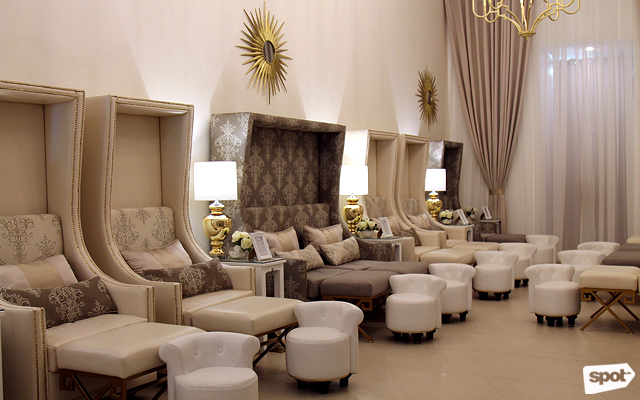 ADVERTISEMENT - CONTINUE READING BELOW
If you're looking for a luxurious treatment and don't mind spending a bit more for it, go for Kallista's Signature Pampering service. Stepping inside their S Maison branch will instantly set the mood. Its cream-and-gold interiors giving off a sophisticated yet welcoming aura. A few more steps in and your eyes will be immediately drawn to the plush gray-and-cream couches that look like they were made for goddesses, a.k.a. you, because that's exactly how you will be treated at Kallista. The staff are very welcoming and attentive, making sure you're comfy and settled in your chosen seat. They even provide blankets and a hot pack to amp up your experience! If you come in wearing pants, don't worry—they provide shorts you can change into so you can enjoy your foot spa to the fullest. You'll be glad to know that the therapist is very meticulous in scrubbing corns and callouses to oblivion so you'll walk out with flawless (and very relaxed) feet! Plus, they make sure to ask if you're comfortable with what they're doing—if it hurt, if the pressure is okay, et cetera. It might be on the pricier end of the spectrum but you definitely get what you pay for at Kallista.
ADVERTISEMENT - CONTINUE READING BELOW
5. I Do Nails Foot Spa (P500)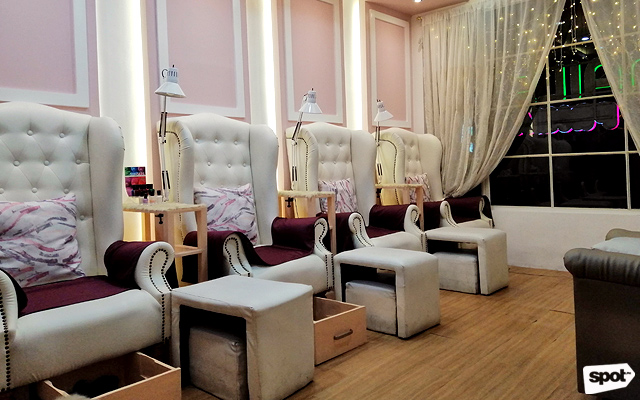 Take a break from the hustle and bustle of the city and treat yourself to I Do Nails' Foot Spa service. The quiet nail salon is equipped with posh couches that remind you of your childhood dream bedroom, which instantly makes you forget about all your deadlines and responsibilities—and it's all uphill from here, because you and your feet are in for a relaxing treat. The therapist makes sure she doesn't scrub your feet raw, always asking if you're comfortable with what she's doing and if the water temperature is all right with you. The duration of the scrubbing and the massage itself felt just right, so even if the entire service lasted only about 30 to 40 minutes, you'll still leave satisfied.
ADVERTISEMENT - CONTINUE READING BELOW
4. Nail Tropics Foot Spa (P550)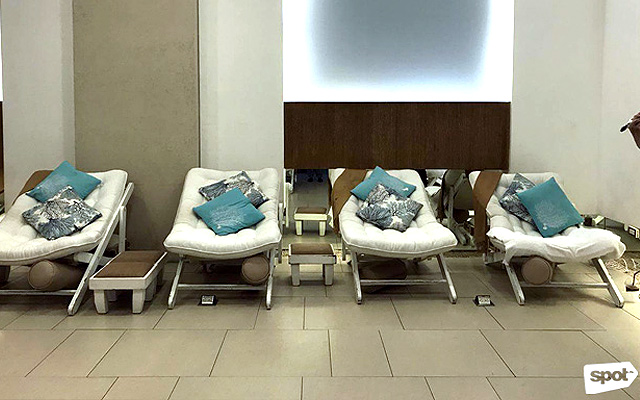 What we love about Nail Tropics is that even if the nail salon is packed, you still feel like you have your own personal space because their seats are strategically spaced out, allowing you to enjoy your treatment in your own personal bubble. Plus, the staff seem like they're trained to speak in hushed voices so you can really take in the relaxing ambience. The skilled therapists make sure you're comfortable all throughout the service, even encouraging you to get some shut-eye if you can—and it's pretty easy to do in their plush seats and the soothing hands of the therapist. Apart from a foot bath, scrub, and massage, Nail Tropics also cleans and trims your toenails for their foot spa service, which gives you more bang for your buck.
ADVERTISEMENT - CONTINUE READING BELOW
3. Maison Foot Spa (P480)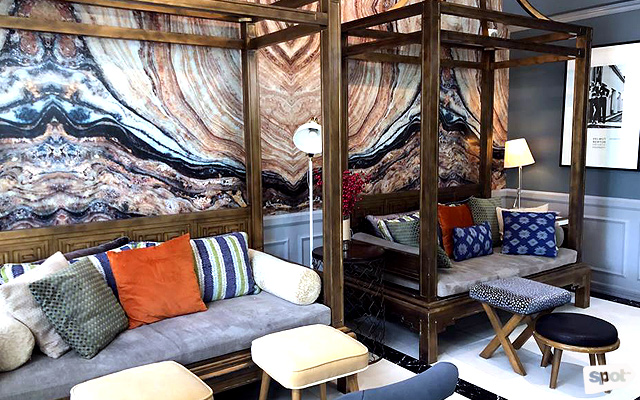 At Maison, every service comes with a complimentary drink, which is offered to you before your service begins—and we're not talking about your usual warm water or tea. Take your pick from Stellina's Lemonade, Sola Iced Tea, brewed coffee using UCC beans, hot tea (green tea, peppermint, or chamomile), or water infused with chia seeds. Fancy, right? Well, the comprehensive drinks menu sets the tone for your spa service. Maison's interiors are Parisian-inspired, featuring cushy, mismatched couches, curtained areas for those who want some extra privacy, and an overall elegant vibe—and for P480, it certainly feels like you're paying for more. Their Foot Spa service includes sloughing off dead skin as well as a relaxing foot massage, thanks to the skillful hands of the therapist. The lavender aroma that they make you rub between your palms before starting the foot spa really elevates the entire experience. Maison accepts walk-ins, but we recommend making an appointment beforehand to avoid having to wait.
ADVERTISEMENT - CONTINUE READING BELOW
2. The Spa Feetish Foot Spa (P715)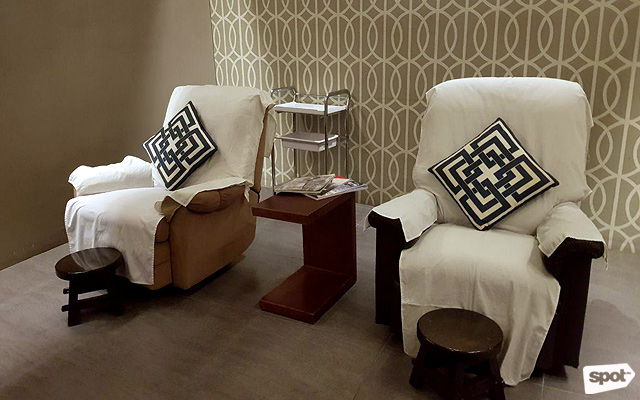 Looking for a luxurious treatment that isn't intimidating? The Spa provides just that and more. The receptionist is pleasant and cheerful, but not too overbearing. She'll gladly offer you other services if you're interested, but is not at all pushy so you won't feel uncomfortable saying no. For their Feetish Foot Spa service, you'll be lead to a private treatment room with two plush recliner seats covered in clean sheets for an extra layer of sanitation. They even offer hot ginger tea to help warm you up for the treatment. The foot spa starts with a warm soak, followed by a scrub. Your feet are then rinsed, then the therapist goes on to gently file your feet to get rid of more dead skin and callouses. Then, a cooling mask will be applied to your feet before it's rinsed and massaged. The therapist caps off the treatment by applying lotion to your legs and feet. From start to finish, you just know you're in good hands at The Spa. The sophisticated ambience and the level of cleanliness make paying a little extra worth it, so if you really want to treat yourself, The Spa is the place to do it.
ADVERTISEMENT - CONTINUE READING BELOW
1. French Tips Organic Foot Spa (P390)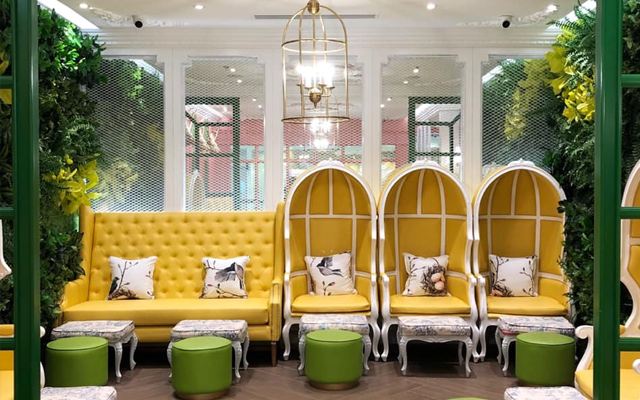 Share this story with your friends!
---
Help us make Spot.ph better!
Take the short survey
Load More Stories