(SPOT.ph) Living in a busy city has its perks—hello, next-day delivery—but it can also take a toll on your well-being. You go through a hellish commute to work, spend nine long hours crouched over your computer, then get stuck in traffic for hours just to get home. Real? Sounds like you need a break. Allow yourself to splurge on a luxurious spa treatment once in a while to help you reboot your system. Want to book some spa me-time, stat? We ranked the 10 best spas in the Metro based on service quality, their selection of treatments, comfort, ambience, and value for money.
10. Neo Day Spa
Rates start at P1,200.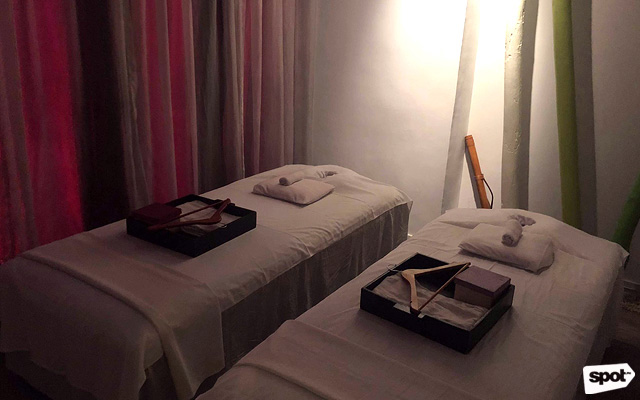 If you ever feel like you need a quick spa sesh while you're out and about, Neo Day Spa offers a selection of full-body massages that will boost your mood. All it takes is a quick text and you're good to go. The quiet spa is located inside Holiday Inn Galleria, so whether you're checked in or at the mall running some errands, you can always end your day with a relaxing massage at Neo Day Spa. You'll appreciate that their service menu has descriptions for every treatment, so you know what you're going to get—and if you can't seem to decide, you can take your time and sip their complimentary tea. Their spa rooms are clean and tidy, plus they provide disposable underwear so you don't get yours oily. You might want to tell the masseuse beforehand about the pressure level you're comfortable with so you get the most relaxing experience. The only downside? There are no showers, so we recommend going here at the end of your day.
ADVERTISEMENT - CONTINUE READING BELOW
Neo Day Spa is at 5/F Holiday Inn Hotel, Ortigas Avenue, Ortigas Center, Pasig City. For reservations, contact 0921-477-9999.
9. Marina Bay Spa
Rates start at P1,650.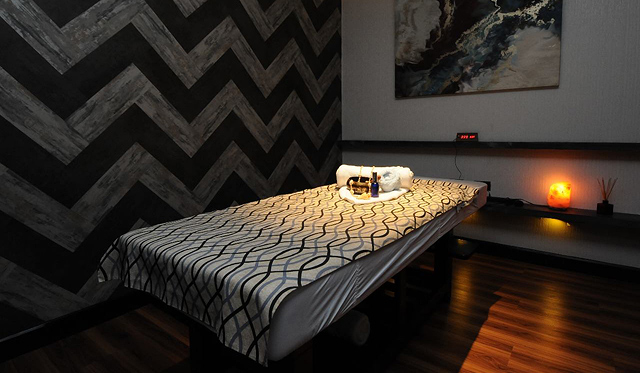 Have a lot of time to kill at the Mall of Asia area? Marina Bay Spa offers spa treatments inclusive of a buffet, access to a sauna room, steam room, and lounge. You can stay up to four hours to really make the most out of your experience. Aside from the Marina Signature Massage, they also offer unique treatments like Bamboo Massage, Relaxing Crystal Chakra Massage, Holistic Four-Hand Massage (yup, two therapists for one full-body massage), and more. Marina Bay Spa also has a locker room where you can keep your valuables, but it can get a little cramped especially if the spa is fully booked. Be sure to tell the therapist if you're comfortable with the pressure level so you can sit back (err, lie down), relax, and enjoy your massage. Tip: When you're making a reservation, be sure to double check everything with the receptionist to avoid mix-ups.
Marina Bay Spa and Lifestyle Club is at Esplanade Seaside Terminal, Seaside Boulevard, Mall of Asia Complex, Pasay City. For reservations, contact 834-1888, 0977-831-2888, or 0920-976-8888.
8. Willow Stream Spa
Rates start at P1,650.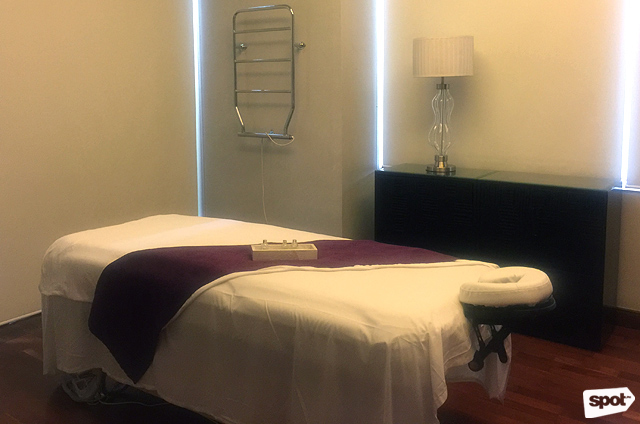 Willow Stream Spa lets you escape the city without actually leaving, thanks to its peaceful ambience that will instantly put you in relaxation mode. Apart from their signature treatments like the Executive Recharge by Willow Stream and Ultimate Willow Stream Experience, they also offer other services like Stone Massage, Deep Muscle Massage, and even Jet Lag Cure. Their treatments give you access to their wet area where you can enjoy the hot tub and steam room. No need to worry about your belongings since you'll have an assigned locker as well as access to their dry area where you can freshen up. If a quick massage is what you're looking for, you can choose their Express Boost—a relaxing 30-minute full-body massage that can help you feel reenergized. Willow Stream Spa would've ranked higher on the list if the rates weren't so steep. Their signature treatments start at P5,000 while the Express Boost is priced at P1,650.
ADVERTISEMENT - CONTINUE READING BELOW
Willow Stream Spa is at Fairmont Makati, Raffles Drive, Makati City. For reservations, contact 795-1822 or e-mail willowstream.makati@fairmont.com.
7. Blue Water Day Spa
Rates start at P750.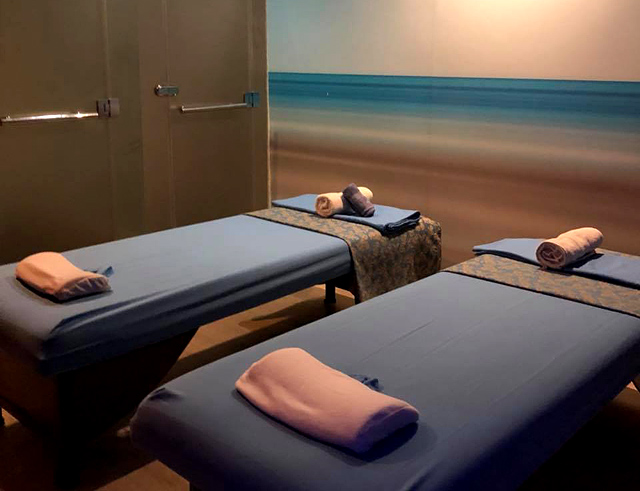 The Blue Water Day Spa at Capitol Hills branch feels like a secret paradise hidden in a golf course. The spa gives off a rustic vibe, with natural light coming in through the glass walls. Making a reservation is easy—just shoot them a text or book a treatment through their app (yup, they have their own!), so everything's really at your fingertips. Once you get there, you'll be offered complimentary drinks like iced tea, jasmine tea, or coffee. You'll also be assigned a locker where you can get your towel, garterized shorts, slippers, and bathrobe. Each treatment gives you access to their shower room and sauna room so you can enjoy those facilities if you arrive a little earlier for your appointment. They have a wide range of treatments, including an Athlete's Massage, Pediatric Massage, Traditional Filipino massage, and Pre-/Post-natal massage, to name a few. You might want to request a private room in case you don't want to share a room with strangers, since they have a room with five beds—but if that happens, don't worry. You can always ask them to draw the curtains for a little more privacy.
Blue Water Day Spa is at Capitol Hills Golf Annex Building, Capitol Hills Drive, Old Balara, Quezon City. For reservations, contact 0917-125-9754 or use the Blue Water Day Spa app.
6. The Spa
Rates start at P1,012.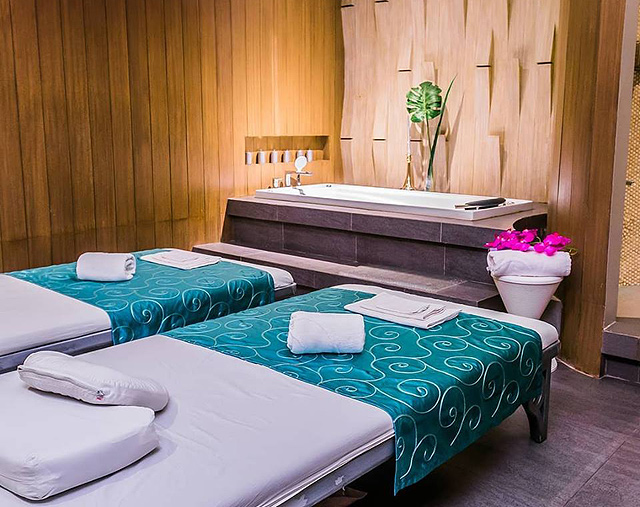 One step inside The Spa and you'll already feel relaxed, thanks to the dimly lit reception area and calming music. You might have a hard time choosing from their selection of treatments, but don't worry because the receptionist will be glad to help you pick one based on your needs. We love that whether or not you have a reservation, you're somehow almost always accommodated immediately. The rooms all have their own sinks and showers (some even have their own tub), so you'll feel right at home all throughout your treatment. They also bring hot tea or warm water to your room after your session so you can sit back and enjoy the last few minutes of your stay. Best thing about The Spa? Price points are very competitive and the massage quality is always great. 
ADVERTISEMENT - CONTINUE READING BELOW
See a list of The Spa branches.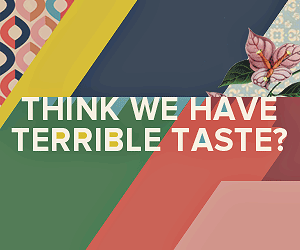 5. I'M Onsen Spa
Rates start at P1,400.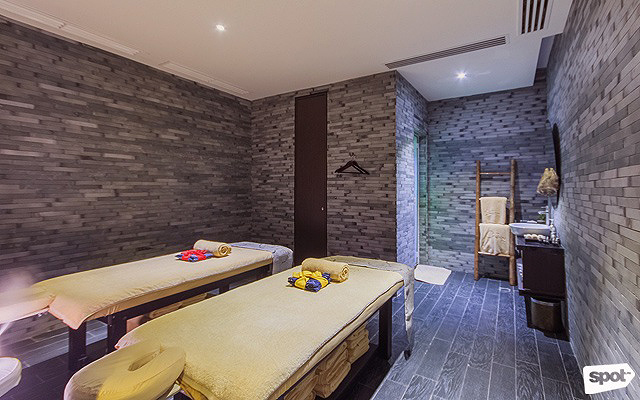 The perfect place to wind down after a night out with friends at Poblacion, I'M Onsen Spa offers a wide range of spa treatments depending on your needs like Jet Lag Recovery Massage, Lymphatic Drainage Massage, Healing Stone Massage, or their Signature Massage, among others. To make the most out of your spa experience, you might want to come a bit earlier than your appointment so you can enjoy their Onsen Pools (which aim to mimic the hot springs in Japan), sauna room, and steam room. You're also expected to be at the massage area 10 minutes before your appointment so you can enjoy the Tea Room where you'll be served ginger and lemon tea, green tea, or iced tea. I'M Onsen Spa is open until 2 a.m. on weekdays and 3 a.m. on weekends, so it's a great way to end a long day. Note that you might have a hard time reserving last-minute, so it's best to reserve at least a day before to secure a slot. If you don't mind chatty staff in the tea lounge while you're waiting to be called into your massage room, then we're pretty sure you'll have a spa experience to remember.
I'M Onsen Spa is at U/G I'M Hotel, Poblacion, Makati Avenue, Makati City.
4. Le Spa
Rates start at P1,800.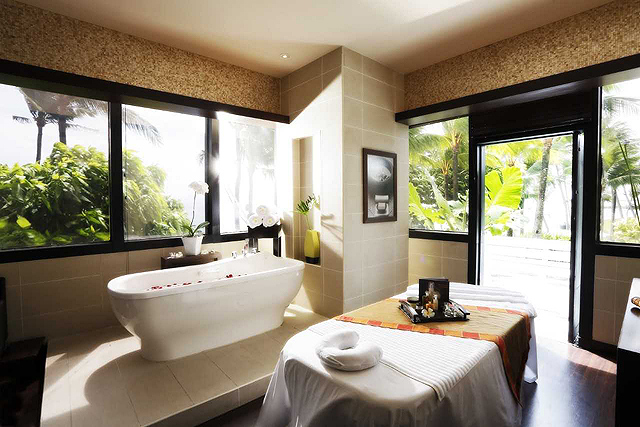 Le Spa is all about elegance that isn't intimidating. The reception area has luxurious sofas that come in muted colors and the rooms all have a sleek, modern design that's cozy, thanks to the dim lighting and soothing music. Plus points go to their accommodating staff who always make sure you get the best spa experience ever. Reservations are easy, but in case you don't get to do that, you can count on the receptionist to go out of her way to find an opening for you. The massage rooms are equipped with a changing room, which has its own sink and shower, so you won't have to worry about walking out oily. While they have plenty of body scrub treatments available aside from consistently excellent massage options—Filipino Pride Hilot Secret, Hot Stone Rolling, and Marrakech Sweetness, to name a few—it would be great if they occasionally offered other types of massages to give you more reason to come back.
ADVERTISEMENT - CONTINUE READING BELOW
Le Spa is at Sofitel Philippine Plaza Manila, CCP Complex, Roxas Boulevard, Pasay City. For reservations, contact 551-5555.
3. CHI, The Spa
Rates start at P2,900.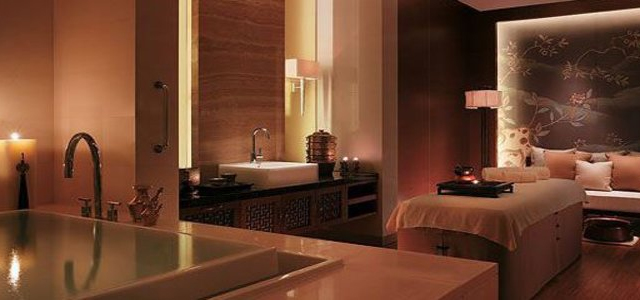 If privacy and exclusivity are huge factors for you, CHI, The Spa offers just that and more. The spa has its own building that's a few steps away from the hotel's main wing. Stepping inside will transport you to a place that feels far away from the frenetic pace of city life, thanks to its dim lights, hushed music, and plush Asian-themed interiors. They have a varied range of options, from the usual Swedish massage to more unusual choices like the Traditional Hammam and Ayurvedic Massage—their prices might fall on the higher end of the spectrum, but the overall experience is well worth it. While you can be sure to get the full experience here, it might not be a place you can go on a regular basis if you're budget-conscious. But hey, did we mention that you get your own private changing room, bathroom, and steam room? Talk about treating yourself.
Chi The Spa is at EDSA Shangri-La Manila, 1 Garden Way, Ortigas Center, Mandaluyong City. For reservations, contact 633-8888 or book online.
2. QiWellness
Rates start at P880.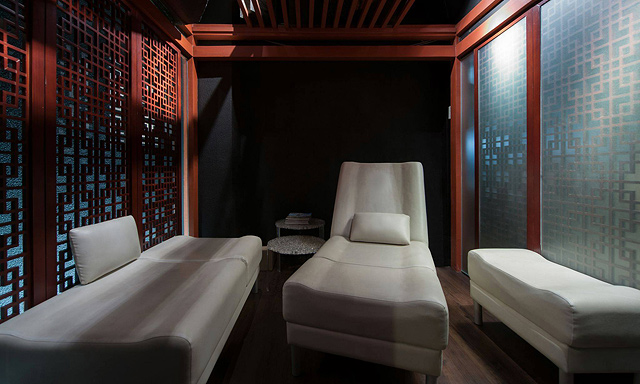 You don't have to drive all the way to Tagaytay to enjoy a spa treatment from QiWellness—there's a branch right in the middle of busy Makati. Inside Picasso Boutique Hotel, QiWellness stays true to its theme, with Chinese-style interiors and Zen music playing in the background to set your mood. Making a reservation is a breeze, and the friendly staff makes you feel welcome the moment you step into the door—you can already tell you'll be in good hands. There's a variety of spa treatments to choose from, like Qitranquility, Swedish Massage, Lymphatic Drainage Massage, Hot Stone Massage, Deep Tissue Massage, and more. Just as you think your session is over, you'll be led to a room where the staff does a tea ceremony so you can cap off your treatment with a warm cup of tea. If you're looking for a spa that you can go to regularly without putting a dent in your bank account, QiWellness is the spa for you.
ADVERTISEMENT - CONTINUE READING BELOW
QiWellness is at 4/F Picasso Boutique Hotel, L.P. Leviste Street, Salcedo Village, Makati City. For reservations, contact 556-1818. For more information, log on to Picasso Boutique Hotel's Facebook page.
1. Illume Spa
Rates start at P2,800.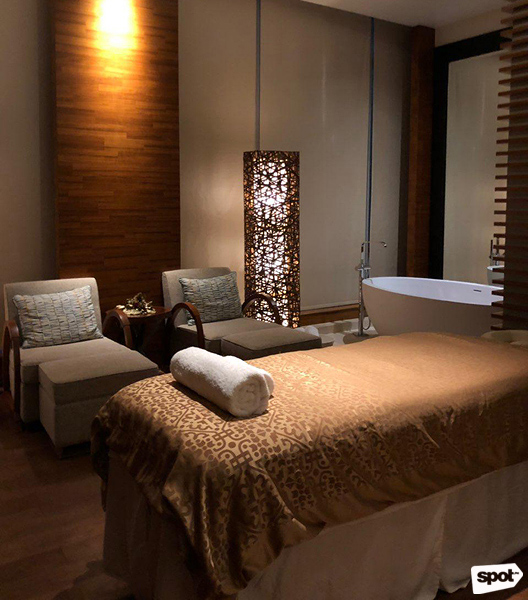 You can count on Illume Spa at Grand Hyatt Manila to give you a spa experience like no other. Every spa service on their menu gives you access to their remarkable wet area where you can enjoy a spacious hot tub equipped with powerful jets for a hydrotherapeutic massage that relaxes your muscles even before your actual massage. Next to the hot tub is the sauna room that features a Himalayan Salt wall panel, allowing you enjoy the health benefits of the popular pink salt: stress reduction, increase in energy, and a mood boost. Then, you can hop into the steam room that helps open up your pores to get rid of toxins trapped underneath skin's surface, clear congestion, and improve blood circulation. One thing you shouldn't miss in their wet area is their Experiential Shower. It has four settings: Tropical Rain, Side Nozzles, Cold Mist, and Carribean Storm. Step into the bath, press any button, and get ready for a multi-sensory experience.
Finally, you'll be lead to your spa room for your chosen spa treatment—and they've got quite a selection. Go for the Hilot massage: A 90-minute treatment that makes use of actual banana leaves, just like in the olden days. Ask about it, and the therapist will gladly explain the age-old belief that the parts where the banana leaf sticks to your skin the most are the areas where you have the most knots, so it tells them what to focus on during the massage. Towards the end, the therapist takes a rainstick while circling your bed, creating rain-like sounds that tingle—a delightful treat that levels up the spa experience even more. We're not kidding when we say you'll feel like a completely new person after your session. Considering all the amenities and the luxurious treatment from start to end, P2,800 is totally worth the splurge.
Illume Spa is at Grand Hyatt Manila, 8th Avenue corner 35th Street, Bonifacio Global City. For reservations, contact 838-1234 or e-mail manila.grand@hyatt.com.
Share this story with your friends!
---
Help us make Spot.ph better!
Take the short survey
More Videos You Can Watch
Load More Stories